Black Friday and Cyber Monday signal the start of a frenzied few months for more than just shopping and spending. It's a frenzied few months of urgent engagement across our entire collective lifestyles. What do we mean when we say "urgent engagement?" Family gatherings, decades-long traditions, new recipes, special school events, end-of-year work sprints, and yes, on top of it all, credit card-straining shopping sprees. It's a variable "circus of things" that runs 24/7, full speed, from November through the New Year.
As our attention spans struggle to focus on our own circus of things, mobile devices have become indispensable tools for helping manage the whirlwind. During the 2022 Black Friday weekend, US shopping apps in particular collectively saw more than 9 million downloads, a record 9% increase compared to 2019. But it's not just eCommerce — music, cooking, and gaming apps all see download spikes this time of year as people look for ways to set the holiday mood around the house or kill time at reluctantly-attended family gatherings (we've all unfortunately been there.)
As marketers, it's critical we not only understand the true scope of holiday marketing for mobile apps, but also how to harness it to deliver record-breaking engagement. In addition to lifting revenue, the holidays provide a great opportunity to delight users and express gratitude.
Preparing Your Mobile App for the Holiday Season
As you prepare for the healthy dose of increased traffic resulting from your holiday promos and campaigns, you must make sure your app is up to the task. A sudden, heavier user load can expose previously hidden performance and UX flaws — both of which will throw a sizable wrench in your sales during the most competitive months of the year.
Your due diligence begins with re-examining your app's load times to ensure users have a smooth and responsive experience. This is especially important during the holiday season when people have limited patience for slow apps. You can achieve this by:
Compressing images and other assets to reduce file sizes.
Implementing lazy loading for images and content that isn't immediately visible on the screen.
Minimizing HTTP requests and using content delivery networks (CDNs) to serve content efficiently.
Caching frequently used data and resources to reduce load times for returning users.
Utilizing Message Throttling techniques in your engagement strategy to balance incoming app traffic with your server capacity.
What is "lazy loading?"

Lazy loading is a technique that defers the loading of non-essential resources (such as images or content) until the user requests or interacts with them, reducing initial page load times and improving performance.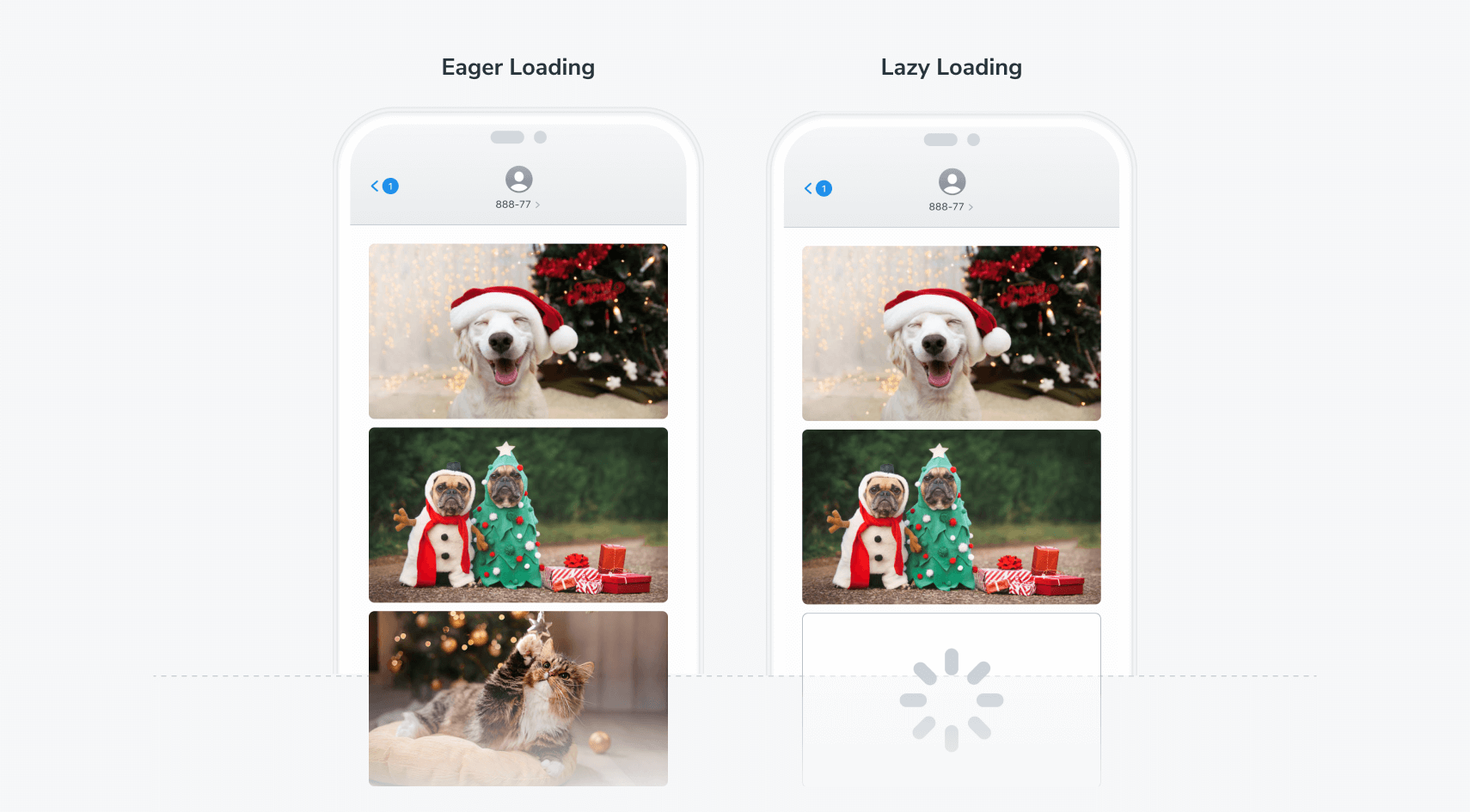 Your next focus should be on including user-centric features and design elements in your mobile app. Improving your mobile app user experience is one of the best ways to kindle stronger app retention rates. Suppose you have a travel app that helps users plan vacations and explore new destinations. To engage and delight users during the holiday season, you could implement a "Winter Wonderland" promotion. When users open the app, they are greeted with a festive holiday theme, special discounts on winter getaways, and unique travel itineraries for holiday destinations like cozy mountain cabins, warm tropical escapes, or local holiday tours.
Crafting a Comprehensive Holiday Messaging Strategy
You can't start any journey without a destination in mind. By defining clear holiday marketing goals and KPIs you gain focus, direction, and a measurable way to evaluate the success of your campaigns. Examples of key holiday marketing goals and KPIs for mobile apps include:
Increase Sales
KPI: Total Revenue – Measure the total revenue generated during the holiday season compared to previous periods.
KPI: Conversion Rate – Track the percentage of website visitors who make a purchase.
KPI: Average Order Value (AOV) – Monitor the average amount spent by each customer per transaction.
KPI: Sales Growth Rate – Calculate the year-over-year increase in sales.
For context, in 2022, mobile conversion rates reached their holiday highest (3.6%) on Cyber Monday.
Improve User Engagement
KPI: Click-Through Rate (CTR) – Measure the percentage of users who click on your holiday campaign ads or content.
KPI: Social Media Follower Growth – Monitor the increase in followers and subscribers on social platforms.
KPI: Time Spent on App (aka Session Duration)  – Track how much time users spend engaging with your mobile app.
KPI: MAU & DAU
KPI: App Downloads & Retention Rate (3-day, 5-day, one week, etc)
KPI: Content Shares – Measure how often your holiday content is shared by users.
Engagement is no easy task! In 2022, the browse abandonment rate for Black Friday shoppers was 86.73% for mobile. To be clear, this is before shoppers even add things to their cart. Browse abandonment rate is the percentage of users who visit an online store or website, view product pages, but then leave without taking any further action whatsoever.
Streamlined Cost Efficiency
KPI: Return on Investment (ROI) – Calculate the ratio of revenue generated to the cost of holiday marketing.
KPI: Customer Acquisition Costs (CAC)– Measure the cost of acquiring a new customer through holiday campaigns.
KPI: Ad Spend Efficiency – Assess the efficiency of your advertising spend in generating sales or leads.
After you've identified your marketing goals and KPIs, you'll want to keep a close eye on them over the duration of the holidays. Tracking performance allows you to gauge the success of your campaigns. You can determine which campaigns, strategies, or channels yielded the best results, such as increased sales, user engagement, or brand visibility. This information helps you identify what's working and what isn't.
Data will inform your decisions for future holiday campaigns and your ability to eliminate underperforming strategies, allocate your budget more efficiently, and identify long-term cyclical trends.
Holiday Marketing For Mobile Channels: The More The Merrier
When crafting your Black Friday and Cyber Monday mobile marketing plans, it's important to use reach and consistency to your advantage. People have different online behaviors and preferences, so using multiple channels allows you to reach a broader audience. Repetition across these multiple channels reinforces your message and increases brand recall. But remember, people are bombarded with messages during this time, so a consistent "quality over quantity" approach will ultimately make your brand more memorable.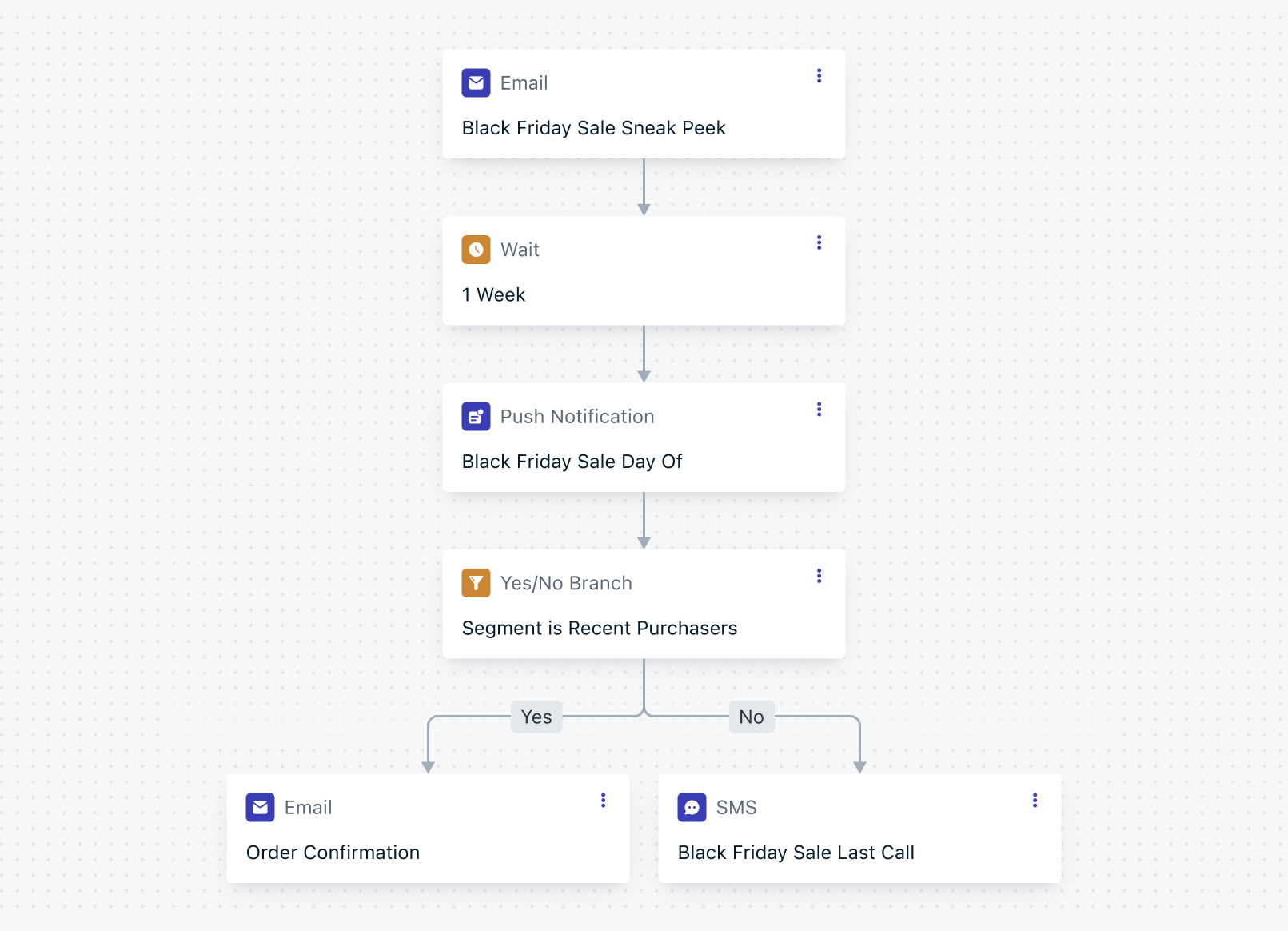 The best way to deliver quality messaging is through mobile messaging personalization. If you plan to cut through the (intense) digital noise of Black Friday and Cyber Monday marketing, you must create tailored messages and offers that resonate with individual preferences.
Segmenting your audience based on factors like purchase history and engagement behavior enables you to provide highly relevant content. When customers see products, deals, or recommendations that align with their interests and needs, they are much more likely to engage and convert. Personalized reminders, like emails and push notifications that highlight abandoned cart items with incentives help encourage users to complete their purchases.
Different channels cater to different stages of the customer journey. For instance, social media might be used for brand awareness, email for nurturing leads, and in-app messages for maintaining engagement. Using all these channels together ensures your brand remains top-of-mind throughout the funnel. Once you activate users on all available channels, you can really start to get creative with how you cross-promote your Black Friday and Cyber Monday deals. For example, you can use email to promote your social media giveaways or use your website to highlight email sign-up offers.
Six Ways Squeeze the Most Out of Black Friday & Cyber Monday Marketing for Mobile Apps
1. Building Anticipation through Messaging Campaigns
Urgency – it's the key psychological driver that powers holiday spending, for better or for worse. Countdowns, such as "12 Days of Deals" or "Hurry, Sale Ends in 24 Hours," create a sense of scarcity and encouragement to snag once-a-year discounts. Shoppers are more likely to make a purchase when they feel that time is running out. Use countdowns to highlight specific deals or events. For example, you can feature a different product or discount each day leading up to Black Friday or include a live countdown timer in a Cyber Monday email campaign.
If you think the end of October or beginning of November is too early to start building anticipation for the holidays, think again. This is the exact moment when you need to be flexing those enticing teasers. Share sneak peeks of upcoming products, exclusive holiday collections, or surprises to pique interest and build anticipation.
Consider stoking curiosity by teasing mystery offers or discounts that will be revealed at a later date. This encourages customers to stay engaged with your brand throughout the holiday season.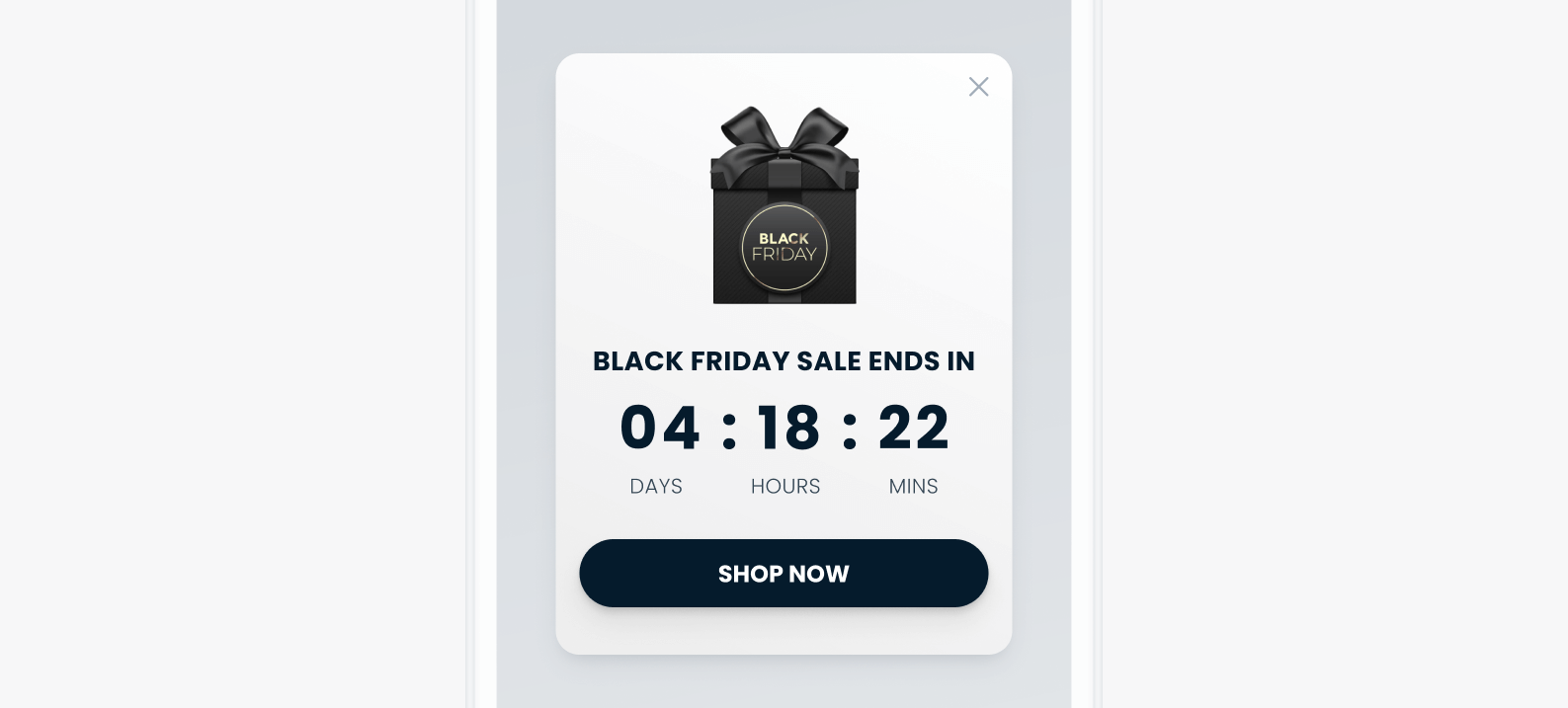 2. Timing and Scheduling Messages Effectively
Being the early bird has its benefits. Early campaigns allow you to engage with your audience over an extended period. Instead of a brief, intense burst of activity, you can maintain a consistent presence in the minds of your customers. Starting early also provides the opportunity to educate customers about your offerings, special promotions, and exclusive deals. It gives them time to consider their choices and plan their purchases (part of that anticipation we were talking about!)
According to SaleCycle, on Black Friday itself, the peak time for online traffic from mobile devices was at 9 p.m.
Email Campaigns: Utilize email marketing to reach your existing customer base. Schedule a series of emails with different themes: "Save the Date" emails, product previews, exclusive offers, and reminders. Consider sending teaser emails at least a week before Black Friday and Cyber Monday to create anticipation. Then, schedule follow-up emails with more details and reminders as the big days approach.
In-App Messages: Use in-app messages to share exclusive sneak peeks, provide tailored recommendations, and deliver abandoned shopping cart alerts. These messages should start creating anticipation well in advance to maximize user engagement.
Social Media: Plan a social media content calendar with regular posts that highlight your Black Friday and Cyber Monday deals, engage your audience with interactive content (polls, quizzes), and feature customer testimonials. Schedule posts strategically to align with different stages of your campaign, from teaser posts weeks in advance to real-time updates and reminders on the days of the events.
Push Notifications: Send time-sensitive push notifications on Black Friday and Cyber Monday itself. These should include flash sale alerts, limited-time offers, and updates on the latest deals. Make sure to schedule these notifications to coincide with the start of your promotions.
Customer Support: Make sure your customer support team is adequately staffed and prepared to handle increased inquiries during the Black Friday and Cyber Monday period. Consider offering extended support hours.
SMS: SMS marketing is a perfect channel for offering early access to existing subscribers, flash sale alerts, and reminders on the final days leading up to Black Friday and Cyber Monday. Send last-minute reminders on the morning of Black Friday and Cyber Monday. This serves as a friendly nudge to users who may have forgotten about the event or to notify them of flash sales happening during the day.
To help achieve the precise timing necessary to personally engage users between all these channels will require automation. Other than significantly reducing the manual effort required to execute each aspect of your holiday mobile marketing plan, automated campaigns eliminate the need for constant monitoring and intervention. This streamlines week-to-week workloads, allowing your marketing teams to focus on other critical tasks, like content creation and strategy refinement.
Most importantly, automation allows you to scale. As your user base and campaign complexity grow, mobile messaging automation tools can effortlessly handle the increased volume of messages and interactions. It ensures that every user receives a consistent and timely message, even when dealing with thousands or millions of customers, ultimately maximizing the reach and effectiveness of Black Friday and Cyber Monday mobile marketing efforts!
3. Maximizing User Engagement with Messaging Channels
Gamification describes the process of incorporating mobile app mechanics that highlight interactive elements, a sense of accomplishment, and joyful discovery. But make no mistake, this approach can be used by plenty of non-gaming mobile apps. By offering holiday-specific challenges, rewards, and engagement opportunities, you can enhance user experiences and strengthen customer loyalty during the holiday season.
Consider leveraging some common gaming elements like points, badges, and leaderboards into your app to encourage user engagement for the holidays.
Holiday Challenges: Create holiday-themed challenges and quests that users can complete within your app or website. Offer rewards or points for completing these challenges. For example, a "12 Days of Christmas" challenge where users can unlock new rewards each day.
Seasonal Avatars and Badges: Allow users to customize their avatars with festive holiday attire or accessories. Introduce limited-edition holiday badges that users can earn and proudly display.
Festive Progress Bars: Use progress bars with holiday visuals like snowflakes, ornaments, or stockings to track users' advancement in loyalty or reward programs. Make the journey towards rewards feel like a holiday adventure.
Holiday Photo Contests: Encourage users to share holiday-themed photos related to your products or services. For instance, a "Best Holiday Decorations" contest where participants share photos of their decorated homes.
Gift-Giving Points: Encourage users to earn loyalty points by referring friends or family to your business. Award extra points or rewards during the holiday season when gift-giving is prominent.
Limited-Edition Holiday Swag: Reward loyal customers with limited-edition holiday merchandise like branded holiday mugs, sweaters, or ornaments. These items can serve as mementos of their loyalty and add a festive touch to their celebrations.
If you do happen to have your own mobile game, then we have a guide just for you. Check out these 10 tips for creating engaging and rewarding in-game challenges.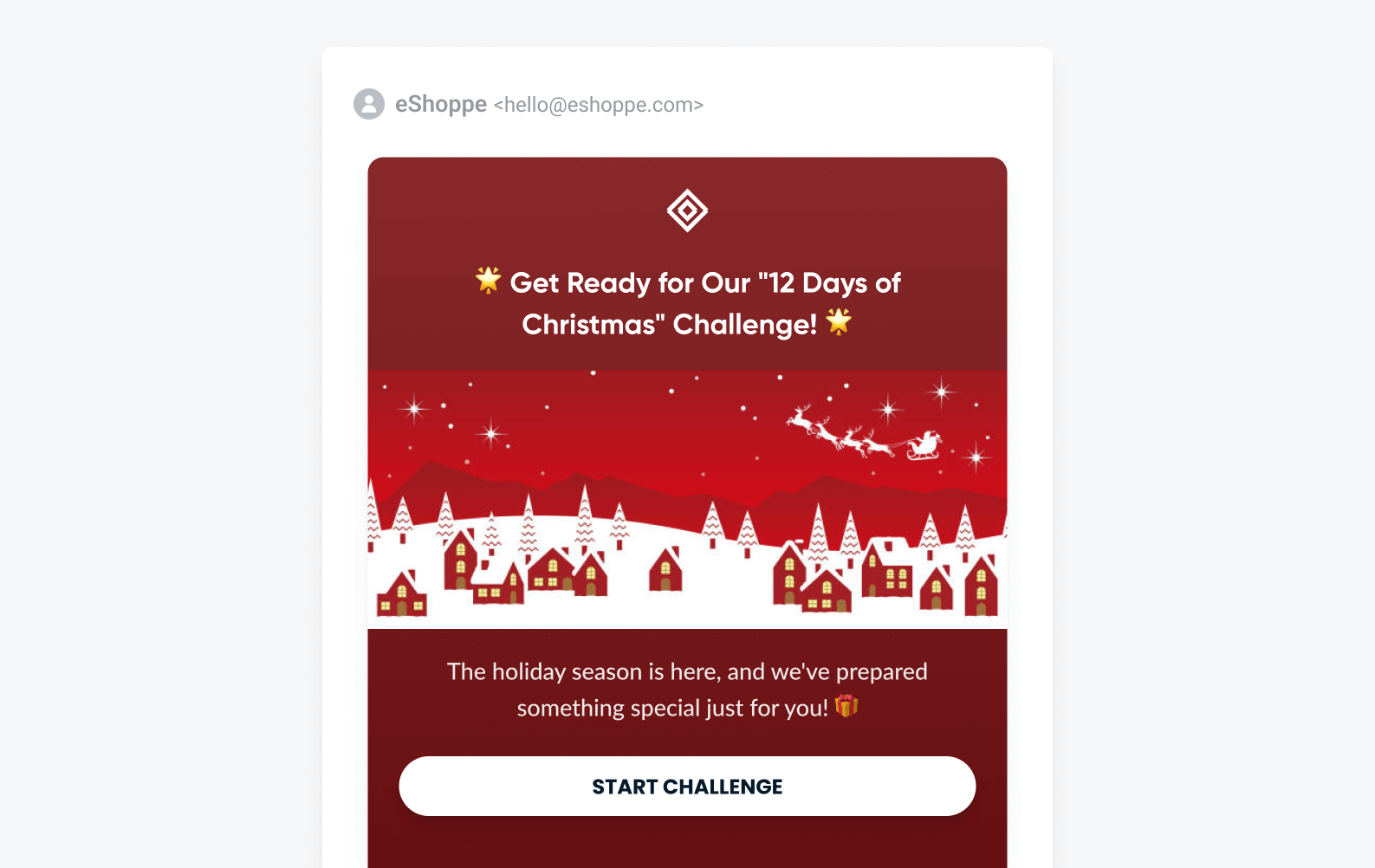 4. Sometimes, Delight is Enough
It's easy to get caught up in the Black Friday and Cyber Monday marketing sprint for downloads and sales. So much so that many mobile apps lose sight of the value that lies in purely enjoyable branding.
Change your app's icon and splash screen to feature holiday-themed designs that resonate with your brand identity. For example, if you're a travel app, a Santa hat on the logo or a snowy mountain scene on the splash screen can add a subtle touch of festivity without deviating from your core brand identity.
Take this loading screen from Niantic's hit mobile game, Pokémon GO. No sales offer, just a couple seconds of joy.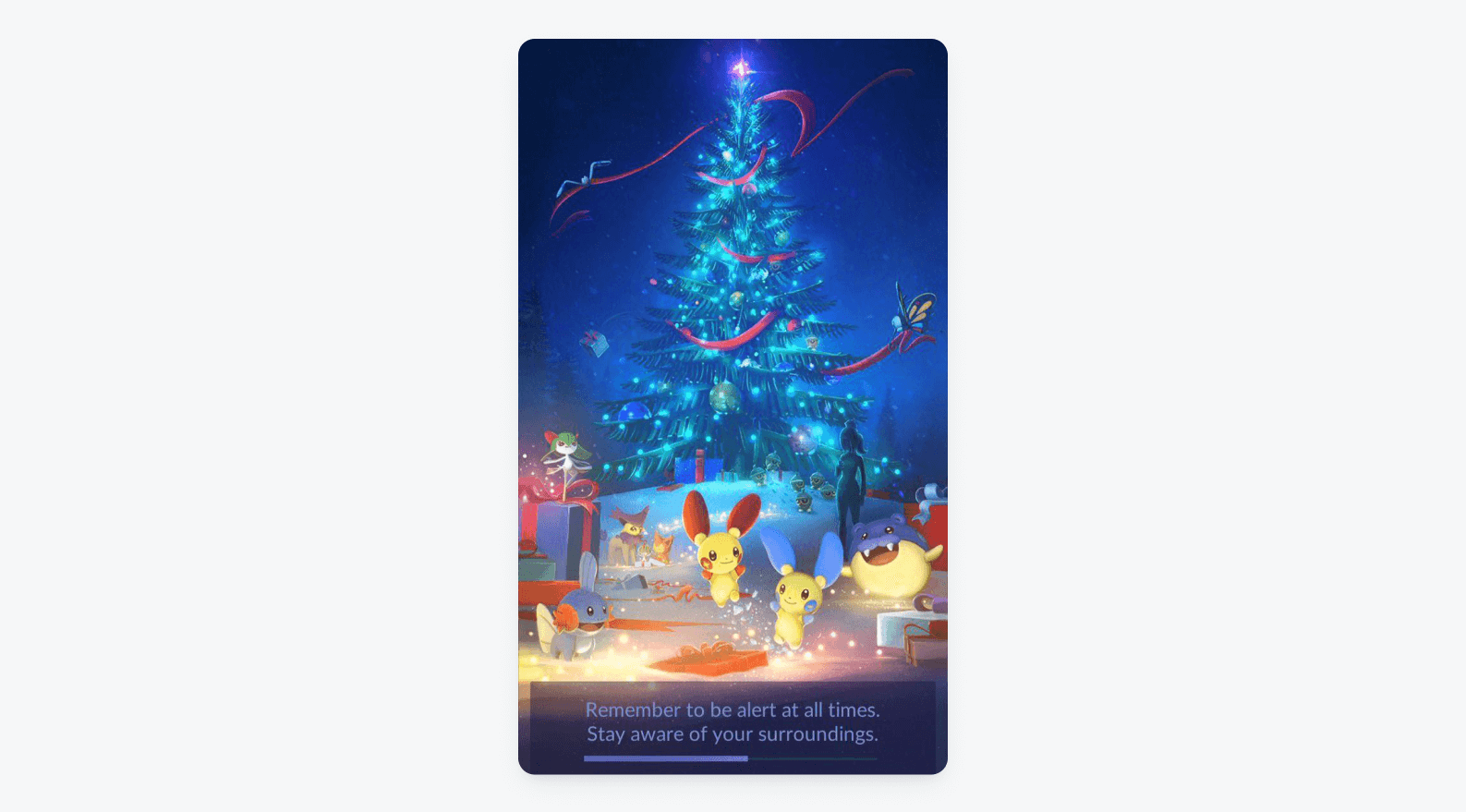 Alternatively, think about your existing loyalty programs. If your brand already has a loyalty program, introduce special holiday rewards or tiers. For instance, a coffee shop app could offer a "12 Days of Brew-mas" campaign where users collect holiday-themed virtual stickers with each purchase, earning a free holiday beverage when they complete the collection.
No matter the route you choose, create holiday content that aligns with your brand's core values and messaging. For example, your fintech app may create a series of holiday-themed financial tips or articles that emphasize responsible spending, budgeting for gifts, or even investing in a tax-efficient manner during the holiday season. These tips align with your app's core message of financial responsibility and empowerment while helping users navigate the financial challenges often associated with the holidays.
5. The Power of User Feedback and Interactive Messaging
As much as it can be hard to admit, people don't trust brands. People trust other people. The holiday season is an excellent opportunity to encourage user-generated content (UGC) and app reviews to bolster social proof and gain user trust. During the holidays, shoppers are more discerning when making purchase decisions, and they tend to place a higher value on authentic recommendations. UGC and reviews from real users not only build trust but also help potential customers feel more confident about their choices.
This Black Friday and Cyber Monday, focus on forging emotional connections. The holidays are a time when people create lasting memories with family and friends. Encouraging users to share these experiences through UGC not only builds a sense of community but also helps the brand become a part of those cherished memories.
Is there a more appropriate time of year for some quality product unboxing content? With the tradition of exchanging gifts during the holidays, users are eager to show off the thought and care that went into selecting or creating these presents. User unboxing content can provide an authentic glimpse into the excitement and joy associated with gift-giving, making it highly relatable (and highly shareable!) Reach out to mobile influencers in your space to look for opportunities to showcase your app via a mobile walkthrough!
Consider users' mindsets from the point of view of a hesitant downloader. Shoppers often seek inspiration for their holiday purchases, be it a new app for themselves or a gift purchased via-app for someone else. UGC in the form of app reviews and gift guides can serve as valuable resources. These authentic recommendations from fellow users often lead to increased sales and customer satisfaction.
6. Post-Holiday Follow-Up and Retention Strategies
Just because you netted a hard-fought conversion does not mean you keep the user!
When users engage with your mobile app during Black Friday and Cyber Monday, it's an opportunity to convert them into loyal, year-round customers. Setting up automated nurture campaigns ahead of time is a forward-thinking approach that can include personalized welcome emails, mobile app onboarding sequences, and post-purchase follow-ups. They help guide new users through their initial experiences with your app, keeping them engaged and informed about your offerings.
By delivering relevant content and offers to these users in the days, weeks, and even months following the holiday rush, you can strengthen their connection to your brand and improve retention rates. It's essential to plan and set up these automated campaigns well in advance, ensuring that they align with the holiday season and complement the influx of new users. This preparation can help you maximize the value of the holiday period by turning one-time shoppers into loyal, long-term customers.
Parting Words of Holiday Wisdom
Before we leave you to your Black Friday and Cyber Monday prep, we'll leave you with a few final holiday marketing tips for mobile apps to help you write your holiday-themed messages.
Inclusivity in Referencing Holidays
Holiday marketing for mobile apps is about casting the largest net possible, before drilling down to specific user preferences — cast that net far and wide! Acknowledge the diversity of your audience by referring to holidays in a broad and inclusive manner. Instead of focusing solely on a specific holiday, consider using phrases like "Happy Holidays" or "Season's Greetings." This approach ensures that your messaging resonates with users from various cultural backgrounds.
Brand Authenticity
Stay true to your brand identity. If your brand has a humorous tone, inject humor into your holiday messages. If your identity is more serious or sentimental, craft messages that align with those characteristics.
Emotion and Storytelling
Holidays are a time of emotion and storytelling. Share heartwarming stories, ridiculous anecdotes, or user-generated content that relates to the season. This can create a deeper emotional connection with your audience.
Personalization
Utilize data-driven messaging personalization to tailor messages to individual user preferences. Address users by name and recommend products or services based on their previous interactions with your brand.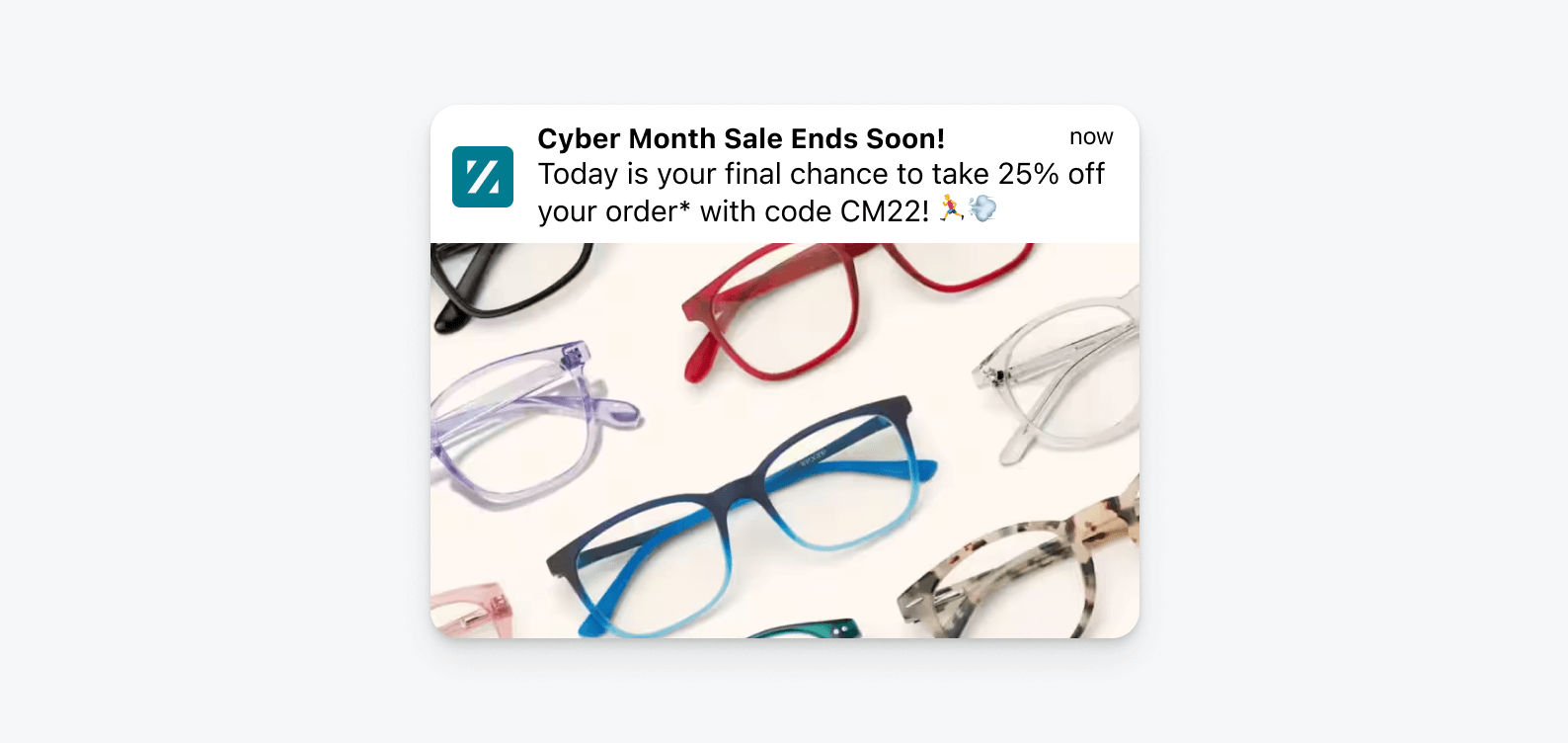 Holiday Messaging For the Modern Brand
Ready to start building the ultimate Black Friday/Cyber Monday mobile marketing machine? Our Journeys tool makes crafting multichannel holiday campaigns a joy with an easy-to-use visual builder and automation for every channel at any scale.
Create a Holiday Journey