In-app messaging is the backbone of many an app's success when it comes to acquiring and retaining users. Check out these inspiring examples of apps that go above and beyond in their in-app messaging to reel users in at every touchpoint.
1. National Rugby League: In-app messaging keeps fans going wild
The National Rugby League drives fan enthusiasm and engagement in Australia's most entertaining and popular sport through automated and personalized in-app messages.
The National Rugby League, which hosts the world's premier Rugby League competition and serves one million monthly users on its mobile app, delivers a highly personalized in-app experience to keep fans engaged. The league comprises 16 teams in Australia's beloved sport and sends content to fans across these different team allegiances.
Because the NRL serves such a vast user base with different team loyalties, customizing the in-app experience is important. Sending users timely updates and hyper-relevant content about their favorite teams is a key piece of their app experience.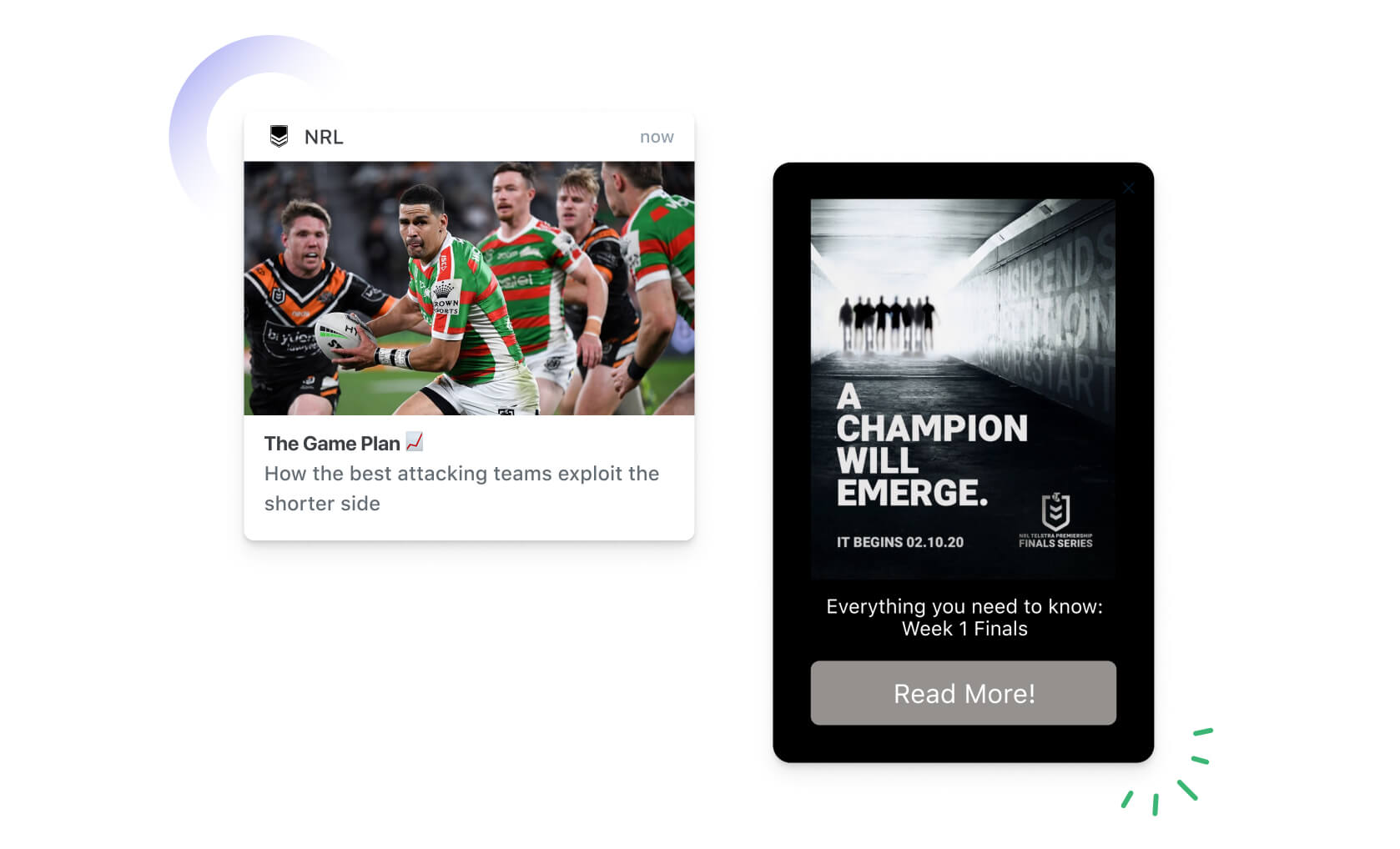 The NRL uses in-app messaging to drive fan engagement and create a more meaningful in-app journey. They've tailored their in-app messages to user preferences at every touchpoint based on various topics of interest such as the latest results on their favorite team, exclusive content, and breaking news.
Rugby fiends delight in receiving real-time updates and exclusive content about their favorite team! By honing timeliness through geolocation and meticulously segmenting their audiences through in-app behavioral triggers, the NRL cultivates a personalized and automated in-app experience, which in turn has increased their user growth by 75 percent.
2. BetterMe: Optimizing fitness training with targeted in-app messaging
In the health and fitness app space, competition is tight and user churn is high. BetterMe provides personalized workouts, meal planning, and fitness challenges, and stands out from the competition through its seamless and individualized in-app experience.
BetterMe asks users to share biometric data as well as their goals, habits, and preferences to tailor dietary and fitness recommendations to their specific needs. They use in-app messaging to provide customized health recommendations and drive revenue by promoting relevant fitness challenges. BetterMe also enhances their in-app experience and encourages feature adoption by announcing new features with message carousels, complete with simple captions and intuitive, eye-catching visuals.
Because BetterMe makes money off their in-app upsells, long-term user retention is a high priority. Their focus thus far has been segmenting users and triggering highly tailored recommendations that deliver value to users striving to sustain a healthy lifestyle.
To reach users with relevant content, BetterMe segments users and then personalizes messages based on biometric data and goals. BetterMe focuses on including individualized information, such as a user's target weight or age, in messages to increase message relevancy. They deliver value with unique health recommendations that fit each user's needs. They also leverage rich media to send inspiring, visually appealing, and relevant content.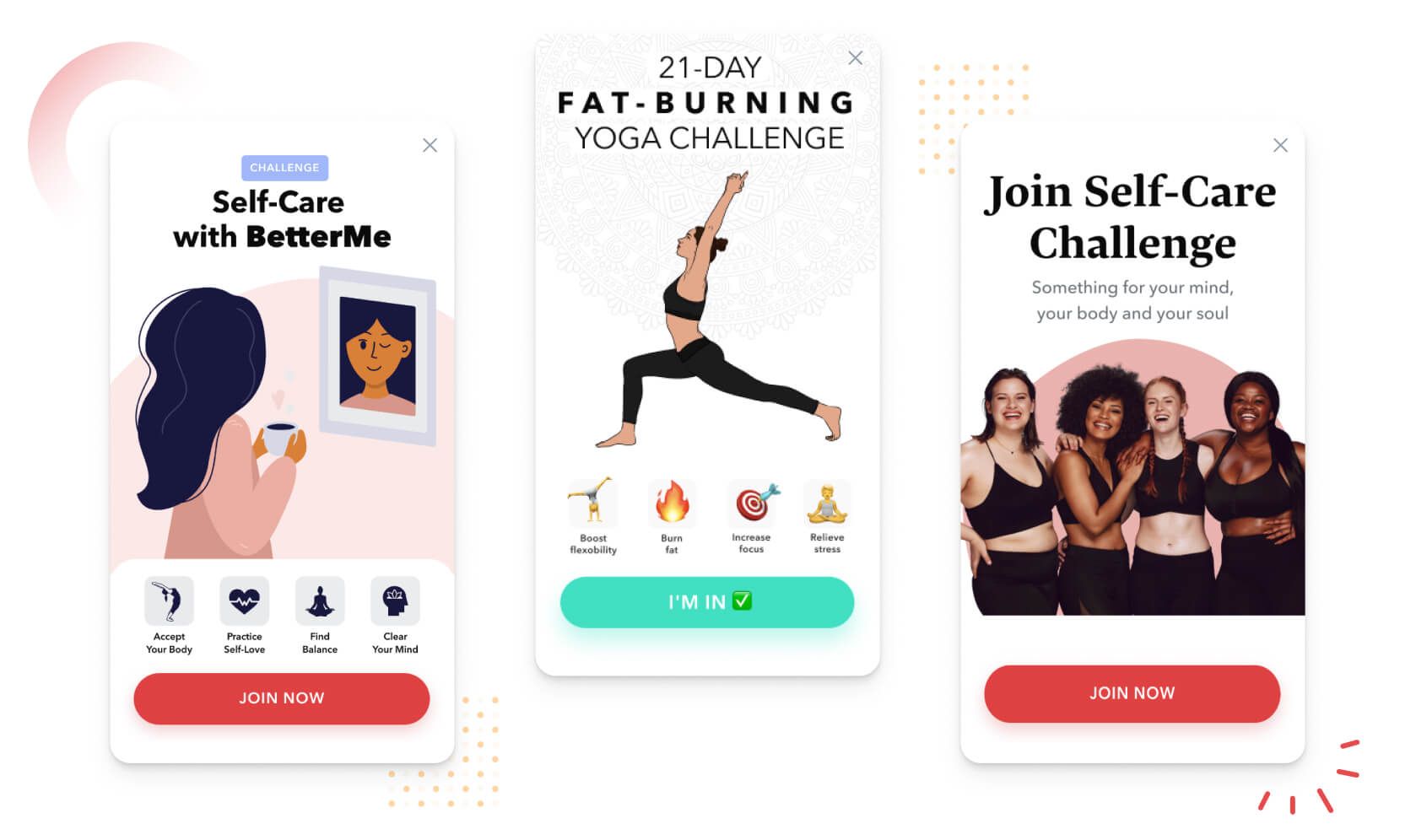 3. Shake Shack: Satiating user cravings with a mouth-watering in-app journey
Far from its humble beginnings as a hot dog cart in Madison Square Park in Manhattan, Shake Shack now serves its delicious, ethically sourced, and hormone-free burgers and hot dogs across 30 U.S. states and over ten countries globally. To complement its in-person locations, Shake Shack also serves customers via its mobile app, available over Android and IOS.
Shake Shack's mobile app allows customers to fulfill their cravings faster by ordering ahead for pickup or for delivery. Their in-app messages are tailored to easily familiarize users with their menu, sending mouth-watering regional promos, and represent the company's brand personality — all while strengthening the company's multichannel strategy. Shake Shack makes every American holiday a delicious event, sending its users offers for big days like the Super Bowl and 4/20 and sending out regional specials via location targeting.
When users download their app, Shake Shack sends users crave-worthy messages showcasing menu options, complete with rich media and embedded Calls to Action.
They also send users a series of permission prompts requesting push permissions and location tracking. In-app messaging provides a mechanism for gaining push permission and location tracking permissions. As a delivery app, getting users to opt into mobile push is key for a functional business model, since mobile push notifications alert users about their order and delivery status.
4.  Ogun: Constructing a stable foundation with in-app messaging
The Spanish construction management app Ogun allows construction professionals to organize sites and projects under a singular platform, empowering users to manage and share checklists and deliver projects on time, all with the help of in-app messaging.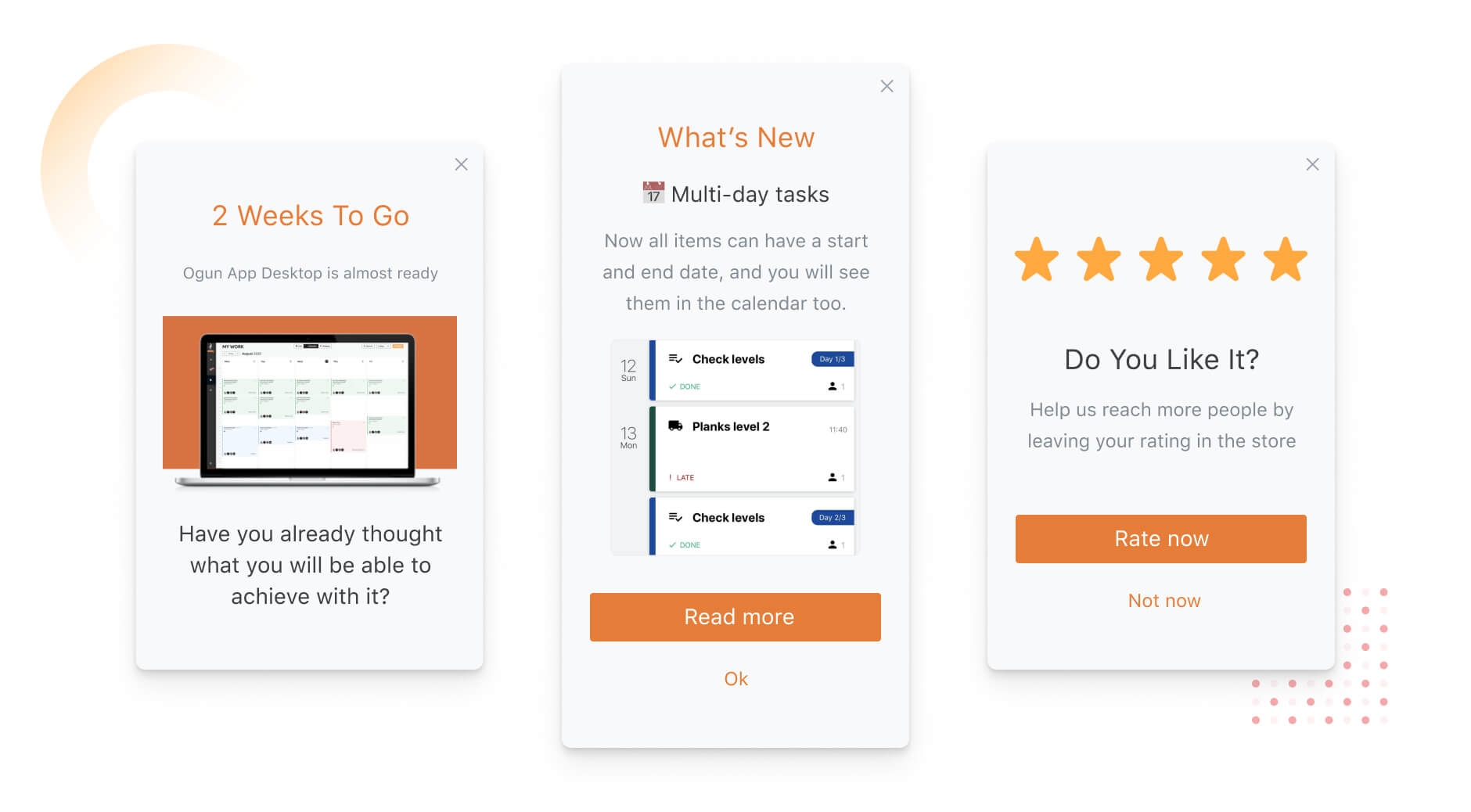 Because Ogun facilitates seamless communication and task reminders, the team needs a flawless in-app experience to drive results for their users. One of the first steps the company took to achieve this goal was to build out multiple customized welcome messages after they identified points in the onboarding flow where users tended to fall off. After implementing welcome messages via creative, scrollable carousels to onboard users, they saw a striking 80 percent increase in click-through rates for their onboarding messages.
In addition to welcome messages, Ogun delivers personalized in-app messages touting new features, sending promotions, and more—supporting early and late-stage users across their journey.
As a result of using personalized and diversified in-app messaging, Ogun reduced churn by over 35 percent and increased app retention by 27 percent.  
5. Radio Free Europe: An iconic global media company retains users with targeted news updates
Famous for transmitting news behind the Iron Curtain in the Cold War, Radio Free Europe is now committed to broadcasting news across 22 countries in 26 different languages.
As a media organization that delivers time-sensitive local and global news, RFE uses in-app notifications to cross promote messages, reminding users of recent articles, top stories, and breaking news on their mobile app. These messages are customized based on in-app behavior, which makes these news recommendations resonate and keeps users coming back for more. As a result of these segmented and targeted in-app, instant, and personalized notifications, RFE has seen a 15 percent increase in user retention.
6. LBC Studios: Enhancing the player experience with in-app messaging
Successful for attracting 12 million gamers to their first studio game "Hempire, " LBC Studios continues to connect with its global user base around the quirky and creative culture of cannabis with a trippy in-app messaging experience.
LBC studios leverage user behavior and personalized messaging to connect with gamers in the app. They provide an engaging visual experience to users, which they complement with creative, hilarious, and informative in-app notifications consistent with their eccentric brand.
A key piece of their in-app experience is sending segmented notifications based on what level a user is on. As users unlock thrilling new features as they hit benchmarks in the game, they receive notifications to pique their excitement and congratulate them on reaching these new heights.
As a result of an engaging messaging strategy, LBC's mesmerizing in-app experience keeps 135,000 daily users coming back to their platform.
Get Started with OneSignal
OneSignal is designed to help you send notifications and seamlessly manage your user communication across every channel, including in-app messaging, mobile push notifications, web push notifications, bulk SMS, and email. Our platform is quick to set up and makes it easy to customize and automate your messaging strategy without doing any development work. If you don't have a OneSignal account, you can create one for free and create beautiful in-app messages today. Don't take our word for it — sign up and see for yourself!
Create a Free Account