For mobile-first companies, the user app experience is the principal way that customers interact with, build relationships with, and exchange value with your brand.
How UX Impacts User Retention and Growth
For mobile-first companies, the user app experience is the principal way that customers interact with, build relationships with, and exchange value with your brand.
Just consider the following statistics for context.  
For every dollar spent on UX design, companies see an ROI of 100 dollars
1 in every four mobile apps is used only once
Over 30 percent of customers would leave a brand they previously liked after a single negative interaction.
80 percent of mobile users indicated they would only attempt to use a problematic app three times or less.
Subscription-based app models are growing, which creates a greater need to optimize app UX for existing users
There are a wide variety of components that factor into your user experience, from the strength of your app's underlying infrastructure to your consumer-facing app interface to the variety of communication channels you're using to engage with users.
Here, we'll get into a comprehensive list of tips for elevating your user experience, which in turn will translate to both growing your user base and retaining existing customers.
The following strategies will focus on troubleshooting issues within your app experience and optimizing these pieces to better suit your users' needs, which will contribute to better retention and growth in the long run.
15 Strategies to Improve Your UX to Maximize Retention and Growth
1. Optimize Onboarding
Onboarding is the starting point of users' journey with your app. An inadequate onboarding experience is a common issue that can dampen your mobile app experience.
If you're facing short-term retention issues, as many apps do, you should consider reevaluating your onboarding flows.
Remember, onboarding should ideally work to reduce the learning curve for your platform, increase feature adoption, excite users about your offerings, and showcase the key elements of your app.
Some examples of popular onboarding flows you can implement include function-oriented, progressive, and benefits-oriented flows.
2. Conduct UX Research
In an industry where UX trends evolve so quickly, it's important to do your research both on what's broadly popular in mobile app UX and also what's trending in your specific app category.
Looking at the broader ecosystem and understanding the UX trends that are popping off is critical in order for you to keep pace with user expectations. For instance, UX trends that have been emerging in 2022 include AR, VR, and motion design as well as animations.
When it comes to category-specific trends, you'll want to dig into what your competitors are doing to understand the standards for your UX.
For example, food delivery apps are now expected to provide an effortless way for users to follow the placement, journey, and delivery of their orders in real-time, often implementing a map component that displays a delivery's progress.
3. Reduce Friction
App users tend to be impatient and are easily derailed from the app experience when they feel inconvenienced or frustrated. The concept of reducing in-app friction involves decreasing the amount of effort users exert to complete a process or reach their end goal. You should be identifying friction points in your app experience by assessing your user data and figuring out where and when users abandon your platform.
Friction can be caused by issues completing a process, such as an inconvenient checkout process, for instance. It can also mean reducing the number of steps it takes to complete an essential task, like placing an order.
4. Examine User Trends
Assessing high-level trends in your user base allows you to understand where and when your audience is churning from your app experience, which in turn can inform improvements to your UX.
Assess trends in app installs, uninstalls, session count, session duration, and more. Figuring out where and when users lose interest or fail to take an action can clue you in on what you need to improve within your UX and these insights can point directly to areas you should improve.
On a high level, you should be looking metrics like Daily Active Users (DAU) and Monthly active users (MAU), which measure the volume of users active in your platform on a daily and monthly basis.
DAU and MAU are a stickiness metrics that can point to how well your app is retaining users over time, and where you're losing them in your UX. These metrics are Key Performance Indicators (KPIs) for many mobile-first businesses.
5. Collect Direct Feedback
Collecting tips from the mouth of the customer around elements of their UX that they're satisfied and unsatisfied with is the most reliable way for you to understand the UX improvements your app needs.
Gathering user feedback enables you to more directly address their pain points, drive specific feature improvements, and makes them feel heard.
Ask for users' feedback around different components of the app experience, such as its usability, onboarding flows, design elements, and more.
Let's say you're a gaming app.
You could, for instance, collect users' feedback around three new levels you've launched in your game using an in-app survey.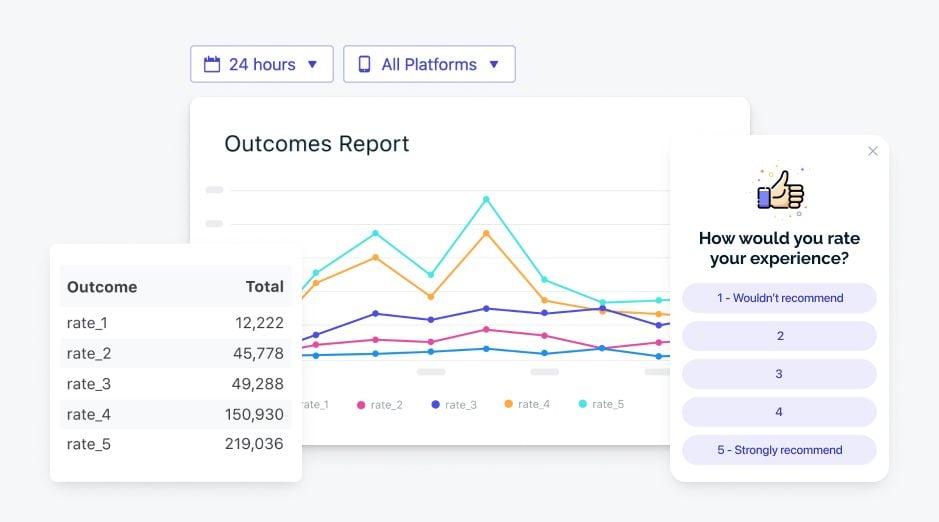 An In-App Survey is a short version of a traditional survey that's embedded directly in the app experience. These tools provide a direct and targeted line of communication with your customers and allow you to seamlessly collect the data you'll need to optimize your product.
6. Personalize the App Experience
Personalizing your UX based on explicit preferences your users have voiced or based on other data you're collecting about your audience is an excellent way to elevate your current strategy.
User expectations for personalization are rising alongside the number of user data points companies are collecting across their tech stacks. To personalize your user experience, you can use data relevant to a user's buying stage, their known preferences, their specific behaviors, and their personal information.
Our client Evino uses personalized push notifications to help drive 1,800 orders in an average week.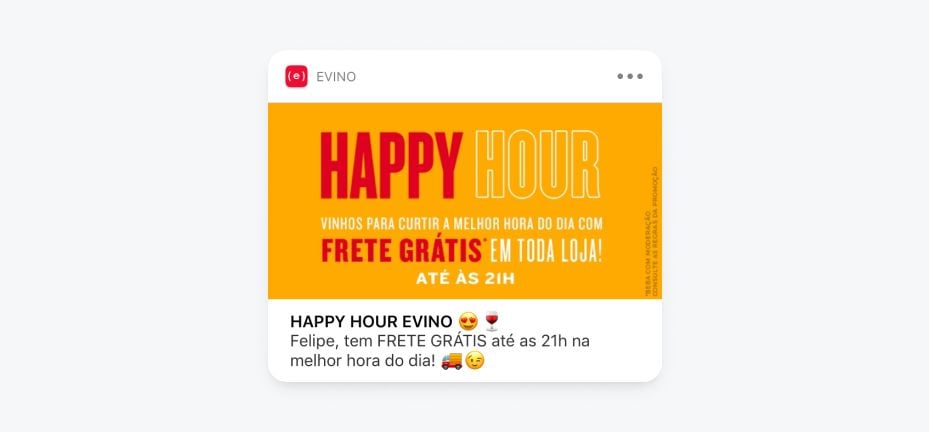 7. Play on Human Psychology
You can better hook users on your app experience by instilling motivation at the right points within their app journey. There are an array of general psychological marketing tactics you can use within you UX, such as sparking curiosity, creating scarcity, providing incentives at the right milestones, or creating a sense of urgency. These tactics are proven to hold psychological influence and help instill habits.
For example, your gaming app can trigger a user's dopamine system with tactically timed in-game rewards. Your eCommerce app can create scarcity by sending push notifications counting down a limited-time offer.
8. Implement New Design Elements
Routinely updating your app's design is an important way of keeping your overall UX current. If you don't intermittently improve your design through steps such as modifying your app interface, adding new components, redoing logos and layout, and more, your app experience will fail to evolve with ever-changing standards.
New design elements you can weave into your platform can include new buttons, an updated menu, new logos and brand colors, and more.
9. Test Your Way to Success
The most efficient way to check on the usability of your app is by testing it with actual users!
This process is referred to as remote testing, which allows you to collect feedback from users who've spent time on your product.
Usability testing involves setting objectives, defining the tasks to be performed, preparing your test documents, identifying your test participants, conducting your test, and then synthesizing your results.
10. Comb Through App Reviews
Your app reviews can present a valuable resource for understanding where your user experience is working—and not working— for your audience.
To supplement the direct feedback you're collecting, you can look through reviews to understand which elements of the app experience are top of mind for users. Perhaps in your fitness app's reviews, your users have been actively requesting improvements to your food-tracking feature, for instance. Reviews can illuminate areas of the UX that can be fixed, enhanced, or added.
11. Troubleshoot Crashes
You should constantly be monitoring big picture issues your app is experiencing, such as app crashes. When users experience app crashes, they are more likely to churn from your platform.
For instance, Android app users can only tolerate an average daily crash rate of 0.25 percent.
From the time that your app is live, you should be monitoring and addressing crashes. App crashes can occur for a variety of reasons. Common reasons mobile apps crash include memory management, lack of prior testing, error and exception handling, device compatibility issues, excess code, media optimization, and more.
Your teams should be routinely addressing the causes of app crashes to keep users satisfied with your UX and minimize the fallout of these inconveniences.
12. Scope Your Competition
When it comes to standing out in your app category, you need to understand what your biggest competitors are doing to evolve their UX.
What features have your competitors introduced? What elements are they adding or eliminating? Understanding your competition's strengths and weaknesses will help you better position your platform ahead of other players on the field.
For instance, maybe you're a banking app and you notice that your top competitor has introduced a new two-way customer service messaging feature. Your product team can assess whether this feature is worth developing and act accordingly.
13. Assess Performance Issues
Your mobile app's performance underlies every aspect of your mobile user experience. When your users are impacted by an app's performance issues, they will likely become frustrated and are more likely to churn.
An app's performance includes its stability, responsiveness, and speed.
Studies show that an app that launches slowly (longer than 2 seconds) annoys 59 percent of users. In addition, 71 percent of app uninstalls occur because of app crashes and 70 percent of users abandon an app that takes too long to load.
Factors that play into mobile app performance include an app's load time, how well it's running under different circumstances, and crash events that occur when user activity spikes. You should consistently be monitoring your app's performance and optimizing or fixing issues as they come up.
14. Leverage Push Notifications
Mobile push notifications are an irreplaceable channel for mobile apps and play a critical role in your brand's ability to serve a connected and fulfilling UX.
This channel can be used in a variety of creative ways to improve user experience by connecting brand touchpoints, rewarding engagement, and incentivizing conversions.
Some key examples include transactional push messages such as delivery updates, shipping confirmations, and appointment reminders—that fill a need and directly elevate the customer experience —or marketing messages, such as limited-time offers, seasonal sales, or subscription upgrade prompts.
Nexstar Digital delivers public health push alerts through one of its many local news apps.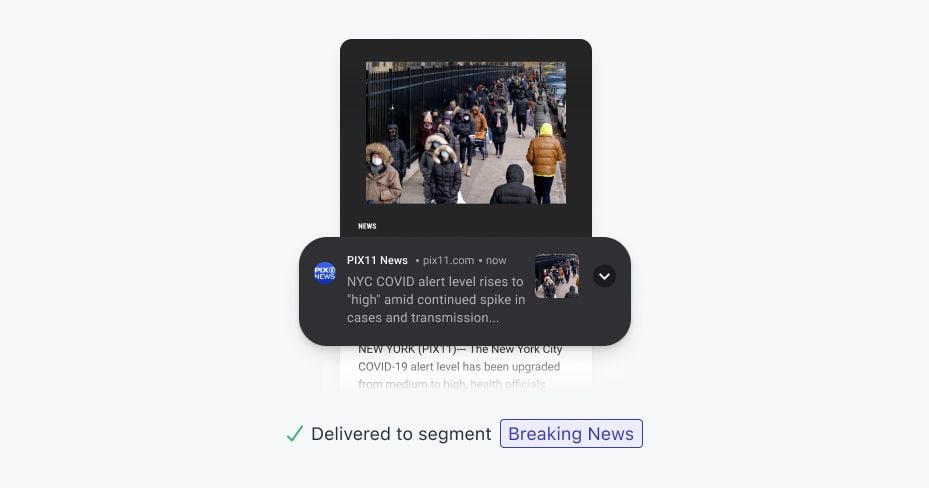 15. Implement In-App Messaging
Companies can improve the user experience with in-app messaging. These messages appear natively in the app experience and reach all active users, rather than just users who've actively subscribed.
In-apps can communicate the value of an app in different ways and help convince users to continue to come back.
For example, Spanish construction management app Ogun uses in-app messages as the backbone of their onboarding flow. With OneSignal's Carousel feature, they enriched their onboarding experience by implementing a series of customized welcome messages, which saw an 80 percent increase in CTR from their prior onboarding approach.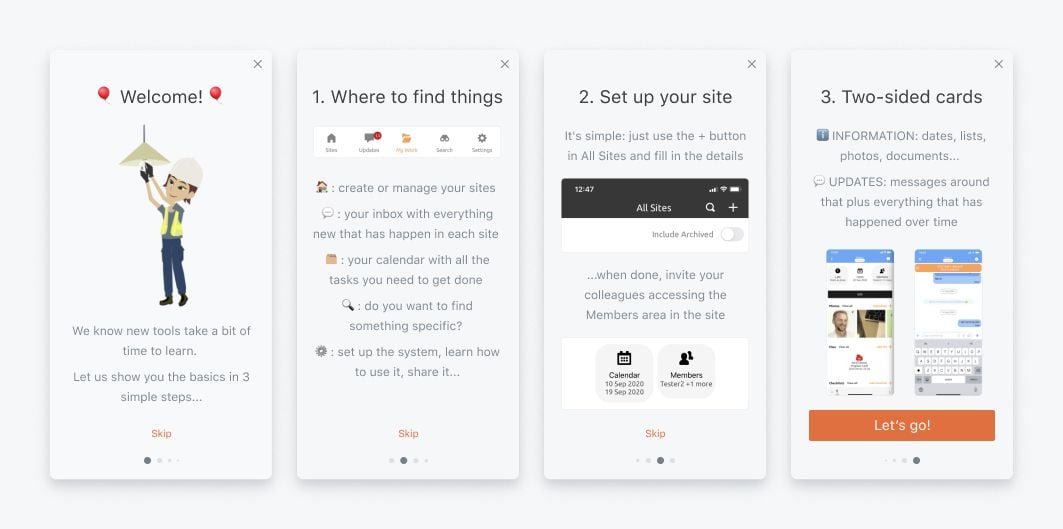 Add Messaging Capabilities to Your App for Free
OneSignal is designed to help you send notifications and seamlessly manage your user communication across a variety of channels, including mobile push notifications, web push notifications, bulk SMS, in-app messaging, and email. Our platform is quick to set up and makes it easy to send eye-catching messages without doing any development work. If you don't have a OneSignal account, you can create one for free and start sending push notifications to your users today. Don't take our word for it — simply sign up and see for yourself!
Get Started for Free