Ratings and reviews are of growing importance in the app marketing ecosystem.
Ratings and reviews are crucial factors in users' decision-making process as they decide whether to download your app. They also provide an honest source of public feedback.
What are app ratings and why are they important?
Users often let loose about their frustrations in ratings and reviews, making them both a source of constructive feedback and a risk to your brand should you accumulate too many frustrated customer complaints. When your average ratings and reviews skew negative, you can inadvertently damage your brand reputation.
Here are some additional reasons why reviews and ratings are key to the success of your app.
Positive reviews and ratings make your app more discoverable
They can build social proof, one of the key forces of psychological influence for your brand
They help drive downloads and customer acquisition
The more reviews and ratings you collect, the more legitimate you look next to your competitors
They provide a source of customer feedback, offering a source of input for new features, helping you identify bugs, and highlighting ways you can improve your UX
What is an App Rating?
An app rating is a way users score your app. To do so, they  assign your app a score from one to five. Each user's individual rating of your app contributes to the average rating that other users see on your app's listing in the app store. App store ratings are seen on your app's product page and in app store search results.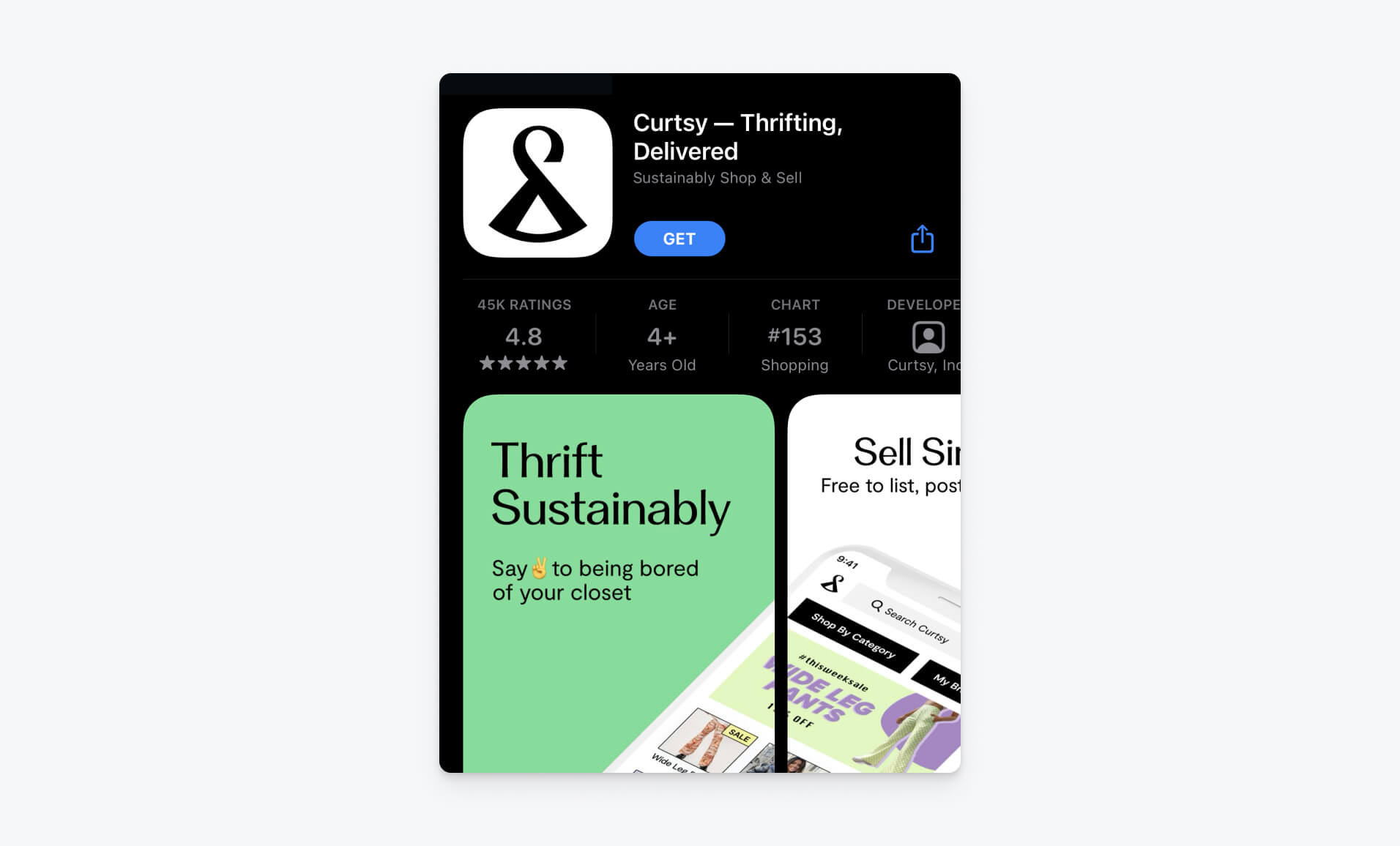 What is an App Review?
Reviews allow users to elaborate on their experience with your app and voice their praise and concerns. The Google Play and Apple App Stores have different criteria for the reviews they choose to highlight.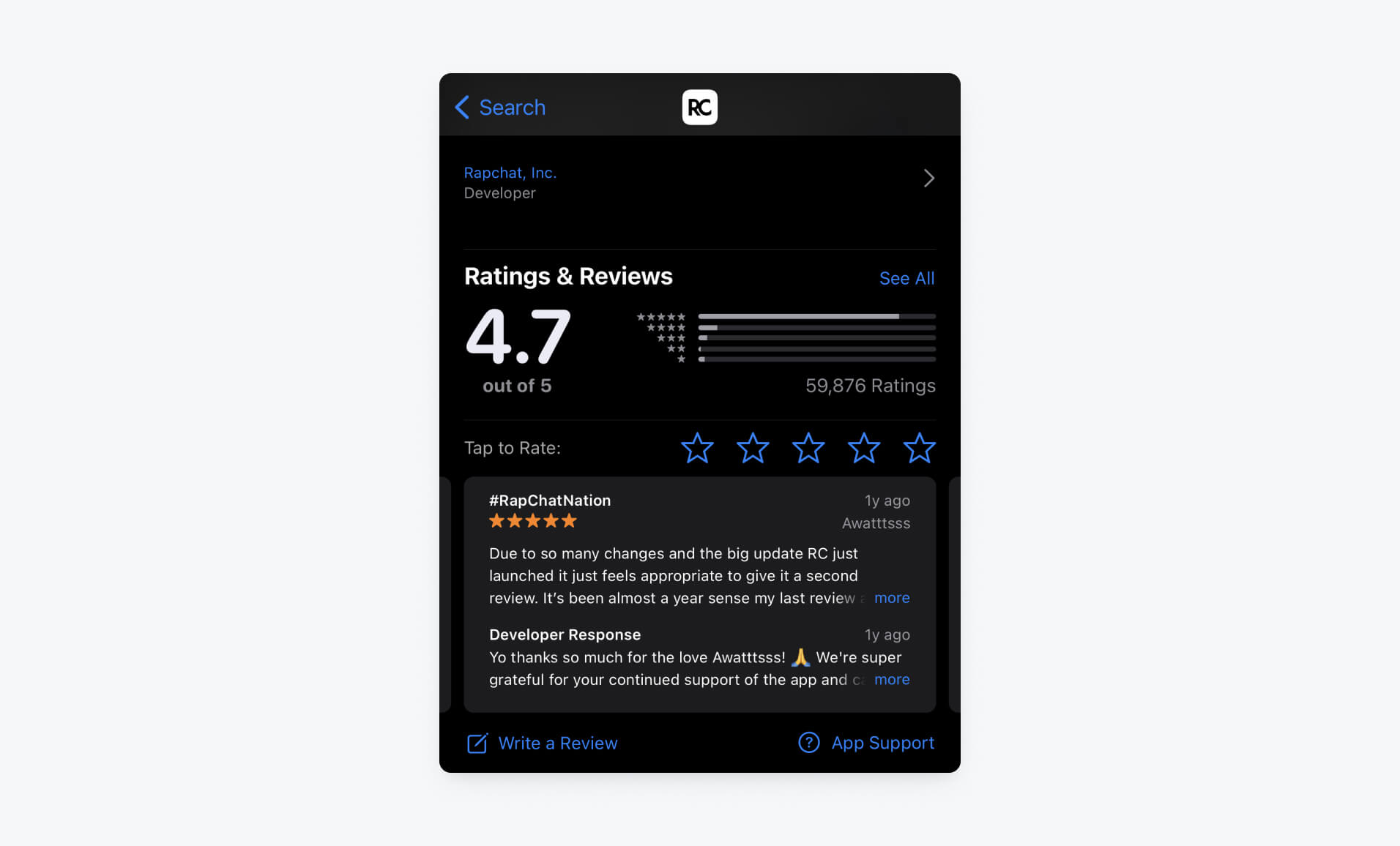 How do App Ratings work in the Apple App Store and Google Play Store?
Ratings and reviews are handled differently in the Apple and Google Play stores.
One main distinction is that you can request that your average rating be reset in the Apple App Store. You can only do so when you release a new version of your app. You can even reset your ratings for individual territories. However, keep in mind that just because you can reset your ratings doesn't mean your reviews disappear.  The Google Play Store doesn't afford this option.
The two stores also have different criteria for which reviews are featured. Whereas the Apple App Store features six randomly selected reviews, the Google Play Store features the best and worst reviews.
The way ratings are weighed also differs between the two stores. In the Apple App Store, an app's summary rating is an average of user ratings and is unique to each territory. Until 2019, the Google Play Store gave each rating equal weight to your app's summary rating. However, now Google's algorithm has started giving more weight to recent user feedback.
It's also important to remember that the Apple App Store doesn't let you directly incentivize reviews within the app. However, you can ask users to rate your app in other ways, such as through cross-channel marketing campaigns.
Common Reasons Why Users Leave Negative Reviews
Negative reviews are an easy way to tank your brand reputation and can stand in the way of a user's decision to download your app. Unfortunately, our human nature gives us a bias toward and hyper-focus on the negative rather than the positive. When potential users look at your app store listing and see negative reviews, it will impact their decision-making. That's why it's important to address the core issues that could be leading to negative feedback so you can avoid accumulating too much of it.  
Users leave bad reviews mainly because of an inferior user experience, or UX. There are many elements that play into your UX, but here are a few examples that showcase areas of your app that could be leading to users' frustrations.
Bugs—  Troubleshoot bugs regularly and perform extensive user testing across devices
Crashes—Minimize crashes and swiftly address them when they occur.
Performance — Ensure that your speed, responsiveness, and stability are being monitored and optimized by your technical teams.
Missing Feature— Update your app regularly so that your customers remain satisfied with your feature set.
Misleading Marketing— Make sure your app store description, marketing messages, and paid ads properly represent your product and offerings.
Tips and Phrasing
Make sure to phrase your request for feedback as a mutually beneficial act. Use language that conveys that you want to hear from your valued users and that you appreciate their time.
For instance, you might say "We appreciate you telling us what you like and also what could be improved!" Or "How are we doing? We'd love to hear your feedback."
How to Ask for App Store Ratings
When asking for app store ratings, ensure your request is presented favorably! Some easy ways to frame your app store rating request in are by using colorful graphics in an in-app message or complementing your message with emojis and playful language.
Strategies to Improve App Reviews and Rankings
Here are some overarching strategies for achieving better reviews and rankings across the board.
Spend Time on UX Improvements
One of the most practical ways for you to improve your app ratings and reviews is to directly improve your user experience, which can involve optimizing various components of a user's interaction with your platform.
UX standards change quickly in the mobile app industry, so it's important to research both what's broadly popular in-app UX and what's trending in your specific app category.
Ways you can improve the user experience include optimizing your onboarding flows, adding new highly requested features, implementing new design elements, and more.
Make it Easy to Review Your App
Make the process of reviewing your app seamless. You can do so by organically embedding your ask in your app experience (for your Android users), sending well-timed push notifications, or deploying strategic email campaigns prompting users to do so.
You'll likely want to ask for a review from active and satisfied users, so think about how you can segment and target these users accordingly.
For example, you can deploy a trigger at a time when you know users are happy or feeling positive towards your app and also in moments where they won't feel interrupted.
You can remind them to review your app with a friendly push notification an hour after they've received their dinner from your food app, for instance.
Time Your Rating Request Well
Perhaps the most important factor in asking for app reviews is timing.
You want to catch your users when they're in a positive mindset about your app in a moment where they feel satisfied, grateful, or excited. This could be after they've passed a level, received an order, or explored a new feature. You can set up triggers based on in-app behavior or other key milestones you identify to achieve this.
On the flip side, you'll want to ensure that you're not interrupting their app experience or that you're catching them in a negative mindset. Don't request a rating or review after a user has failed a level, after their order was delayed, or in the middle of an action that they're attempting to complete on your platform.
Leverage Different Channels
When it comes to asking for feedback, you're not just limited to asking users for feedback directly within the app experience.  Get creative with your request by deploying campaigns for reviews across channels. You can request feedback across various communication channels, and it's up to you to devise the best targeting strategy for your power users.
When it comes to the channels outside of your app itself through which you incentivize reviews, you have options such as email, push, and SMS. You can use one or multiple as ways of driving happy users towards this desired action, without disrupting the app experience or relying on users being active in your app.
For instance, you might tag individuals who've made ten or more orders in your food delivery app as engaged users and retarget them via email with a request to rate and review your app.
Respond to Reviews
Reaching back out to your reviewers is critical because it shows customers that you understand their frustrations. Whether the review is positive or negative, your users want to know that you're there for them and that they truly care about your relationship with them. Responding to reviews also contributes to your App Store Optimization, or ASO,  efforts.

Tips for Responding to App Store Ratings
When you respond to users directly in the Apple App Store, you can tap them to update their reviews, which gives you a second chance to gain positive feedback.
Data supports the value of replying to your users' reviews, as according to Apple, developers who reply to reviews can increase their star ratings up to .7 stars.
As developers and marketers in the mobile app space, we care about the human relationships between our business and our customers. Forming that human connection starts with replying in a personalized way to your reviews and ratings.
To ensure you're replying in a constructive way, you should avoid automated responses. If your team has the bandwidth, you should take the time to reply both to positive and negative reviews you receive with the highest level of specificity you can afford.
When you respond to app store reviews, you should keep your follow-ups short to-the-point. Make sure to directly address the issue in question and personalize your response when you can.
Get Started with OneSignal
OneSignal is designed to help you send notifications and seamlessly manage your user communication across a variety of channels. Our platform is quick to set up and makes it easy to send push notifications, in-app rating requests and user surveys, and much more. If you don't have a OneSignal account, you can create one for free and start sending push notifications to your users today. Don't take our word for it — simply sign up and see for yourself!
Get Started for Free