Broadly, customer engagement is the dream that every business, especially a mobile-first business, should aspire to.
Consistent engagement translates to heightened interest, platform activity, retention, and monetization.  However, the task of elevating customer engagement across the mobile app user's journey is no simple matter.
Consider the following statistics for context:
In 2021, over 435,000 apps were downloaded per minute
Acquiring a user can be 5X more expensive than retaining an existing one
One in five users will churn after first downloading your app
In 2019, only 32 percent of users returned to an app 11 times or more.
Retention rates tend to drop around the 7 and 30-day marks.
The average app user churn rate over 3 months is 72.76 percent.
Reducing churn by only 5 percent can increase profitability by 75 percent
To match the stiff competition you face as a mobile-first company, you'll need your customer engagement strategy to be as airtight as possible.
That's where cross-channel messaging comes in.
What is Cross Channel Messaging?
Cross-channel messaging involves communicating to your customers in a coordinated way using more than a single channel. Communication channels, in this context, can include push notifications, SMS (Short Message Service), email, in-app messaging, and more.
A cross-channel messaging approach is more strategic than messaging users in a singular channel because it delivers your brand's content to your target audience in the optimal format and at the ideal time.
Why is Cross Channel Messaging Important For Customer Engagement?
A cross-channel engagement approach is no longer optional if you want to secure success for your business.
Here are some reasons why.
Increased Visibility
Cross-channel messaging is important in today's market because it gives your brand a meaningful presence in as many places — devices, platforms, and operating systems— as possible.
Customized UX
Launching a cross-channel strategy is also an effective way to cater your user experience to your target audience based on their unique preferences and behaviors.
Complementary Communications
With cross-channel messaging, send complementary communications across channels. This is more tactical than blasting your users with a flurry of unwanted messages in a single channel, which risks annoying your users or turning them off of your brand altogether.
Now that you understand the context and value of cross-channel messaging, let's get into some core tips you can use to optimize your cross-channel messaging approach.
6 Tips to Optimize Cross-Channel Messaging

1. Model Your Retention Curve
Before you begin orchestrating cross-channel messaging, you'll need to model your mobile app's retention curve by collecting and analyzing your engagement data.
How are users entering your funnel? What prompts them to download your app in the first place? Are they using your app immediately after they download it? Where do the majority of users "stick" and where do the majority of users "churn?" Examining audience behavior across their lifecycle is an important first step before you pour energy into crafting your cross-channel messaging. Doing so will help you stage cross-channel re-engagement campaigns at critical moments when you'd like to combat churn.
After evaluating retention trends, you'll want to establish engagement goals around the conversion and monetization goals that underly your app strategy and ultimately, its survival. Modeling your cross-channel messaging flows in line with your overarching monetization strategy will yield the best results.
Before you design and execute your cross-channel sequences, you should define exactly what the message series aims to do. What action do you want your users to complete at the end of this process?
2. Leverage The Right Channel For the Right Use Case
Before orchestrating your cross-channel strategy,  you must first identify which channel to use and when.
With effective cross-channel retargeting, you can send users a follow-up text, or SMS, after users have engaged with a push notification, reinforce an SMS confirmation with a friendly push reminder, or retarget your recently acquired app users with an email onboarding sequence.
Retarget push notifications with another push, SMS messages with an email, or retarget users across your push, email, and SMS audiences.
Here are some unique benefits each channel offers within your overarching strategy.
Mobile Push Notifications
Using mobile push notifications, you can distribute content to app users even when they're not active on your app or your website.
Email
Email is a legacy channel ideal for distributing long-form content.  Email is effective for sending confidential account-related messages,  two-step verification protocols, invoices, and security alerts. This channel is known for its permanence, high ROI, and ample content real estate.
Too get the full picture of what you need for  email campaigns success, check out our guide to email optimization!
SMS
SMS, Short Message Service, is a channel that offers incredibly high open rates and elicits fast responses from users.  It's been shown that 82 percent of users say they open every text message they receive. SMS is both sensitive and selective, as users must explicitly opt into your list.
3. Achieve Activation Goals
Drive activation goals with cross-channel messaging. Activation is a stage of the user journey defined as an action or series of actions that signal when a user has started deriving a core benefit from your product. Activation usually occurs post-download.
Cross-channel messaging is an optimal way to draw users toward becoming activated on your platform.
Before you set up a cross-channel activation flow, you'll first need to identify the precise times when a customer starts getting value from your product. In deciding what action(s) to define as activation, think about your core offering and what features, steps, or experiences a user must complete in order to start filling a need with your product or service.
From there, you can implement a cross-channel messaging campaign in order to encourage the completion of your activation milestone —whether it's sending a follow-up SMS after users have opened a free account on your entertainment app, edited their first photo in your collage app, or made their first trade on your crypto app.
4. Deliver personalized content at the right time
Create personalized cross-channel messages and workflows that are directly relevant to users based on how they've interacted with your product.
It's no surprise that message personalization is associated with higher Open and Click-Through Rates. Users are more likely to identify with personal content, which generates interest and engagement with your notifications. If engagement is a priority for your app, personalization should be too.
Our client Softonic, for example, saw a dramatic increase in click-through rate (CTR) by personalizing their messaging for 100 different message segments.
With marketing automation, you can trigger messages based on user actions and behavior in order to personalize content to your users' experiences.
5. Meet Evolving Consumer Expectations
Consumers are now used to engaging with products and services across many channels and devices, from mobile apps to mobile and desktop web browsers to Smart TVs to SMS, and more. Rising customer expectations have pushed businesses to invest more heavily in creating consistent cross-channel experiences.
Over the past couple of years, we observed the impact of the rapid-fire adoption of digitized customer and supply chain interactions.
In the wake of the covid pandemic, A global survey of C-suite executives across industries and company sizes revealed that the share of digital or digitally enabled products in companies' portfolios accelerated by a shocking seven years. Not only that, but respondents were three times likelier than before the crisis to say that at least 80 percent of their customer interactions are digital in nature.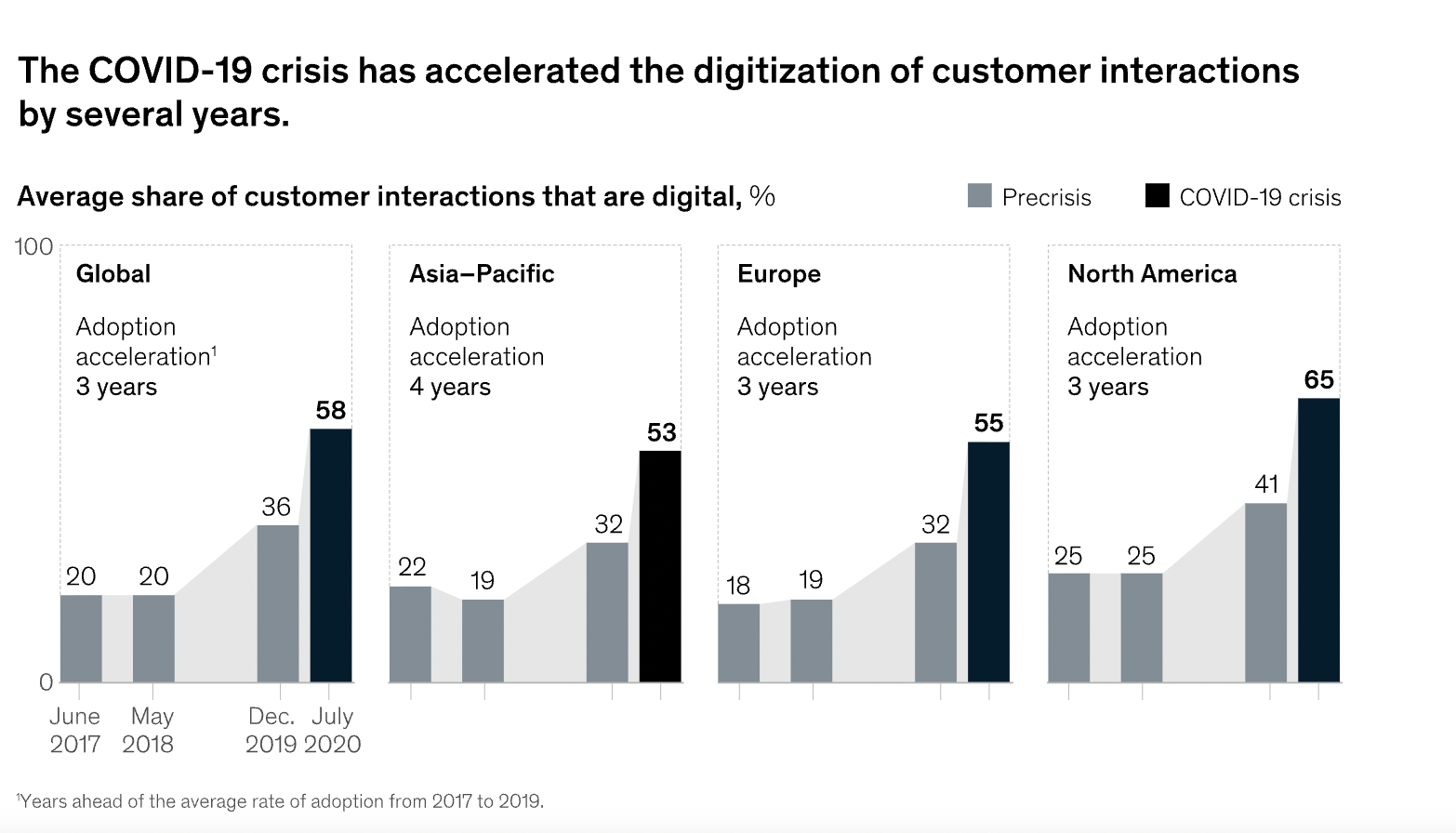 These leaps in digitization contribute to the growing importance of omnichannel and cross-channel experiences for brands of all types.
6. Enhance Cross-Channel Messaging with Journeys
Customer journey maps visualize how a customer interacts with your brand by defining events, motivations, and friction points in their product experience. Marketing automation providers such as OneSignal provide an integrated and intuitive way of executing cross-channel messaging journeys.
The ultimate cross-channel messaging tool, Journeys help you retarget users across channels with a systematic and automated approach. According to OneSignal CEO George Deglin,
"With Journeys, brands can connect their messaging across channels to map personalized user journeys that reflect and adapt to the specific ways their customers engage with their messaging."
Cross-channel messaging is even easier with Journeys and can be applied to a long list of use cases. The following are common use cases that companies can use OneSignal's Journeys feature to execute:
App Onboarding
Win-back / re-engagement
Abandoned cart
Post-action
Sales campaigns
Trials and upgrades
Repeat purchase
For instance, Buenbit leveraged cross-channel messaging to drive in-app promotions and transactions.
"We created three different Journeys with a cross-channel strategy, having emails, push notifications, and even in-app messages triggered on different screens on the app, to encourage users to get a loan instead of using their cryptocurrencies. In the 1st month after we launched this product, 54 percent of the total loans taken, came from this communications."
Get Started for Free