Struggling to find the best communication channel for transactional and marketing messages? Well then, you've come to the right place. Below, we'll explore different types of messages and how to choose the right channel for your use case.
What are Transactional Messages?
Transactional messages are typically automated messages that are triggered by a specific action that a user or customer has taken. These messages are unique to each individual and contain important information regarding the action in question. Transactional messages are sent on a "need to know" basis and are critical to create a great user experience. For instance, if a customer buys a product from your online store, they expect to receive a receipt and tracking confirmation via their chosen communication channel. Without transactional messages, your user may miss key information and their experience can become fragmented. Examples of transactional messages include, order confirmations, delivery updates, shipping information, account balance alerts, and password reset links.
What are Marketing Messages?
Marketing messages are sent to influence a user into taking a specific action. Whereas transactional notifications are more logistical in nature, marketing messages are meant to delight and entice your audience. They're typically sent to segmented user groups and include some personalization to make the content more relevant to the recipient. Marketing messages can promote special offers or deals, or may simply share relevant content to entice users into re-engaging with your site or app.
Choosing the Best Communication Channel for Transactional & Marketing Messages
Now that we've defined transactional and marketing messages, let's figure out how to align your messaging goals with the five most effective user communication channels.
Mobile push notifications provide a way to share content with mobile users even when they're not using your app or visiting your website. Unlike SMS messages, push notifications don't require that you collect a user's phone number or contact information, but they do require that you earn opt-in permission. Both SMS and push notifications have character limitations, but may include other types of content such as images, gifs, brand logos, and more nuanced CTAs.
Mobile push notifications are great for both transactional and marketing messages because they appear front and center on a user's phone. Due to their placement, they get a lot of visibility and can help you stay top of mind.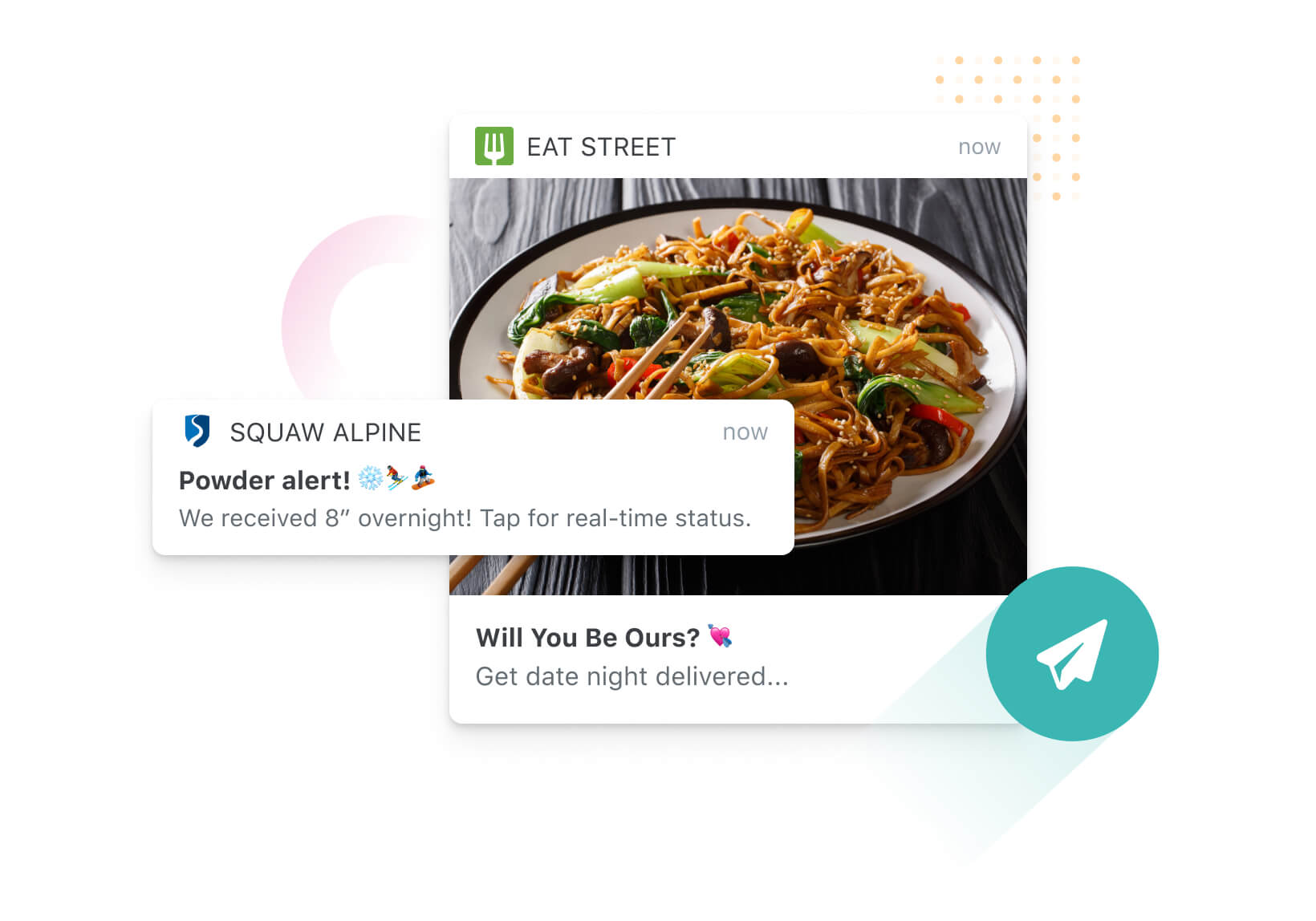 When sending transactional messages, automation is the key to ensuring your messages are contextually relevant and valuable to the user. No one wants to receive a confirmation code the day after they tried (and likely failed) to sign into their account.
That said, it's important to be mindful of what messages you're automating and what value they're providing to your user. The most successful types of transactional push notifications reduce friction by making important information available at the precise moment a user needs it most. For instance, receiving itinerary reminders and gate changes the day of your scheduled flight ensure you have the most up-to-date information and that you don't have to search hard to find it — thereby enhancing your customer experience.
Marketing push notifications are well suited to events like flash sales, mobile gaming promotions, and breaking news updates. Although they aren't logistical in nature, timing and context are still paramount. When it comes to mobile push, remember that sending a message at a certain time doesn't guarantee that it will be read the moment it's received. Whereas unopened emails are always dated and timestamped, mobile push notifications will remain on a user's home screen until they're opened or dismissed and may not provide the same contextual clues.
As you automate your push notifications, it's important to consider the expiration date of your marketing message. If you send a notification about a one-day-only sale, that message will no longer be relevant in 24 hours. For limited-time deals or events, make sure to customize how long your push notifications remain active before disappearing.
Web push notifications appear near the taskbar in a user's browser. If users can access your app or website on a desktop and mobile device, then web push notifications can be a great resource to keep them engaged and create a seamless customer journey between mobile and web. Like mobile push notifications, unlocking this communication channel requires gaining user permission.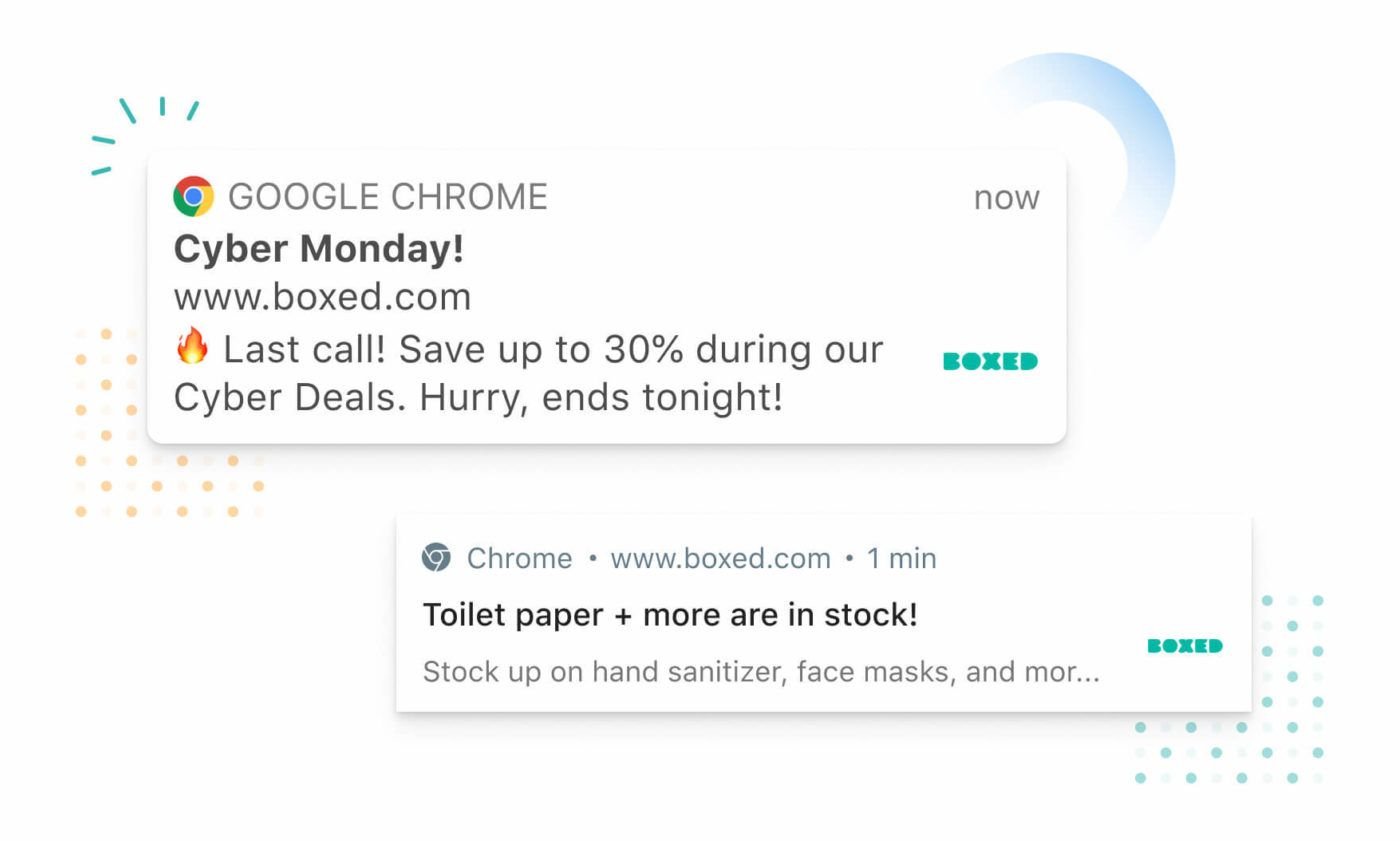 Web push notifications are useful for sending both transactional and marketing messages if you know someone is engaging with your site or app on their desktop. About 40 percent of web push notifications are sent by companies in e-commerce, media, or publishing because this channel is ideal for driving traffic to a website.  Web push is also an intuitive channel for desktop apps to send transactional messages including message alerts, calendar invites, and event reminders.
As with other channels, reaching the right people and personalizing content is the key to boosting engagement. In a study of 118 billion push notifications, OneSignal found that targeted notifications had a 50 percent higher click-through rate. Popular use cases for web push marketing include news updates, abandoned cart reminders, announcements, and social engagement notifications.
SMS, refers to text messages sent directly to the user. SMS is unique in that it requires opting in via a different channel to respect compliance standards issued by the Telephone Consumer Protection Act (TCPA). For example, a food delivery app may ask if you'd like to receive SMS delivery updates during the checkout process. Most users are comfortable receiving SMS messages from brands after they've given consent, but they may shoulder additional messaging and delivery rates subject to their mobile plan. Compared to more traditional communication channel such as email, SMS boasts higher open rates and typically elicits a quicker response, making it a powerful platform when used correctly. In fact, 82 percent of people say they open every text message that they receive.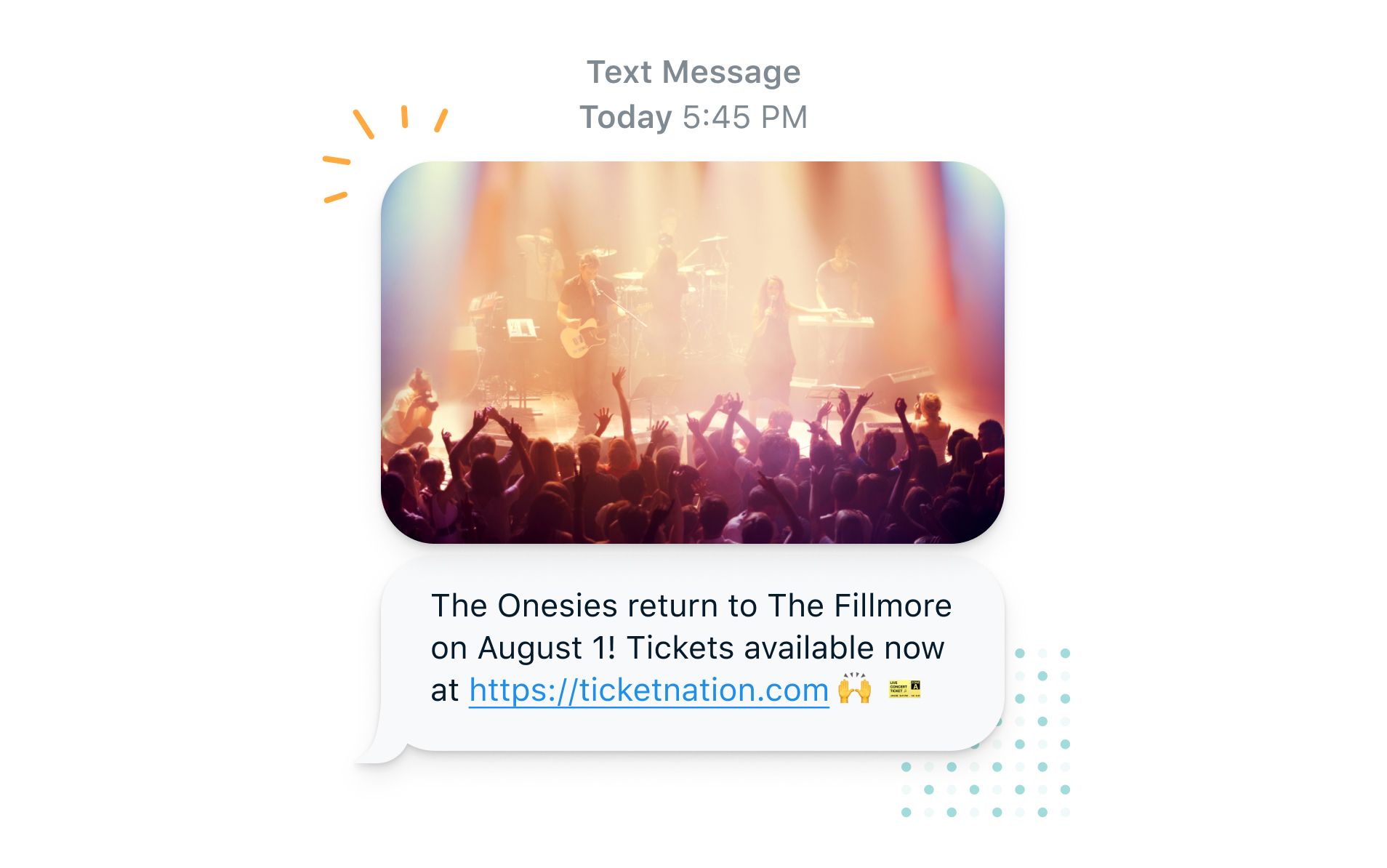 Transactional messages sent through SMS such as security codes, two-factor authentication, booking confirmations, and banking updates provide real-time feedback and are an essential part of the user journey. Marketing messages sent through SMS include flash sales, coupons, billing reminders, and event invitations.
As of 2020, there are 3.9 billion daily email users in the world today, with numbers expected to climb to 4.3 billion by 2023. Email doesn't require opt-in if a user has already given their email address, but you must give all users the option to unsubscribe. Due to its popularity and established history as a marketing channel, email has some powerful benefits and unique limitations.
For starters, users are accustomed to receiving brand communication in their inbox, so it's often the first place they'll check for information they need.  Furthermore, it's common to sign up for a service or create an account using your email address, so account related emails like password resets, account confirmations, and security alerts are part of user expectations. Compared to the limited word counts of SMS and push notifications, email also provides more room to share content and has more potential for customization. Longer content such as newsletters are well-suited to email and can provide a variety of engagement options.
On the flip side of the coin, email's rich history as a marketing channel also means that it's a crowded and competitive space. Unlike SMS and push, many promotional emails go unopened, so writing clear, clever, and value-driven copy is exceptionally important for this medium. If your subject line and preview text don't grab the user's attention, then the main content in your email won't ever reach your intended audience. In addition to writing snappy copy, it's important to remember that email can be accessed via mobile or desktop devices, so the content and design should be responsive to each channel.
In-app messages are exactly what the name implies: messages that are displayed to users while they're using your app. Although in-app messages have a more limited audience (active users), that audience is exceptionally engaged and receptive to communication. In-app messages (interstitials, banners, pop-ups, etc.) have 18-20 times the click-through rate than that of web and mobile push notification and can be a great add-on to your marketing strategy.
Although in-app notifications may not come to mind when you think about transactional notifications, they can be a valuable part of your user journey.  For instance, if a user tried to sign into their bank account on a new laptop, they may receive a mobile push notification with a verification code along with an in-app message asking if they tried to log into their account on a different device. In this way, in-app messages can work in tandem with push to create a more seamless and trust-building experience.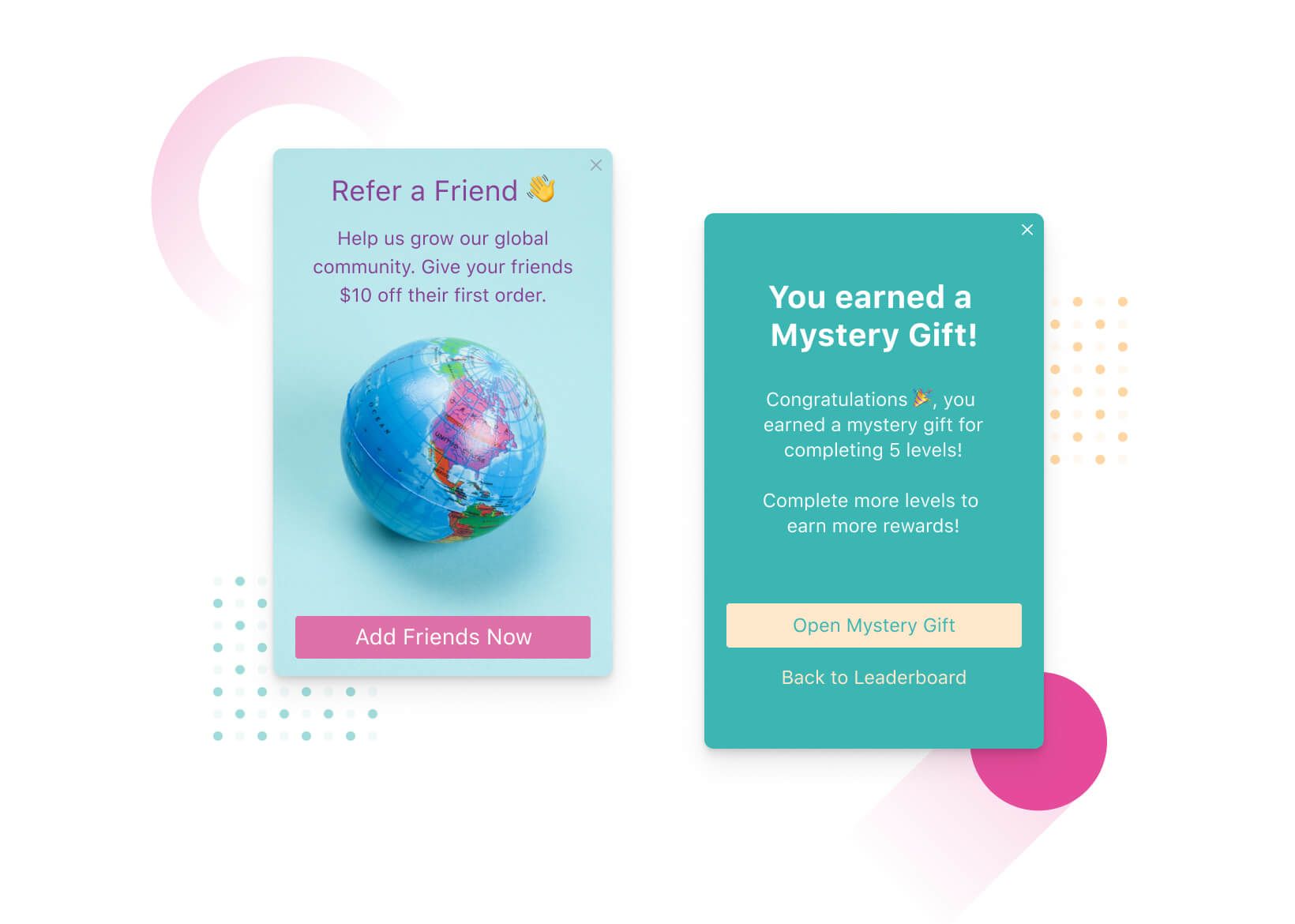 In-app messages can also be powerful conversion drivers and can incentivize a user while they're engaging with your app. In addition to encouraging in-app purchases, in-app notification can be used to onboard users, offer support, introduce new features, request feedback, encourage referrals, and provide recommendations based on a user's behavior. The versatility of in-app messaging makes it a valuable asset for app developers, product directors, and marketers alike.

Looking for more tips to improve your multi-channel user messaging strategy? Read the article below to find out how email, retargeting ads, and push notifications stack up when it comes to re-engaging users.