Did you know that every 1% increase in abandoned carts leads to a 2% decrease in sales?!
The percentage of abandoned carts ranges between 50% and 80%, costing marketers up to $4 trillion per year—and it's getting worse. But if you reduced cart abandonment by just 10%, you would see a 20% increase in sales.
Not addressing abandoned carts is like leaving piles of money on the table. The good news is re-engaging these prospects is incredibly easy because they were already considering buying from you. In terms of instantly boosting revenue, reducing abandoned carts is the lowest hanging fruit.
How to Bring Back Customers to Checkout
What is the most effective way to reel customers back to finish their purchases? There are three ways: email, retargeting ads, and push notifications.

Email Follow-ups
Almost half of all follow-up emails for abandoned carts are opened. Of these, about 20% of these customers click to return to their cart, and 10% of them finish their purchase.
But you don't have to settle on reducing your abandoned carts by just 10%. You can further sweeten the deal by offering discounts in follow-up emails, increasing your conversions to 29%.
The disadvantage with email, however, is that people are inundated with tons of email daily. If they receive a follow-up email at an inconvenient time, they are unlikely to return to their cart. They may open them, but if they don't come back at that time, they might forget to come back later.
Retargeting Ads on Facebook
One helpful feature within Facebook ads is the custom audience, which helps you retarget people who have already visited your website. A study by Comscore and ValueClick found retargeted ads to be "twice as effective" as other tactics.
Retargeting ads could also be made even more effective if they offer free shipping, neutralizing one major reason behind abandoned carts.
According to Digital Information World, people who are retargeted are 26% more likely to return and complete the checkout process.
One problem with retargeting ads is that people may not even see them. Their brains are already addled with information overload and thus filter these ads out, resulting in missed opportunities to convert.
Push Notifications
Push notifications have proved even more effective than email or retargeting ads with consistently higher click through rates.
Click through rates on push notifications are 37% higher than email for cart abandonment campaigns. The effect of increasing both opens and CTR is multiplicative, with push notifications reaching and converting 500% more people than email.
The reason behind this is people take an average of 6 hours to open an email from the time it was delivered. Push notifications, however, are seen instantly in real time. Therefore, users who opt-in to notifications are 4x more likely to purchase than those who do not.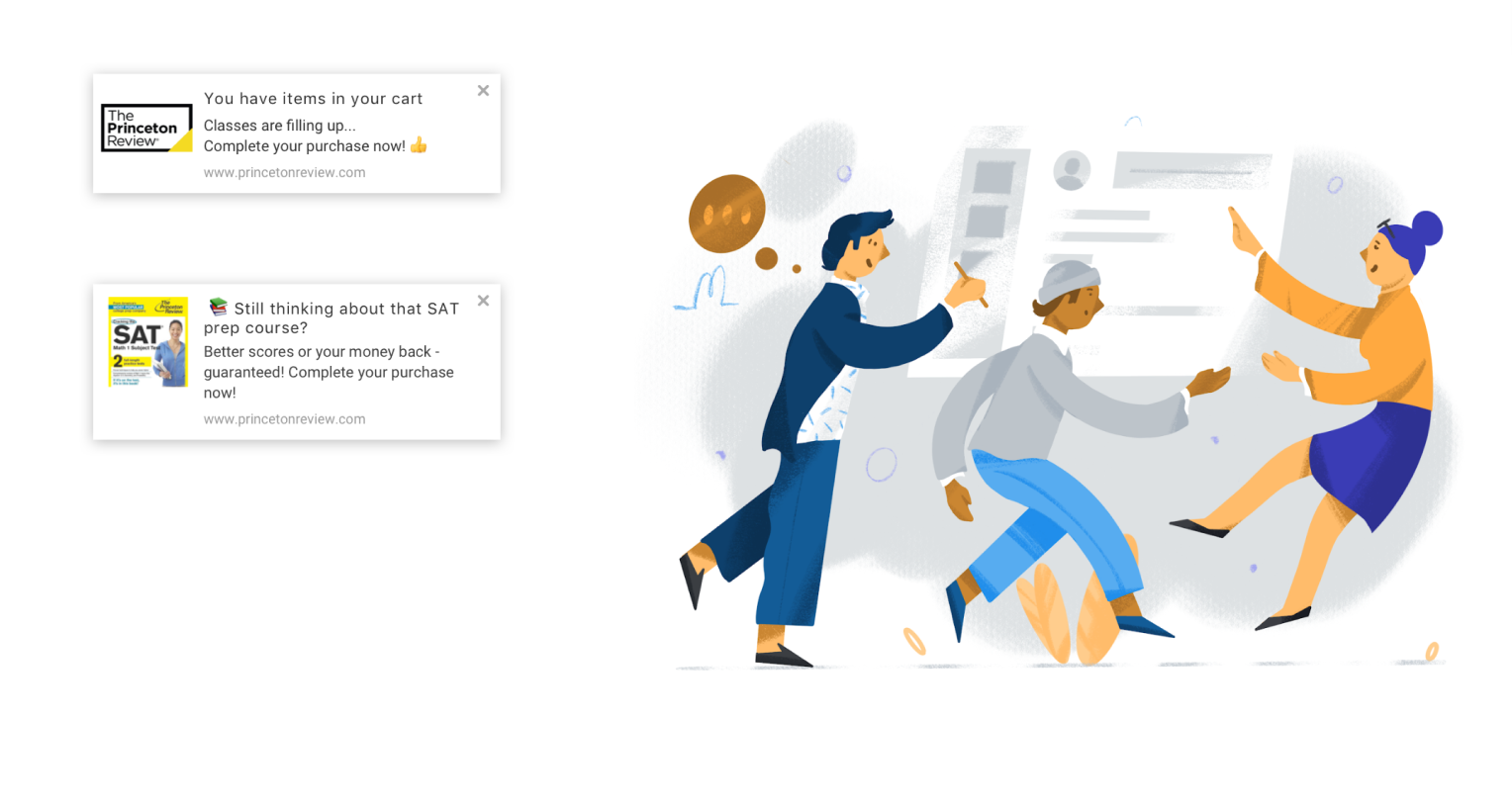 Best Practices for Conversion
Even though push notifications are statistically more effective than email or retargeting ads, you can multiply these effects by using all of these channels together, hence the omni-channel strategy.
When you use both mobile and web notifications along with email and retargeting ads, you are guaranteed to boost return traffic from customers who were ready to pull out their credit cards for you. For example, Product Hunt combined push notifications with email to double their results. Princeton Review was able to 4x conversion using push notifications targeting abandoned carts (read case study).
When retargeting your customers regardless of which channel you use, you should always include a link to their cart to make it easy for them to come back with just one click.
But when and how many times should you follow up? A lot of testing and tweaking has gone into answering this question. Many companies have found success in sending messages at predetermined time intervals.
The first message should go out 1-2 hours after customers abandon their carts.
The second message should be sent at 24 hours later.
A final message should be sent a few days later.
Waiting longer than these time intervals raises the risk of users forgetting about you completely.
OneSignal makes it easy to target customers who abandon carts and automate messages. Read documentation for more details.
Data Sources
AnnexCloud
Invespcro
eConsultancy
ComScore
Retargeter
DigitalInformationWorld
emarketer