As mobile usage continues to increase and users unsubscribe from emails and push notifications, more and more companies are turning to in-app messaging to reach their users and drive business outcomes. Did you know in-app messages have 18-20 times the click-through rate than that of a typical push notification? Reach customers while they're actively engaging with you and deliver hyper-personalized content at the right time without being gated by permissions.
Tell a Story With In-App Carousel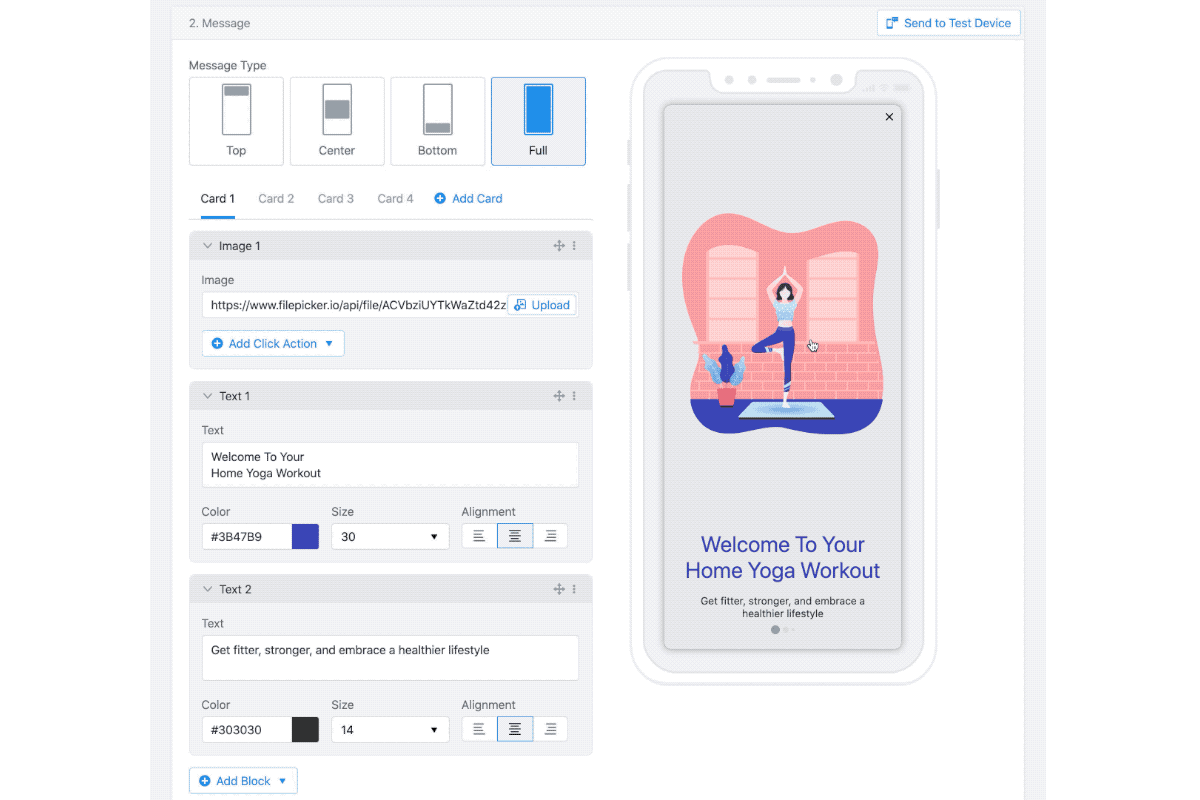 OneSignal is excited to announce the launch of In-App Carousel. Since launching In-App Messaging, we've been hard at work building out additional features. You asked, and we listened - this has been the most requested in-app feature from our developer community. Now, you can easily build out up to 10 screens of customizable content in a scrollable carousel format. All with no code required.
Carousels have been shown to increase engagement, user retention, and opt-in rates. Bundle multiple screens together to enrich your onboarding, improve your recommendations, communicate more effectively, and more. Carousel functionality is not currently offered by Braze, Leanplum, Firebase, and most other companies.
Benefits of Carousel
Craft a story. Carousel enables you to tell a cohesive story around your announcement - you can understand more from a slideshow than a photo. No need to explain an entire flow in a single snapshot (looking at you, Ikea instructions!) or communicate all your CTAs in one screen.
Understand what resonates with your users. Get a deeper understanding of click analytics by card to separate out the higher engaged users from those that are less engaged, and then tailor more personalized cadence and communications going forward.
Save on time and resourcing. Group multiple communications in the same campaign to cut down on setup time. Easily replicate cards for a consistent look and feel.
Example Use Cases
Enrich onboarding: Set up a flow to walk users through your product or service. Proactively address areas where users might fall out of the onboarding flow. Use multiple cards to clearly break things down step by step to get users up and running seamlessly and bring clarity to the process.
Highlight updates and promotions: Have you launched a new feature? Show users how it works before hitting customers with a CTA to try it out. Has the nature of your business changed due to COVID? Explain how customers should work with you now. Are you running a promotion? Make sure users are aware and know how to take advantage. Instead of hoping users understand what you're trying to say, communicate your announcements clearly so they get it.
Provide personalized recommendations: Deliver personalized recommendations to your segments. Suggest featured products, new products, or best-selling products in line with what you know the customer is interested in to increase conversions. Plus, deep link to products directly to remove barriers to purchase.
Boost permissions and ratings: Not enough users opting in for permissions? Use the Carousel to first deliver value to your users or provide more context. Then request location or push notifications permissions or app store reviews at the end to increase adoption.
Ready to get started?
OneSignal's Carousel feature is very easy to implement. Set it up in minutes in a simple interface without having to know any HTML. Quickly customize copy, visuals, logos, landing pages, CTAs, and more. This is also backwards compatible to mobile SDKs released as far back as September 2019. Get started with a paid plan to try out Carousel today.
Spotlight Use Case: Real-time Surveys With In-App Messaging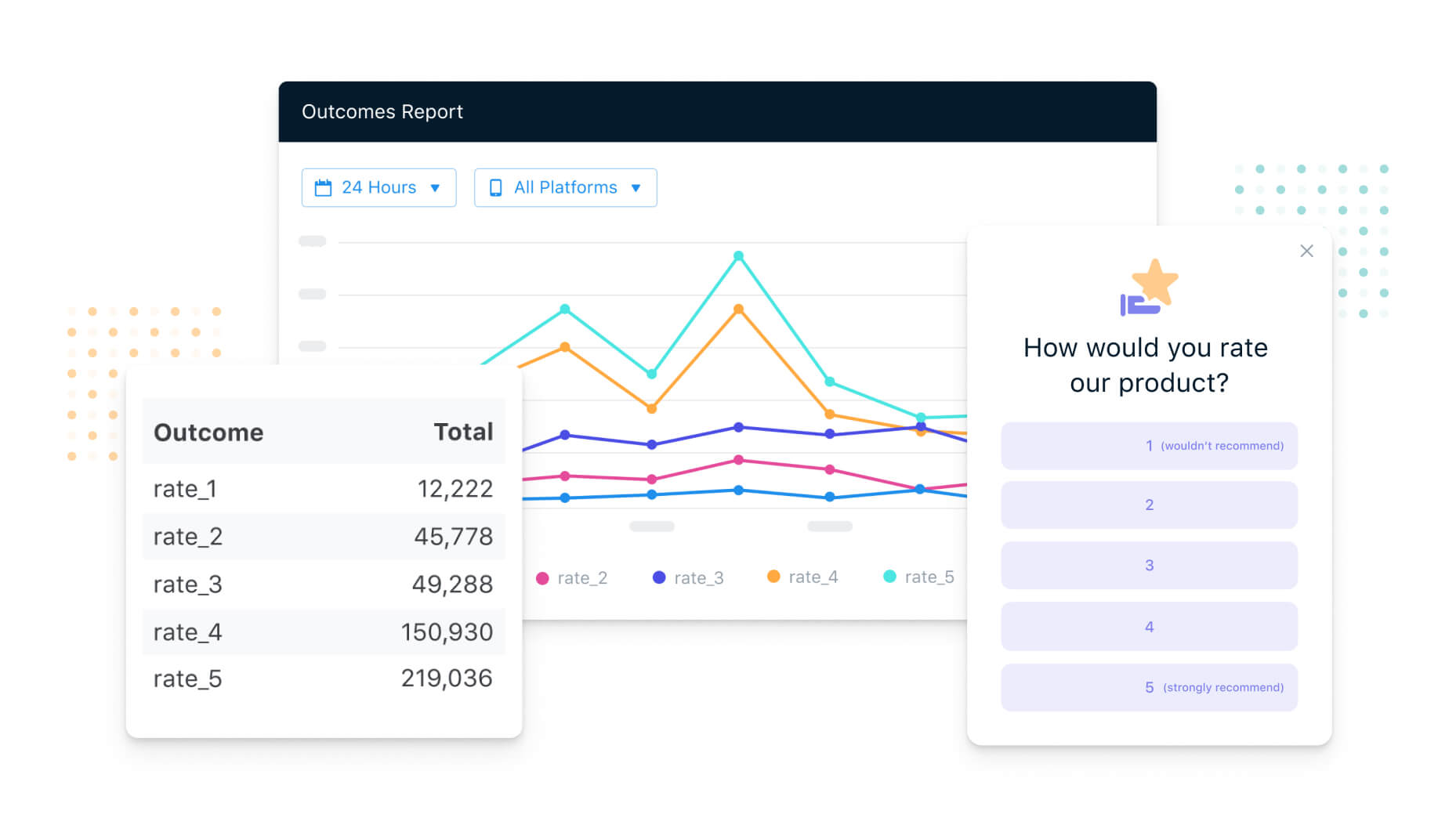 Customer feedback is key for every stage of a company, from developing product-market fit to growth mode to maintaining market dominance. Learning from your users helps you build better products, improve the user journey, and achieve better business outcomes.
However, getting that feedback can be difficult. Traditional surveys require setup and integrations and can be costly, and after all that can easily get lost in the inbox. With In-App Messaging and Outcomes, you can quickly survey users while they are engaged in your app and see the results in real-time. All with no code required.
Example Use Cases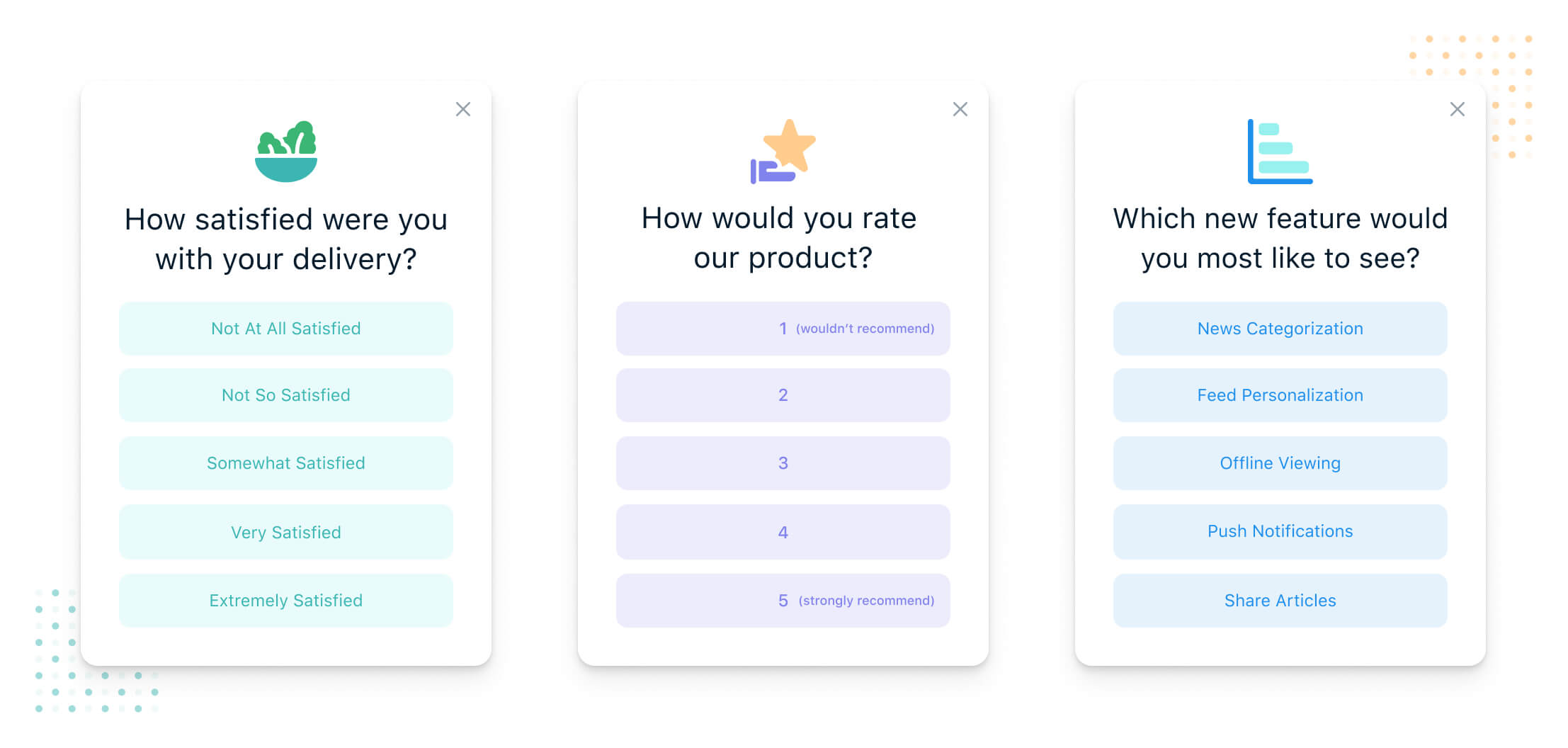 Customer satisfaction: Unsure what your users think about you or your product? Implement a quick 1 through 5 point rating scale and get a sense of customer sentiment. No need for a separate integration.
Polls and pulse checks: Want feedback on whether something was useful or to collect user input on a specific topic? Get direct input at the point of interaction without directing them away from your app.
Feature requests / prioritization: Prioritizing what to work on? Hear from your users about which features are most important to them.
Keep track of responses by automatically adding tags based on which button the user clicks. After collecting the data, put it to work and use tags to segment users for more personalized follow up. For example, after implementing a customer satisfaction survey, you can follow up individually with users who rate their satisfaction a 1 or 2 and proactively address their concerns to preempt churn. For users who rate a 5, you can leverage that moment of goodwill and ask for an app store review.
OneSignal is building out a full suite of capabilities to handle all your messaging needs. Upgrade to a paid plan to try the new In-App Carousel and easy to implement in-app surveys.
Happy messaging!