A decade ago, technology writer Stephen Lawson declared 2010 the "breakthrough year for mobile apps." Little did he know, we were just getting started.
Back in 2010, there were just 220,000 apps in the App Store and 70,000 in the Google Play Store. Combined, they delivered 5.9 billion mobile application downloads a year.
Fast forward 10 years, and those numbers look minuscule.
Today, users download 204 billion apps a year — a 34X increase. Between the two leading mobile marketplaces, there are 5 million individual apps, each competing for users, attention, and profits.
As the mobile market becomes increasingly congested, businesses must fight tooth and nail to engage, convert, and retain users. As more apps flood the market, everything becomes more expensive. For example, the average cost per install has ballooned from just $0.86 for iOS apps in 2017 to $3.60 in 2019 — a 4X increase.
Today's mobile marketers search for any competitive advantage they can get over their competitors — except when they don't. Mobile marketers are typically quick to adopt new communication channels. But when it comes to in-app messaging (IAM), most have dragged their heels.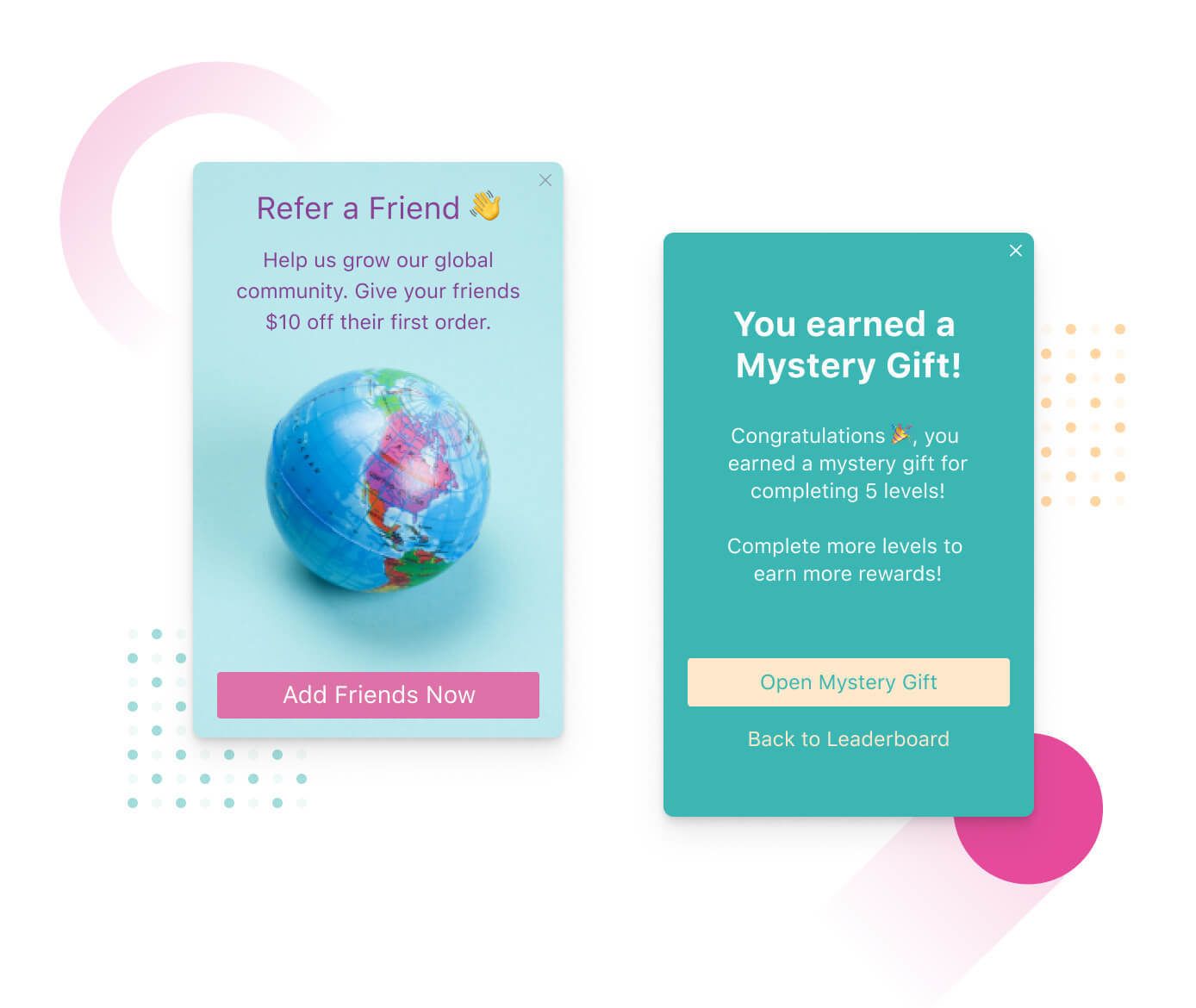 Despite offering 20X the CTR of push notifications, just one-third of mobile apps use IAMs. By ignoring the technology, they're missing out on a lot of results.
What is In-App Messaging?
In-app messages appear over an app's content with messaging that directly engages with your users. This allows for an app to reach all its users, even those who don't subscribe to push notifications.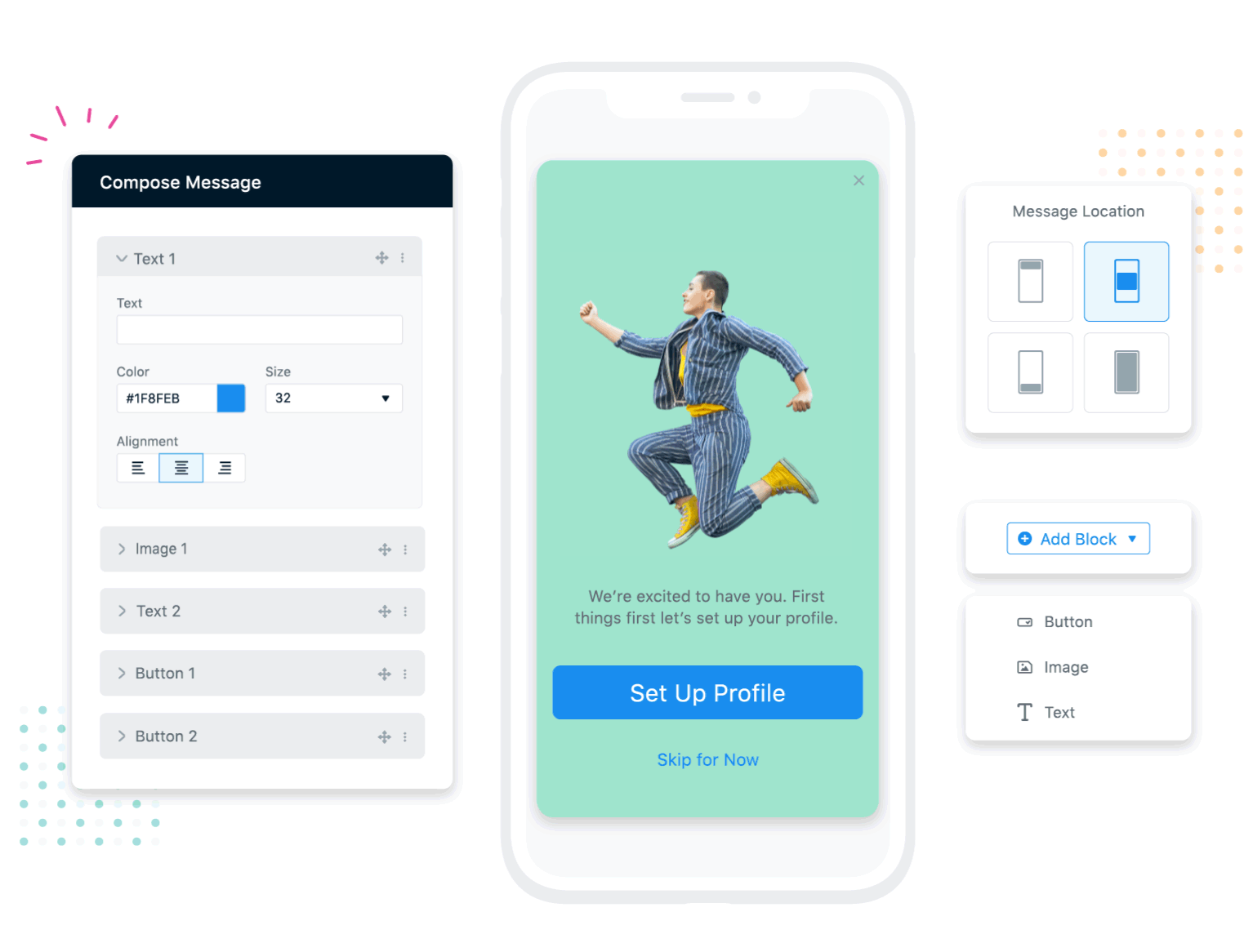 Although IAMs sound similar to mobile ads, there's one key difference: they're a native part of your app. Whereas mobile ads advertise other products, tools, and services, IAMs are related to the app in which they appear. They're embedded into the product or service and feel like they belong.
That opens up a huge opportunity. Because they're a part of your app, you can harness all the user data you collect. Instead of firing unqualified, generic messaging to all your users, you can tie IAMs to specific behaviors or preferences. But more on that in the next section.
Enhanced User Experience
Users grant apps few second chances. They evaluate products in the blink of an eye and are quick to walk away if they don't like what they see. According to AppsFlyer, one-third of users churn and stop using an app within the first month after downloading. By month three, most apps have lost 50% of their new users.
A key driver in churn is customer experience.
As corporate strategists, Andre Schwager and Chris Meyer wrote in Harvard Business Review: "Customer experience encompasses every aspect of a company's offering—the quality of customer care, of course, but also advertising, packaging, product and service features, ease of use, and reliability."
Customer experience is so powerful that 60% of people have already stopped buying from a company because a competitor provided a better service. Considering how important it is, customer experience should be top of mind for any mobile marketer.
That's where in-app messaging comes in. Few technologies can improve the customer experience as effectively as IAMs.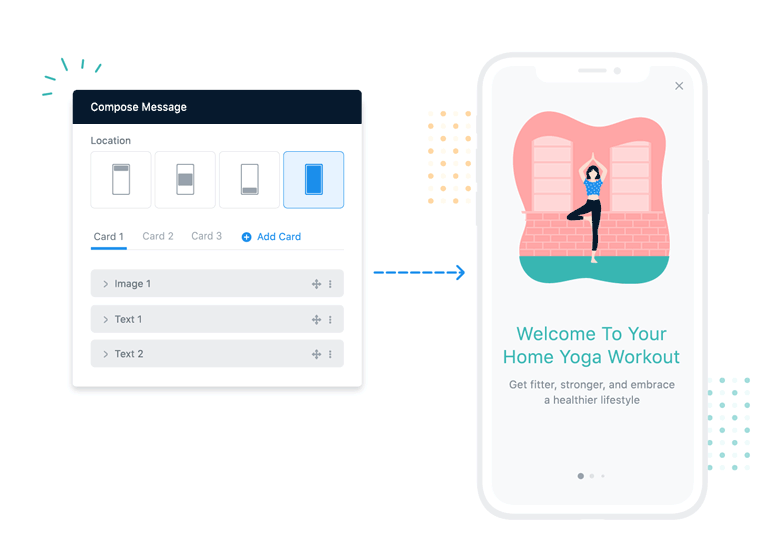 Consider your on-boarding process. Even the most intuitive apps have a learning curve — yet most leave users to fumble through on their own. Instead of waiting for users to learn through trial and error, you can proactively manage their education. Using carousel IAMs, you can set up a flow to walk users through your product or service. Each IAM card delivers a bite-sized training point, breaking things down step by step to get users up and running as quickly as possible.
Once users are familiar with your app, you can pivot your IAMs to discovery. Take Radio Free Europe (RFE). The broadcaster has an immensely broad mobile app and used IAMs to cross-promote features, functionality, and content. After rolling out IAMs to aid discovery, user retention jumped by 15%.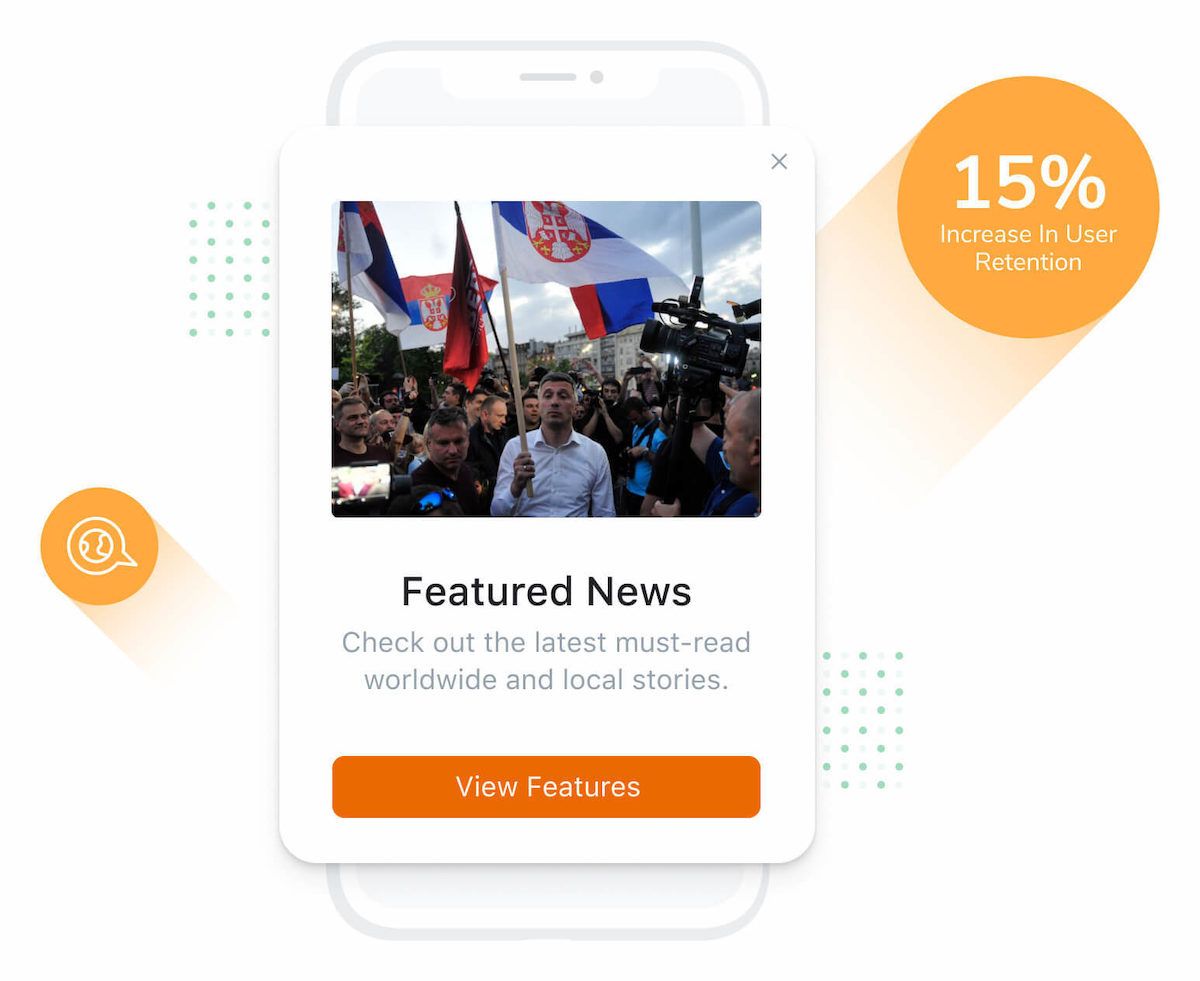 But IAMs aren't always a one-way communication channel. Use in-app messages to deliver customer feedback surveys to users when they're active in the app. Unlike email or text surveys, these land directly in front of your users and are impossible to ignore. Ask your users crucial questions about what they want to learn about or how they want you to develop your app. You can even collect the survey data and use it to personalize future messaging with that individual.
IAMs don't operate on their own, either. You can use them to augment other channels — most notably, push notifications. Instead of waiting for users to opt-in to push notifications, you can take the form to them. Use IAMs to request push and location permissions for your app. Improve opt-in rates by explaining to users what you plan to send them before they have to decide to grant permission.
In-app messages are immensely flexible. They bend and bow to fit whatever you need them to do. But their real power comes from context.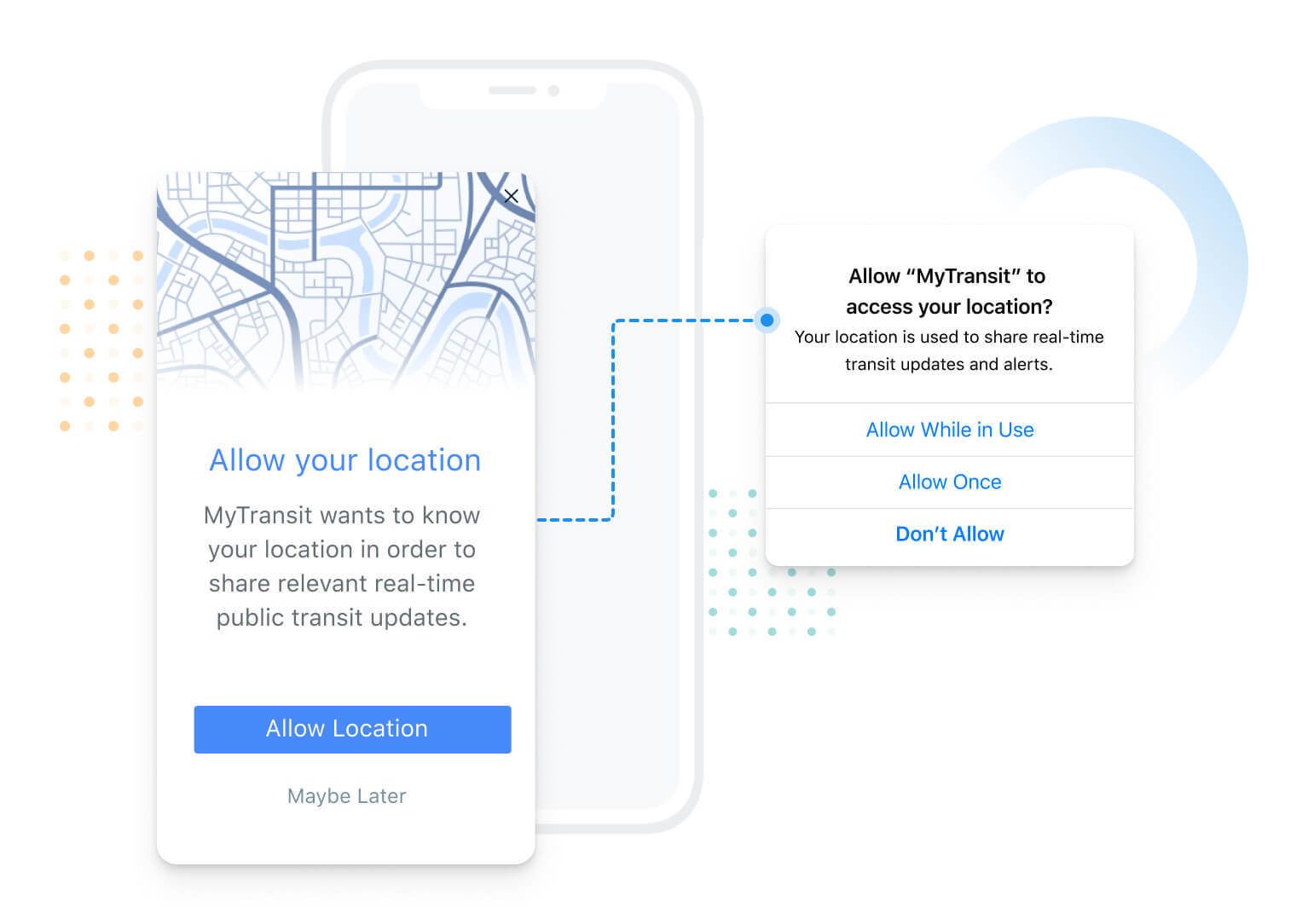 Apps collect a treasure trove of behavioral and preference data, allowing you to tailor messages and automations to individual users. These aren't generic communications you send to everyone, as specific behaviors will trigger the messages. That personalization is what drives improved customer experience. And improved customer experience powers better business performance.
Just as you would with push notifications, be sure to add a clear call-to-action to your in-app messages. When a user has finished reading, they should have an obvious next step—explore a new feature, upgrade their subscription, opt into a newsletter. Defining what comes next supercharges your click-through rate. In-app messages with an actionable button had, on average, a 72% higher click-through rate than those without.
Improved Return on Investment
In-app messages are one of the only ways brands can communicate with active app users — yet just one-third of businesses use them. But don't mistake the low uptake as an indicator of poor results.
Compared to existing customer engagement channels, IAMs perform exceedingly well. More than 40% of all OneSignal users reported that IAMs were a better investment than email, and 42% said they performed better than ads.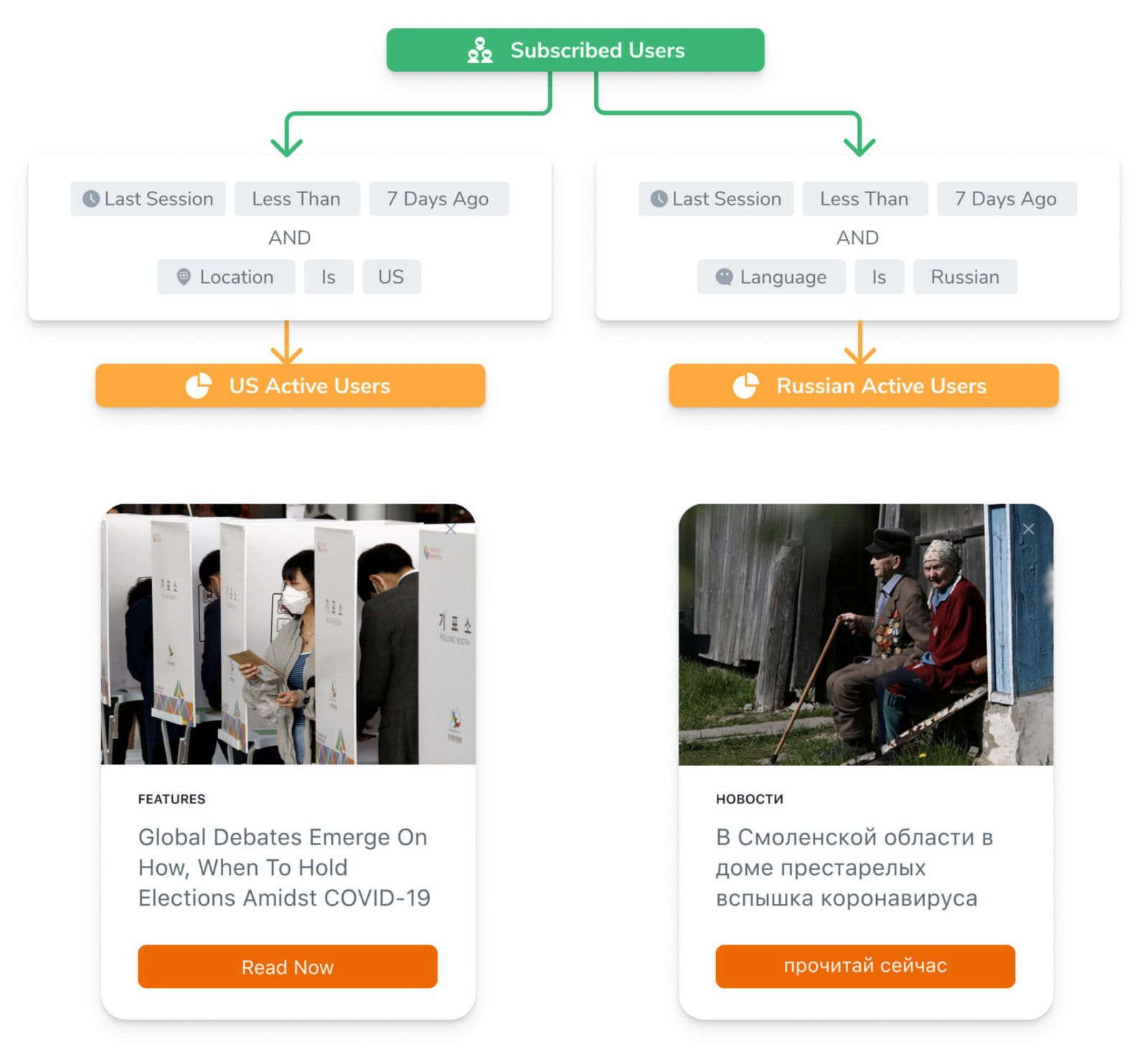 Our Growth team analyzed data from over 118 billion messages sent through OneSignal. They discovered IAMs have 18–20X the click-through rate (CTR) of typical push notifications.
But these two channels aren't competing with one another. Indeed, they perform best when one complements the other. Our research showed that apps using IAMs in partnership with push notifications had, on average, a 100% higher relative CTR.
These benefits can lead to significant gains for organizations. Apps that use in-app messages enjoy 2–3.5X higher user retention rates than those without. It's not just that those organizations retain more users; The experience their users enjoy is stronger and more robust, resulting in increased app usage—apps with IAMs record 27% more app launches than apps that don't.
An Irreplaceable Part of Your Strategy
Two-thirds of companies are missing out on a crucial customer engagement channel. For time-strapped mobile marketers, it's understandable. In-app messages might feel like yet another channel to monitor and maintain. But it's not like that.
Unlike two-way channels, there's not a linear increase in management demands as usage scales. IAMs are the perfect tool for when you want to consistently deliver the same rich experience to every user. Once your messaging is set up and running, it'll continue to deliver results without additional input.
Want to learn more about In-App Messaging? Learn how they can increase your CTRs and boost your retention. If you're ready to harness the power of IAMs for your app, get started for free today!