What is an email newsletter?
An email newsletter is a type of brand communication that you can leverage to educate your users with relevant content, announcements, product offerings, industry news, and more.
Email newsletters can be sent to users who opt in to receive these communications from your brand and can be used to generate awareness, advertise your offerings, and drive relevant action towards your company's business goals.
Newsletters are just part of a larger email campaign strategy. If you're looking for the best ways to optimize emails for your specific audience or best practices for mobile email design, our guide to email optimization has everything you need to know.
Why do you need an email newsletter?
Email newsletter content can serve to drive both mobile and web traffic.
Newsletters can drive customers to your app and/or website by announcing new content, features, or products. Newsletters tend to be sent on a regulate cadence, and can be scheduled at regular intervals—daily, weekly, or monthly— for instance —to encourage repeat visitors.
Email newsletters can also serve to fill gaps in your content strategy and to supplement other channels. Email newsletters provide a benefit within an Omnichannel approach in that they offer more space for long form content than channels such as push notifications or SMS, which offer a limited character count.
Email newsletters provide a way for you to reach a slightly different audience subset, such as older customers, who according to demographics, tend to be more engaged with their email inboxes than with their texts for instance.
Ready to jump into the best ways to boost email newsletter subscriptions? Our post on growing your newsletter subscribers is made for you!
91 percent of customers check their email every day, according to industry stats.
8 Best Practices for Writing An Email Newsletter
If it's your first time writing an email newsletter, you'll want to get grounded with some basic best practices for this content format before blasting off email newsletter sends. Your email newsletter strategy will depend on your industry, your business monetization model, and the types of content that you already have tied to your brand.
1) Prompt Users to Subscribe
The first step you must take In order to begin sending your email newsletter content, is prompting users to subscribe. Due to email compliance standards, you'll need users to explicitly opt in to start receiving these communications. . To do so, you can promote your email newsletter by adding links to your signup form in your email signature, implementing a pop-up, capturing email through an in-app message, or sending an SMS linking to your email signup form.
If you have trouble growing your subscribers, you can always provide an extra incentive such as free shipping on a users' first order, an extension of their free trial, or exclusive access to a new level in your gaming app, in order to incentivize users to give you their email for newsletter communications.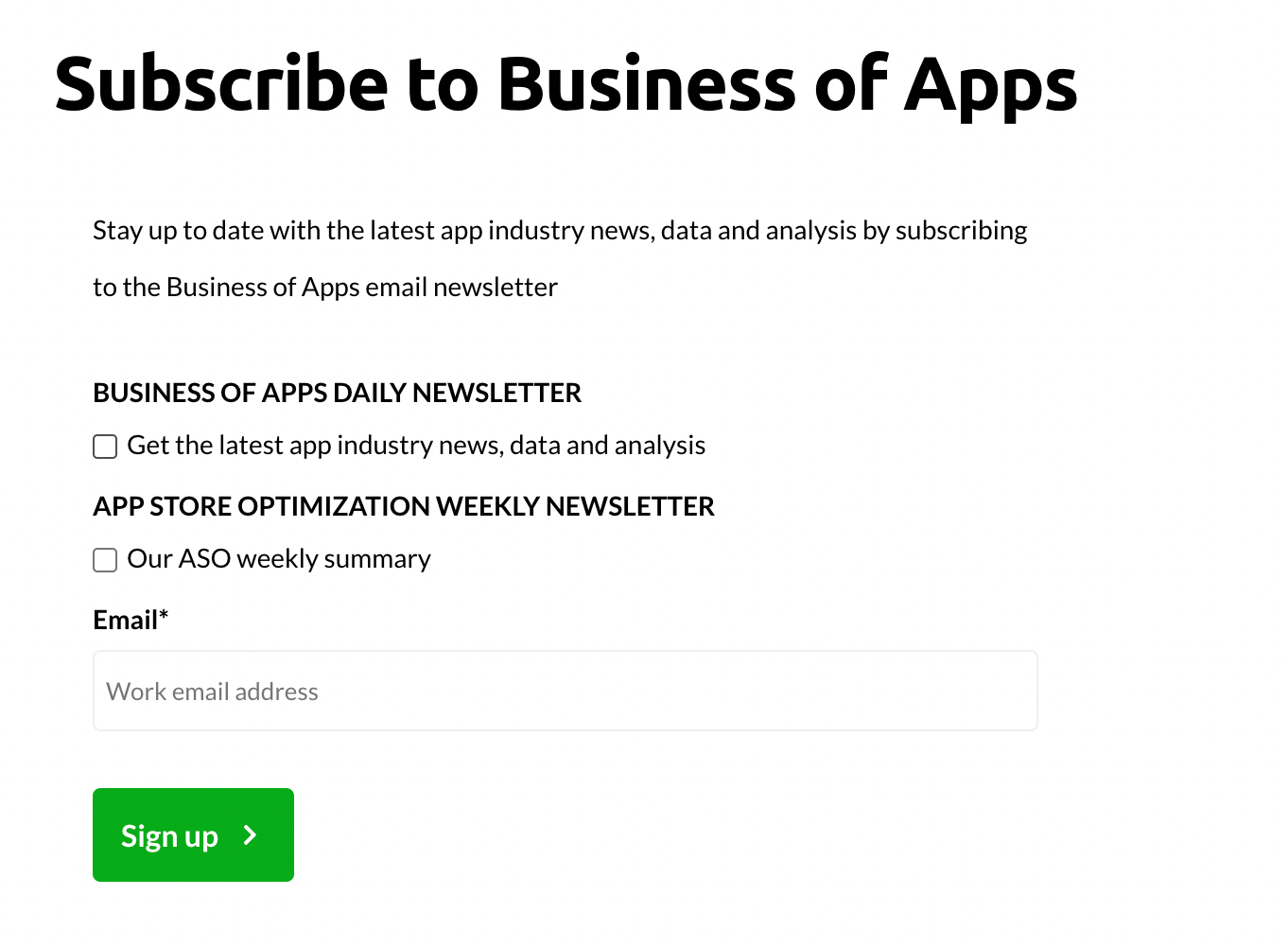 2) Write a Good Header
Your header and subject line are user's gateway into consuming your email newsletter content. Your email newsletter's header should be eye-catching, compelling, and/or enticing. With the average user receiving X emails per day, it's your job to stand out in your customers' email inboxes and differentiate your brand with your unique brand voice and style. Remember, your goal with your header and subject line is to get users to open the email itself and read on.. You can take a variety of approaches when it comes to the tone and style of your headers and subject lines, depending on your industry and your established brand voice and style.
For instance, Business of Apps, which is a popular online news provider that creates content around app business and the technology industry. Their email newsletter headers lines lead with straightforward language and compelling stats, such as "97% of in-game revenues come from repeat purchases" or "62% of consumers now use banking apps regularly but security concerns prevail."
3) Optimize Your Copy and Design
When it comes to email marketing, it can be tempting to go text heavy and include as much detail as possible. However, it's important to remember to streamline your emails with a reasonable amount of text and generally to keep your copy as concise as possible. Balance your image to text ratio and include white space to give users the optimal viewing experience across desktop and mobile.
When it doubt, air on the side of simplicity when it comes to your copy volume.Your subscribers have a limited attention span, which means that you have limited time and space to provide value. Figure out  how much copy you need in order for users to consume your email content without exerting too much effort to read.. In this way, your design can elevate the experience of reading your email newsletter. Make sure to align with your design team in crafting the optimal email newsletter and balancing your copy volume with design elements.
4) Decide on a Frequency
Your email newsletter frequency will depend on your industry and offerings. For instance, if you're a daily news platform, you may send a daily newsletter, which would be appropriate for the function and goals of your business. However, if you're a mobile gaming company, you may want to space your email newsletters out and only send them on a monthly or biweekly basis. Make sure you're not driving users away by sending updates too often, because this is an easy way to prompt unsubscribes.
Business of apps offers a daily news roundup, which is an optimal cadence for their business model considering the fast-changing nature of the app industry. They also offer a weekly ASO newsletter. Subscribers can decide to opt in to either or both in the brand's subscription flow.
5) Focus on What Readers Want
When you're designing your email newsletter, think about what's most relevant to your target audience. Make sure to mix up your content so that it's educational and functional as well as promotional. Even if your CTA involves getting users to purchase a good or service from your brand, you'll want to make sure that your newsletter is delivering value, so that users will first and foremost form a habit around consuming this content. Getting users to repeatedly click through your newsletters means delivering a positive reading experience and providing unique value to their interests as consumers. This could be to educate them on industry news, inspire them to achieve their personal goals, or showcase items that emulate a lifestyle that they want to live.
6) Choose a Call to Action
Every good marketer knows that defining a call to action is critical to your overarching strategy. Within your email newsletter marketing plan, you should define what Call to Action to include based on your overarching email marketing strategy and your brand's offerings.
For instance, if you're a subscription-based application in the fitness space, maybe your email newsletter could showcase a roundup of user case studies who've used your premium plan to reach their fitness goals and present a CTA pushing users to upgrade their accounts.
7) Optimize Newsletter Campaigns by Integrating Customer Data
If you have a more mature email newsletter program, you may want to optimize email newsletter content based on customer data. With an effective multichannel email marketing solution, you can collect and use all of your customer data in one place, everything from existing analytics sources to first-party, channel, and product usage information. Using this type of flexible personalization and segmentation tools, you can subsequently target your users with more tailored email newsletter content, such as a roundup of cross-sells related to their most commonly browsed product categories, for instance.
When it comes to incentivizing users to actually read your email content, you can data is important in crafting the most relevant messages based on customer interests, preferences, and behaviors.
8) Combine Email with Other Mobile Channels
Omnichannel messaging has been shown to engage customers more effectively than any single channel alone. By simply combining email with your other mobile channels, you could generate more conversions, boost customer lifetime value (LTV), and improve customer retention.
Ready to Get Started?
Adding email to your existing mobile messaging is sure to drive better engagement; after all, 99% of consumers check their email every day. Email is currently available for Growth, Pro, and Enterprise customers. To unlock access, upgrade your plan today. If you'd like to learn more about our email features and ongoing updates, explore our documentation.
Get Started for Free