A push notification is a powerful communication tool that's used by marketers and developers to engage users, promote products, and create a better UX. However, the effectiveness of this tool depends on how you use it. Blasting impersonal, spammy notifications to users' devices can annoy them, whereas sending personalized and well-timed notifications can create a more positive and seamless user experience that lives up to heightened user expectations.
When it comes to mobile push notifications, you always want to be the company that sends subscribers highly relevant notifications at the times they want to see them. Most companies have a wealth of user data, which can help savvy marketers and developers craft messages that are tailored to their users' specific interests, preferences, and behaviors.
OneSignal helps more than one million developers send over 10 billion push notifications every day. Pulling from our experience in this industry, we've compiled six best practices to craft a successful push notification strategy.
1. Personalize Your Notifications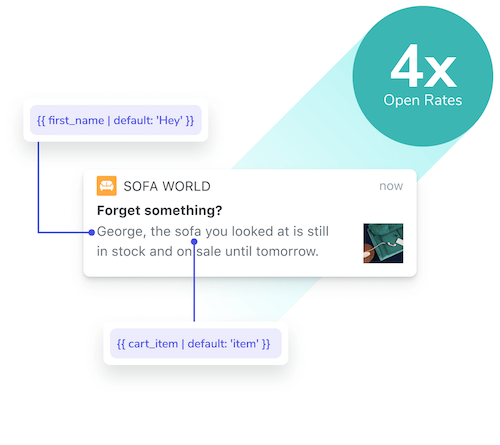 Knowing your mobile user's activity and behaviors isn't helpful unless you find a way to apply that data. When creating a push notification, you want to make sure that the push messages meet users needs and expectations. Data Tags, one of OneSignal's most useful features, allows you to tag your users based on attributes such as subscription status, cart abandonment history, and other user behaviors in seconds.
Tags are the bedrock of a successful personalization and marketing strategy for your push notifications. In fact, using Data Tags can increase notification click-through rates (CTR) by an average of 58 percent. After you've implemented tags, you can use segments to create specific audiences for various messages. Using Data Tags is also the best way to automate your notification strategy at scale.
In our analysis of over 90 billion notifications sent over a 4 week period, we found that push notifications targeted to specific segments have a 21 percent higher click-through rate than push notifications sent without the use of segmentation.
You should experiment with your targeting until you have optimized performance to a level where you're satisfied with the results. Always test!  
2. Use Rich Media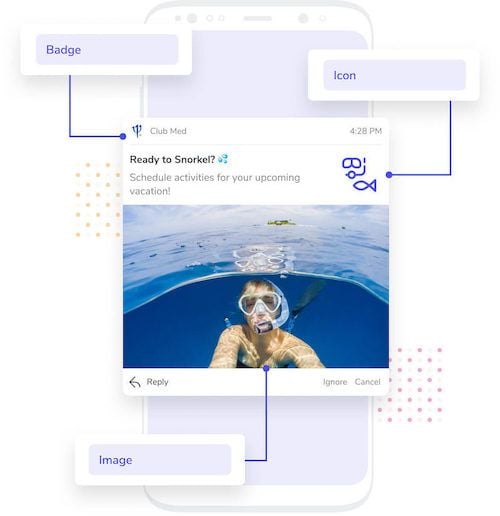 Rich notifications allow you to include images, short videos, action buttons, and icons within the notification. Since users aren't always going to click into your notifications, getting your point across within the push notification can result in your desired outcome. Send the latest sports highlights or photos of an item that's on sale to your app users and show them what they could be missing out on!
While rich notifications are not always the answer, they can be a powerful tool in your toolbox. Countdowns and reminders are two examples of push messages that can be enhanced by rich media. We found that push notifications sent with images had a 60 percent higher click-through rate than those sent without images.
3. Think About When To Send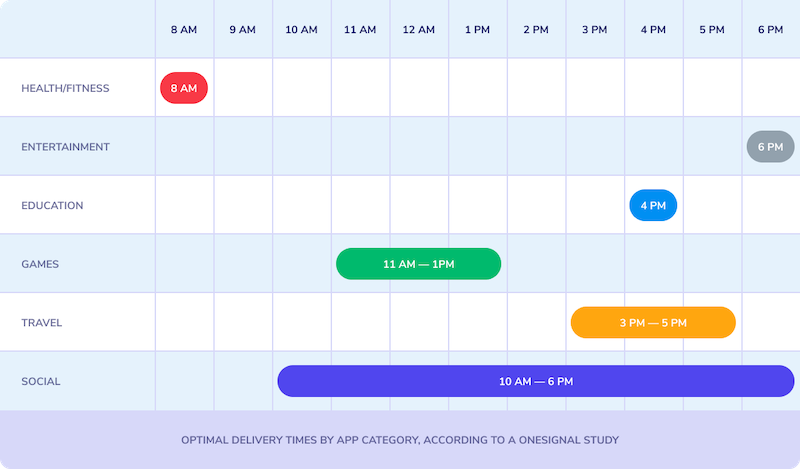 With users across the world living in different time zones and having different hobbies, people don't all tend to engage with your app at the same time. Because of this, you want to make sure that you're sending your messages at the best times for your users.
Typically there are three delivery options for your push notifications: Sending them immediately, sending by user time zone, and if you're using OneSignal; Intelligent Delivery.
Sending notifications immediately makes sense when you have an urgent message to send to your users. For example, if there was breaking news or if an airline had to cancel a flight, they would want the people affected to be notified as soon as possible.
Time zone delivery should be used if your notification is based on users' time zones. If you were running a sale that ended at midnight in each time zone, you may want to send reminders at 4 PM in each time zone, otherwise, some users may be getting notifications while they're sleeping and never see them.
With Intelligent Delivery, OneSignal optimizes notification delivery time based on when each user is most likely to engage with your app. This is based on when a user opens your app over a three-month rolling average. With Intelligent Delivery, your push notifications are going to be sent and opened at the most optimal times for users.
4. Change Up How You Prompt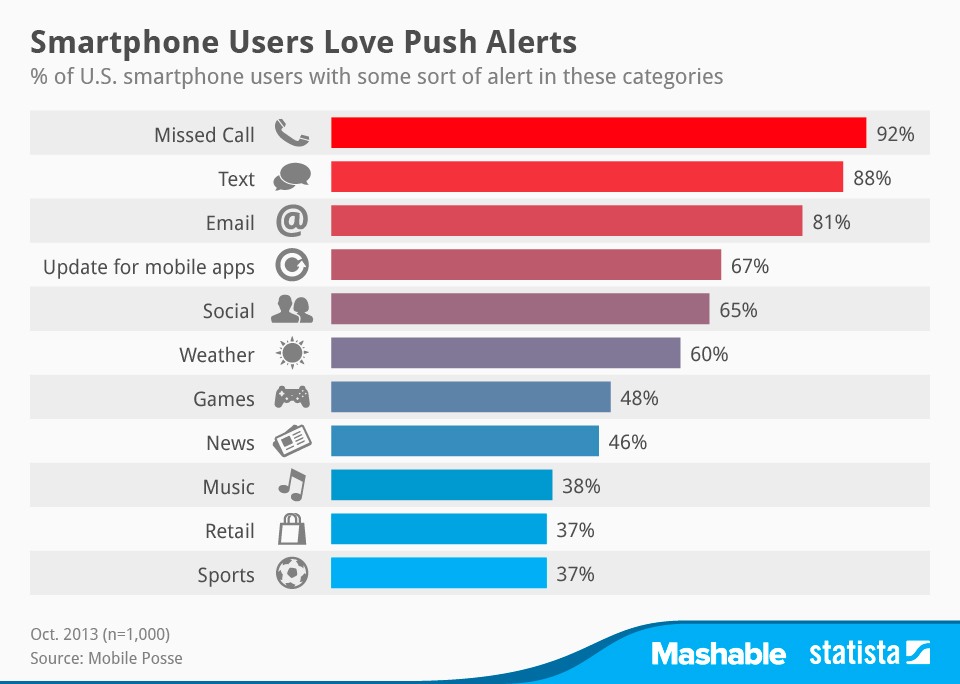 If a user initially declines the native web browser or iOS prompt to enable notifications, they'll have to manually enable notifications through their device's settings — adding more friction to the experience and reducing the likelihood of follow-through. Because of this, it's critical to pick the right moment when a subscription prompt will be displayed so you have the best chance to get users to subscribe.
For example, a company like CashApp with over 7 million users worldwide first explains why push notifications will help them and then prompts them to subscribe to messages from their app afterward. Telling the users what types of notifications you'd like to send will help them understand the value of subscribing and will help prevent users from prematurely declining permission. If notifications are an integral part of your app or website experience, let users know that's the case so they can make a more informed decision.  Be honest and proactive in your communication and be mindful of best practices in order to write more compelling opt-in messages for iOS users.
5. Use Emojis 🏆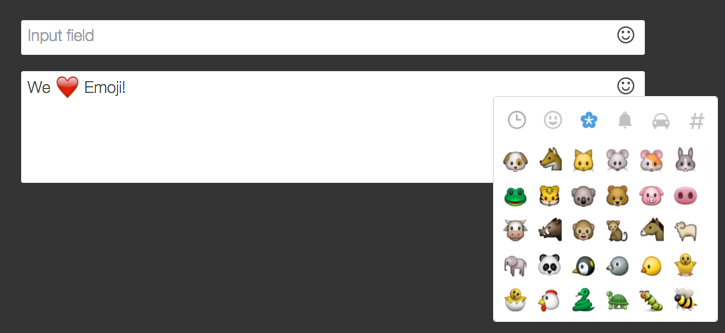 You'd be shocked at how big of an impact one tiny emoji can have. Studies have shown that using emojis can significantly increase click-through rates for your campaigns. Avoid emojis that can be interpreted incorrectly or any that disrupt the flow of your messages.
Unless you replace a word with an emoji, they should typically be placed before and/or after the message. Use emojis at the end of your sentences to drive home the meaning of your messaging.
Examples:
Your driver has arrived 🚙
Find out if you're a winner 🏆
Time to order dinner 🍕
Get 20% off your next order 💸
New comments on your page ✋
6. Make Sure to A/B Test!
Let's say you've delved into your extensive user data and cooked up what, by all indications, should be a successful push notification strategy. But you shouldn't stop there.
A/B Testing allows you to test your audience's reactions to a variety of messages. By testing to see what works, you can analyze the results and make changes to your strategy accordingly. You should only A/B test one variable at a time so you know exactly what's influencing the results.
For example, Notification A can have its own title, message, and image. Notification B could have the same title and message, but a different image. By testing these images against each other, you can determine how the different images might impact engagement and conversions. Our analysis of push notifications found that push notifications sent after A/B testing have an eight percent higher click-through rate than notifications sent without A/B testing.
Focus on the User
The bottom line is that to maximize the performance of your push notifications, you need to focus on what your users want.  Through data collection, analysis, and good practice, you can now figure out what that is.
Learn More with OneSignal
OneSignal is designed to help you send notifications and seamlessly manage your user communication across a variety of channels. Our platform is quick to set up and makes it easy to send eye-catching messages without doing any development work. If you don't have a OneSignal account, you can create one for free and start sending push notifications to your users today. Don't take our word for it — simply sign up and see for yourself!