We're excited to announce HubSpot's strategic investment in OneSignal and introduce our new powerful integration! This integration brings push notifications and the power of the OneSignal platform into the core HubSpot Marketing Hub experience to provide advanced omni-channel marketing automation to growing organizations globally.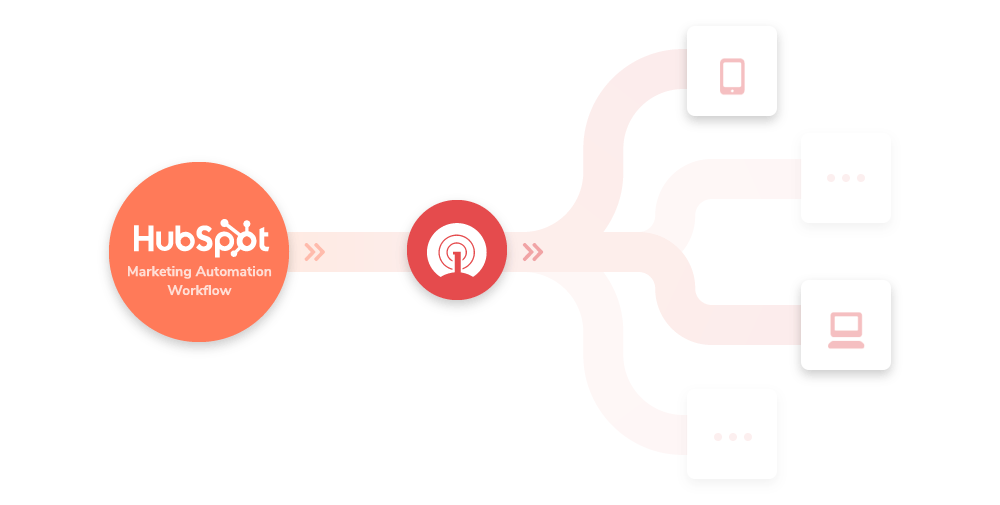 About HubSpot
HubSpot is a powerful customer relationship management (CRM) that makes it easy for marketing, sales, and customer service teams to collaborate and oversee initiatives from one centralized platform. Their suite of tools is designed to help businesses drive traffic, automate their customer engagement strategy, build compelling conversion pathways, and draw meaningful insights from data.
Why This Integration is Exciting
Mobile and web push notifications are becoming an increasingly valuable part of modern marketing strategy. Now more than ever, customers expect brands to provide real-time updates and deliver a seamless customer experience that extends beyond a website or email. In fact, today's consumers are 35 times more likely to open mobile messages than emails. As cross-channel digital experiences become more popular, they're universally raising customer expectations for brand communication. Consumers want the flexibility to interact with brands and receive transactional and marketing messages outside of more traditional channels such as email — and push notifications are filling that need.
Although HubSpot offers a variety of marketing communication tools and integrations, push notifications have been the missing link in their omni-channel marketing platform — our partnership changes that. As the leading customer messaging provider, OneSignal was chosen to partner with HubSpot to create an integration that would allow HubSpot users to leverage push notifications directly from their HubSpot dashboard.
Create Omni-channel Messaging Campaigns in HubSpot
Our new HubSpot integration allows you to build and trigger mobile or web push notifications and in-app messages directly from your HubSpot portal, providing more opportunities to connect with your subscribers, create meaningful brand touchpoints, and streamline your marketing and communication strategy.
Synchronize Your Cross-Channel Messaging Campaigns
Add mobile or web push notifications and in-app messages to your HubSpot workflows and automatically trigger cross-channel marketing campaigns from one centralized platform.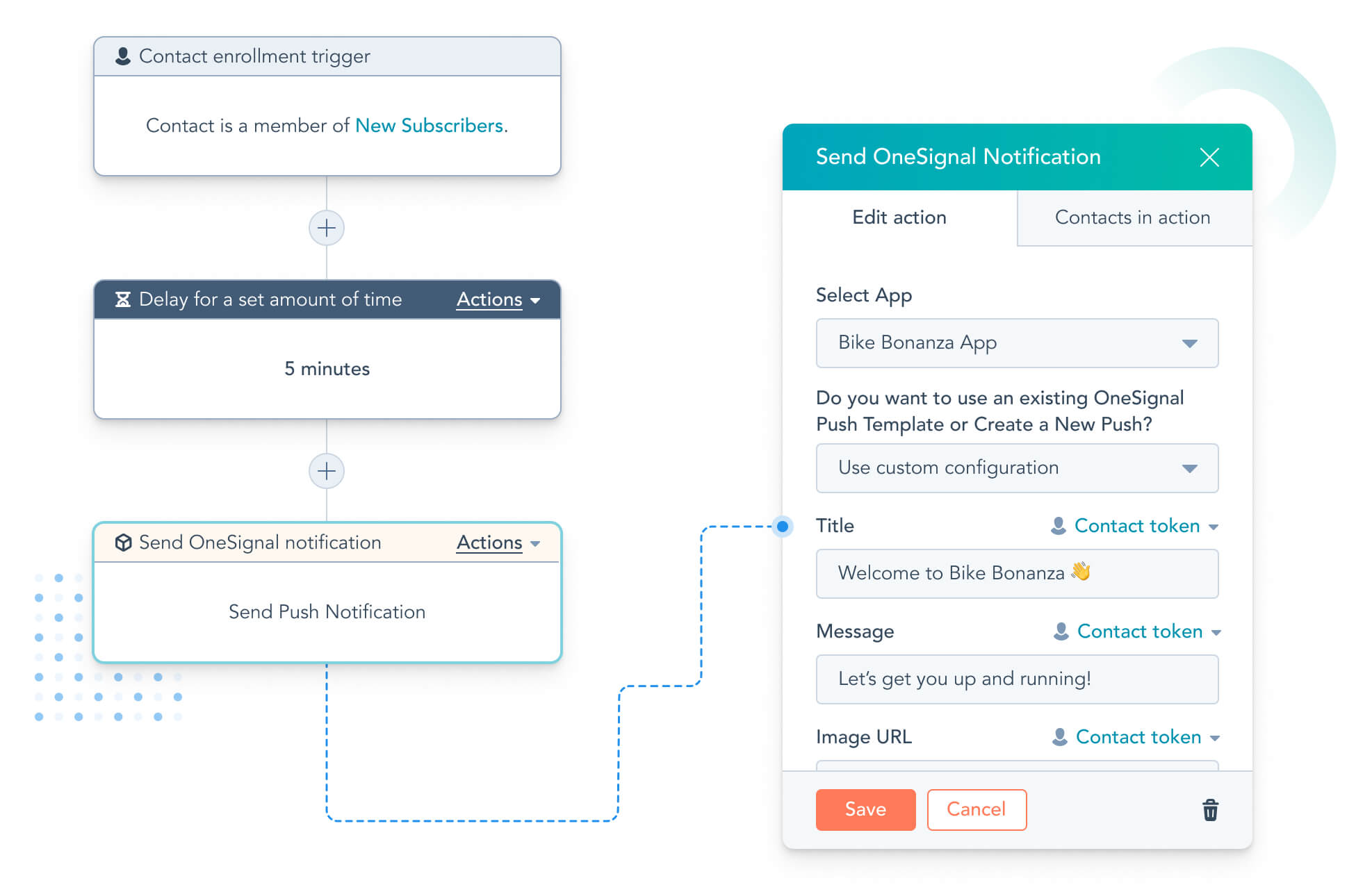 Use Data to Optimize Message Performance
It's no secret that personalized messages are more effective at engaging users and driving conversions. Now, you can send push notifications to HubSpot audience segments and use HubSpot personalization tokens ("First Name", "company name", etc.) to send highly relevant messages at scale.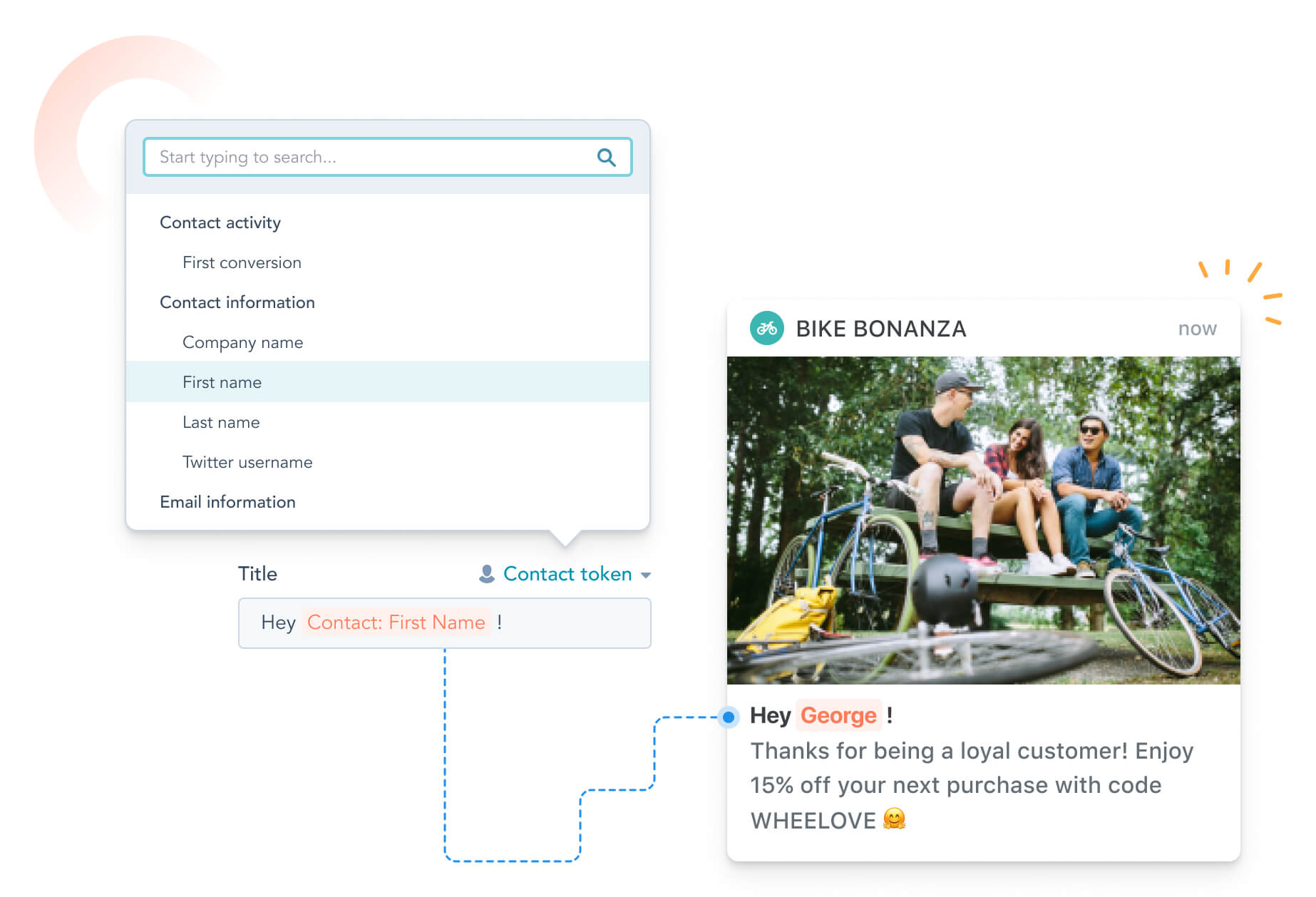 Understand How Push Notifications Impact Overhead Goals
This integration makes it easier to prove ROI by tracking how push notifications impact website traffic, engagement, and conversions. You can view message sends and audience information directly from the HubSpot Marketing Hub and access more advanced campaign performance analytics in your OneSignal dashboard.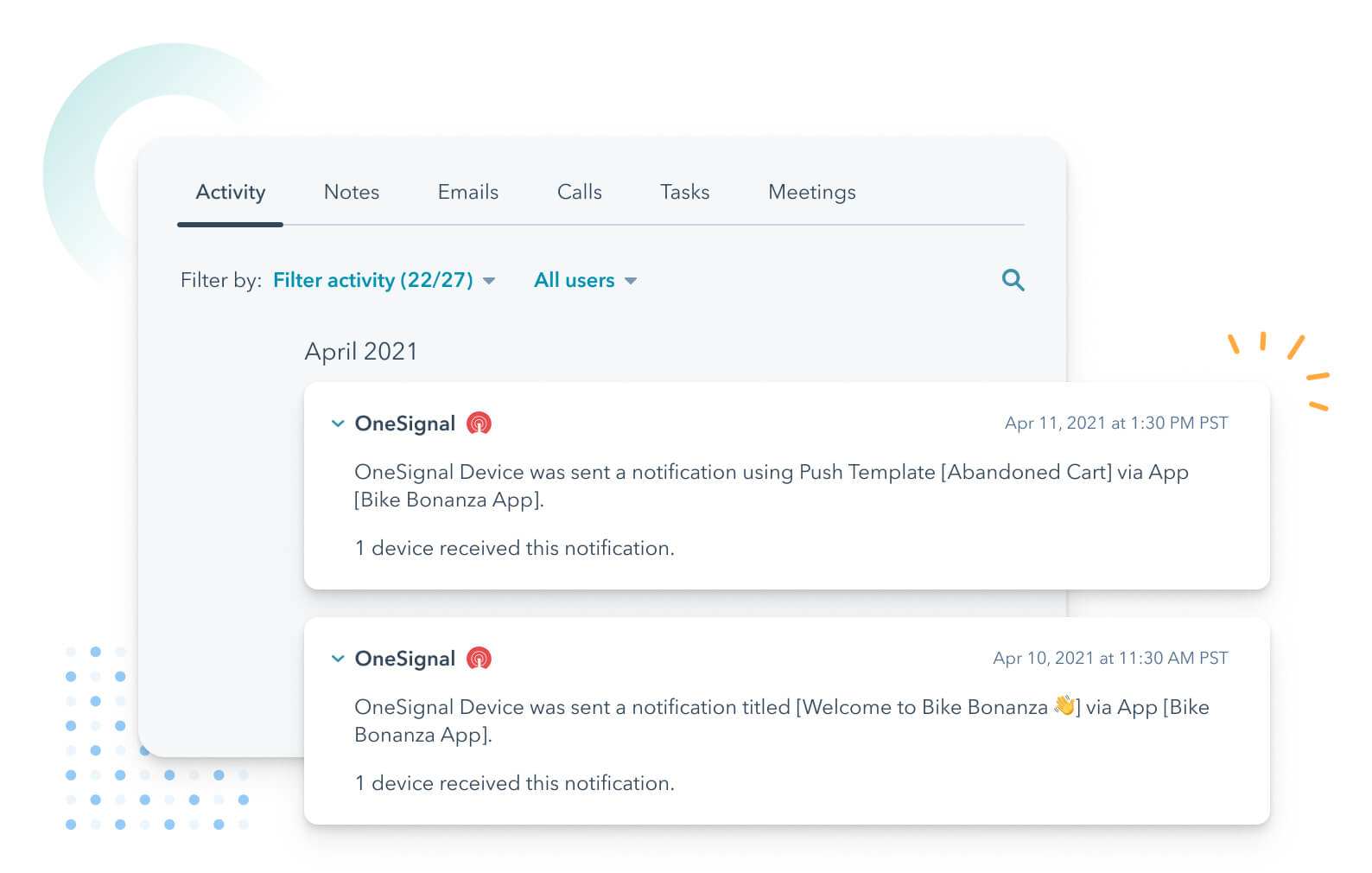 Enhance Your Customer Messaging Strategy
Use OneSignal independently to take advantage of our messaging templates and optimize your messaging strategy with A/B testing, advanced performance analytics, automatic UTM tagging, and even more personalization options. Then, leverage customized push campaigns in your HubSpot workflows with a few simple clicks.
Learn more about this powerful integration in our step-by-step documentation; get started by installing the OneSignal integration in HubSpot.
Get Started with OneSignal
We're offering a 20% discount off new purchases of our Professional and Enterprise Plans to HubSpot users. Contact our sales team to activate the discount or create an account and enable the OneSignal integration in your HubSpot dashboard to start driving results today.
Create a Free Account