Data is the lifeblood of modern organizations. Companies rely on a variety of data sources to power effective messaging, meaningful customer experiences, and strategic business decisions. While OneSignal currently offers many ways to analyze data within our platform, we're also supportive of making our data easily accessible to the rest of your tech stack. That's why we are excited to announce our new partnership with Snowflake.
Snowflake is a leading cloud-based data warehousing solution. Data warehouses are centralized repositories that store data from various sources, such as your CRM, CDP, third-party tools, and more. Snowflake also offers additional capabilities, such as analytics and governance features.
We chose Snowflake as our first data warehouse integration to partner with the industry leader. With this new OneSignal integration, you can now seamlessly sync OneSignal message events data for push notifications, email, in-app messages, and SMS with the rest of your business data to boost your decision-making analyses and drive growth.
"OneSignal's Snowflake integration allowed us to connect our life cycle marketing efforts data with other internal data, aiding the assessment of our communications and helping us gather crucial insights."

-Baris Girgin, Senior User Acquisition Manager, Gram Games
Save Time and Automatically Centralize Your Data
Most companies want to consolidate their data for easier access. However, data usually is siloed across tech stacks in different tools, back-end systems, and databases. This forces your teams to manually copy and move data or build custom data connections to move data between systems, which is time-consuming, costly, and difficult to maintain.
Now, OneSignal and Snowflake have joined together to break down those barriers. Automatically and securely sync your OneSignal data to Snowflake so all your data is accessible in one place. Improve cross-functional collaboration and cut down on the back-and-forth by ensuring the right teams are using the right data.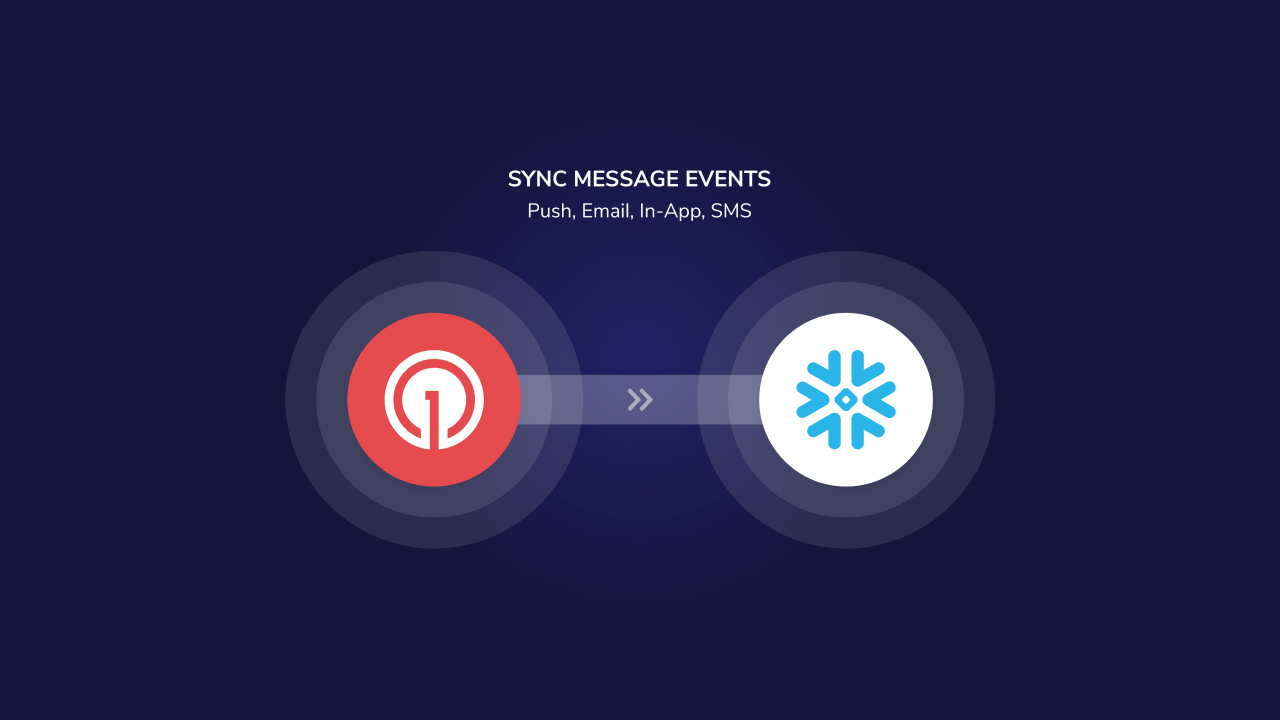 Understand the Value of Your Messaging
Companies need data to make informed decisions to grow their business successfully. Unify OneSignal messaging engagement data with the rest of your demographic, browsing session, conversion, and purchase data to gain a more complete view of your customer and their user journey. Analyze your full-funnel data to understand how everything works together, tease out cause and effect, and make your data actionable.
Add OneSignal data to your analyses to help answer important questions such as:
Which messaging channel drives the best results?
How much revenue did this promotional campaign generate?
How effective was this message at driving paid upsells?
What is the right messaging frequency before seeing an uptick in unsubscribes?
Did the A/B test differences in this campaign also reflect in down-funnel conversions?
Unlock More Data Insights
Not leveraging your data to improve your business has real consequences, from disappointing customer experiences to lost revenue. Currently with OneSignal, you can access your engagement data in multiple ways, including delivery reports, CSV downloads, and notification APIs. This integration provides granular data fields across message events data, subscription information, and device details to unlock deeper messaging insights.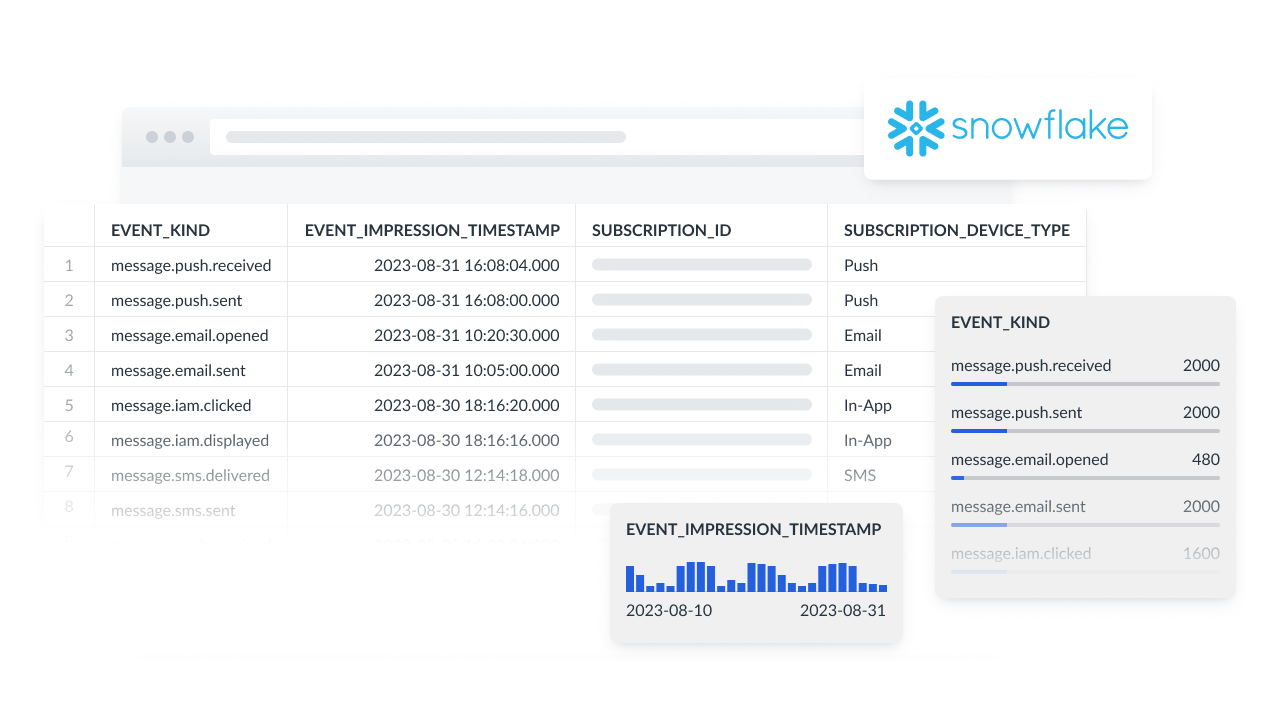 Get Started with OneSignal & Snowflake
OneSignal and Snowflake will help you identify what works, optimize your messaging, and stay ahead of the competition. Follow our documentation to get set up for success and make your data actionable.
This integration is available exclusively for our annual plans, including Professional and Enterprise. Contact Sales to understand if an annual plan makes sense for your business. Snowflake is just the start.
Interested in other integrations? Contact us at bd@onesignal.com to let us know which ones you'd like to see added to OneSignal.