We're proud to announce that OneSignal now seamlessly integrates with Mixpanel, an industry leader in customer journey analytics. OneSignal is a Mixpanel Platinum Partner and preferred messaging partner, providing the fastest syncing bi-directional integration available. Our integration allows you to leverage Mixpanel cohorts to target and personalize your OneSignal messaging campaigns. Real-time engagement data from OneSignal is automatically flowed back into Mixpanel, making it possible to understand customer behavior within a larger context and optimize your communication strategy.
What is Mixpanel?
Mixpanel is a premier product analytics solution that helps you deeply understand product usage so you can prioritize the right features, build better products, and innovate faster. Over 26,000 companies' product teams use Mixpanel to understand user behavior in their product and to track how their user base converts, engages and retains.
How we work together

When you use the Mixpanel and OneSignal integration, the bi-directional sync allows you to easily send OneSignal events into Mixpanel and Mixpanel Cohorts back into OneSignal. This means you can more precisely target campaigns based on how your users behave in your product and better measure the impact. As a result, you can focus your efforts on:

Personalized messaging: Boost engagement with more contextualized messaging from OneSignal, triggered when users enter or exit Mixpanel cohorts.
Real-time insights: Gain a holistic view of customers by combining Mixpanel in-product user actions and OneSignal message engagement metrics. OneSignal is Mixpanel's fastest syncing Platinum Partner, sharing data between platforms every 15 minutes.
Data-driven campaigns: Leverage product-level user insights for re-engaging campaigns through OneSignal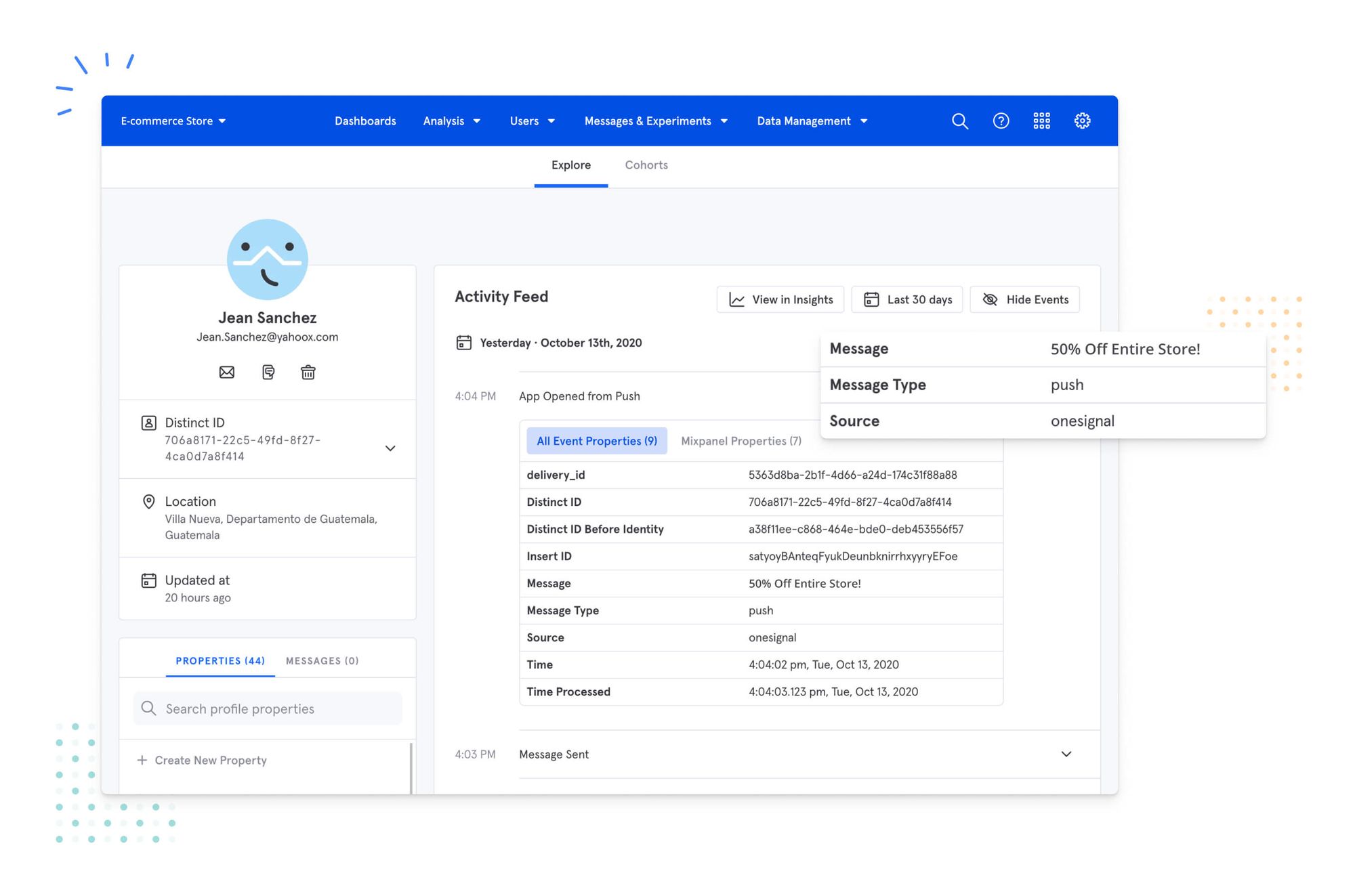 Events: Send OneSignal messaging events to Mixpanel to analyze the data in context with other user actions

Cohorts: Leverage Mipanel cohorts in OneSignal messaging campaigns for personalized customer touchpoints

What it Looks like in Practice

For example, if you're a quick service restaurant with a busy delivery business, you're likely using OneSignal or another messaging service to send push notifications to your customers when their orders are received, dispatched, delivered and more. You're probably also using Mixpanel or another analytics tool to track your users' preferences, purchase behavior, lifetime value, and other key business metrics. With the Mixpanel and OneSignal integration, you'd be able to easily link these two important data streams with a bi-directional sync. That would allow you to send targeted notifications to your most loyal and valuable customers, and then better track the performance of those campaigns in Mixpanel.  

Beyond campaigns, ongoing user tracking can help you identify at-risk users based on their data and activity so you can make an effort to re-engage them before they churn. This integration allows marketing and product teams to use Mixpanel and OneSignal together to make data-driven decisions around retention and engagement strategies based on actual user behaviors.

Specifics of the Integration

The powerful new integration is simple to set up. Adding the Mixpanel token in the OneSignal dashboard will allow OneSignal messaging events to automatically show up in the activity feed of a user in Mixpanel. On the Mixpanel side, simply add the OneSignal App Id and Rest API Key into your Mixpanel dashboard, and set up a one-time or dynamic sync to send Mixpanel Cohorts into the OneSignal dashboard as a Segment of users, ready to be used in a messaging campaign. Check out our detailed documentation.

"With a strong engineering team that has built a high-quality, scalable messaging solution, OneSignal is undoubtedly one of our most exciting new partners. Given the joint value we can provide to companies that are investing in tech, we expect many mutual customers to take their user engagement to the next level by making use of this integration." - Justin Lau, VP Partnerships

This new integration is available for Mixpanel users who are subscribed to either of OneSignal's paid plans. If you're on the free OneSignal plan, you can upgrade to Starter here and get going with the integration today (or starting on November 16, 2020 we'll be offering a more affordable "Growth Plan" that will include the Mixpanel integration).
Want to speak with someone on the OneSignal customer team to better understand how the integration can help you? Schedule a quick demo below and mention Mixpanel in the notes.