Sending your customers the right personalized message at the right time just got way easier. OneSignal now seamlessly integrates with Amplitude, a digital optimization system that combines behavioral product analytics with personalized recommendations. This new integration gives you a holistic view of the user's journey—from initial touchpoints to message delivery and everything in between. Combining Amplitude's behavioral analytics with OneSignal's multi-channel messaging will empower you to better optimize your customer engagement.
About Amplitude
Amplitude's Digital Optimization System enables businesses to optimize the product experience by collecting data on exactly how users are behaving and engaging with their product. Amplitude Recommend delivers machine learning-powered predictive analytics and recommendations to personalize every customer touchpoint, allowing companies to drive more favorable business outcomes based on these data insights.
What Are Behavioral Cohorts?
Behavioral cohorts group users with similar behaviors. This behavioral data reveals how a user is engaging with a company's product, including website visits, events, and product interactions. Amplitude's cohorts are similar to OneSignal's Segments; a few examples of behavioral cohorts include:
Users who are high-value customers who are likely to purchase a product
New players who've reached a new milestone like Level 1
Users who've abandoned their carts in the past 24 hours
Ultimately, grouping users in this way gives visibility to how customer engagement with your product impacts retention, conversions, and the overall user experience.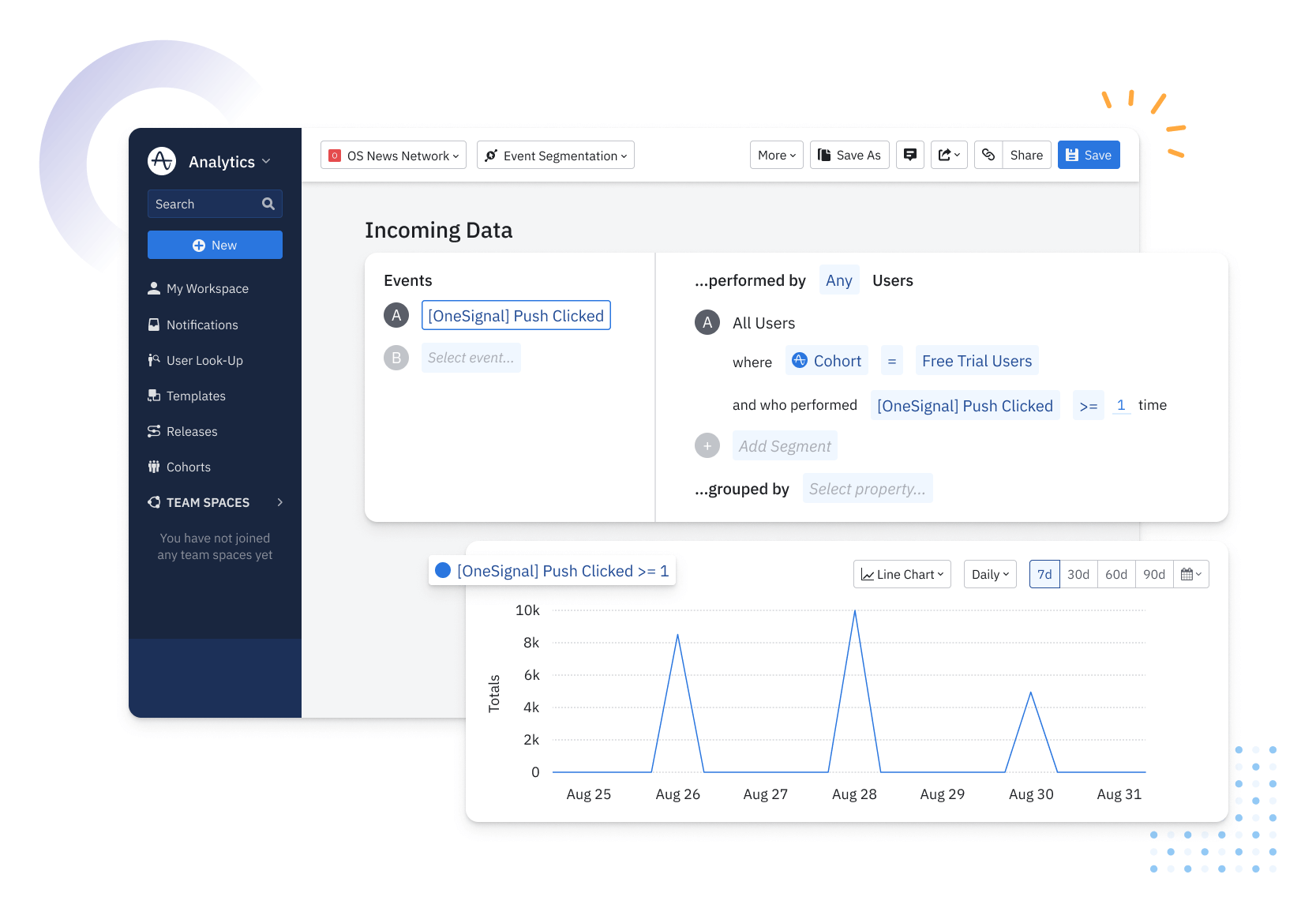 Combine Behavioral Cohorts with Customer Engagement Data
Our bi-directional integration with Amplitude allows you both to send OneSignal engagement events to Amplitude and export Behavioral Cohorts from Amplitude back to OneSignal, which creates a full loop of data from one system to another. Amplitude tracks product behavior and recommends user cohorts back to OneSignal as dynamically responsive Segments for targeted messaging campaigns. OneSignal then delivers messages at the right time and collects customer engagement data along the way at every message touchpoint across multiple channels, including push, in-app, SMS, and email. This data gets synced to Amplitude to create behavioral cohorts of customers who have taken similar actions. From here, you can continue building actionable messaging strategies that drive business results.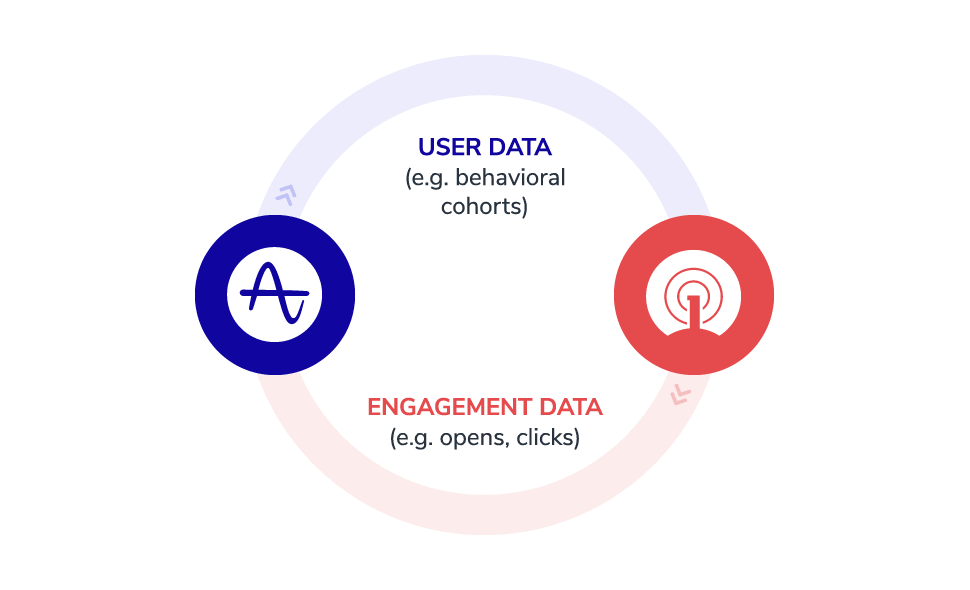 Personalized Messaging Experience for every Business Use Case
With deeper insights into how customers interact with your product, you can now adapt your messaging campaigns for every business use case.
| Use Case | Messaging Campaign |
| --- | --- |
| E-commerce | Create tailored offerings for audiences with predicted High LTV. |
| Media | Target audiences of users based on their likelihood to convert to tailor custom offers. |
| Gaming | Boost player engagement by targeting audiences of dormant users. |
| Fintech | Target audiences based on users' likelihood to purchase a product. |
Increasing ROI Through Targeted Trial Conversion Campaigns
Let's say you want to target different users enrolled in a free trial based on their likelihood to convert to a paid account. Mutual customers of Amplitude and OneSignal can do so by creating a cohort of free trial users in Amplitude that are actively using the app every week and are approaching their 30-day trial expiration period. This cohort then syncs to OneSignal as a dynamic Segment that adjusts every hour. In OneSignal, customers can then create automated messaging journeys to target this specific segment by encouraging users to convert to a paid plan with timely, relevant messages. Users' engagement metrics are sent back to Amplitude, where they can be combined with purchase data to better understand the ROI of this campaign.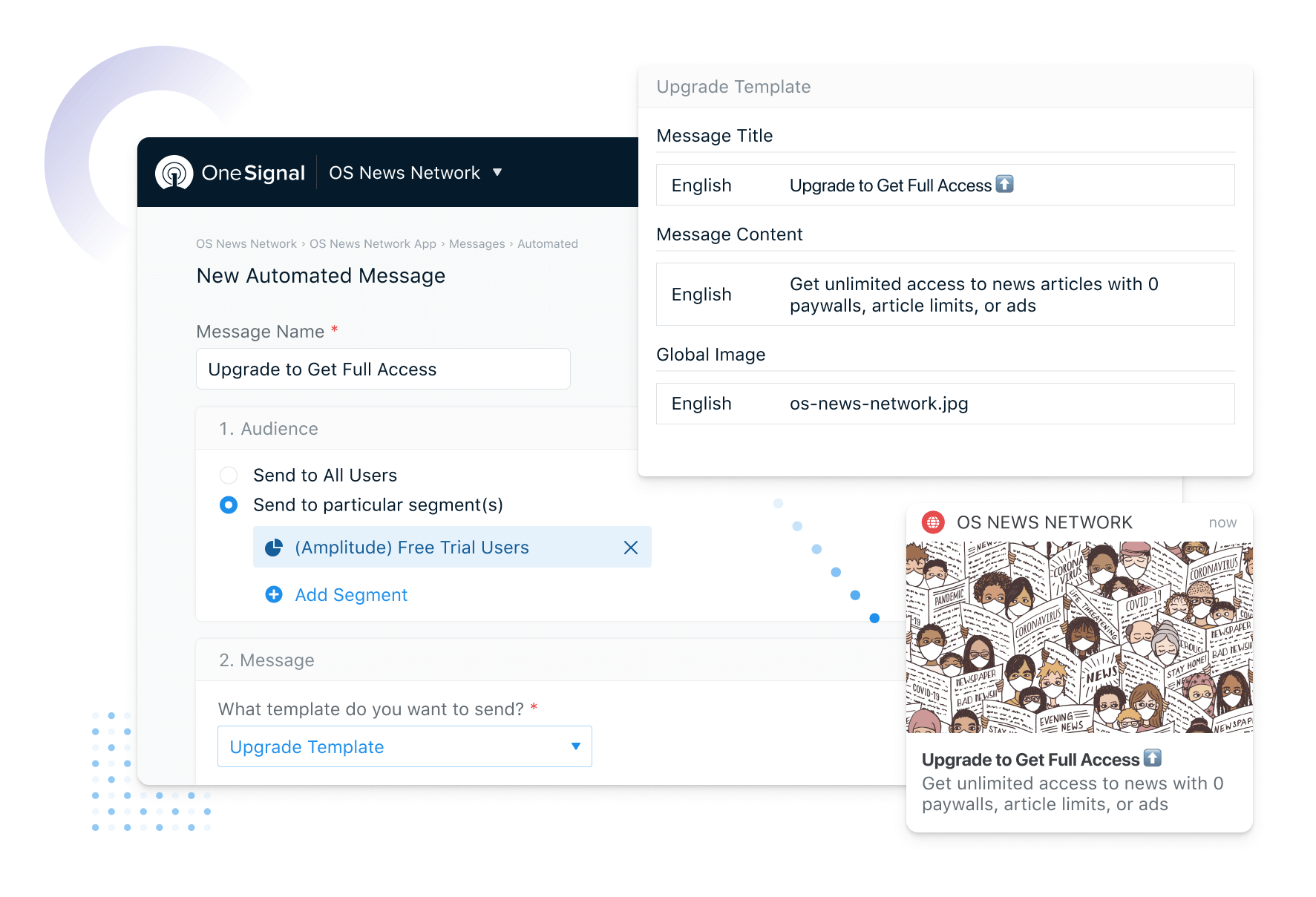 Get Started with OneSignal + Amplitude
Interested in combining Amplitude's behavioral data and personalized recommendations with your OneSignal account? This integration is available on our Growth, Professional, and Enterprise plans. You can reach out to our team to learn more about how this integration can help you drive results or simply login to upgrade your OneSignal plan and set up the integration today.  
Login to Your Account