Do you remember the last time you received the same pesky push notification for the 53rd time?
Did it prompt you to unsubscribe, or worse, uninstall the app it came from? Did it annoy you or ruin your perception of the brand or company associated with it?
This is what happens when companies fail to implement a segmentation strategy in messaging their users. Without proper user segmentation, your app communication strategy is likely to fall short of user expectations and pale in comparison to the experiences your competitors are delivering.
At its core, a segmented marketing approach is all about serving customers a narrative they can relate to.
What is User Segmentation?
User segmentation involves breaking your users into groups based on shared qualities or characteristics in order to target them with more personalized and engaging messages. With user segmentation, you can divide your user base into smaller audiences based on all types of data such as in-app behavior, location, language, cross-channel data, and more. Segments can be drawn broadly or narrowly and can be used for various purposes across the customer lifecycle.
Segmentation helps you make sense of the vast number of data points you have on your users and translates these insights into increased installs, retention, LTV, and conversions.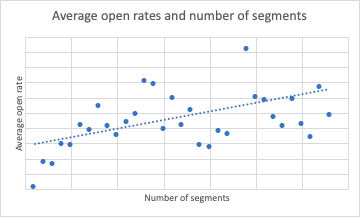 Why Your Mobile App Needs User Segmentation
Segmentation is crucial to any mobile app's messaging approach. On a high level, segments allow you to better recognize and hone your content to your customer's needs.
They also help you increase your messages' relevance and give users more reasons to come back to your app.
Industry trends reveal that consumers are showing increased expectations and affinity for personalized app experiences, and mobile companies across the board are prioritizing delivering on this need. One study finds that segmented and personalized push notifications can lead to up to 800 percent increase in open rates.
Your competitors are likely aware of this, so the bar is high for you to deliver equally or better-customized in-app, push, and cross-channel experiences. More focused messaging leads to a more gratifying user experience, which in turn improves retention, prevents churn, nurtures loyalty, and increases LTV.  Beyond these outcomes, segmentation allows you to collect insights on your users and refine your strategy as you go.
Segmentation serves many purposes across the customer lifecycle, from engaging dormant users to sending cross-sell content to targeting users to leave reviews, and more. In our experience, even simple segments can see an average of 50 percent higher message open rates than their unsegmented counterparts.
That being said, there are many ways to slice and dice your users. The opportunities are vast! Let's get into some general criteria you can use to kickstart your segmentation strategy...
6 Criteria to Use to Target Your App Messaging
1. Audience Value
The way you segment your app users should align with what you already know about your various target audiences and the distinct value they have in your app's monetization model.  Your segmentation approach should align with a differentiated marketing strategy, which involves identifying the market segments that provide the most value to your app and tailoring your messaging approach to those that translate to the greatest revenue.
Who is your app built for? Start by addressing your primary target markets through your segmentation approach and subsequent personalization strategy. Who are your power users? What content do they like? What makes them stick? These are all things to consider in starting out with segmentation.
2. User Attributes
One of the most basic ways to create segments is grouping your users by common attributes. Collecting and leveraging basic data on your users, such as age, gender, location, and language can be powerful in driving personalized messaging.
Let's say your app sells fitness apparel. Would you target a 13-year old female in California with the same footwear deals as 50-year old male in Siberia? Hopefully not.
These demographic data can be a great jumping-off point for creating segments and delivering personalized experiences that match the needs of different target audiences.
Location is an example of a powerful attribute you can use to hone your app's functionality. This data is key to the effectiveness of mobile apps across many verticals, such as rideshare, food delivery, travel, and media. With location-based segments, mobile companies can better deliver localized content based on regional trends and easily send location-based updates.
Fast-casual restaurant chain Shake Shack, for example, segments users based on their geolocation using real-time geofencing to connect with users in proximity to specific cities, neighborhoods, or restaurant locations by targeting them with regional promotions and events. Real-time location-based segmentation allows the company to promote limited-time, local deals like their special Mardi Gras King Cake Concrete offered only in New Orleans Shake Shacks.
3. App Activity
Another way you can create segments is through in-app activity. The way a user engages with your app should inform the type, timing, and content of your next message to guide them along their journey.
Segment users based on their activity level by grouping them based on the timing of their first or last session, the number of times they've opened your app, or the amount of time spent in their last session.
Understanding when users last engaged with your app and for how long allows you to appropriately retarget them with the right content. With activity-based segments, you can set up automated messages to reengage users who've been inactive for over a week, for example, or create special offers for users who've engaged every day last week. In understanding users' relative levels of engagement, you'll better be able to serve them the most appropriate messages, such as specific incentives or words of encouragement, to keep them coming back. Refining these benchmarks over time should be part of your long term segmentation strategy.
Popular Latin American wine app Evino, for example, sends three to four personalized notifications per week to users based on engagement data.
4. Interests
Consider segmenting your users based on interest. Interest-based targeting involves gathering data on what your users like —and dislike— to better tailor future content to their preferences. To do so, your app can track data on what screens, content, or features your users engage with and bucket them into interest-based segments.
For example, let's say you run a media app and you want to send timely push notifications when new stories are published. You may choose to create a segment containing users who've clicked on at least four finance articles to retarget with the latest headlines from Wall Street.
5. Purchase and Payment Activity
If it's part of your business model, you'll want to track users' purchase and payment activity as a basis for segmentation.
The exact data you'll want to track will depend on whether you run a subscription-based model, monetize based on in-app purchases, or neither.
If you operate on a subscription-based model, you may want to track and target paid and unpaid users. You can also take into account when a user is due to renew their subscription or whether or not they'd be a good candidate for an upsell messaging campaign.
If you enable in-app purchases, you can create segments around the amount users spend in your app, the number of purchases they've made, the types of products they browse, and whether or not they've abandoned their cart. Users' activity, or inactivity for that matter, can serve as indicators or triggers for you to reengage them.
Mobile app Joe, which gives coffee shops a way to accept mobile orders and payments, uses segments to deliver two main categories of notifications - transactional and marketing messages. By segmenting and refining campaigns based on purchase data, the team pinpointed major retention indicators. They observed that when users made orders at least twice a week through the Joe app, they were significantly less likely to churn. This retention rate increased further when users preloaded money on their Joe account for future purchases. In this way, segmentation can translate to direct sales and retention.
6. Place in the User Journey
Segments play an important role in the process of mapping your user journey. As you glean insights about your users through segmentation, you can start enrolling them in the appropriate journeys based on certain milestones they reach. As you scale your business, mapping the user journey based on a refined segmentation strategy will be critical.
Get Started with OneSignal
OneSignal is designed to help you send notifications and seamlessly manage your user communication across every channel, including mobile push notifications, web push notifications, bulk SMS, in-app messaging, and email. Our platform is quick to set up and our Segmentation tool is designed to help you consistently drive engagement, reduce churn, and nurture user loyalty — all without doing any development work. Don't take our word for it — create a free account and see the results for yourself!
Get Started for Free