What's your reaction when you get a generic marketing push notification that seems like it could have been sent to just about anyone? That's right: You might ignore it or even unsubscribe!
Now, what's your reaction when you get a more personalized message — a browser notification with breaking news in your area, or a mobile push alert reminding you about an item in your cart from your favorite online shopping app? You might actually click on the message to learn more about the news story or open the app resume your purchase.
When messages are relevant, users naturally pay more attention to them. In contrast, when notifications are generic, users ignore them, and they may even be annoyed enough by the interruption to opt-out of push notifications from your app altogether.
Send Better Push Notifications with Segmentation
One way to send better push notifications is by targeting your audience more precisely. Segments, a powerful feature available to all OneSignal users, is a great tool to use. Across a large sample of OneSignal users, those that used more than the four built-in Segments saw an average of 50% higher open rates.
The chart below shows that across thousands of OneSignal users, as the number of segments being used increases (i.e., the apps have divided their users into increasingly specific audiences), open rates increase.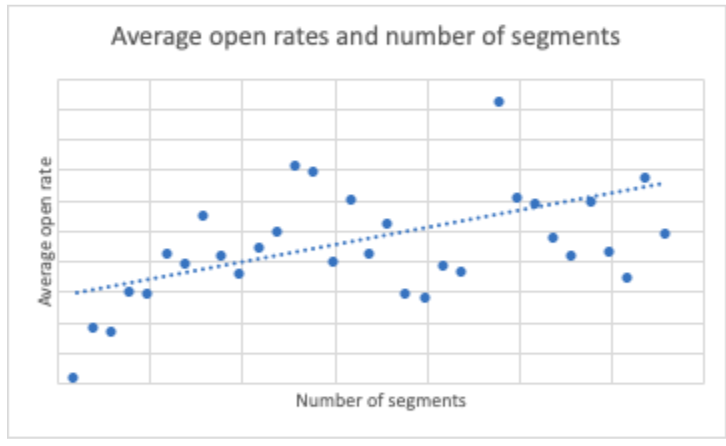 Segmentation entails classifying your users into more specific audiences based on attributes like activity, location, and interests. With these defined audiences, you can craft messaging that is more appropriate or appealing to these users. This approach can ensure that every message you send to your subscribers will be more relevant and lead to greater engagement.
Understanding OneSignal's Built-In & Custom Segments
To help you get up and running quickly, every app in OneSignal has four default audience segments:
Subscribed Users: All users in your app that are subscribed to receive notifications.
Active Users: Users that have logged in to your app/site recently.
Engaged Users: Users that have logged in to your app/site frequently
Inactive Users: Users that have not logged in to your app/site for a long time.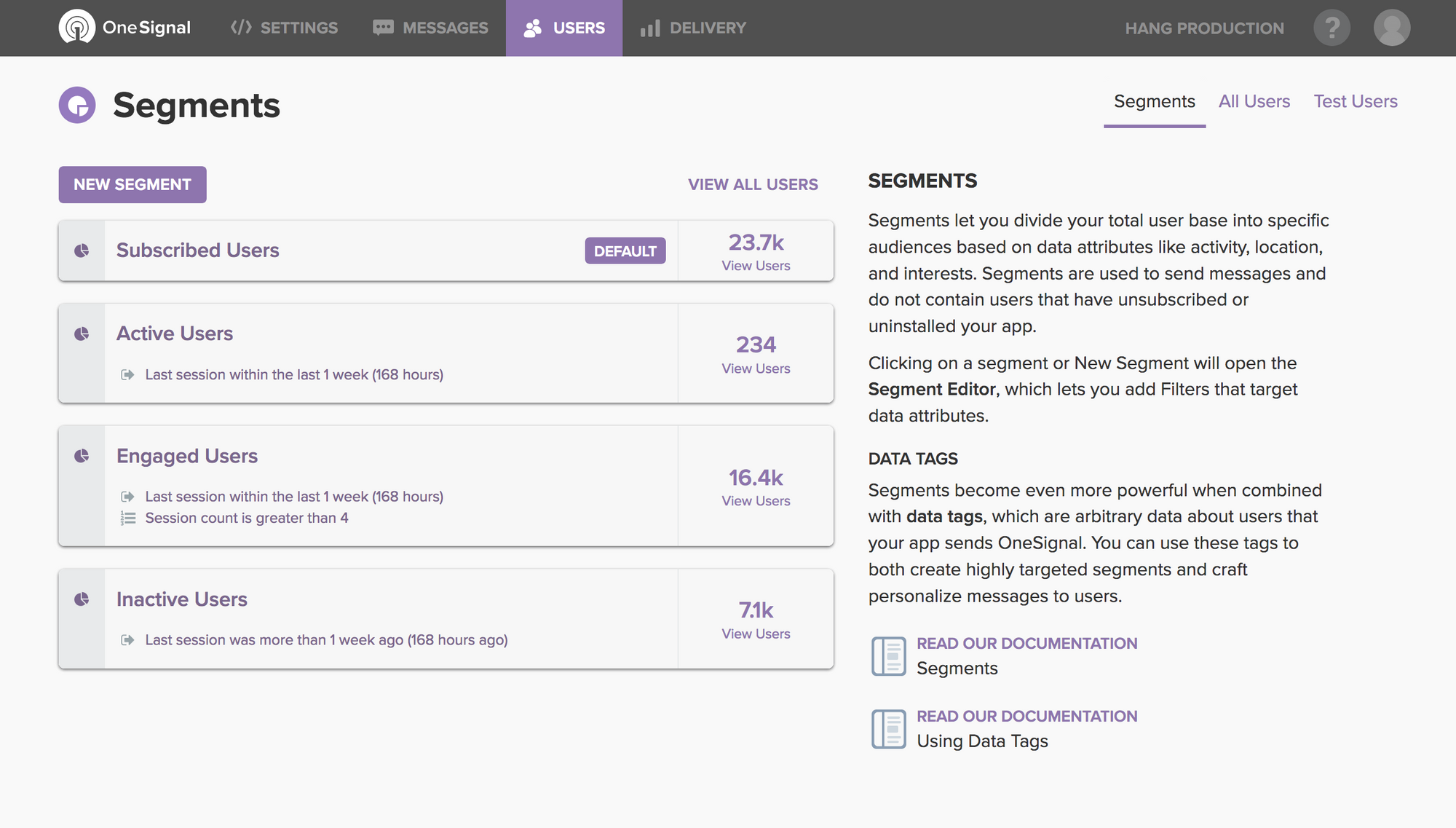 However, the most successful OneSignal customers also build their own segments. In fact, 59% of the top 10,000 OneSignal users build their own segments using attributes like user activity, location, and interests to hone their targeting capabilities.
Creating custom segments with OneSignal is easy. OneSignal offers a wide array of filter types or categories of data that you may use to segment your audience. You may also combine multiple filter types using and/or clauses for hyper-personalized, pinpoint targeting. For more information about how you can create segments via OneSignal's web dashboard visit this page for a step-by-step guide. If you're utilizing OneSignal's API, you may refer to this page instead.
Here are some of our favorite examples of innovative customizations of OneSignal's Segments that have led to impressive results for some of our users:
Tribune Publishing Company:
Segmenting Readers by Frequency & Interest
Segments and Data Tags helped Tribune Publishing Company (TPCO) grow their web push subscribers in record time. The team adopted a frequency-based approach to segmentation.
For example, when a reader visits sports articles three times or more, they automatically receive a data tag that adds them into a sports interest segment. Readers could then be segmented into more granular audiences, such as fans of a specific sports team, simply based on their content consumption patterns and preferences. This ensures that readers always receive timely, hyper-relevant content from TPCO. Enhanced segmentation allowed the team at TPCO to acquire 250,000 web push subscribers in just two months and obtain a total of 1 million notification opt-ins within 6 months of implementing OneSignal!
Joe.Coffee:
Elevating Customer Engagement through Segments
Joe.Coffee is a mobile application that gives coffee shops a simple and powerful way to accept mobile orders and payments. The team at Joe.Coffee use OneSignal to deliver two main categories of notifications - transactional and marketing messages. They rely heavily on OneSignal's segments and data tags to ensure users receive only the most pertinent information —whether it be order updates or special promotions.
Through testing, the team was able to pinpoint major retention indicators. They observed that when users made orders at least twice a week through the Joe app, they were significantly less likely to churn. This retention rate increased further when users pre-loaded money on their account for future purchases.
With these observations, the team formed segments of users who were close to meeting these retention milestones and targeted them with automated marketing messages that would incentivize these users to make another purchase or preload money to their account. Thanks to their approach of highly targeted and personalized messaging, the team was able to increase customer retention by 25% and grow their revenue by 30% in the first 30 days of implementing OneSignal.
---
Looking to improve your user experience and grow your business in the new year? Learn how push notifications can help you meet all your resolutions and keep pace with your competition.
New to OneSignal? We'd love to help you start growing your business today. With tools to enrich every step of your customer engagement process, staying connected with your users has never been easier. Sign up for a free account or schedule a live demo to learn more.