This year's WWDC conference was especially exciting, as Apple continues to push the envelope with new features and products made possible by their revolutionary Apple Silicon chip. Major headlines include the announcement of a new augmented reality (AR) headset (complete with a new VisionOS), an even skinnier and sleeker 15-inch Macbook Air, a brand new MacOS Sonoma, powerful MacPro and Mac Studios updates enabled by the latest M2 Ultra chip, and exciting iOS17, iPadOS17,  tvOS17, watchOS 10 software updates and UX improvements.
Key Themes from WWDC23
Privacy
Collaboration
Sharing
Intuitive User Experience
New iOS 17 Features and Updates
Last year at WWDC22, Apple debuted major software updates, including Live Activities and web push support for iOS and iPadOS. On the fifteenth anniversary of the App Store, they've outdone themselves with some compelling new UX updates that are focused on upgrading the most frequently used and loved iOS features. We've outlined some of the biggest iOS 17 changes that will be available this September.
Personalized Contact Posters
With iOS 17, users will be able to customize their contact cards (aka Contact Posters) the same way they would their lock screen. User can choose their contact photo or emoji and change elements such as colors and text.  These new and improved Contact Posters will appear when a contact calls your phone or when sharing your contact information with a friend via NameDrop.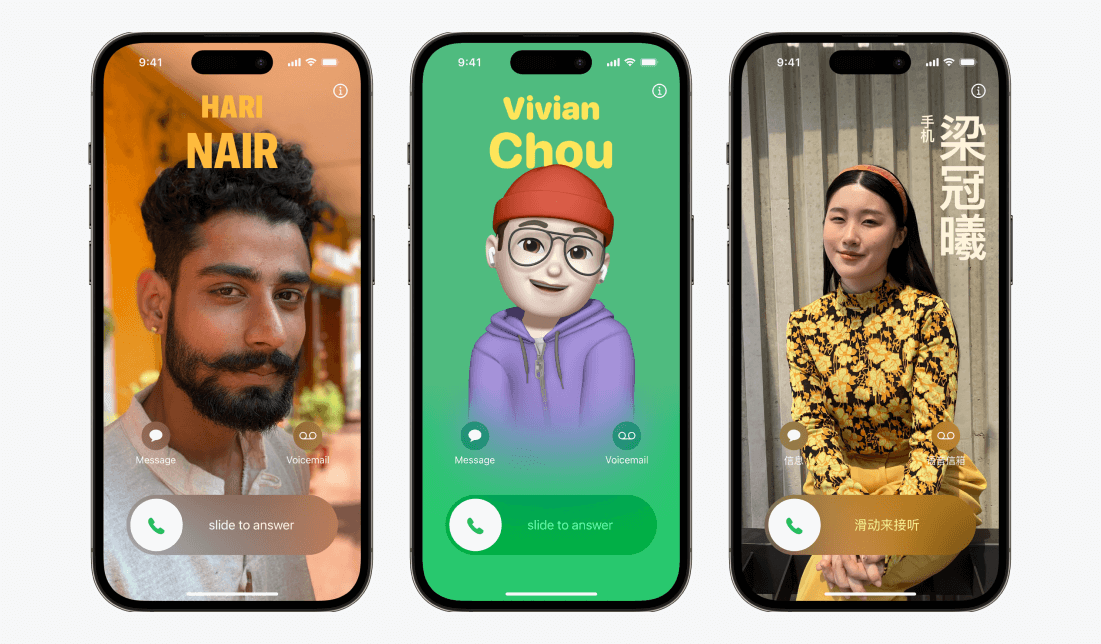 NameDrop & AirDrop Enhancements
NameDrop is a new feature that's made possible by Apple's Airdrop updates. It allows you to swap numbers with someone simply by bringing your phones close together. Once your phones are connected, your own contact poster will appear on your device and prompt you to choose what email and phone numbers you wish to share with the new recipient.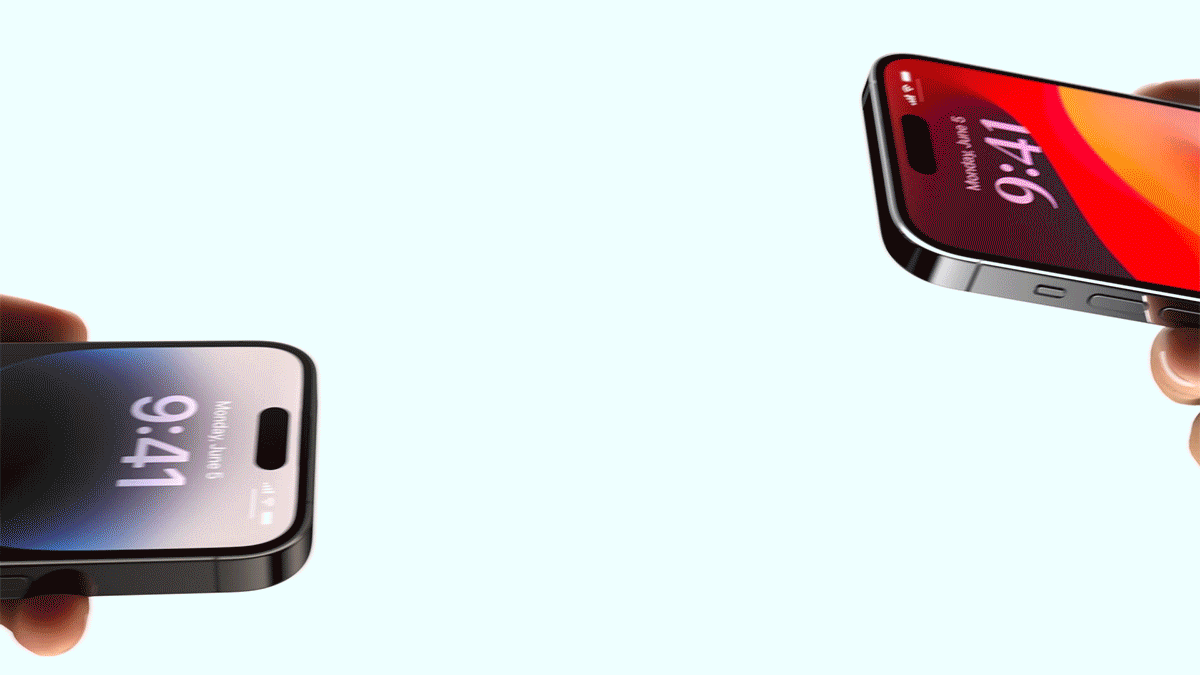 In addition to helping you share contact information, this gesture can be used to share other content or to kick off a shared activity, such as sharing music on a run. The same gesture also enables sharing between iPhone and Apple watch. If you'd like to send a large number of files but leave the AirDrop range, your iPhone will continue to send or receive content over the internet.
Live Voicemail
Like the name suggests, this new feature will allow you to see a live transcription of a voicemail on your lock screen in real-time. Real-time transcription will make it easier to decide whether or not to pick up an unknown number or decide if a call from a contact is urgent when you're in the middle of another activity.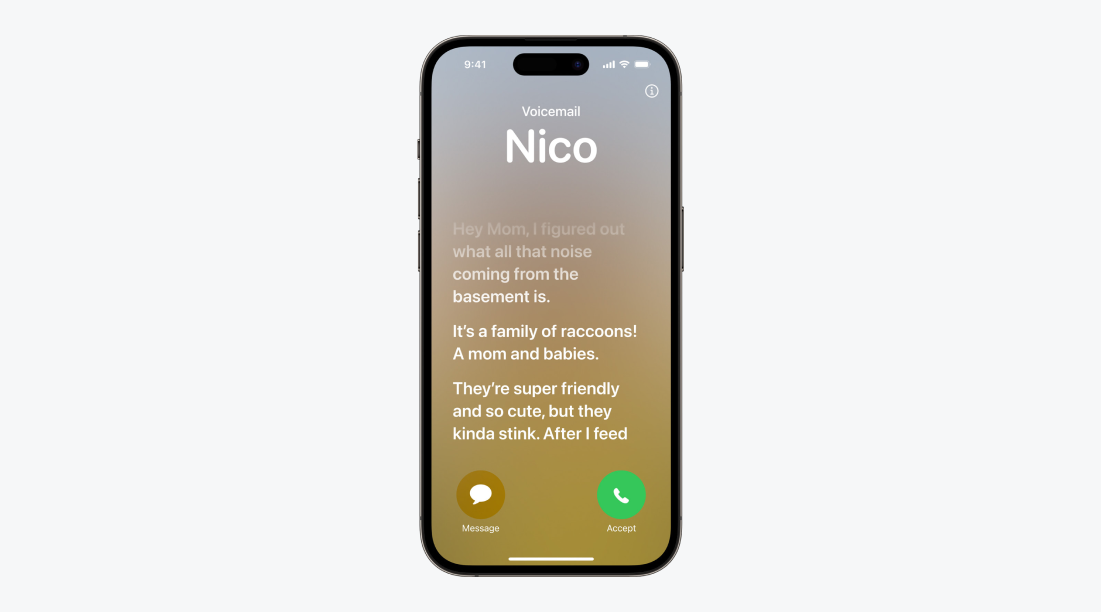 Facetime Messages
iOS 17 will introduce a new, more compelling type of voicemail. Now when you call someone on Facetime and they're unavailable, you'll be able to leave a recorded video message.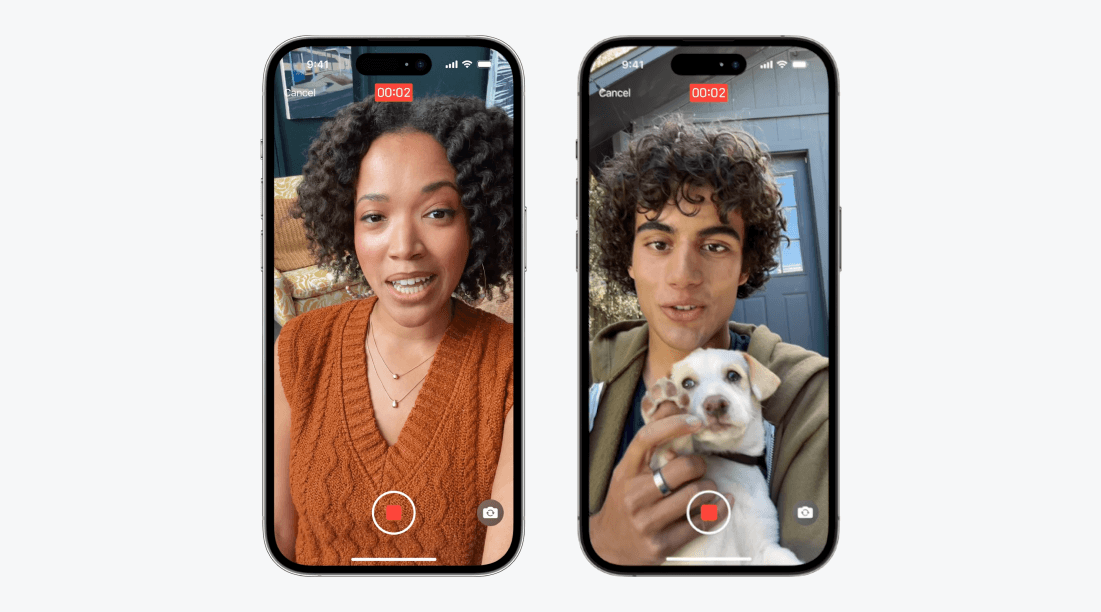 Messaging App Updates
Stickers
Stickers are currently available on iOS 16+ apps that use Apple A12 Bionic, the 64-bit ARM-based system on a chip (SoC). Today, iOS users can create a sticker by choosing an image from their photo library, holding their finger on an object or person in the foreground, and watching as their iPhone traces an outline around that object.
With iOS 17, Apple is giving stickers a major update by integrating more advanced sticker functionality (currently only available via third-party apps like Sticker Drop) into their native messaging app UI. Stickers will be available via an updated messaging menu tab by tapping the "+" button and the new stickers icon. All emojis will be available as stickers that you can "peel and stick" (i.e. drag and drop) into conversations. Unlike basic emojis, stickers can be rotated, manually changed in size, and enhanced with built-in effects. As part of iOS 17, you will also be able to create animated sticker emojis from live photos — aka Live Stickers — to add as reactions in messaging threads. Stickers can be accessed in other third-party apps and in Markup.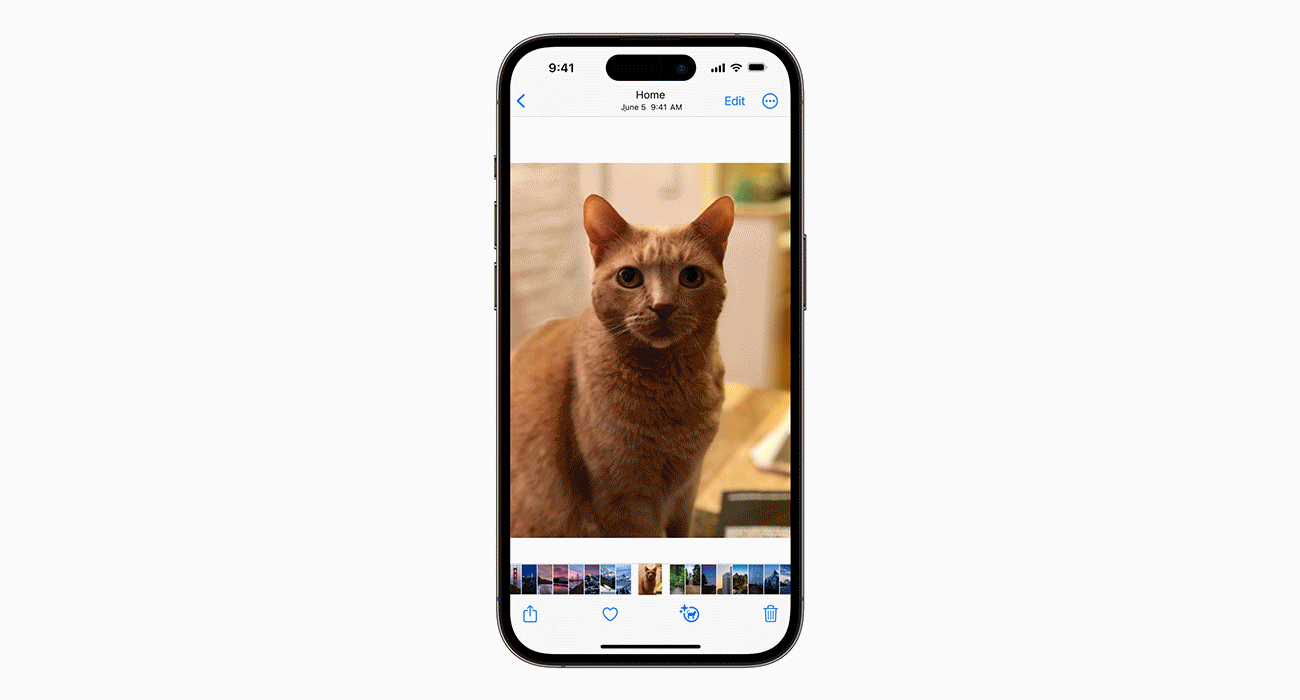 Text Input Enhancements
Apple has finally made some much-needed improvements to its autocorrect feature. With iOS 17, users can expect improved accuracy with autocorrect and more advanced in-line predictive type based on each user's frequently used phrases and words. If autocorrect doesn't quite hit the mark, it will also be easier to revert to what you originally typed with one tap. Other text input improvements to look out for include improved dictation and transcribed audio messages.
Along with these updates, iOS 17 will offer a more powerful and precise search experience in messages, a new "catch-up" button to catch up on text threads, menu improvements, swipe to reply on in-line text bubbles, and real-time location sharing in messaging threads.
New App Experiences
StandBy Mode
This new feature is designed to make your iPhone more useful in moments when you put it down. By turning your phone on its side when charging, you'll see a new lock screen experience that can be used as an alarm clock or personalized photo reel. StandBy Mode supports widgets and Live Activities and automatically adapts to low light.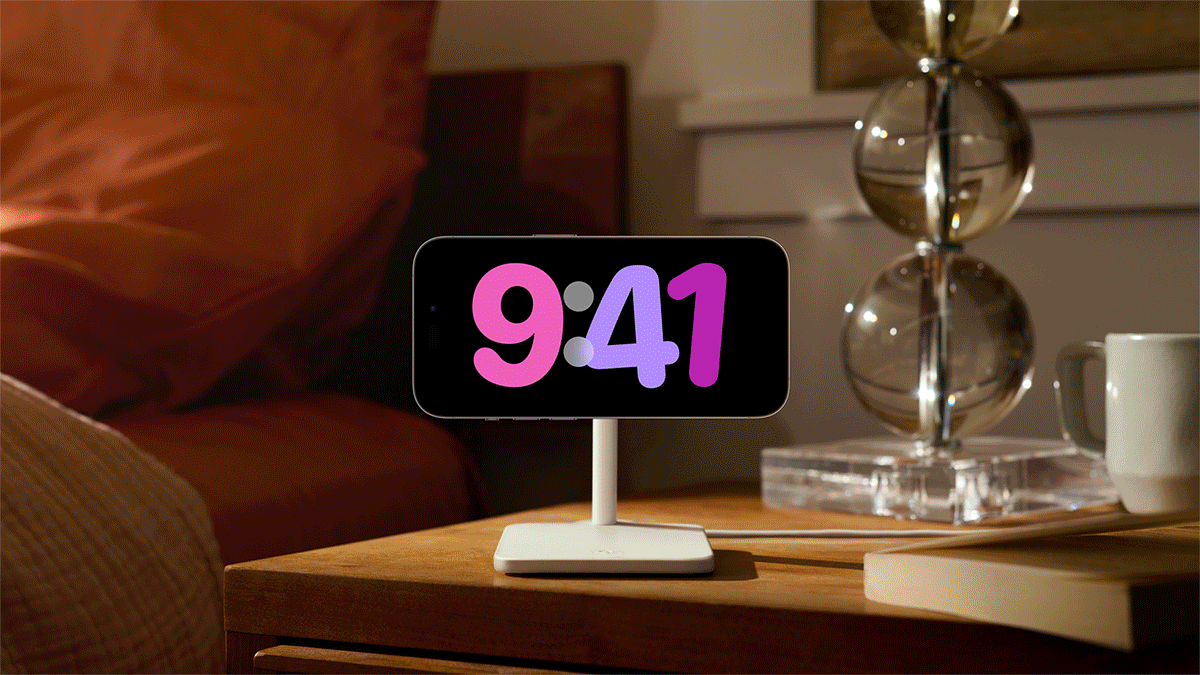 Check In
The new Check In feature can be used to help ensure friends or family get where they're going safely. You can leverage this feature to automatically detect your location and let authorized friends or family know when you've reached your destination. If you don't respond, it can also show your current location and remaining battery life.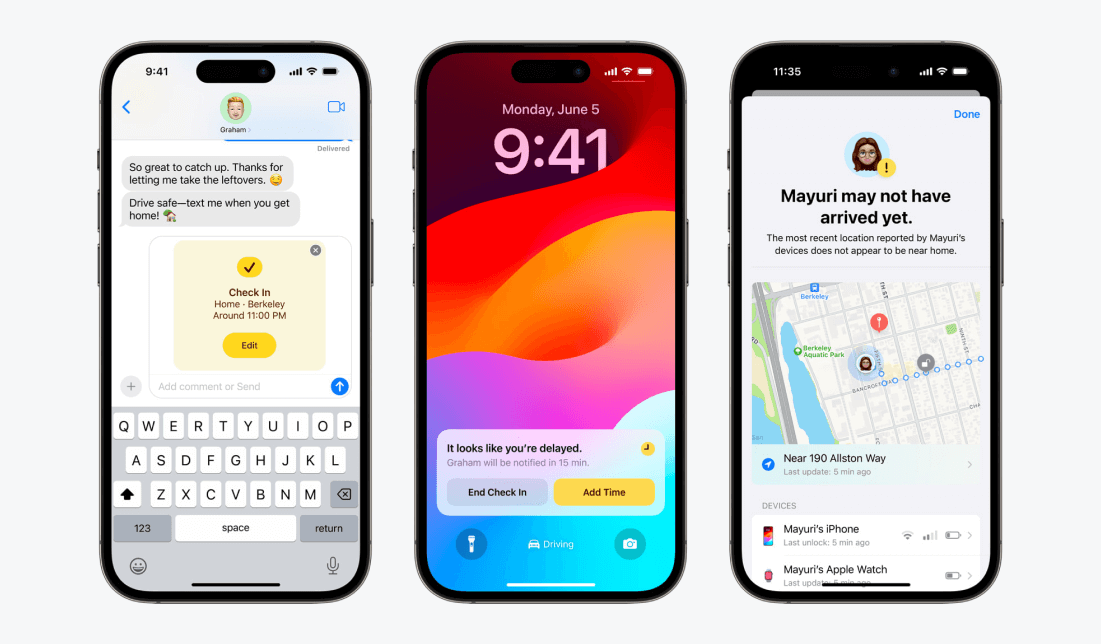 New Journal App
iPhone users love photo memories, so Apple has taken this concept and run with it. In addition to showcasing photos, the new Journal app will help you catalog memories by suggesting moments from photos, adding location details and music suggestions, and providing a writing prompt. Suggestions are available as an API so they can be added to third-party apps. And, of course, all this app data uses on-device processing and end-to-end encryption, so it's guaranteed to remain private.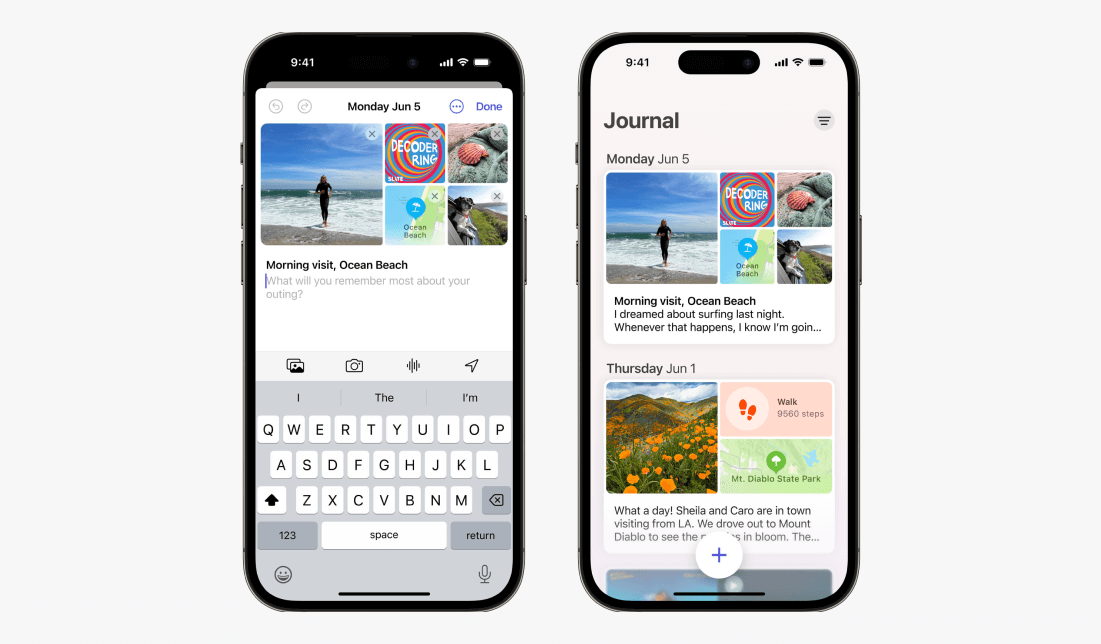 Other Updates
In addition to the extensive updates above, you'll no longer need to say "hi" to Siri for voice assistance (You can just say "Siri"), and your iPhone will be better at spotting people and pets in your photo albums.
iPadOS 17 Updates
Lock Screen Updates
iPadOS 17 will bring some major lock screen updates that resemble those on iOS. Updates include interactive widgets, Live Activities support, and lock screen personalization.
Health App Access
Apple made some big advancements to their Health App when they released iOS 16, including a new medication management feature, sleep stages, and more sophisticated iPhone activity tracking insights.
Now, they're bringing the health app experience to iPad to make it easier to see health details, view trends, and track information on a bigger screen. For iPadOS developers, Apple HealthKit will soon be available on iPad.
PDFs and Notes App Updates
New machine learning will allow iPad to easily identify PDF form fields, making it easier to autofill forms and add a signature. The Notes App will offer new ways to collaborate on PDFs from within notes. Users will be able to expand PDFs to full-width view from within notes, view and annotate PDFs using Apple Pencil, and add multiple PDFs to one note. Changes will be shared with collaborators in real time, making it easier to tag-team projects remotely. This new Live Collaboration feature will also work with Stickers ad can be combined with Facetime for more seamless communication.
New 15-Inch MacBook Air
This new MacBook is a wider-screen version of the 13-inch MacBook Air that was released in 2022. Both MacBooks use Apple's M2 chip, which makes them up to 12 times faster than their Intel-based predecessors. Beyond screen size, here's a look at how the two laptops compare:
13-Inch MacBook Air
15-Inch MacBook Air
Display
13.6-inch 2560 x 1664 Liquid Retina display
15.3-inch 2880 x 1864 Liquid Retina Display
Memory
8GB / 16GB / 24GB
8GB / 16GB / 24GB
Processor
Apple M2
Apple M2
Storage
256GB / 512GB / 1TB / 2TB SSD
256GB / 512GB / 1TB / 2TB SSD
Speakers
4 Speakers
6 Speakers

Ports
Thunderbolt 4 USB-C (2), MagSafe
charging port,headphone jack
Thunderbolt 4 USB-C (2), MagSafe
charging port, headphone jack

Battery Life
Up to 18 hours
Up to 18 hours

Camera
1080P FaceTime Camera
1080P FaceTime Camera

Size & Weight
11.97 x 8.46 x 0.44 inches, 2.7 pounds
13.4 x 9.35 x 0.45 inches, 3.3 pounds

MacOS 17 Updates
The latest MacOS is called MacOS Sonoma and will include many of the new iOS and iPadOS features. Below are some of the high-ticket items to expect.
Widget Improvements
Widgets will get a refresh on this OS: you'll be able to organize widgets on the desktop and add more from your widget gallery. Similar to ipadOS and iOS, you don't need to install apps on a Mac to use the widget — your iPhone just needs to be nearby. Widgets will also be "glanceable," meaning that they'll automatically fade away when you open other apps or tint in color based on your background color.
Gaming Enhancements
The new MacOS Sonoma aims to deliver a better gaming experience. Improvements include a new "Game Mode" feature that prioritizes the game CPU and GPU during gameplay. Other gaming improvements include reduced audio latency with AirPods, improved responsiveness, and a Game Porting Toolkit that's intended to shorten the evaluation process, simplify the conversion process, and reduce development time.
To showcase these new gaming improvements, Apple partnered with the renowned game studio Kojima Productions to develop a new game with Apple Silicon and Metal 3. The game, Death Stranding Director's Cut, will be available on the Mac App Store soon.
Productivity Updates
To support the new wave of remote work, Apple has enhanced it's Video Conferencing features. Updates include a new Presenter Overlay feature which lets you overlay your face onto a slide presentation in a moveable bubble or layer your cutout image over the content you're presenting. New reactions will also be supported in video conferencing, allowing users to trigger reactions with a gesture. These reactions can be used with Zoom, Teams, Webex, Facetime, and other third-party apps.
Safari Updates
Safari updates that were announced at WWDC include advancements to typography, privacy updates including private browsing locks, secure passkey sharing, and support for web apps on Mac (including web push notification support).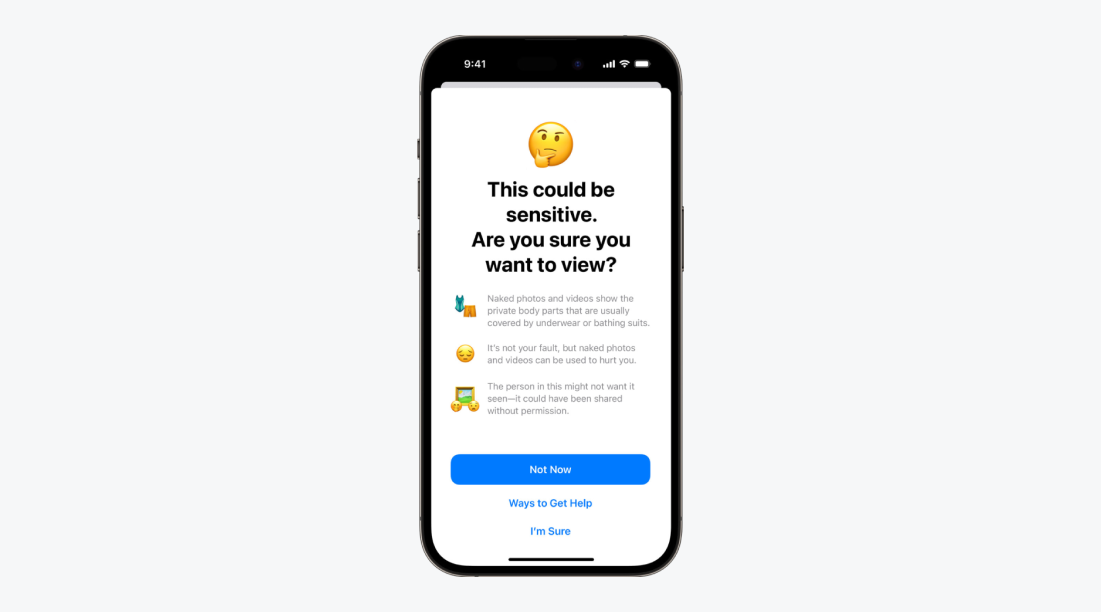 In addition, Safari will finally catch up to Chrome by offering a Profiles feature that allows users to separate cookies and extensions for different use cases like work, school, and personal browsing.
Audio and Home Experience Updates
AirPods Get Adaptive Audio, Personalized Volume, and Conversation Awareness
The new Adaptive Audio feature blends transparency and active noise cancellation to better adapt to the conditions of your surroundings. These updates are designed to help you to stay present, minimize distractions, and make it easier to be engaged on calls, regardless of where you are. AirPod will automatically adjust noise cancellation levels based on your environment and enable transparency mode when you're talking to someone close by. In other words, it will automatically turn noise cancelation on when a loud subway train passes and turn it off when you bump into your friend so you can have a conversation.
In addition to using adaptive audio, new AirPod improvements include a personalized volume feature, which uses machine learning to deliver a better experience. The update also includes better conversation awareness, which will automatically quiet background audio when you start speaking on a call.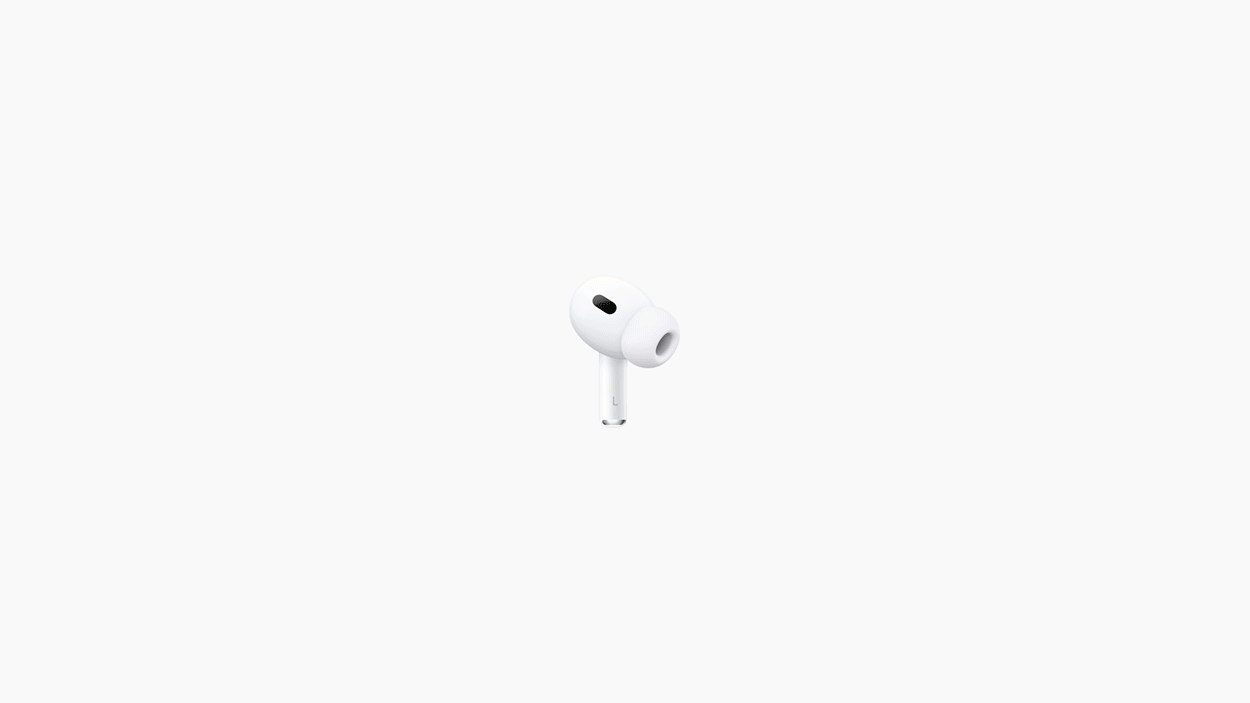 AirPlay, Apple Music, and CarPlay Enhancements
Apple announced that AirPlay support is coming to select hotels before the end of the year. This feature will allow users to take advantage of big TV screens to work and watch content on their favorite apps when they're away from home. AirPlay will be enabled with a QR code displayed on the TV screen.
Apple also noted that SharePlay will be available in cars later this year. This feature makes it easy for all passengers to take turns DJing without disconnecting and reconnecting different phones.
tvOS Updates
Apple made major UX improvements to tvOS by redesigning its control center to be more intuitive. They've also invested time in making tvOS a hub for collaboration and connection by introducing FaceTime to Apple TV. This app takes advantage of the continuity camera on the iPhone and iPad to help you stay framed as you move around, wirelessly connect to your iPhone or iPad to join a call, and use SharePlay to enable watch parties on the TV. Like the previously mentioned video conferencing updates, FaceTime for AppleTV will also support Gestures. Other minor updates include the ability to use your iPhone to locate the remote and use Memories as screensavers. The Continuity Camera API will be available to tvOS developers by the end of the year.
WatchOS 10
At WWDC23, Apple announced that they'd made comprehensive app redesigns across WatchOS to improve ease of use, functionality, and UX. Those updates include two new watch faces (a "Palette" option and Snoopy and Woodstock animations), new ways to navigate, topographic maps, NameDrop, and Live Activity support (among others).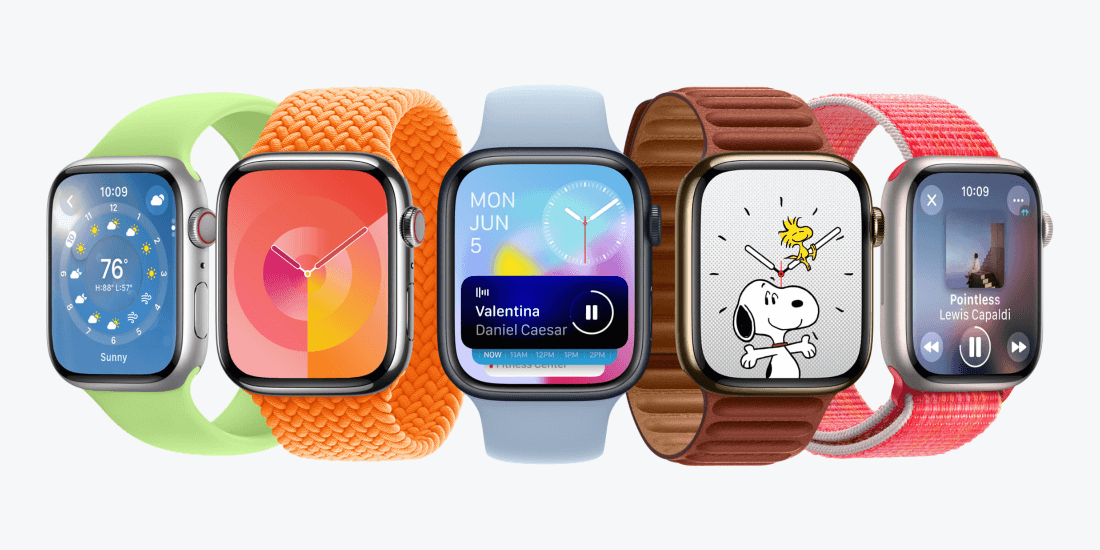 Apple has also invested in making WatchOS better for specific activities such as cycling and workouts, using a range of software enhancements and new features. Their new API for developers is designed to help apps create a more compelling workout experience by detecting rapid changes in direction or elevation (using high-frequency motion data). This enhanced functionality will allow fitness app developers to deliver more precise user insights and feedback based on nuanced wrist movements, such as those used to swing a tennis racket or golf club.
Health App updates for watchOS are centered around promoting emotional awareness and well-being. WatchOS can now measure daylight time to make sure wearers are getting enough sunlight. It also has a new Screen Distance feature that uses the same TruDepth camera that enables FaceID to determine if someone is holding a device too close to their face to prevent eyestrain.
Apple Vision Pro
By far, the highlight of WWDC 23 was the first glance at Apple's new augmented reality (AR) platform, Apple Vision Pro. This wearable spacial computer is designed to allow users to see and interact with digital content as if it's in their physical space. In that way, it seamlessly blends the real world with virtual experience, making it unique from VR headsets like Meta Oculus Quest.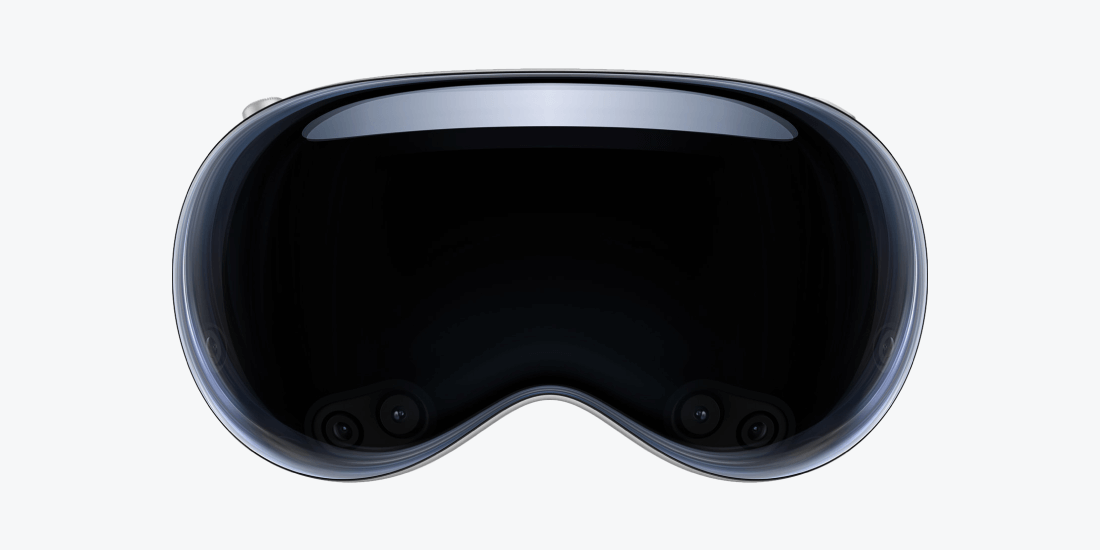 The headset allows you to expand and move app experiences within your space and uses shadows and highlights to indicate depth and placement within your environment. You can control how immersed you are using the digital knob on the headset to enter built-in VR "environments" that allow apps to grow beyond the physical space.
Another revolutionary feature of this headset is that it relies on your eyes, hands, and voice to control the interface rather than wearables or controls. Users can tap their fingers together to select, flip their fingers to scroll, and simply look at an icon or image to highlight it.
To ensure that the experience remains grounded in the physical world, Apple introduced a feature called EyeSite, which allows you to see people in your vicinity and automatically removes the tinting on the headset to make your eyes visible to others when they're nearby.
At WWDC, Apple showcased a range of everyday use cases for this new tech, including working from home, browsing the web, watching movies, and engaging with personal photos and videos in a new way. They also announced a major partnership with Disney+ and indicated that the popular streaming app would be available on Apple Vision Pro on day one of its release.
When will Apple Vision Pro be available?
The Apple Vision Pro headset will be available to purchase in early 2024 at a starting price of $3,499. Opportunities to try the VisionOS developer kit, take part in compatibility evaluations, and attend an Apple Vision Pro developer lab may be available as early as July 2023.
Build a Better UX with OneSignal
As a global leader in messaging and engagement, we've helped millions of developers take their applications to new heights by making it easy to create a seamless user engagement and retention strategy. Our intuitive solution makes it easy to execute, manage, and automate user messaging across all devices, including iOS, iPadOS, Safari, and many more.
We offer a built a solution to simplify iOS Live Activity push token management and make it easier to customize Live Activities from the OneSignal dashboard for different use cases.
We pride ourselves on staying on top of the latest device and industry trends, so you can spend your time where it matters most — on your product.  Create a free account to try out OneSignal for yourself, or connect with an expert to discuss your company's unique goals and find out how we can help you achieve them faster.
Chat with a User Engagement Expert