In 2022, Apple announced a new feature that made it easier for iOS users to follow the progress of activities they care about, directly from their lock screens or Dynamic Islands. And, in 2023, Apple announced that they were expanding it to iPad users too. It's not a widget, nor a push notification, but something in between: a Live Activity.
Live Activities display up-to-date information from your app and stick to the iOS lock screen or Dynamic Island for up to 8 hours, making it easier to follow a delivery, game, transaction, or other event. However, they require engineering time and months of development to set up a new service infrastructure.
That's why we're excited to announce that we're one of the first companies globally to release support for Live Activities. With OneSignal, what previously would take months of development, will now only take a matter of hours. With our API and SDK, you can now develop, deploy, and update Live Activities quickly and reliably—without architecting brand-new infrastructure from scratch.
Benefits of Live Activities
Nurture Customer Loyalty
By showing users the information they want in an accessible format, Live Activities make it easier for customers to engage with your app, which drives loyalty and repeat purchases. Plus, with greater control over design, visibility, and user experience, you can present real-time updates in a cohesive and personalized way, rather than sending static transactional messages.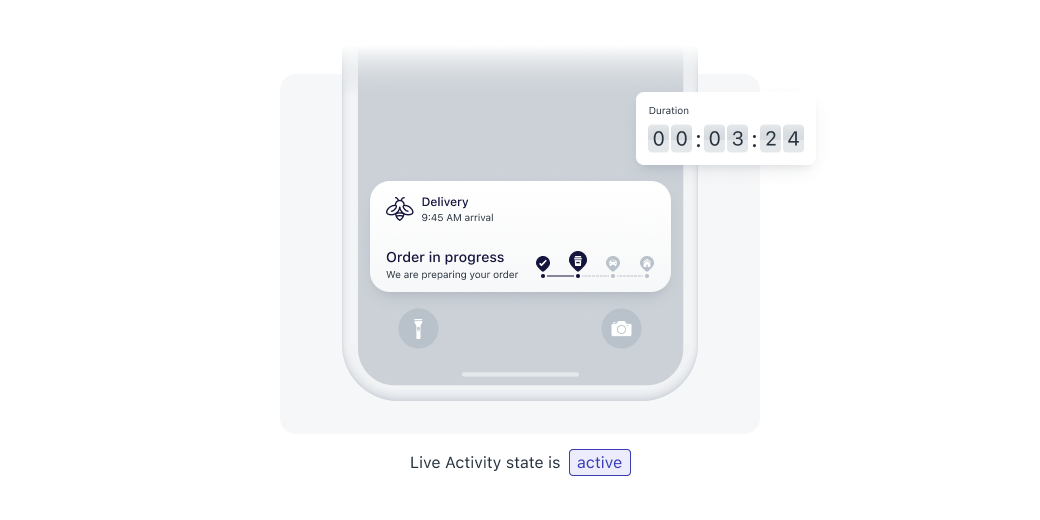 Extend Engagement with a Sticky App Experience
In a 30-minute session, the average consumer switches between the mobile web and apps 5 times. But, with a Live Activity, your app experience doesn't end once a user switches tasks. Instead, your app sticks to their home screen or Dynamic Island for up to 8 hours. Use our quick-to-launch tooling to stay top of mind and start expanding your reach beyond the digital walls of your iOS app.
Add Delight to Transactional Experiences
Positive transactional experiences are essential to encouraging repeat purchases and building customer trust. Use a Live Activity to transform a series of static notifications into a real-time, at-a-glance view of a flight, delivery, trade, order, or transaction.
Live Activities Support a Wide Variety of Use Cases
You might still be wondering if Live Activities are right for your app. As a new space, the market is still expanding what you can, and should, do with this functionality. In the meantime, we recommend considering testing them out if you meet the following criteria:
you have a mobile app that targets iOS users
your app offers some kind of live or real-time experience.
We've seen various apps meet these criteria, everything from rideshare and delivery to crypto and social. Don't box yourself in if you haven't seen a competitor use a Live Activity; get creative and test it yourself!
🏈 Sports
Broadcast live, in-game scores and key plays, countdown to a game
🎮 Gaming
Share live events, challenges, and leaderboards
📰 News
Broadcast real-time updates for a major event or election
💸 Fintech
Track stock prices and exchange rates, show trade updates
₿ Crypto
Follow gas fees and coin values, show wallet updates
🚗 Rideshare
See when a driver is near or follow a friend's trip
🌯 Delivery
Track order status and see when the delivery is near
🛬Travel
Follow flight, train, or subway statuses and progress
And more!
Why OneSignal is the Right Choice for Live Activities
Deliver a Responsive User Experience with Our Real-Time Speed
A live activity necessitates real-time delivery, but it can be challenging for individual apps to build a system that can deliver messages that fast.
With our industry-leading throughput, OneSignal will handle the real-time delivery for you. Every day we help over 1 million global customers deliver 10B+ messages at just the right time, all with over 99.95% uptime. With OneSignal, you'll be able to deliver more responsive user experiences, while also reducing potential risks of performance bottlenecks.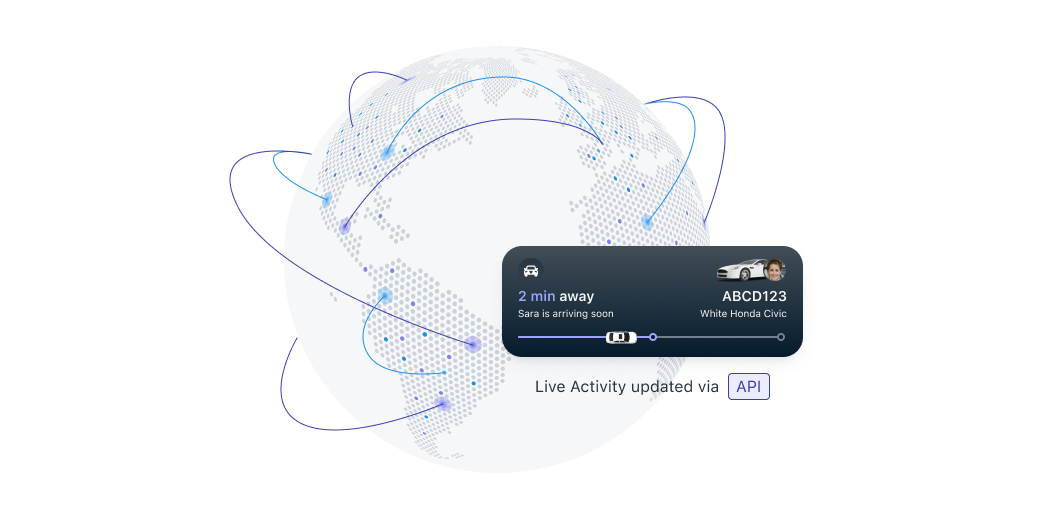 Shrink Development Time with our Reliable and Robust API
Live Activities necessitate a new service infrastructure to manage temporary sessions and tokens at scale, which can take months to develop. That's why we architected support for Live Activities: so you don't have to.
Rather than building something on your own from scratch, OneSignal's Live Activities offers a thoroughly tested tool with increased reliability and scalability. This not only translates to a faster time-to-market but less work down the line when you want to release and update future Live Activities.
Reduce Ongoing Maintenance and Support Costs
By choosing to build your Live Activities with our lightweight API and SDK tooling, you get to skip ongoing infrastructure maintenance and managing the backend architecture at scale.
This gives developers more time to focus on other important projects and product development.
Easily Integrate with Your Tech Stack
Our developer-loved API and comprehensive native and cross-platform SDKs are designed to work well with other tools and systems. This means that developers can easily integrate Live Activities with the rest of their tech stack. With our broad SDK support, you can be sure that your app will function seamlessly and provide a smooth user experience.
Get At-A-Glance Insight into Delivery
Directly from the OneSignal dashboard, get high-level visibility into deliveries for each activity update. Use this information to understand your Live Activity reach, quickly identify any delivery issues, and ensure a smooth customer experience.

Ready to Get Started?
If you're ready to develop Live Activities, follow our documentation. Live Activities are a brand-new offering from Apple and is currently only available on iOS devices. If Android does release Live Activities in the future, we will continue to lead the industry by being among the first to market with our support.
We're the only platform making Live Activities available to everybody. To unlock higher-volume access, upgrade your plan today. And if you're a scaled or rapidly growing app, reach out to our team of experts to get set up with the robust support you need.
Chat with an Expert