Mobile marketing automation allows you to deliver mobile marketing experiences that carry an authentic human touch and that effectively scale with your business.
In the most basic sense, marketing automation software allows you to automatically execute and scale mobile marketing campaigns that would otherwise need to be pieced together manually.
With an increased appetite for personalization, the proliferation of the number channels consumers use, and rising expectations for a connected user experience, marketers across industries rely on automation as a way to deliver satisfying and personalized customer communications—all while saving time and energy.
Marketing automation software providers can provide a variety of key benefits for companies of every size.
Benefits of Mobile App Marketing Automation
Save Time and Resources
With automation, you can craft contextual message sequences to deliver the right message at the right time, all with no code or engineering resources required.
Scale Your Strategy
Aside from saving a tremendous amount of time, marketing automation helps app businesses scale their marketing strategies in order to effectively reach vast audiences. As your mobile app's userbase grows, it can become increasingly difficult to meet each user's needs at the right time without the support of automation.
Reengage Users
Automation can also help you bring users back into your app when they've been busy or when they're forgotten about your app altogehther. Considering the value of retaining your existing users, you'll want to improve your reengagement strategy along their app journey, through all the ups and downs and twists and turns it may hold.
Drive Business Value
A retention based marketing approach that consistently meets users' needs at key milestones is most likely to generate long term business value for your app. Mapping these touchpionts and targeting users across channels is the best way for you to ultimately reap the ROI of existing users.
Centralize Your Data- Marketing automation software can allow you to aggregate your data across multiple channels —such as push, SMS, in-app messages, and email. Having a single source of truth for data such as your users preferences, behaviors, and responses to existing campaigns will help you better design and execute future messaging according to your app goals.
How does Marketing Automation Work?
Fundamentally, automating a messaging campaign will involve collecting data, setting up segments, and targeting users at key milestones.
1.Collect Relevant Data
When are your users active? What products to they prefer? What messages have they responded to in the past? These data can all be used as a starting point for mapping your automations. You may be tracking data across systems, and the exact types of data that are relevant to your strategy will depend on how your app works.
2. Segment & Target
You can use segmentation and time-based triggers to set up sophisticated automations.
Segment your users based on whatever information is most relevant to your buyer's journey in order to automate messaging sequences accordingly. Segmentation breaks your users into smaller audience groups so that you can serve them more relevant information at the right time.
For example, 59 percent of the top 10,000 OneSignal users build their own segments using attributes like user activity, location, and interests to hone their targeting capabilities.You may consider filtering data in different ways or even combining multiple filters to establish hyper-personalized, pinpointed targeting.
3. Manage Cross-Channel Orchestration
Engage with your audience and deliver personalized and relevant experiences across channels. Different people want to receive different information in different ways, so it's up to you to meet consumers where they are.
Examples
Activating New Users
Music creation platform Rapchat activates new app users by implementing retargeting campaigns based on a variety of criteria. Using segments based on a user's subscriber status, session count, and session duration, Rapchat automatically retargets non-subscribed users two to three days after downloading the app.
These retargeting messages are designed to re-engage and retain users through a critical churn window, but they'd be annoying and time-intensive to execute manually.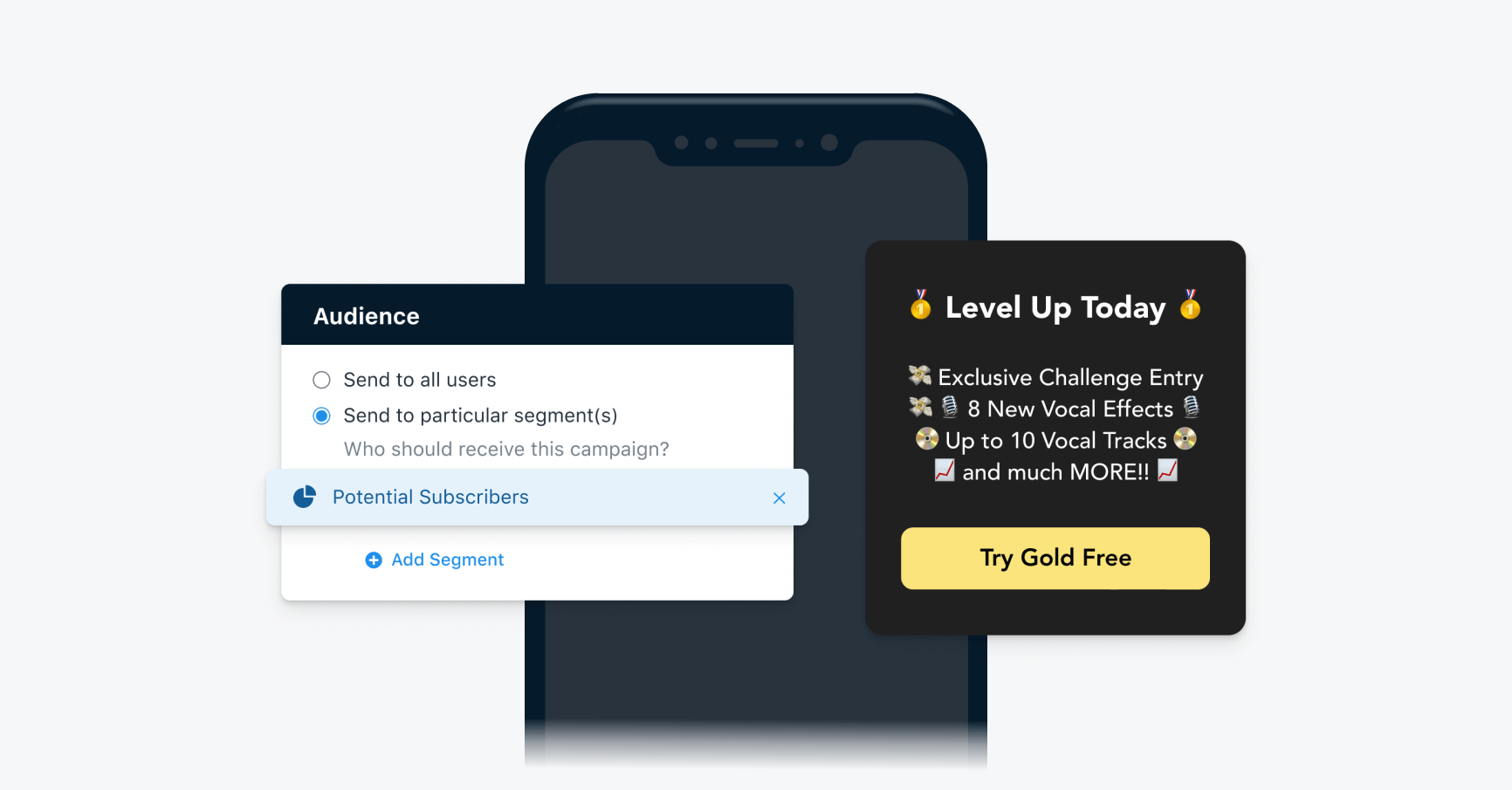 Enhancing the eCommerce Journey
From an eCommerce perspective, reaching the right customers and making predictive recommendations of relevant content, offers, and products can have a significant impact on campaign performance.
For example, our client Curtsy's online clothing resale platform ensures that each message is perfectly timed within the user journey.  To do so, the team uses Data Tags to identify specific engagement behaviors, segment users, and automate the messaging process.
Because the team has identified that a single transaction on their platform requires between 20 and 30 messages along the journey, it's critical that the team deploy the right messages at the right times. It's safe to say that doing so manually would be a nightmare.

Automation vs Marketing Campaign Management
Putting in the effort to create a cohesive user Journey through marketing automation will delight your users. Your audience is more likely to interact when they receive timely, personalized, and relevant messaging. This approach makes it easier for your users to engage with you than sending batch-and-blast campaigns with generic messages at generic times.Think about the difference between creating a one-time promotional in-app message vs creating an automated in-app message promotion that is triggered when a user reaches a specific milestone. Which is more powerful and more likely to resonate with the end user? For example, let's say one of your eCommerce customers is a fan of the great outdoors, and has primarily browsed camping equipment on your platform. Another user is a makeup artist and has mostly interacted with and bought cosmetics products. With generic campaign management, or a "spray and pray" approach, you might mistakenly send both customers a deal on makeup, which could drive the first consumer away. With an automated approach, users who browse a certain number of cosmetics products could be siloed into a specialized journey to be retargeted with makeup deals, whereas users who browse a certain number of outdoors equipment pages would placed on a journey to be retargeted with deals in this category.
What to Look for in a Mobile Marketing Automation Platform
Ease of Use
When it comes to ease of use, think about the platform that will excel in initial ease of use for mobile developers to implement notifications as well as usability on the side of campaign management and execution.The best providers will offer easy to follow documentation, tutorials, and plugins for both technical and nontechnical users. For nontechnical users, an organized dashboard is preferred, so that creating audience segments and customizing messages is intuitive.
Customization Options
In sending effective automated cross-channel marketing campaigns, you'll want a variety of customization options for designing messages of different types. In evaluating the customizations you most need for your campaigns, think about which channels you'll be most interested in leveraging. A true omnichannel provider will give you a range of customizations for different channels, so that your messages are appealing and engaging across channels such as SMS, email, push, and in-app.
Integrations
Your users interact with your brand across a variety of platforms and channels — whether it's through social media, push notifications, your website, or your online store.This customer data can often become siloed in different departments, platforms, and databases. However, if you choose a mobile marketing automation provider with built in integrations with key tools such as your CRM, CDP, eCommerce platform, and more, you can better create targeted funnels based on this integrated data.
Cost
Transparent and cost-effective pricing is important in considering the value of a marketing automation software provider. Look for options that provide a clear pricing structure that can translate to downstream value for your businesses, regardless of your size and stage.
Deliverability and Reliability
Look for a provider that holds itself to high standards. It's important to ensure that messages reach their end users, so look for products on the market that offer transparency around their uptime statistics and offer features like Confirmed Delivery, which assure your team when messages are successfully delivered.
Get Started With OneSignal
OneSignal is designed to help you send notifications and seamlessly manage your user communication across a variety of mobile channels. Our platform is quick to set up and makes it easy to automate your mobile marketing workflows without doing any development work. If you don't have a OneSignal account, you can create one for free and start sending push notifications to your users today. Don't take our word for it — simply sign up and see for yourself!
Create a Free Account