Connecting data and technology is critical for a smooth, automated messaging strategy. Using over 30 native OneSignal integrations, you can easily sync your OneSignal account with other analytics, marketing, and data security tools in your tech stack. Our Zapier partnership extends that network even further by giving you access to over 3,000 additional integrations.
Zapier is an automation tool that helps connect apps, allowing users to easily automate repetitive tasks or workflows without writing any code. With Zapier workflows, or "Zaps," you can trigger push notifications when you tweet, post on your blog, add a row to your spreadsheet, and much more. With so many integrations and customization options available, it's easy to automate your messaging strategy and streamline operations using the tools you already trust.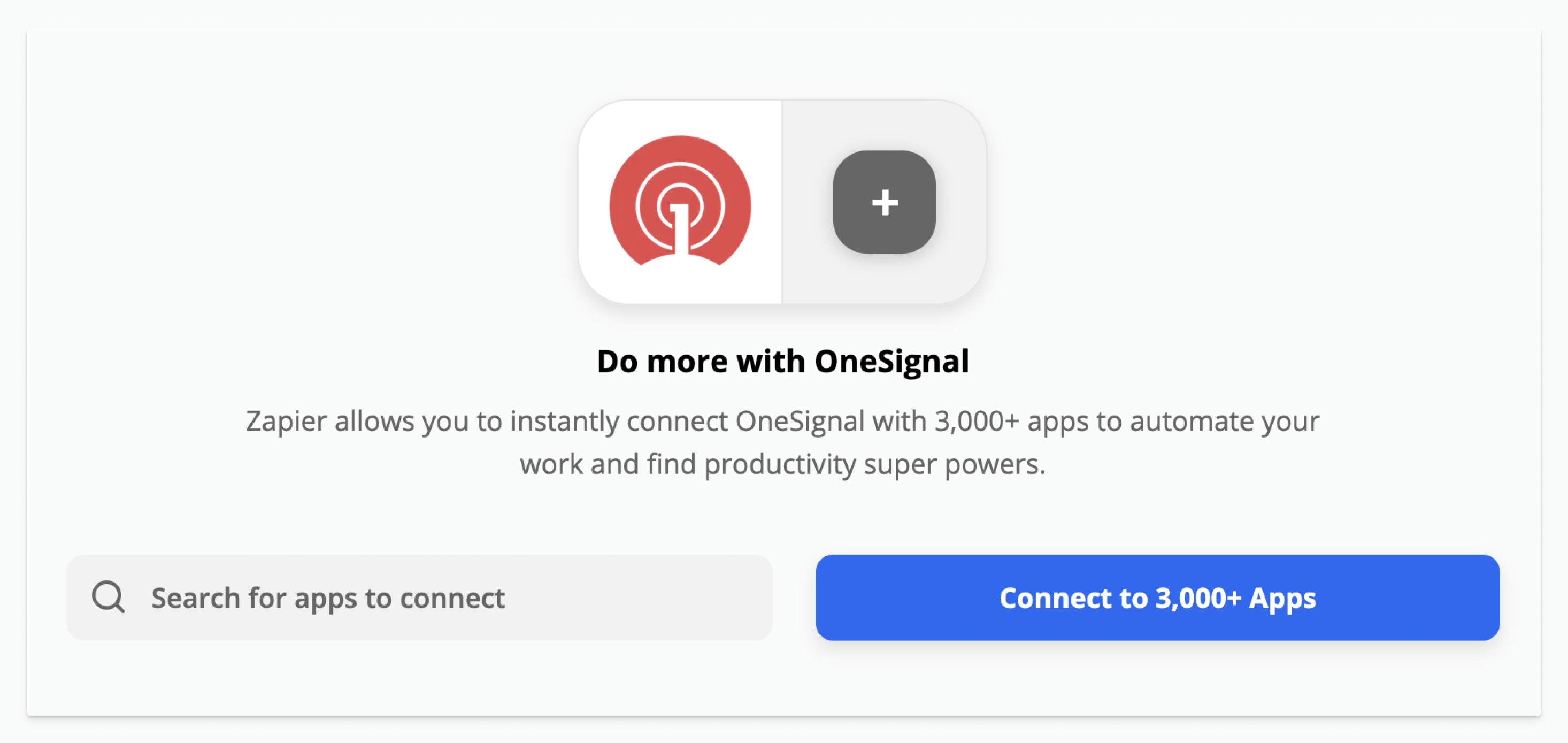 The Zapier and OneSignal integration supports:
New Notification Created trigger when a new notification is created.
Send Push Notification action to send a notification to all subscribed devices.
Send Advanced Push Notification action to send to one or more devices using any of OneSignal's messaging functionality such as Segments, timezone delivery, and more.
OneSignal is Zapier's most popular app and Zapier is one of our favorite tools for connecting data outside of Google products. Below, we've laid out the most popular OneSignal and Zapier integrations that can reduce your workload and help you stay connected with your colleagues, followers, and users.
1. RSS by Zapier
Push notifications are a great channel to share new content with your audience and bring people back to your website or mobile app. If you have an RSS feed set up on your blog or site, you can use Zapier to connect OneSignal and automatically notify your web or mobile subscribers when you publish new content. Using our advanced personalization tools, you can customize your message to include content your users have expressed interest in, target specific user segments, personalize message text, and more.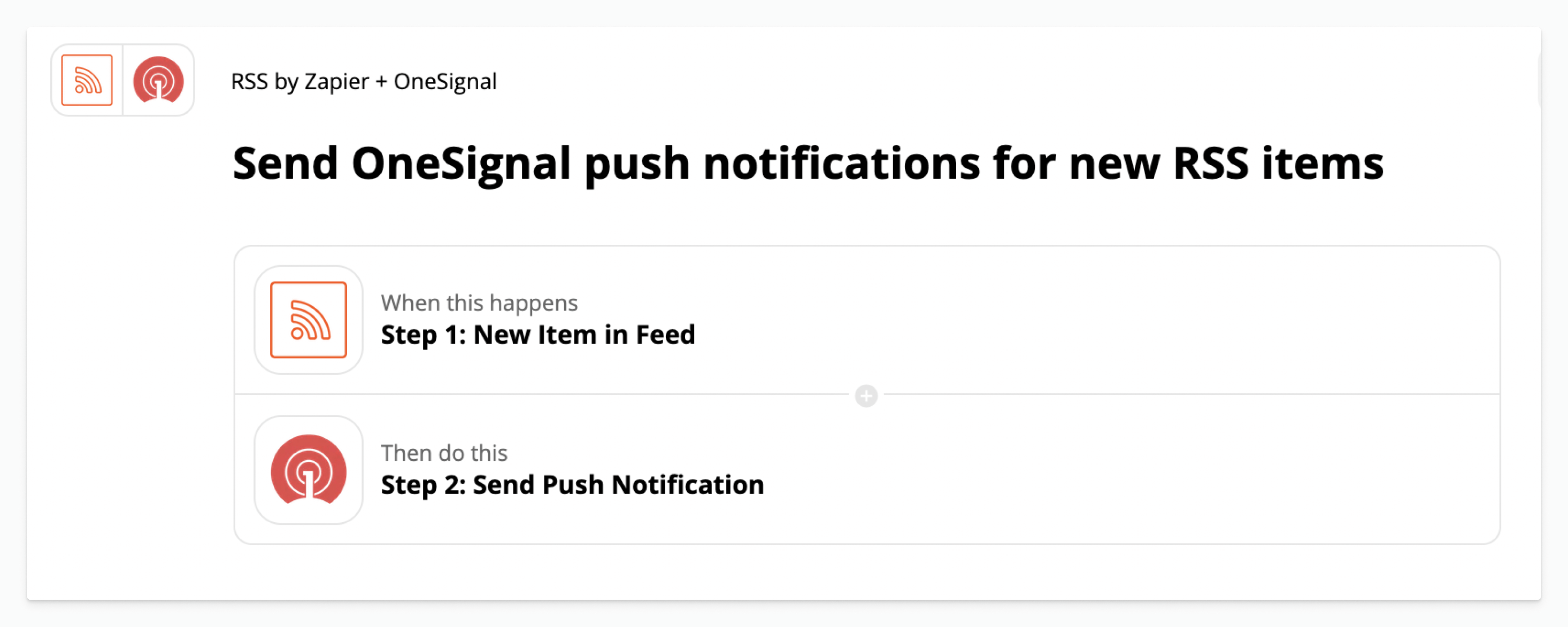 2. Schedule by Zapier
While OneSignal users can schedule some messages directly through the dashboard, the Schedule zap helps set recurring scheduled notifications with a more intricate schedule for specific times or days. Creating a consistent messaging cadence can help drive engagement among your subscribers, and the Schedule zap allows you to easily schedule and automate announcements, promotions and other notifications to go out every hour, day, week, or month.

3. Twitter
Share Twitter updates with your subscribers and spark immediate engagement by sending push notifications through OneSignal whenever a new tweet is posted from your account.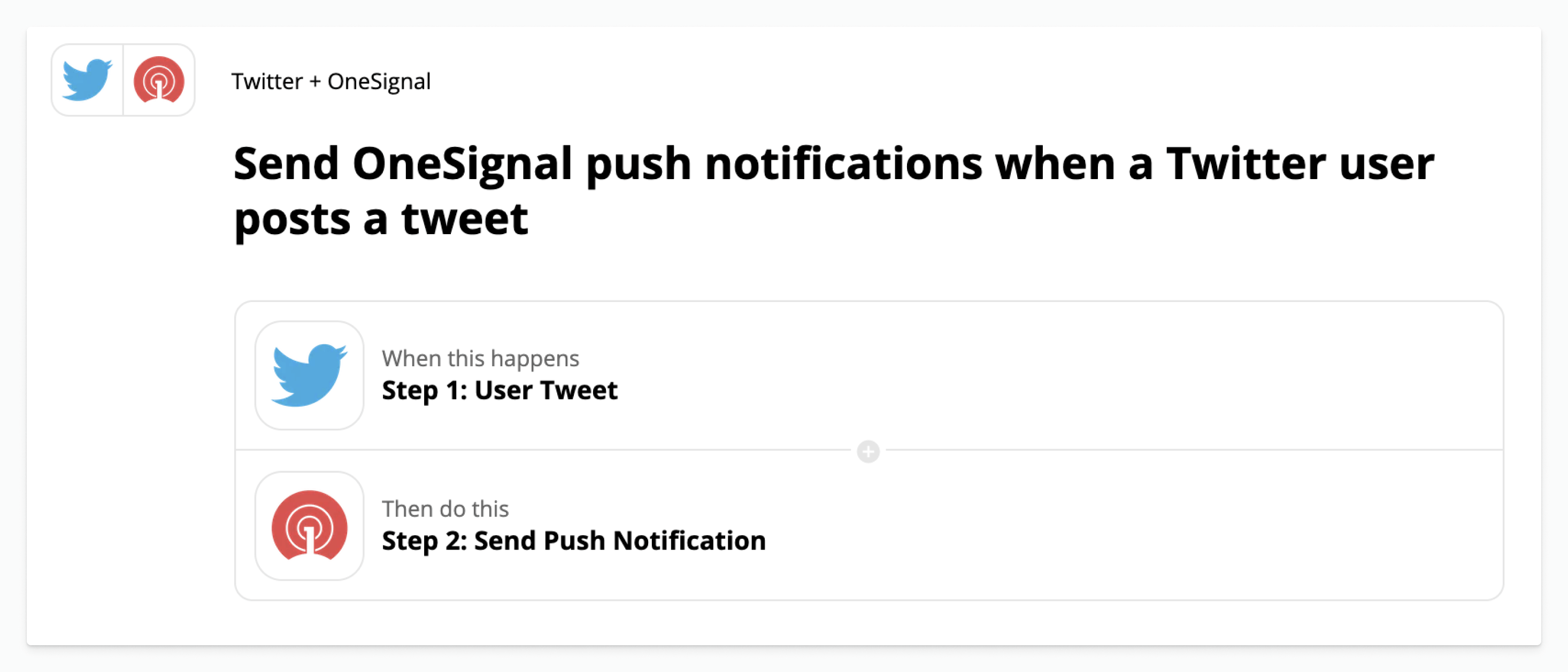 4. Google Calendar
The Google Calendar Zap allows you to send OneSignal push notification reminders for upcoming Google Calendar events. You can customize the timing to send a notification 30 minutes before your webinar starts, a day before your contest submission deadline, or create custom reminder times for any Google Calendar event.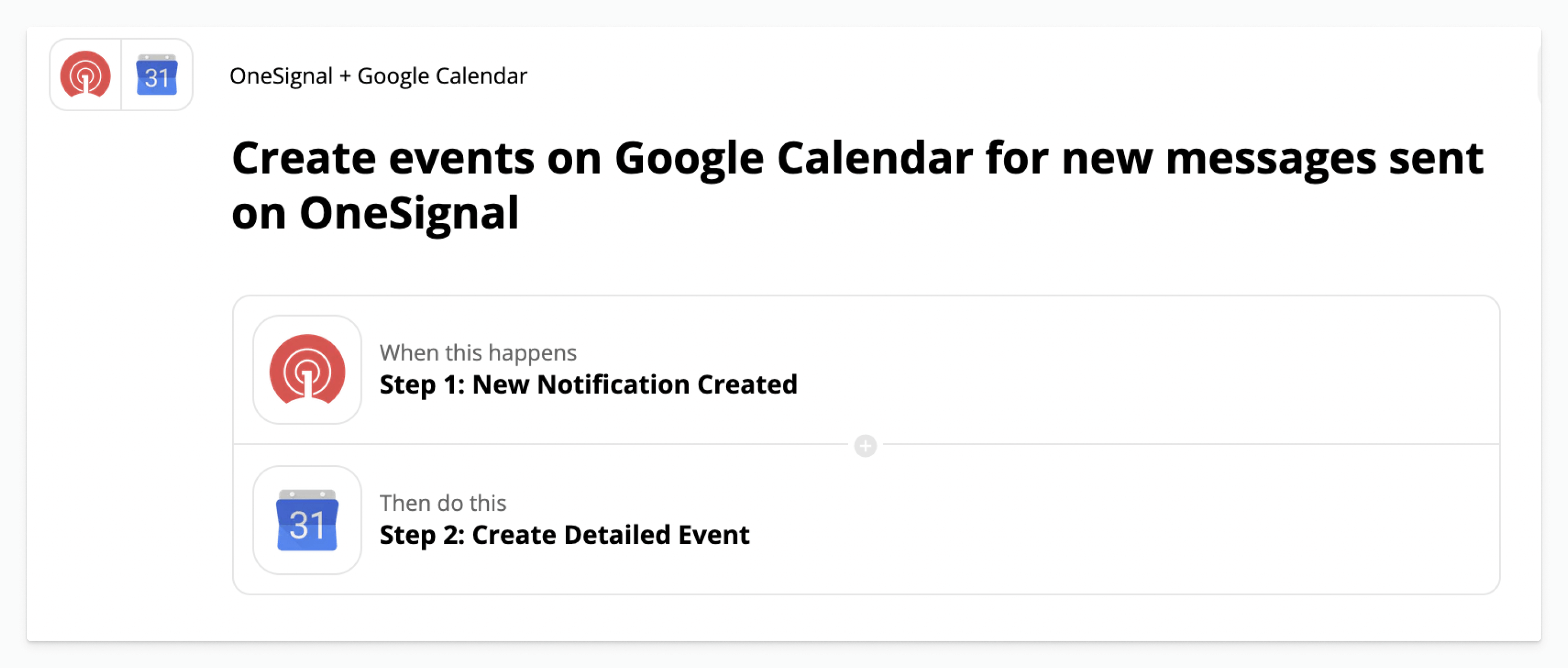 This Zap also allows you to create events on your Google Calendar for automated messaging campaigns sent via OneSignal. Doing so will help you visualize your notification schedule, identify patterns, and keep tabs on how frequently you're messaging your customers. This feature is especially useful if you have multiple team members managing communications and want to ensure alignment.
5. Slack
Keep your team in the loop about the push notifications that you're sending to your audience. With Zapier's Slack integration, the content and details of every OneSignal notification can be automatically shared in a dedicated Slack channel. With real-time Slack updates, different departments and team members can stay updated without logging in to the OneSignal dashboard.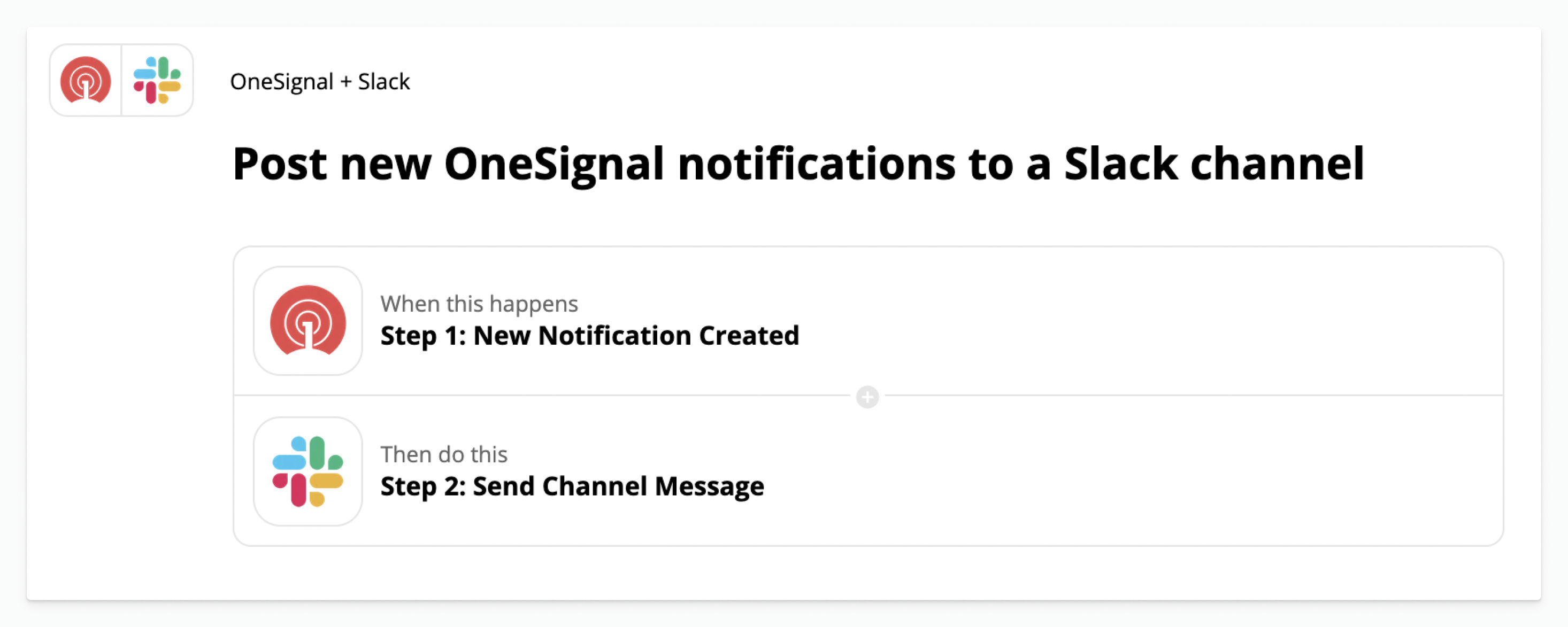 6. Twitch
The Twitch Zap is popular with mobile game developers on OneSignal because it allows you to easily alert users to new gaming sessions. As soon as you begin a new Twitch Live video stream, a push notification will automatically let subscribers know about the event to drive more views, engagement, and revenue.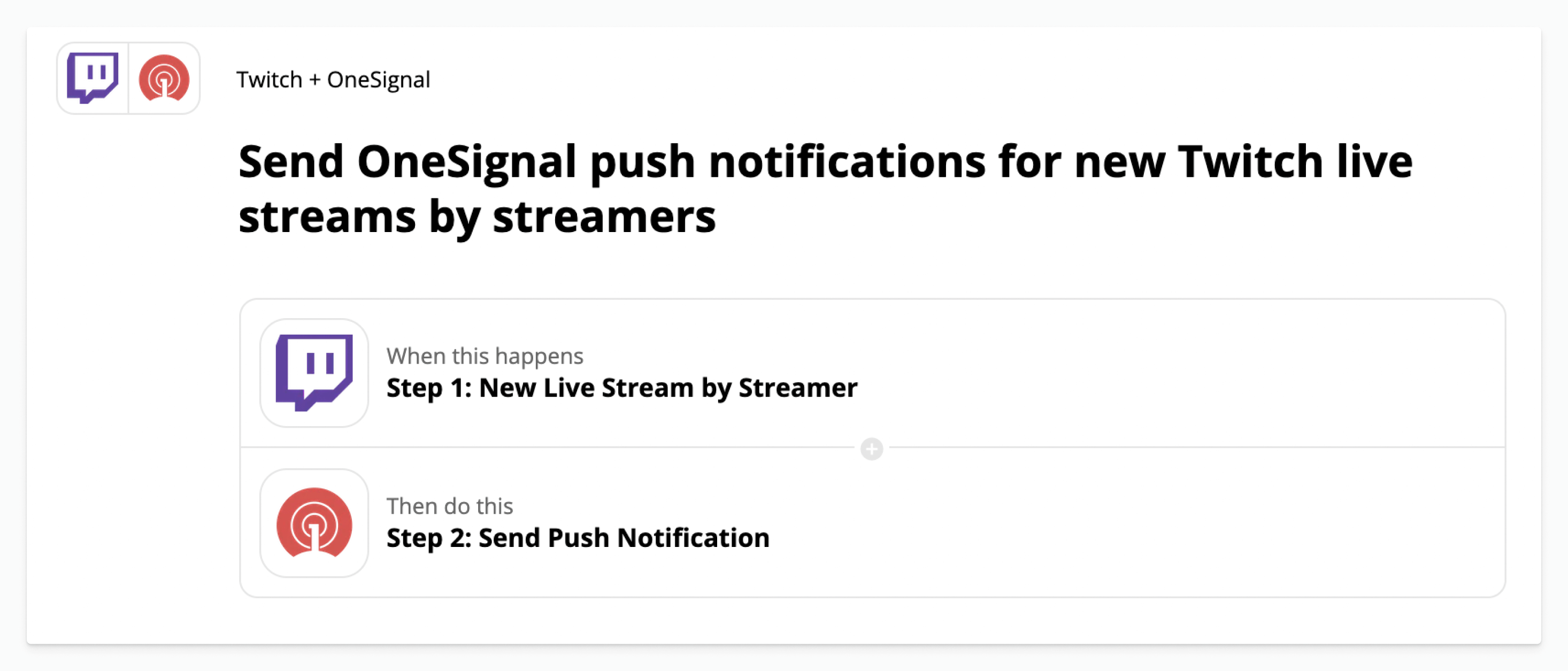 Accomplish More Without Working More
There are a variety of ways to streamline daily operations, generate internal alignment, and drive user engagement with OneSignal and Zapier. Check out our step-by-step guide below to learn how to set up the OneSignal and Zapier integration.
Read: How to Integrate OneSignal with Zapier