Since we added SMS to our product suite, we've seen OneSignal users grow their business and stay in touch with customers in a mobile-first way. Now, we've added API support so you can personalize and automate your transactional communications at scale.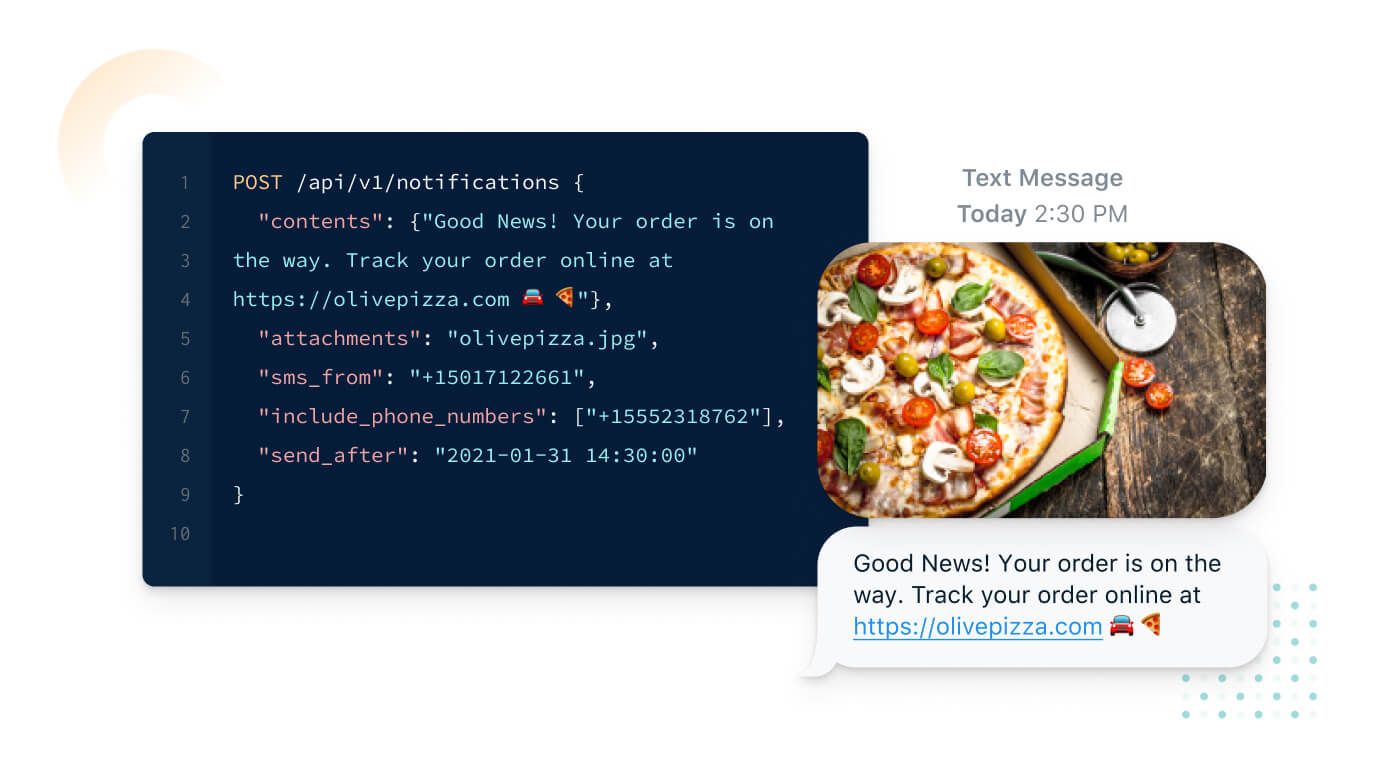 There are many benefits to using SMS, from boosting user engagement to increasing sales and even reaching new audiences. With API support, there are now even more benefits to adding SMS to your omnichannel messaging strategy:
Share transactional information. Automate sending relevant information when a customer engages with your product. For example, when a customer places an order, keep them engaged for the rest of their journey with SMS, including confirming their order, alerting them when their delivery is on the way, and providing delivery updates. If your business has appointments or waitlists, text your customers with reminders of their upcoming appointments or updates on their place in line.
Send personalized offers and recommendations. Have you noticed that a user frequently engages with content on a particular topic? Do you have the perfect recommendation that would go with a customer's recent purchase? Use SMS to send specific and relevant recommendations based on a user's browsing habits, engagement, and/or purchase history. Or, make your users feel appreciated by texting them a special offer on their birthday or account anniversary.
Re-engage abandoned carts. Automate abandoned cart notifications through SMS to recapture revenue. Mention the actual item and link customers directly back into the purchase flow on your site or mobile app to complete the purchase.
Authenticate your users. Enhance your security and send text verifications to authenticate users. Make sure the right person is accessing your services by sending a code straight to their device.
API SMS Setup Instructions
Visit our API documentation for step-by-step setup instructions. If you don't have a OneSignal account, sign up for our Free, Growth, Professional or Enterprise Plan and get an introductory free trial to SMS.
Learn More about SMS Messaging Strategy
As you build out SMS campaigns, understanding what messaging strategies work in different contexts and industries can help you outpace your competition. Download our free SMS eBook to discover fundamental SMS messaging strategies, use cases, best practices, and industry-specific tips for effectively leveraging text messaging.
Get the Comprehensive Guide to SMS Marketing