Shopify offers a myriad of apps for online retailers to leverage when growing their business. Merchants can simply access the Shopify App Store to download free or paid E-commerce plugins that deliver a wide range of capabilities including marketing, inventory management, and customer support.

In May, we released the OneSignal Shopify app with the aim of helping Shopify users drive conversions through web push notifications. In this blog post, we've analyzed the top rated web push notification apps on the Shopify App Store to help you understand what each of these push providers have to offer.

OneSignal
With OneSignal, Shopify store owners have access to the power of an enterprise-grade E-commerce marketing solution at none of the cost. Shopify store owners are able to segment their audiences and  incorporate rich media within their notifications, all on the free plan.
While only free for up to your first 1,000 subscribers, both OneSignal's free and paid plans lets users track sales coming from abandoned carts, create custom campaigns, and analyze important metrics like click-through rates (CTR) to make data-driven decisions. This gives store owners a robust, straight out-of-the box solution that helps engage and grow their stores with the option to pay later down the line.
PushOwl
Key Differences
PushOwl offers three plans — the Free Plan, Business Plan, and Enterprise Plan. Each plan allows for a different number of impressions. PushOwl defines an impression as a successfully delivered push notification. The impression quotas provided by these plans aren't particularly generous, and can be limiting for online retailers looking to reach a larger audience.

A number of important features are only available on the paid plans. For example, the addition of images and the ability to create an abandoned cart sequence only becomes available in the Business plan while subscriber segmentation is reserved for the most expensive Enterprise-level plan. Analytics and reporting are not available on any of PushOwl's plans at the moment.
Firepush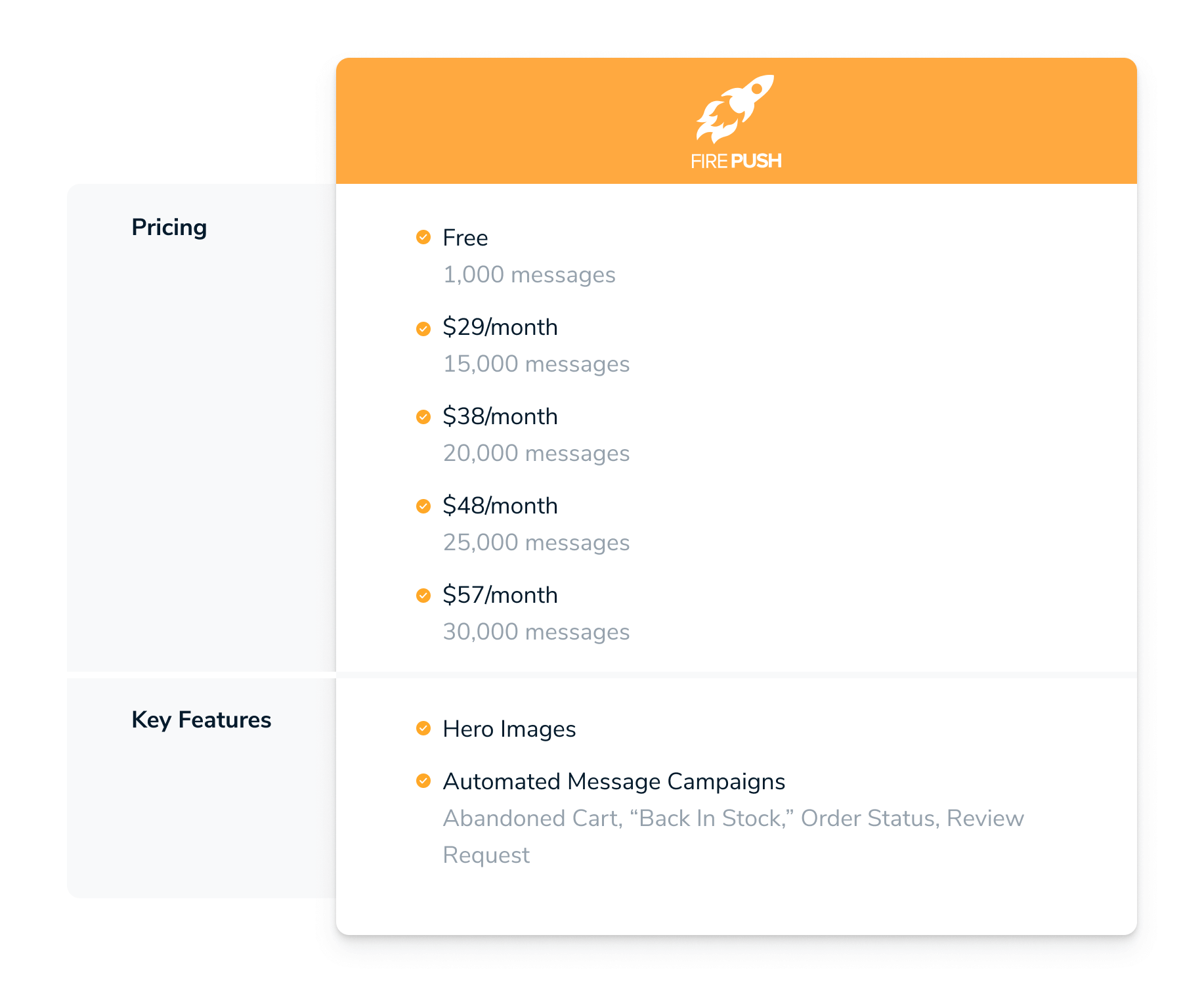 Key Differences
With regards to the cost of web push notifications, Firepush offers multiple pricing tiers based on the number of notifications users expect to send. The paid plans provide users with access to basic functionality, such as scheduling a notification, but don't allow for audience segmentation, which is essential for optimizing the performance of push notifications. While they do allow for the addition of large images in web push notifications, it's locked behind a paywall.

In comparison, OneSignal allows users to include media such as images, gifs, audio, and action buttons in their notifications, offering rich customization options and flexibility completely free of charge. Segmentation is also free for up to your first 1,000 subscribers so you can get a head start sending hyper-relevant and personalized content to your customers.
Smart Push Marketing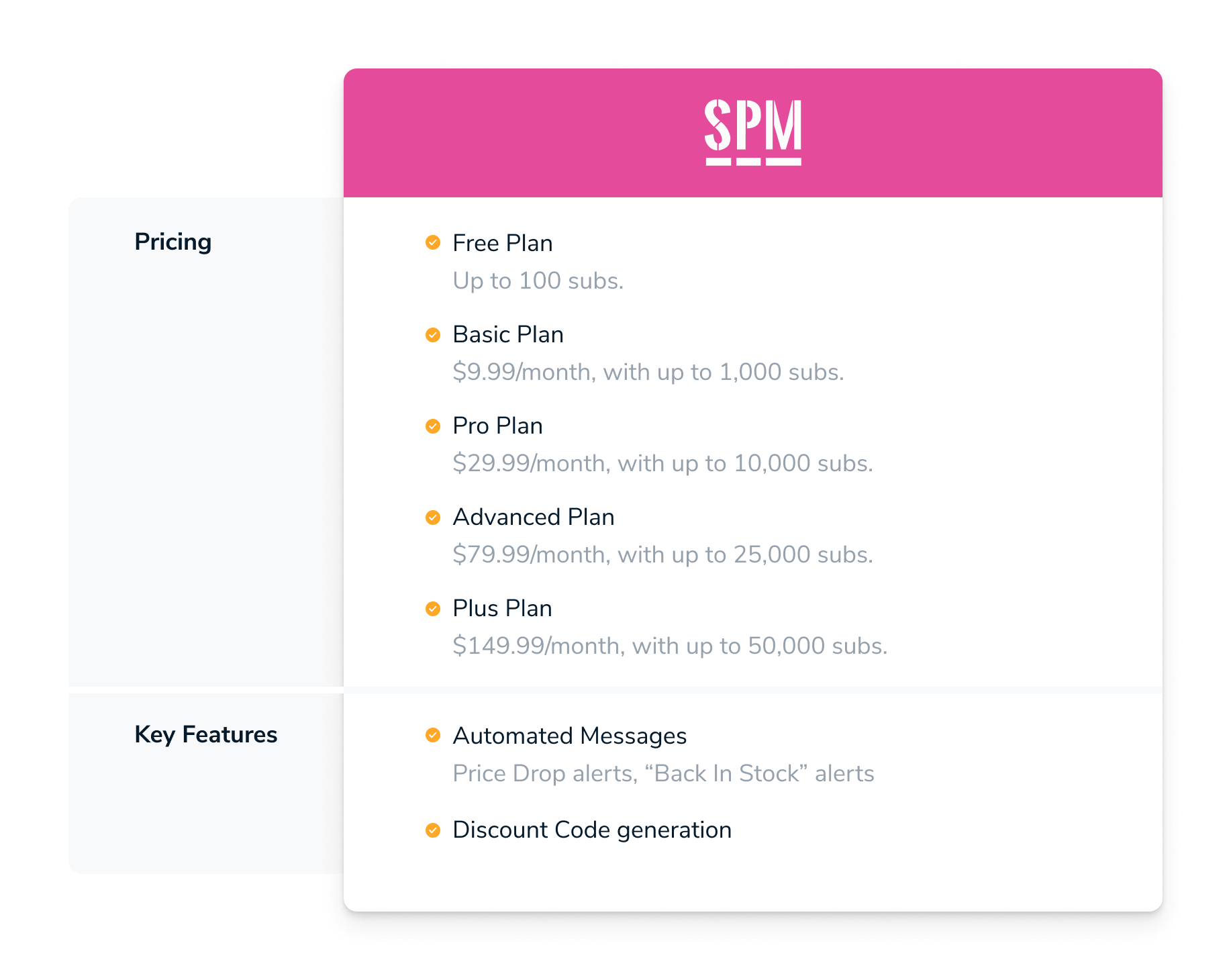 Key Differences
Aside from its free plan, Smart Push Marketing offers four paid plans — the Basic, Pro, Advanced, and Plus Plans. One key disadvantage of Smart Push Marketing's free plan is that merchants cannot remove the "Smart Push Marketing" branding from their notifications. OneSignal's Shopify App does not include  branding on any messages, even on our free plan.

Another drawback to Smart Push Marketing's Web Push notifications is that the paid plans have large differences in subscriber limits. For example, the Basic Plan allows for 1,000 subscribers while the next tier, the Pro Plan, allows for 10,000 subscribers. If a merchant only has 5,000 subscribers, they would have no choice but to upgrade to the more expensive Pro Plan to accommodate their entire subscriber base.
Booster Apps - Abandoned Cart Recovery

Key Differences
Unlike the other services highlighted in this post, Booster Apps' Abandoned Cart Recovery plugin is completely free to use and does not offer a paid service. While this makes it the cheapest option, it also reflects the limited capabilities of their platform.
Booster Apps' Abandoned Cart Recovery plugin does exactly as its name suggests — it allows merchants to send browser notifications to customers reminding them of items left in their cart. Message customization is limited to copy and the only delivery trigger is the amount of time that has lapsed since a customer abandoned their cart. This may be sufficient for some merchants, but does not allow for more sophisticated campaigns. Similarly, reporting is limited to a dashboard that only displays subscriber count, number of carts recovered, and revenue generated from the conversion of these recovered carts.
Reliability also appears to be an issue according to a number of reviewers on the Shopify App Store. Some merchants report that the service fails to deliver any notifications despite the app's relatively straightforward set up process. Others cite the lack of customer support which is often the case with free apps.
Conclusion
With the rise of online shopping spurred on by recent events across the world, Shopify store owners must find a new way to stand out amongst a marketplace that continues to grow more and more crowded. Even as the debate on who the best provider for Shopify web push notifications continues, we all still agree on one thing. Push notifications are essential for any E-commerce store looking to grow their business, especially during these times.