During Apple's WWDC21 in June, we covered relevant iOS 15 notification updates that affect your audiences who use Apple devices. These updates are now live and will have an impact on your messaging experience with your iOS users. We've been hard at work incorporating the new updates seamlessly into your OneSignal experience, both for the dashboard and the API.
Previously, iOS prioritized all notifications equally, so your important alerts — especially those that require action — might have gotten lost among all the other notifications on your users' devices. Marketers and developers now have more control over their notification priority and can separate important messages from the not-so-important. Read on to learn how to modify your settings to increase your user engagement.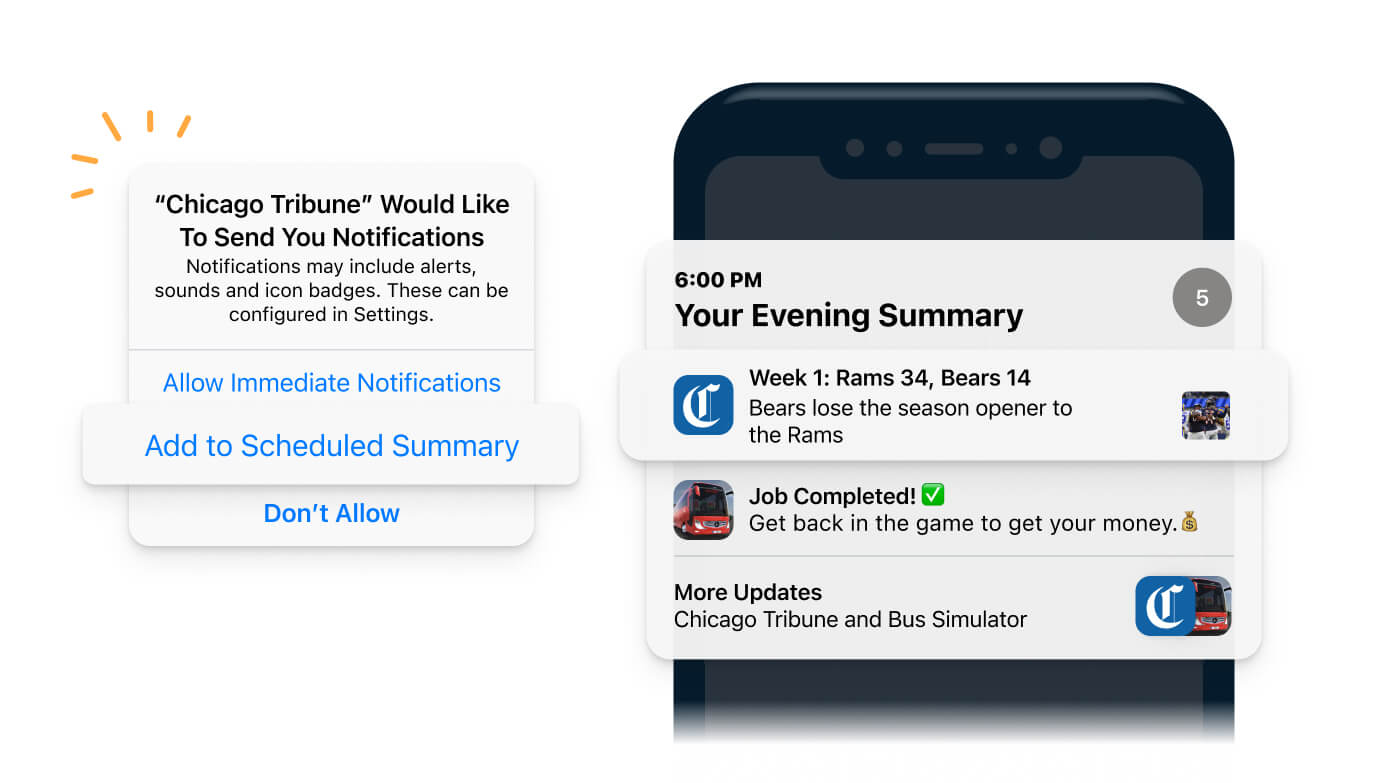 Strengthen Your Opt-In Value Proposition
It's more important than ever to communicate why your users should opt in to your notifications. The native permission prompt has been updated to ask users whether they want to receive notifications from the app immediately or whether to group notifications together as part of a Scheduled Summary, which displays non-time-sensitive notifications at user-determined times.
Given these new changes, your opt-in needs to clearly communicate your value prop so customers understand why they'll benefit from hearing from you. Apps that send transactional notifications as part of the product experience should mention how these notifications are directly relevant to their experience using your product. For example, a healthcare app should explain how they alert users about upcoming appointments and lab test results. Apps that send discounts or promotions should mention the cost-saving benefits of receiving your messages. For example, an ecommerce app can provide incentives such as early access to sales and subscriber-only promotions for opted-in users. Such context will also help your users understand whether they should include your app as part of their different Focus Modes, including whether to receive your Time Sensitive notifications.
Choose the Appropriate Interruption Level
Interruption levels control the priority and delivery timing of your notification. Be sure to specify the appropriate interruption level for your message based on how you'd like your notifications to be shown.
Active (default): Active is the default interruption level and matches the notification behavior prior to iOS 15. Sounds and vibrations can be played, and the screen will light up upon delivery. These notifications cannot break through Focus Modes.
Passive (new): These notifications do not require immediate attention and are delivered silently. They cannot break through Focus Modes.
Time Sensitive (new): These notifications require immediate attention and can break through system controls. They are displayed with a yellow label.
Critical: These notifications are always delivered immediately and break through any restrictions. They require pre-approval from Apple.
Here are some key examples of when to use each type of interruption level.
Interruption Level
Example
Active

Gaming - leaderboard updates, quest completions
Media - news updates, sports scores

Passive

Streaming - new episodes, show suggestions
Restaurant - dining recommendations

Time Sensitive

Food delivery - order issues, delivery confirmations
Finance - fraud alerts, account verifications

Critical

Weather - severe weather warnings
Law enforcement - emergency alerts, safety alerts
Your apps can increase engagement with important notifications by choosing a higher priority level to ensure your messages are seen in a timely manner. It should go without saying — do not abuse interruption levels. If you mark all of your notifications as Time Sensitive when they are not, users can easily disable your time-sensitive notifications. It's important to maintain trust with your audience so as to not risk damaging the long-term relationship. Your users could opt out of notifications altogether, uninstall your app, churn, leave a negative review, or all of the above.
Prioritize Notifications in the Summary with Relevance Score
Some of your users may choose to receive your notifications in their Scheduled Summary, a daily digest of notifications. Apple says it will use on-device intelligence to sort all notifications in the summary.
Companies should assign a relevance score between 0 and 1 to each notification. Be sure to assign a higher relevance to your more important notifications, such as messages about competitions or sales that are ending soon. If your company sends multiple notifications to users in a day, you will benefit from prioritizing your notifications. Use relevance scores to show your notifications in the right order and better control your messaging experience. For example, a finance app can prioritize notifications for stocks a user owns over stocks they're just watching. Be wary that by marking all your notifications as the highest relevance, you may risk over-messaging or annoying your customers and causing them to unsubscribe altogether.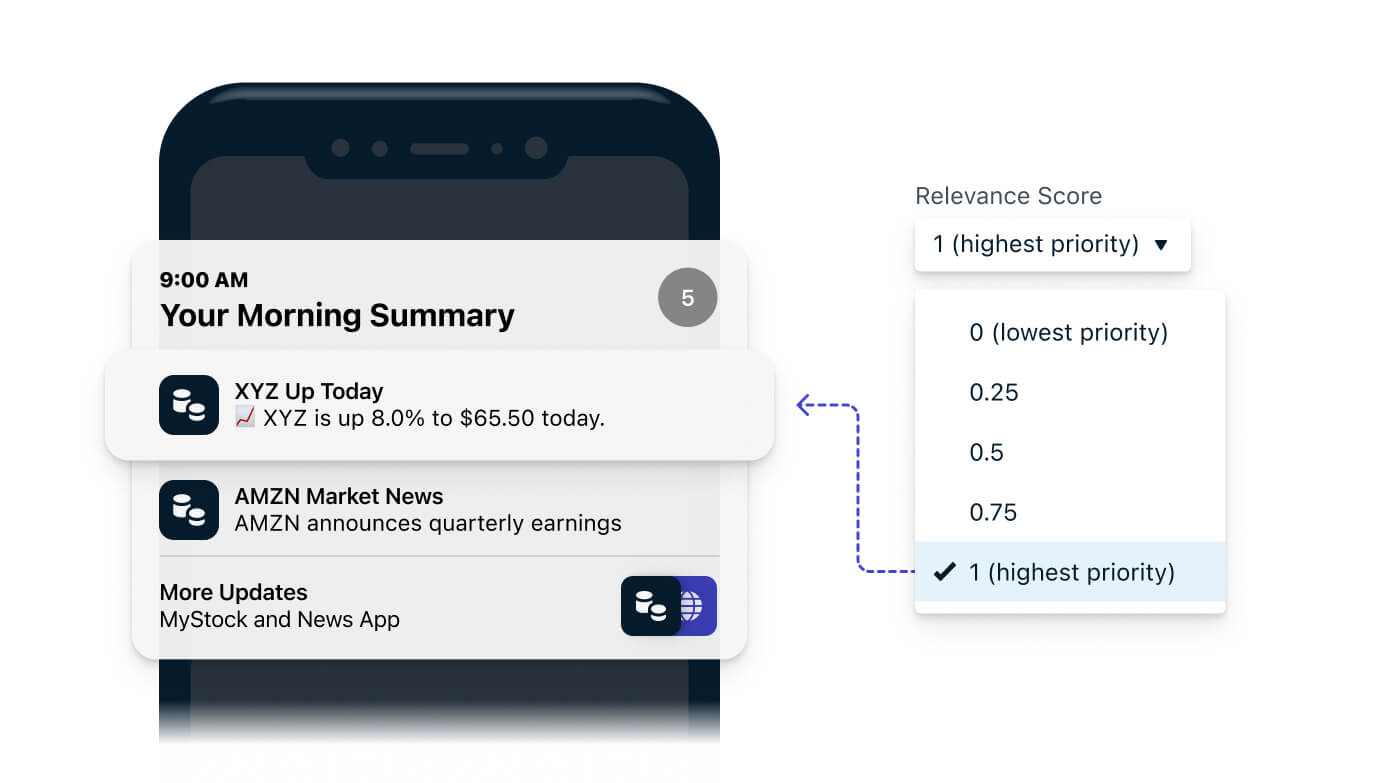 Show Action Icons for Context
iOS Action Buttons now support icons to help contextualize your message and CTAs. You can use your own custom icons or system icons to guide your users in taking the appropriate action in response to your notification. Icons such as a "like" or "comment" icon give your users additional context for your message.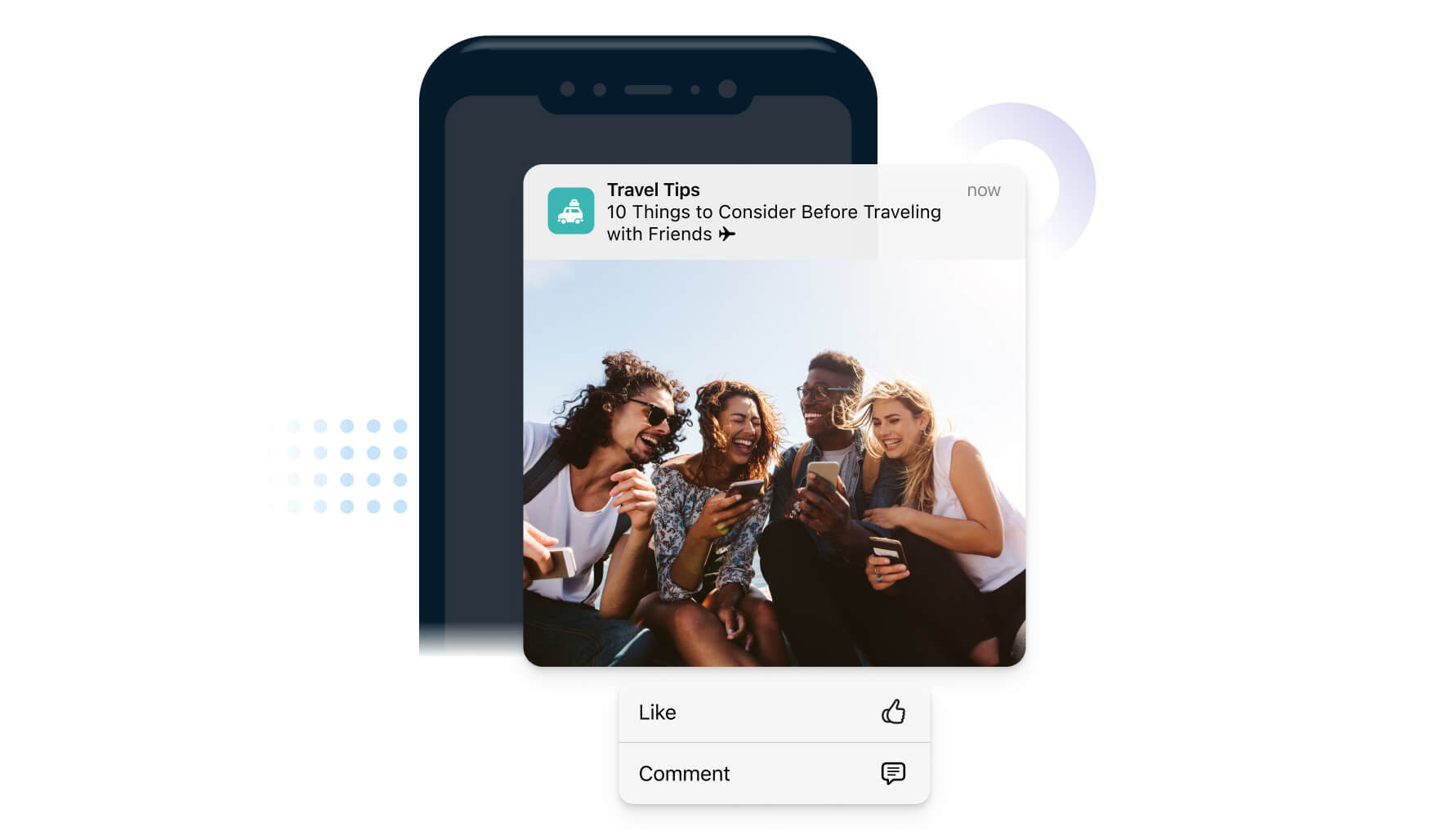 Keep an Eye on Your Engagement
With the latest iOS 15 changes, you may see your engagement metrics change. Companies sending important notifications may see higher engagement as their notifications become more prominent. On the other hand, if you start to see your metrics decline, it's worth digging deeper to understand why and come up with an action plan. For example, you can use A/B tests to understand what messaging elements resonate with your audience. Companies that send plain notifications may benefit from adding rich media to make their messaging more appealing.
Get Feedback From Your Users
When your company is added to a Notification Summary, you'll benefit from interacting with your users to understand why. Consider setting up an in-app survey to reach all your active users. Are you sending too many notifications? Are you sending generic content that's not relevant to your users? You can also ask them how they would like you to improve the messaging experience. After implementing their feedback, you can follow up and let them know you've acted on their recommendations and respectfully ask them to consider changing from the summary to individual notifications.
Evolve Your Messaging Strategy
Apple's advertising changes continue to lead to a decline in the effectiveness of traditional advertising channels. This makes it increasingly important to maximize the value of your owned channels and invest in communicating directly with your customers. With these recent notifications changes, Apple is providing consumers with more control over their messaging experience. As a result, companies need to continue evolving and improving their customer communications. Now more than ever, your company cannot afford to send generic message blasts to your entire user base. Consumers expect to receive the right messages at the right time, and delivering on that will improve your engagement and ROI.
Get Started with OneSignal
OneSignal is designed to help you send notifications and seamlessly manage your user communication across every channel, including mobile push notifications, web push notifications, bulk SMS, in-app messaging, and email. Our platform is quick to set up and makes it easy to customize and automate your iOS messaging strategy without doing any development work. If you don't have a OneSignal account, you can create one for free and start sending push notifications to your iOS users today. Don't take our word for it — sign up and see for yourself!
Create a Free Account