Over the past few decades, we've experienced a communication explosion.
Back in the 1970s, your average Joe received about 1,000 communications per year—mostly in the form of letters and phone calls. By 2010, our inboxes were crammed with more than 30,000 communications a year. A decade later, our digital communication habits make that figure look quaint. Every day, we receive, on average, 130 emails, 94 SMS texts, and 200 Slack messages, and hundreds of more messages via personal chat apps, such as WhatsApp and Messenger. We're looking at a yearly communication figure well over 100,000—roughly one every five minutes.
"With mobile marketing, brands can reach customers in real-time wherever they are," Matt Ramerman, a member of the Forbes Agency Council, wrote in Forbes earlier this year. "But this means that to capture attention, marketers need to work harder to stand out."
Tactics that once worked are no longer driving the results they did. But there is one channel cutting through the noise: push notifications.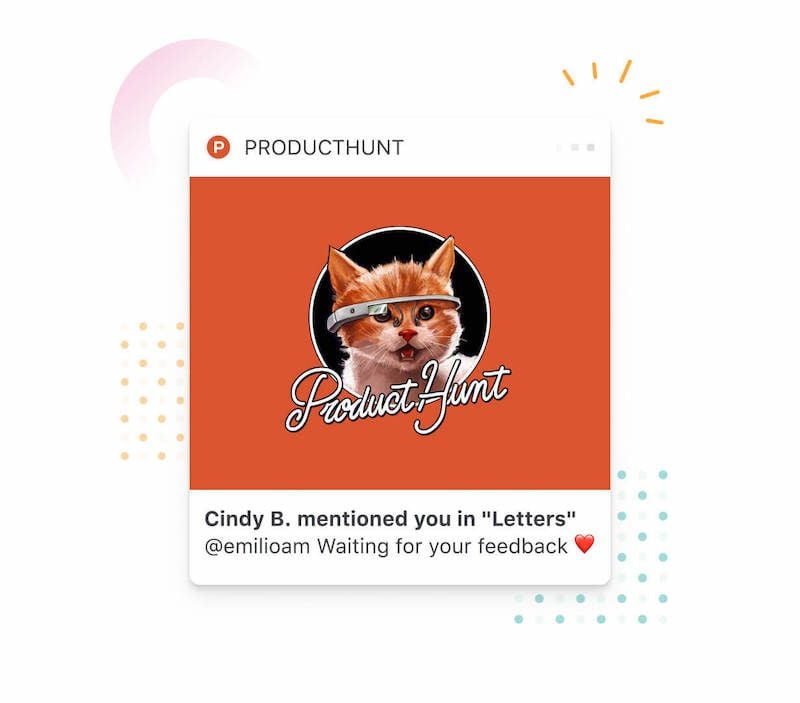 Push notifications deliver a clickthrough rate 7X greater than email. They offer businesses an opportunity to get messaging seen and get seen consistently. But push isn't a simple marketing loudspeaker, either. It can do more than amplify basic marketing messages. Used correctly, push can enrich a user's experience both online and on their mobile devices.
To explore how push notifications improve user experience, engagement, and enjoyment, we profiled four of our clients. We unpacked how the National Rugby League harnessed push for real-time updates and how Joe Coffee used the technology to enhance ordering transparency. We explored conversion optimization applications with Inspire Uplift and analyzed promotional activity with Squaw Alpine ski resort.
Real Time Updates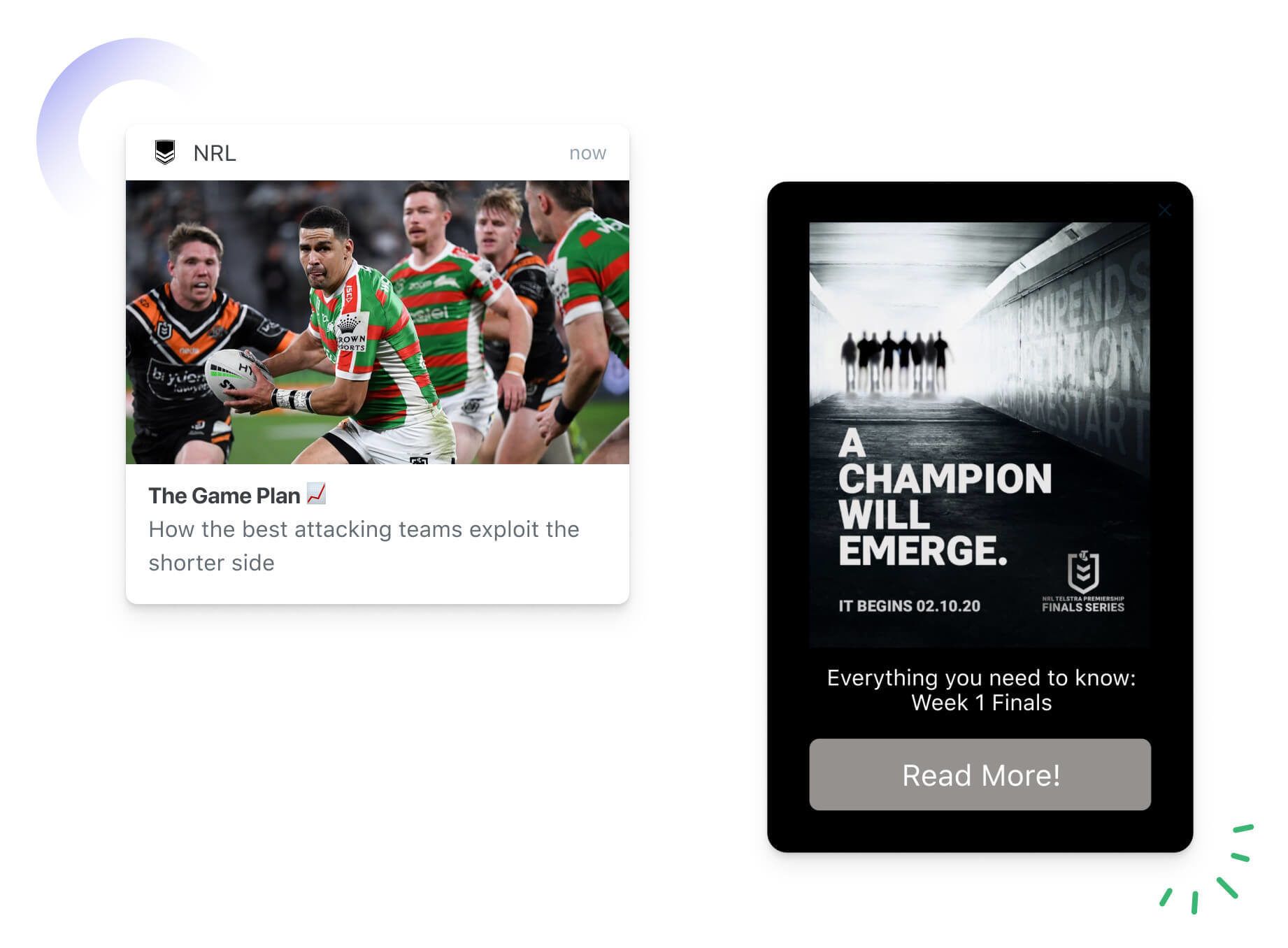 Few audiences are as loyal, engaged, and dedicated as sports fans. That passion means they want to be the first in line to hear news about their favorite teams. Australia's National Rugby League (NRL) leaned into that behavioral trend, using push notifications to update fans as quickly as possible.
Domenic Romeo, Head of Technology at the NRL, harnessed push notifications to promote live kickoff times, scores, and other updates as soon as they happened. He ensured his users were first in line for every morsel of information—and his 1 million monthly active users rewarded him for it.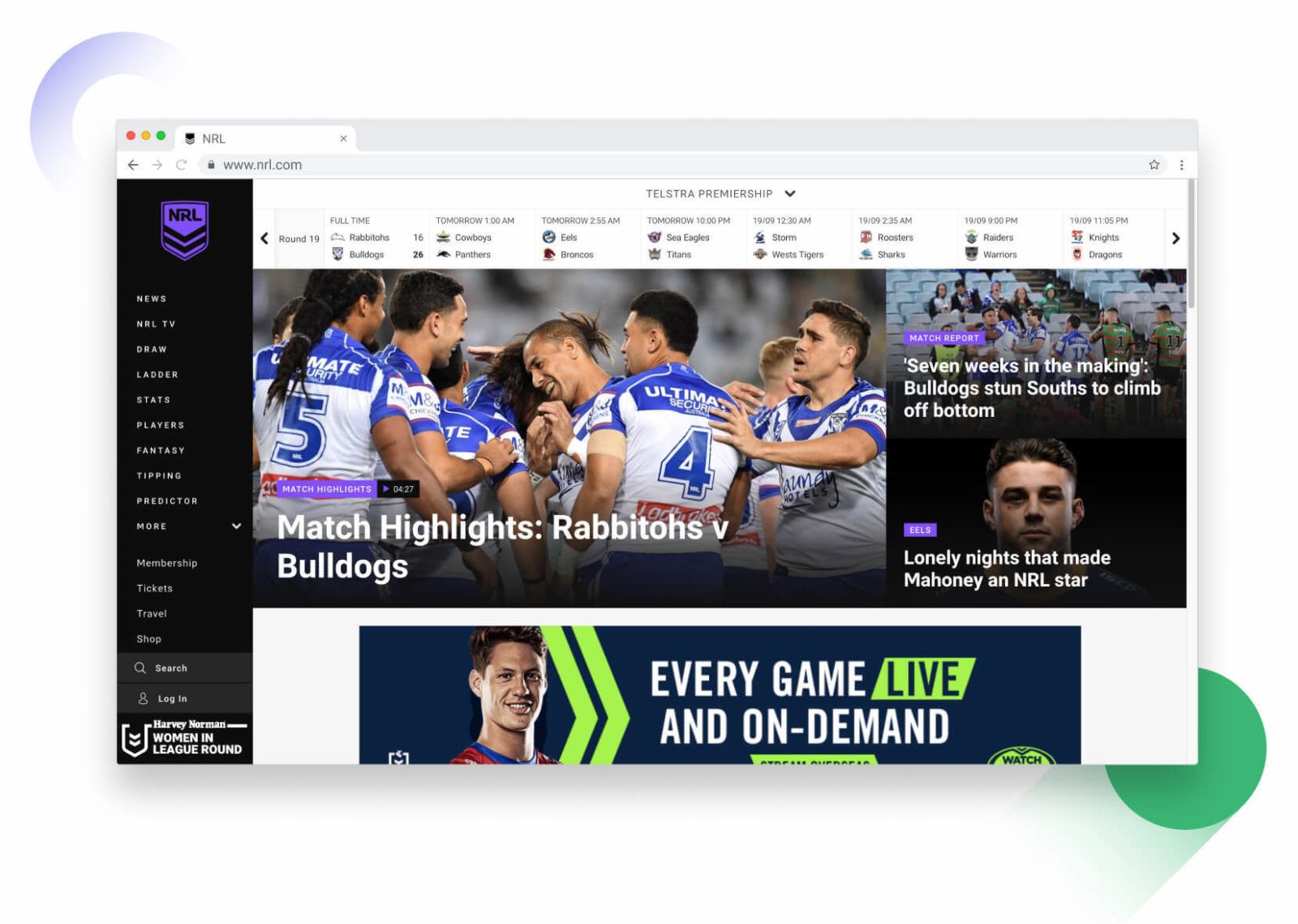 "Immediacy of news provided credibility to fans and push was one way we could provide that," says Romeo. "We assured them that choosing our platform would give them that immediacy, because we are the governing body, we are the game. They can trust that they're going to get things more immediately with us than other publishers."
As Romeo discovered, real-time notifications tapped into our desire for immediacy, effectively engaging users with live events, broadcasts, and conversations. The benefits were immense. Indeed, in a survey we conducted this spring, we found that 73% of companies that implemented push notification saw a significant uptick in user engagement.
Transactional Notifications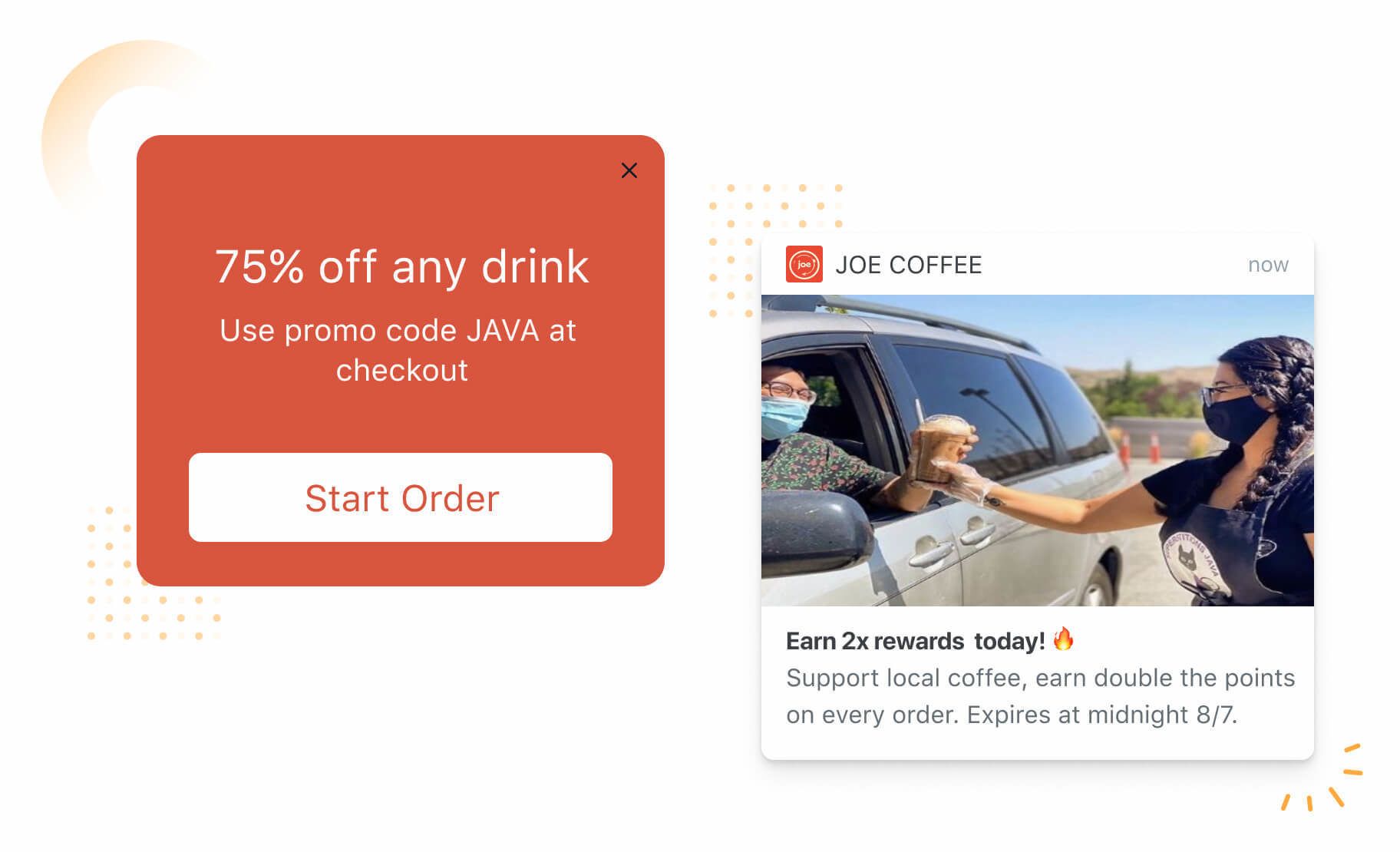 Let's consider how the Seattle-based order-ahead coffee shop app Joe communicates with its customers. First, Joe sends a notification to your phone each time you order through the app. Next, when the barista accepts your order, your phone pings again with a confirmation. Finally, when your drink is ready for collection, another notification pops up.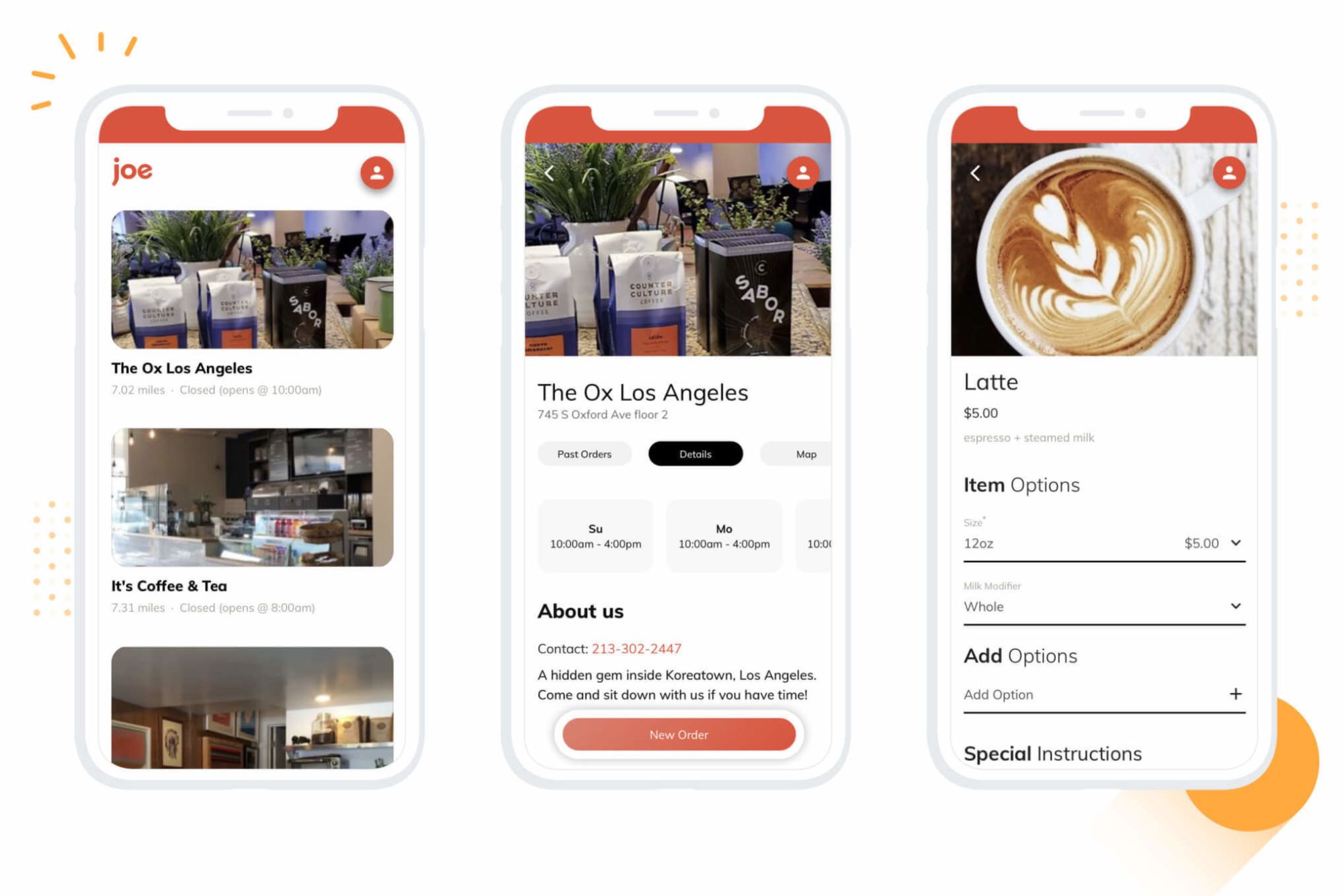 For a busy commuter trying to coordinate their commute, breakfast pick-up, and coffee order, that kind of transparency is a huge benefit.
"The nature of coffee is that people are typically in a big hurry," says Lenny Urbanowski, CTO at Joe. "If they're ordering ahead, they're likely in a hurry. They want to know that their cup will be ready and waiting for them when they get there."
Joe's user flow illustrates something that's true for all organizations: people like to know what's going on. Transactional notifications are the perfect way to lift the curtain. They ensure customers know what's going on at every stage in the process. At Joe, that has translated into a 25% uptick in customer retention since incorporating push notifications.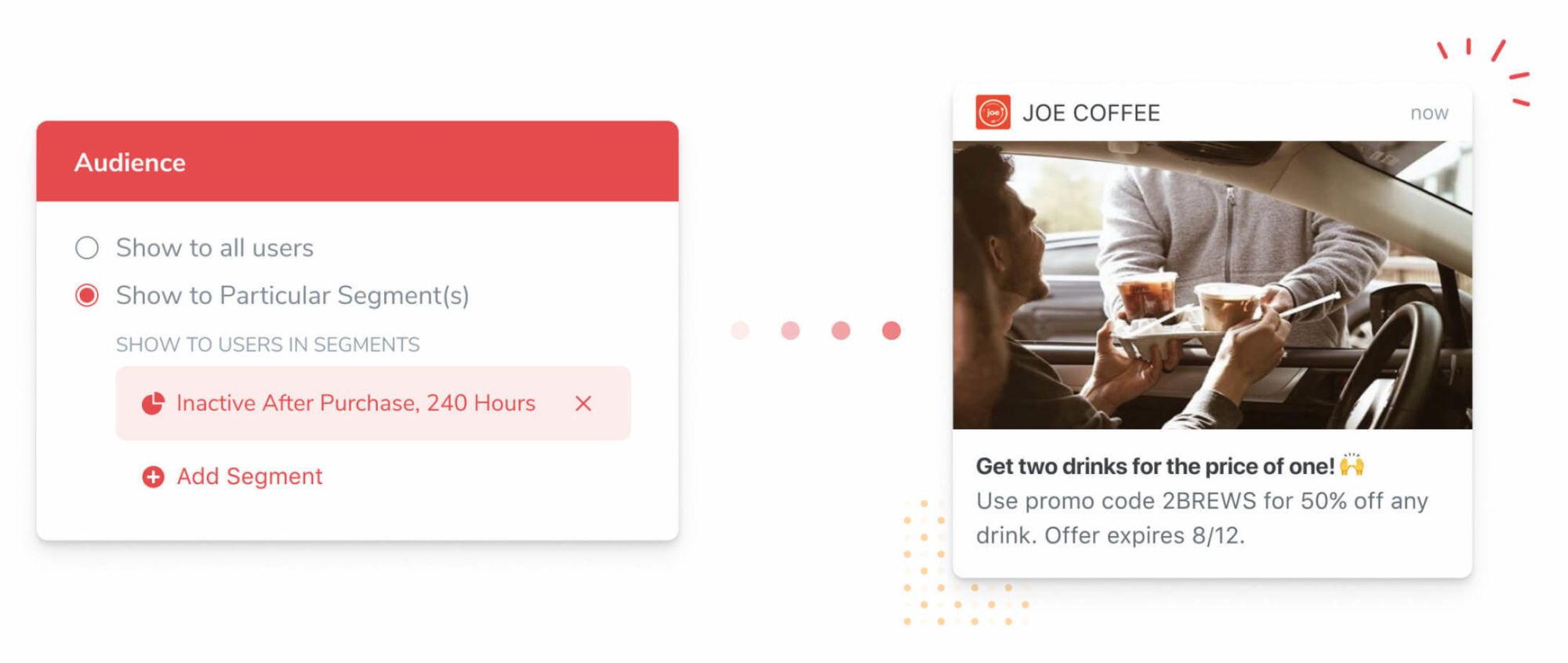 Transactional notifications work wherever you have an opaque service. They engage customers. And engaged customers tend to stick around longer. Recent research revealed push notification usage drove increased app retention—typically by three to 10X.
Conversion Drivers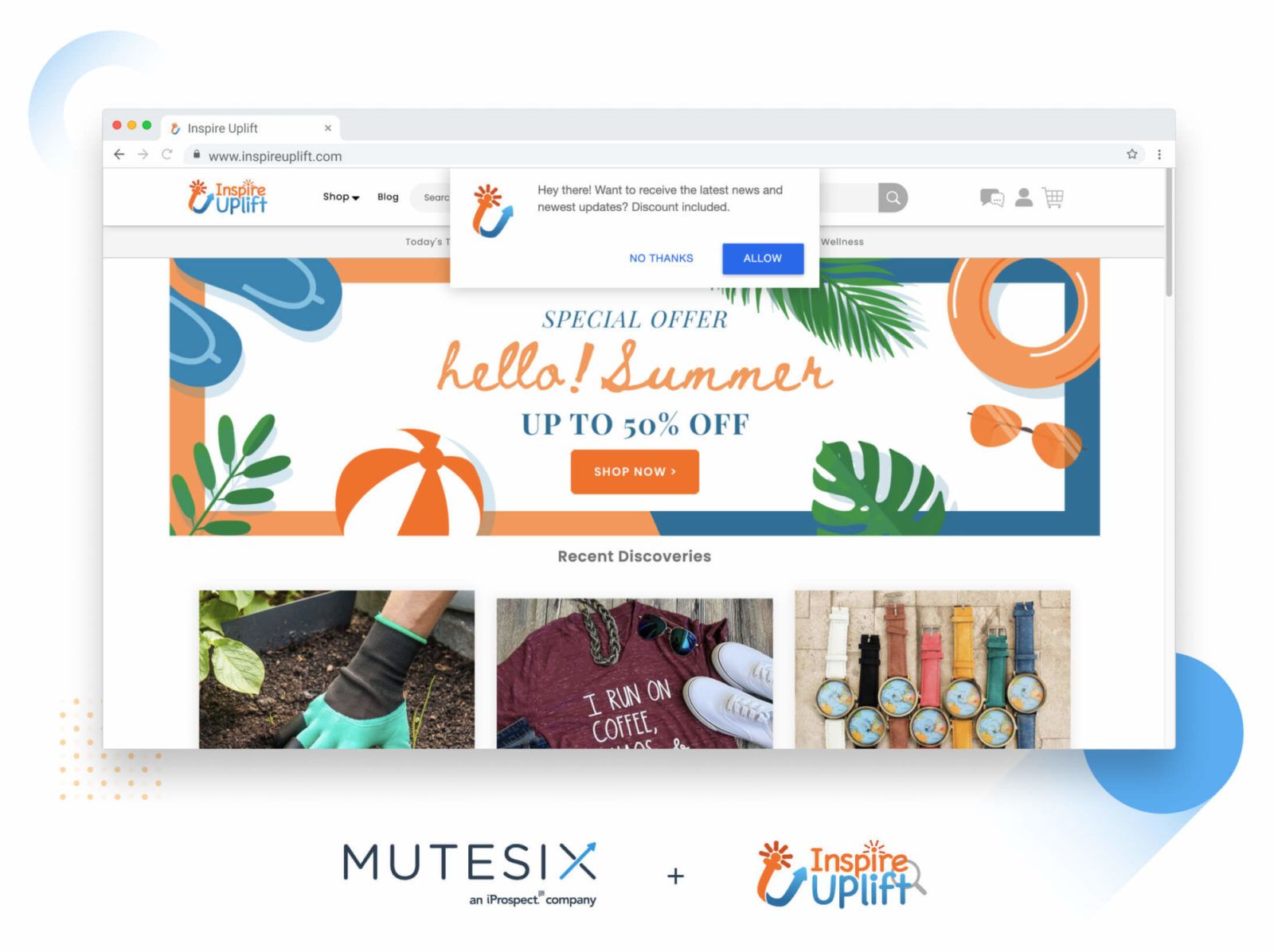 Most eCommerce retailers start sending out promotional emails, texts, and mailers as soon as a new customer signs up. But the dropshipping service Inspire Uplift does things a little differently.
A pop-up message appears within seconds after a new visitor lands on the company's homepage. The message is simple and to the point, promising visitors a significant site-wide discount if they opt in to push notifications. When they click accept, the site sends out an immediate followup push notification delivering the discount code.

While their competitors' emails are sitting unread in inboxes and apps, Inspire Uplift cuts through the noise with a powerful conversion driver. Using push, the drop shipping company converted over 60% of their subscribers into active returning customers.
Most other businesses, not just eCommerce retailers, can learn from Inspire Uplight's example.
In our noisy world, marketers must take any advantage to cut through the noise. Right now, that means push notifications. In analyzing 29,949 apps and 3,196 websites over 30 days, we discovered that sending push notifications drove up sessions by an average of 27%—that means more visitors, more customers, and more revenue.
Promos and Updates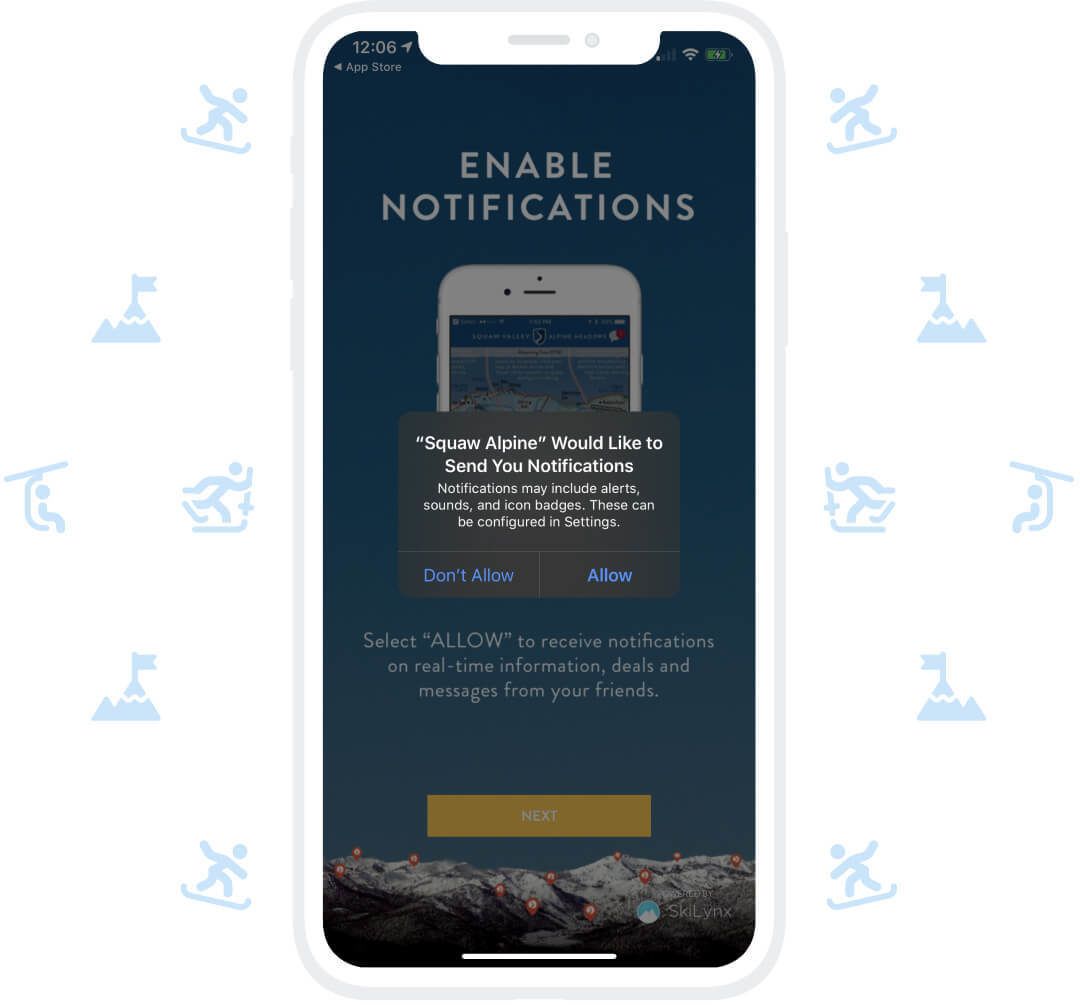 With only three percent of the US population participating in snow sports, mountain resorts must compete hard for every visitor. A few years ago, Tracy Chang, Vice President of Digital Marketing at Palisades Tahoe Ski Resort (formerly Squaw Valley Ski Resort), began experimenting with push to replicate the resort's five-star on-slope experience digitally.
For example, when the roads surrounding the resort are blocked, Chang and her team leap into action. They craft special discounts and promote them via push. Instead of sitting stationary in their cars, visitors can wait out the jams on the slopes.
And that's just the start.
Chang has developed Palisade Tahoe's app to deliver an unmatched experience. It has leaderboards, terrain updates, chair lift statuses, and even crowd management functionality. By building something that is genuinely valuable to her users, Palisades Tahoe saw app engagement take off. Today, it exceeds even Palisade Tahoe's website — and it's largely thanks to Chang's careful use of push notifications.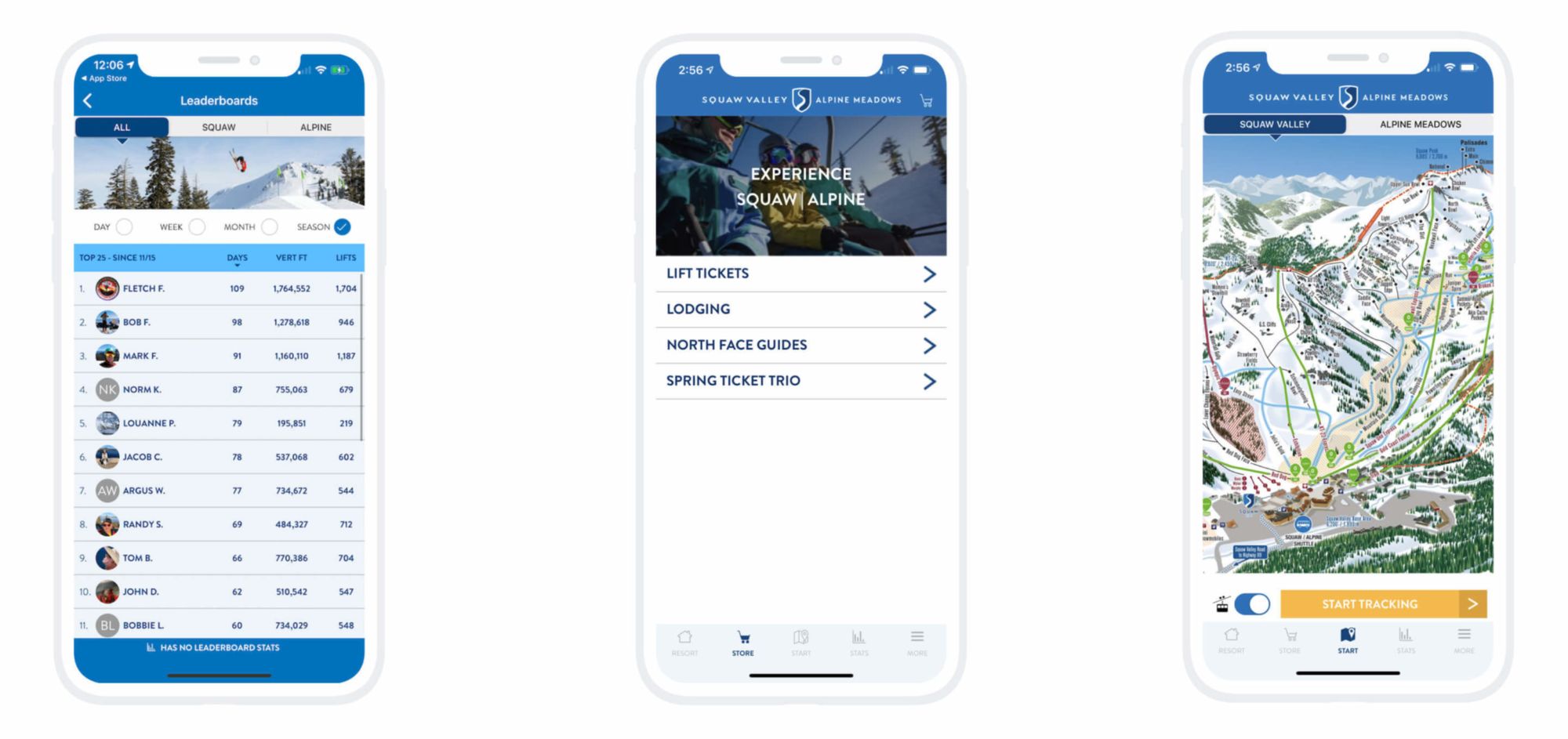 Palisade Tahoe's app reinforces the idea that push notifications aren't just a marketing channel. Deploying them carefully can deepen a user's experience and increase their enjoyment. For example, you could use push notifications to inform users of new features and opportunities, such as a holiday discount or exclusive trial.
If you get it right, the pay-offs are enormous. When we surveyed our users, 44 percent said push delivered a better ROI than email, and 42 percent said it drove a better return than ads.
Check out the Palisades Tahoe Ski Resort case study to learn more about they use push notifications to deliver an Olympic app experience.
Richer Customer Experience Drives ROI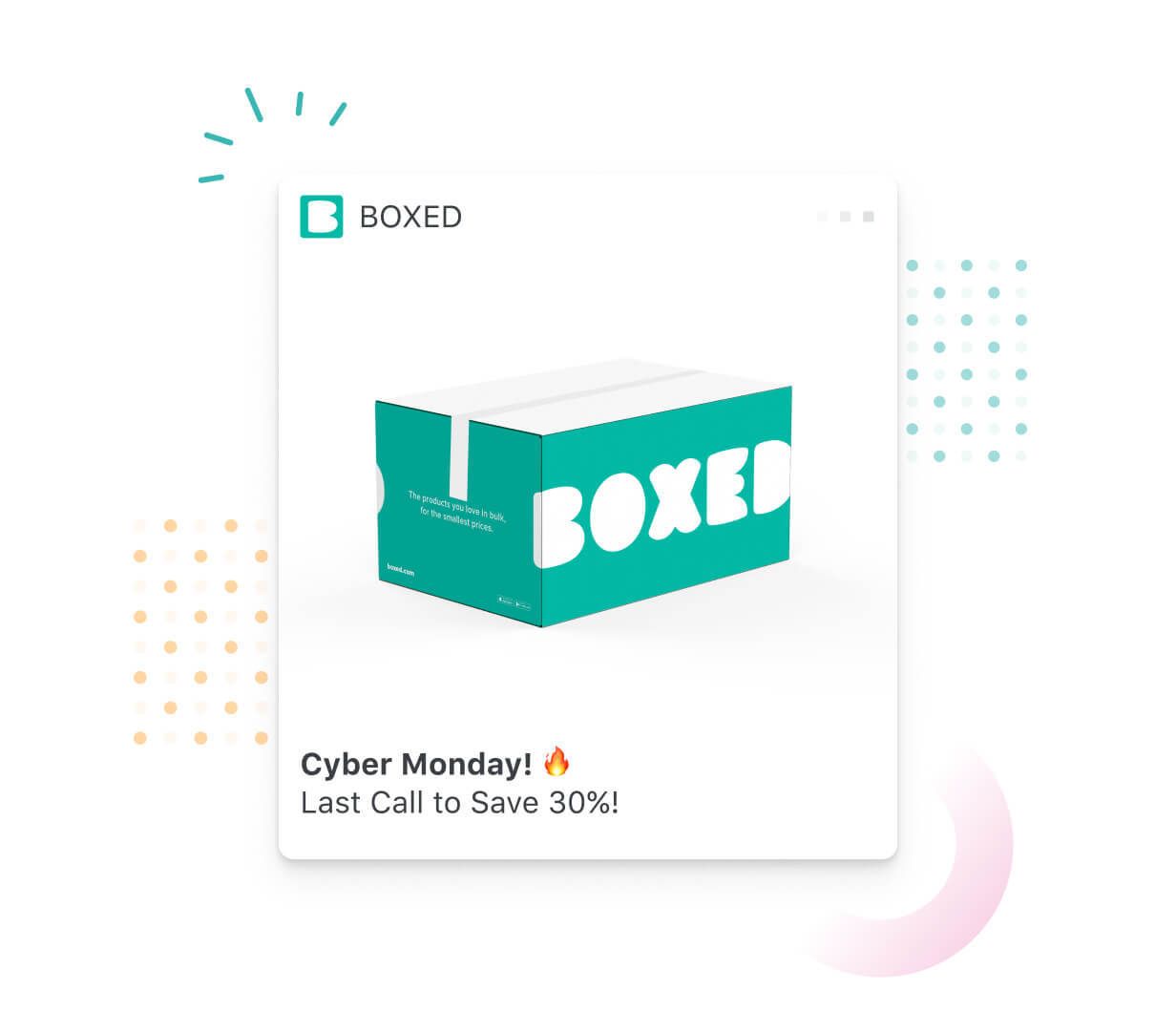 Push notifications will never replace your existing communication channels. There is a time and a place for each channel. But understanding where to deploy push will help you maximize its value. Push is a partner to your existing channels—a way to augment your customer experience and cut through the noise.
Curious about Push Notifications? Learn more here. If you're ready to unleash push notification, get started for free today!