Evaluating usage of OneSignal the past two years demonstrates the adoption of push notifications is growing rapidly. In the past 2 years, messages sent via OneSignal have grown nearly 200% (from 2.3B to 7B), websites & apps deploying push notifications has grown more than 100% (250k to 500k).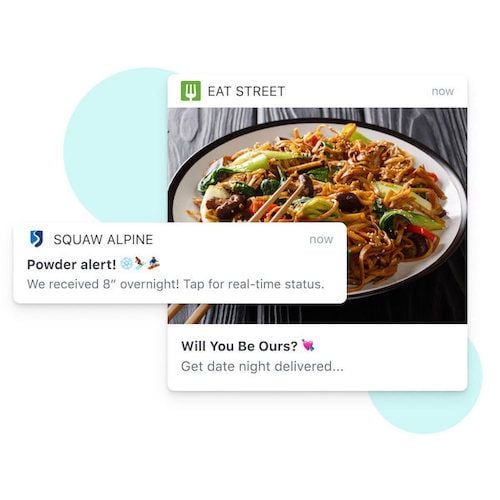 Yet less than 5% of the top 100k global websites have implemented web push and less than 50% of active mobile applications use push notifications. Using qualitative and quantitative analysis, it is clear this is an area for businesses to immediately drive improved results - and, most importantly, to grow engagement with their most valuable and loyal customers.  
OneSignal undertook several studies and analyses of the market to understand the impact Push Notifications has on businesses.  In a survey of companies who actively use the web and mobile push notifications, a majority of respondents reported that Push Notifications were of equal or had a greater return on investment (ROI) than email marketing or digital advertising. This finding was consistent across regions and industries, and further establishes that many companies are missing a golden opportunity to engage with their customers via modern engagement channels.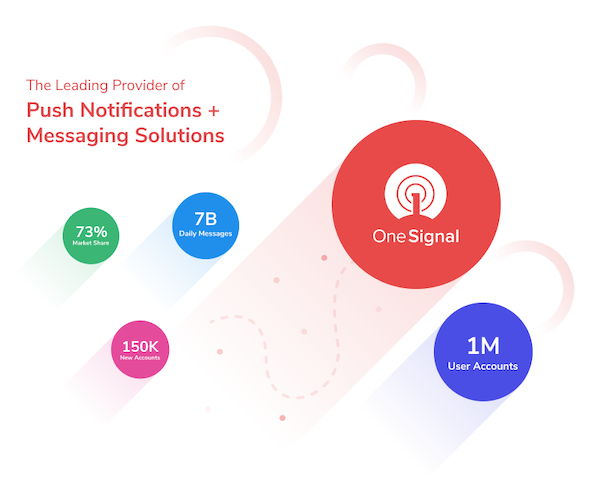 Onesignal's massive scale - more than 1 million accounts sending roughly 7 billion messages a day - affords us a unique perspective to gauge the value that push notifications and in-app messaging have on businesses to drive meaningful business results.
We crunched the data across billions of data points from a 30 day period for all apps & websites with more than 10,000 users to determine whether when they used push it had a material impact on usage.  The results were stunning, with push notifications increasing sessions, daily active users, and user retention.
Push Notifications Drive Significant Daily Active User Increases
In analyzing 29,949 apps & 3,196 websites over a 30-day period, sending push notifications drove up sessions (median) by 27%.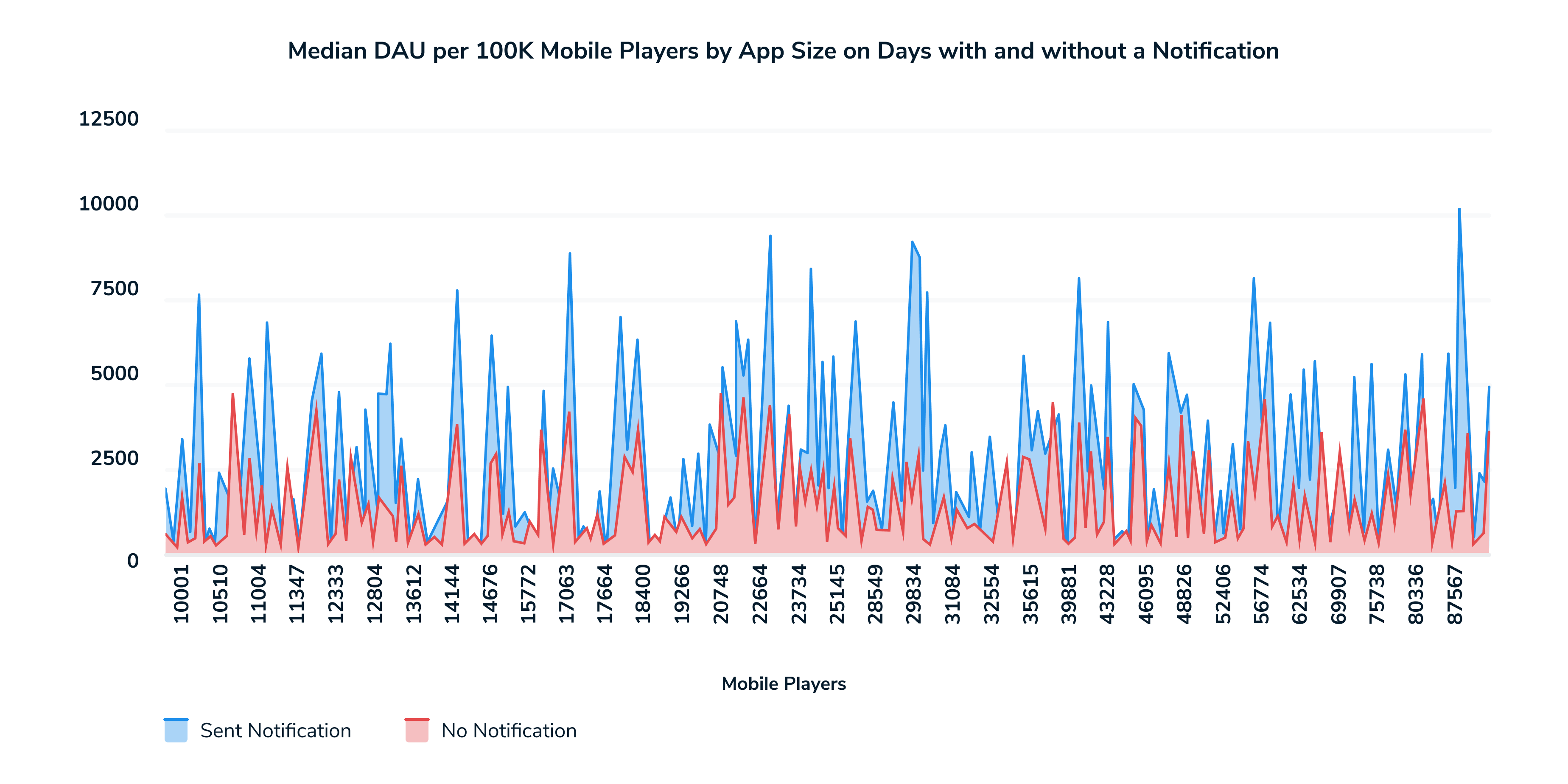 Users of Push Notifications Validate Their Effectiveness
In a survey conducted this spring, OneSignal found that 73% of companies that implement push notification saw an increase in user engagement from them. Furthermore, they found 82% reported that push notifications helped them meet or exceed their business goals.  
When comparing push notifications against email & digital advertising, 44% of Respondents said Push Notifications had a greater return on investment than email, 21% said it was the same, and 21% said they did not use email at all.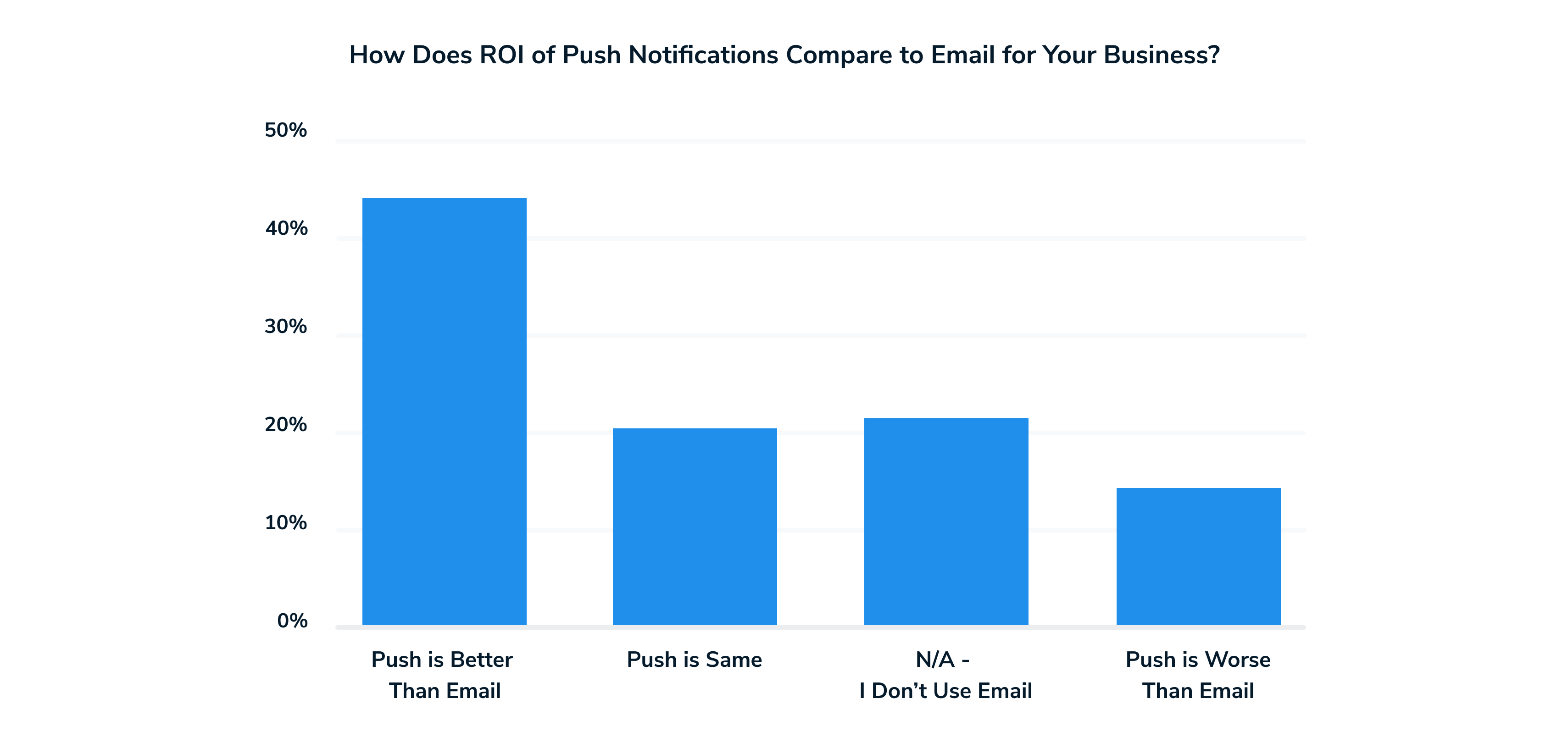 When compared against digital advertising, 42% of companies reported that notifications had a higher return on investment, and 30% reported a roughly equal return from each channel.
Despite the positive results seen by the vast majority of companies that implement and fine-tune their push notification messaging efforts, a majority of businesses are still discovering their value. Of the survey respondents who currently use OneSignal for managing their push notifications, a majority (57%) had never used Push Notifications before.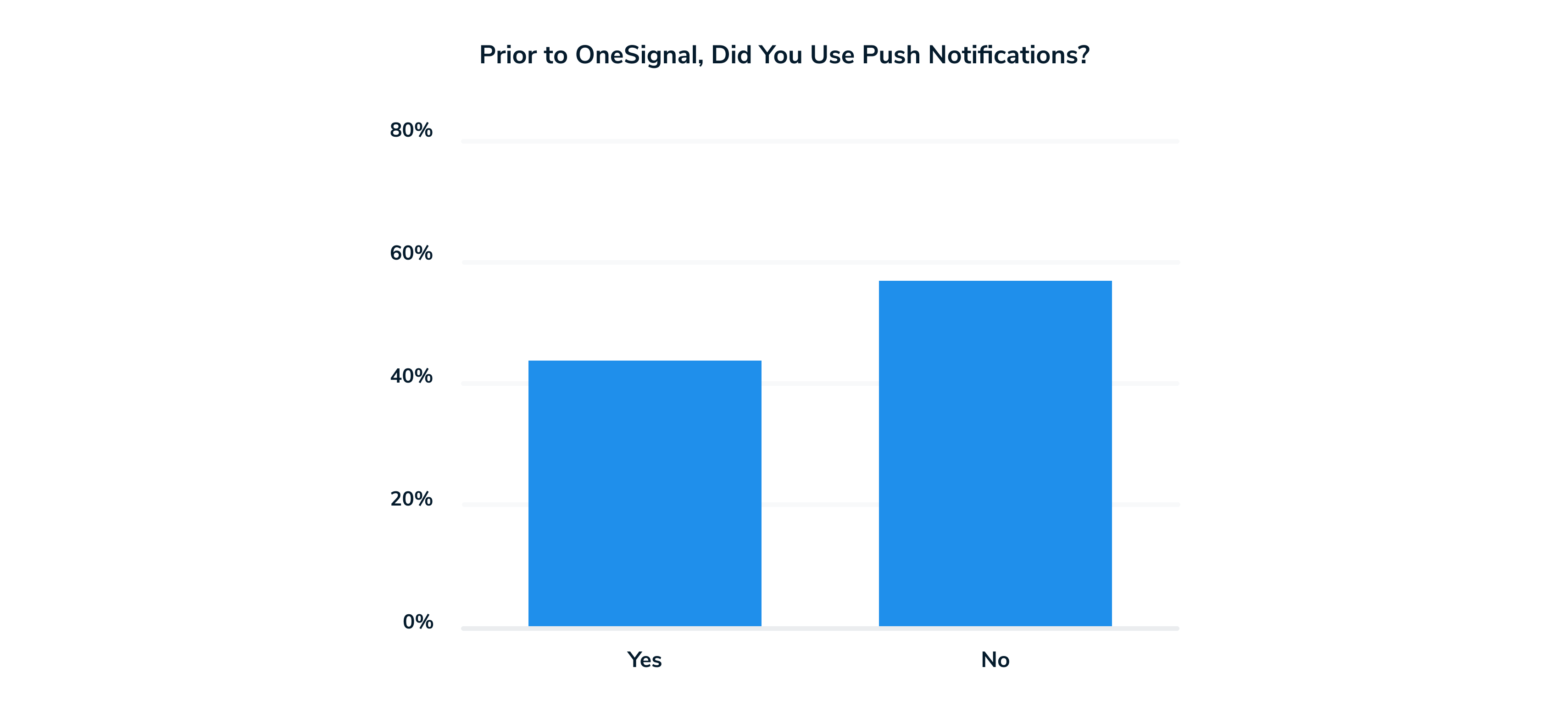 The utilization of push is growing but not as fast as it should. OneSignal represents the majority of push notification adoption (73% of all websites using web push use OneSignal + 20%+ active mobile apps use the SDK), however as mentioned at the start of this article, it remains less than 50% of mobile applications and 5% of the top 100k websites.  
Summary:
Companies are missing out on crucial customer retention & engagement strategy - Push Notifications.  Users state overwhelmingly that Push Notifications not only meet their business needs (82%), ROI is better than or equal to other channels  (as good or better than Email & Ads), and the qualitative look at more than 30k mobile apps & websites show they are essential to driving daily active usage.
Test this yourself for free with OneSignal or contact the team for a demo today.