In the mobile app business, every marketer and developer wants the same thing — to acquire and grow their mobile app user base.
But this puzzle of acquisition and retention is not easy to solve, and in today's landscape, you face a series of hurdles, including fierce competition, changing consumer habits, and high user expectations.
Here are some stats that highlight the challenge that acquiring and sustaining a mobile app audience presents in today's ecosystem.
So what strategies can you deploy to grow your audience sustainably? Let's explore some tactics you can try to get users to find, install, engage with, and revisit your app.
1. Understand the Mobile App Marketing Cycle
Mapping your full-funnel strategy through each of these stages is the only way for you to grow your mobile audience and scale your business sustainably.
The mobile app marketing cycle consists of the following stages.
Acquisition - The first stage of getting users in the funnel is prompting them to install your app.
Growth- After users have installed your app, you aim to get them activated on your platform, which leads to a higher engagement level with your offerings.
Retention- Retention is every company's end goal and can be the most elusive part of the cycle. Retaining users means keeping them active on your platform.
2. Align on Your Important Metrics
In order to properly grow your user base, you'll want to define and benchmark the following high-level marketing metrics. These analytics can help you evaluate whether or not your audience growth is healthy and how your audience is contributing to downstream revenue for your app as a whole.
CAC- Cost per Acquisition is the cost to acquire an app user. As of 2019, the average CAC in North America was 3.50 dollars.
LTV- Lifetime Value is the value of a customer over the course of their relationship with your brand.
Conversions- Conversions are defined differently for every app based on your monetization model. Some examples are purchases, active subscriptions, or orders.
Retention- Retention is the number of users who stay on your platform on a weekly, monthly, or yearly basis.
3. Invest in App Store Optimization

The goal of app store optimization is to increase your app's ranking in the search results within an app store, such as the Apple App Store or the Google Play Store. As such, this tactic is aimed at targeting users in the phase of discovering your business and offering.
Increasing your app's ranking in an app store search generates more traffic to your app's listing, and increases the likelihood that users will hit download. In past years, ASO has gained traction as a popular app marketing strategy. ASO takes into account elements of your app's listing including your app's name, your keywords,  your ratings and reviews, number of downloads, and app description.
For example, your fitness app may target keywords such as "weight loss," "at-home workouts," or " run tracking."
To optimize each of these relevant pieces, you'll want to craft your own ASO strategy or even hire an agency to help out.
4.  Prioritize Website Traffic and SEO

organic acquisition strategy. In attracting users to your site, you should aim to address their queries through your content strategy. As you bring users to your site, you're generating brand awareness and you may additionally gather users' email or phone number, or even better, send them to the app store to download your app.
In order to make your website visible, you may need to assess your SEO, or Search Engine Optimization, rankings for the keywords you're hoping to target. You'll want to do research on the most popular keywords in your app category and hire copywriters to flesh out content on your site that will attract prospective users.
Helping users discover your brand through top of funnel website content can involve writing articles that answer common questions or address common themes that would be relevant to your target market.
Let's say you're a health app that enables users to better manage and monitor type 1 diabetes. You might publish articles on your site answering search queries like "How do I manage my blood glucose throughout the day?" Or "Best ways to manage diabetes at work."
5. Leverage Paid Advertising
Although paid advertising Is less important than it used to be with changes in privacy, it still may hold value as an acquisition channel for some mobile app businesses You can think about running ads for your mobile app on popular channels such as Facebook and Instagram, Google, or LinkedIn, for instance. In understanding where to spend your ad budget, evaluate where your target audience is most likely to be active.
For instance, if you are a photo editing app that targets Gen Z, you may not want to waste budget running LinkedIn ads. Instead, you may choose to advertise on a platform where your target audience is active, like TikTok.
6. Incentivize Reviews and Ratings
Putting energy into your app's reviews and ratings will benefit the growth of your mobile app audience in a variety of ways. Data shows that 80 perecent of users look at an app's rating before deciding to download. Reviews and ratings also generate social proof, which holds heavily psychological influence over your potential users.
In addition to either attracting or deterring users from your platform, reviews and ratings directly contribute to your App Store Optimization efforts, so making sure that your current satisfied users are properly taking the time to rate and your review your platform can be twofold.
Companies use a variety of tactics to drive reviews. For example, you can send out an email campaign to existing users offering a reward in exchange for rating or review. Another option is prompting users for reviews and ratings directly in the app experience using in-app messages.
7. Drive Engagement With Push Notifications
Push notifications come into play after a user has downloaded your app. They play into the growth and retention phases of users' relationship with your brand, which should be a major focus in your mobile marketing strategy. Fortunately, push notifications offer a variety of benefits that can directly translate to sustaining and growing your userbase.
Among the most common ways push notifications can help you keep users for the long run is through reengagement campaigns. Reengagement campaigns aim to get users to click back into your platform when they've been inactive for a period of time. With push notifications, your business can target in critical churn windows with targeted push campaigns.
Reengagement campaigns should be staged in context of your app's unique engagement and retention model.
For example, our client Wink uses push notifications to reengage users in critical churn windows the've identified in their data.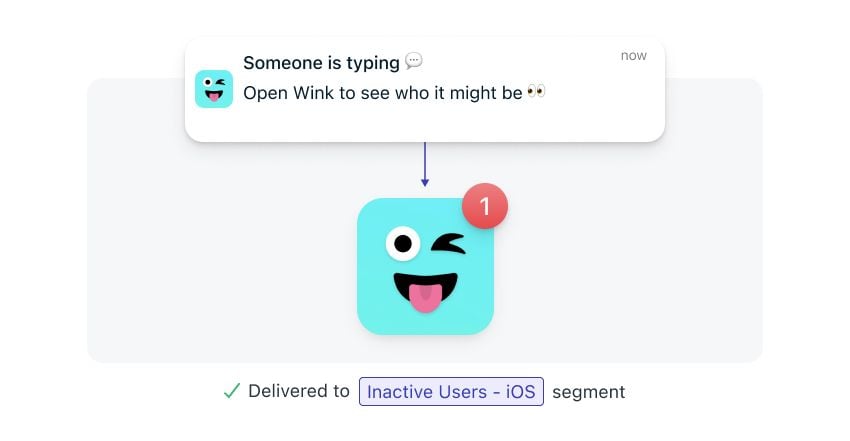 Getting Started with OneSignal
OneSignal is designed to help you send notifications and seamlessly manage your user communication across a variety of channels, including mobile push notifications, web push notifications, bulk SMS, in-app messaging, and email. Our platform is quick to set up and makes it easy to send eye-catching messages without doing any development work. If you don't have a OneSignal account, you can create one for free and start sending push notifications to your users today. Don't take our word for it — simply sign up and see for yourself!
Get Started for Free