Are your push notifications getting ignored despite your best efforts to engage customers?
A users' attention is finite, and many others like you are battling for a share of it. If your push notifications don't convey value to your users, it's likely that they'll ignored in favor of something else.
Outshine Your Competition With Relevant Push Notifications
The good news is that forming a user-friendly push notification campaign will put you head and shoulders above the competition.
Netflix is one company that has leveraged its user data to create a personalized push notification strategy. For example, Netflix uses push notifications to alert users when new seasons of their favorite series are released.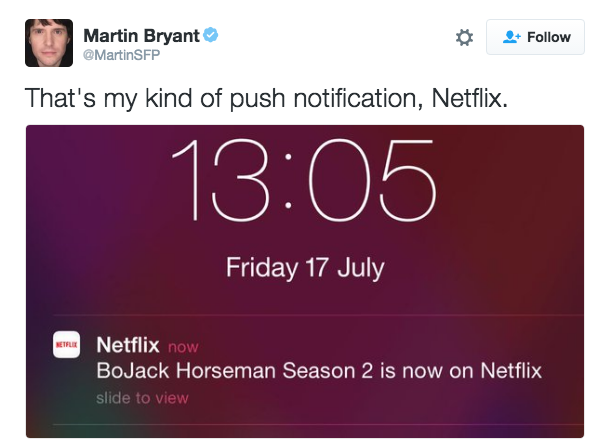 Personalized Content
Mobile users are bombarded by notifications daily. Many of these notifications are ignored or worse, they can result in an opt-out.
A good way to increase engagement with your notifications is to give your users exactly what they want. This includes personalizing the notifications so that the first or last names of the users are shown. This gives the notifications a human touch that makes people feel like they're not on the receiving end of a marketing campaign.
49% of users opt-in to receive notifications because they want timely information. Airlines, including JetBlue, send notifications to users containing flight status updates shortly before their flights.

Coupons and deals are also well-received by many users, as 41% opt-in to get those discount deals. But these coupons must be both relevant and timely to the user, because all coupons eventually expire.
So be careful! Constantly sending your users generic offers is a poor idea – 52% of users opt-out of notifications because they were too frequent, irrelevant, and untimely.
Time-based and Behavior-based Delivery
You have three choices for how to schedule notifications:
You can try a blast campaign where all users get sent notifications at the same time, which has a 1.9% open rate.
You can schedule notifications based on your users' time zones. For example, you can send them notifications at 11AM their time. Somewhat surprisingly, this has an open rate of only 1.7%.
The most optimal strategy requires delivering notifications when users are most likely to engage with your app.
Tip: Our platform gives you a way to determine peak usage times based on a rolling 3-month average and deliver notifications just when users engage with your app.
While effective timing makes users more likely to open your notifications, you can take it a step even further and structure your notification strategy around behavioral cues.
If your users perform certain in-app actions, you can use them as triggers for timely and relevant notifications. For example, a ecommerce app could send users behavior-specific discounts when they look at an item. Behavior-based notifications results in a 4x increase in open rate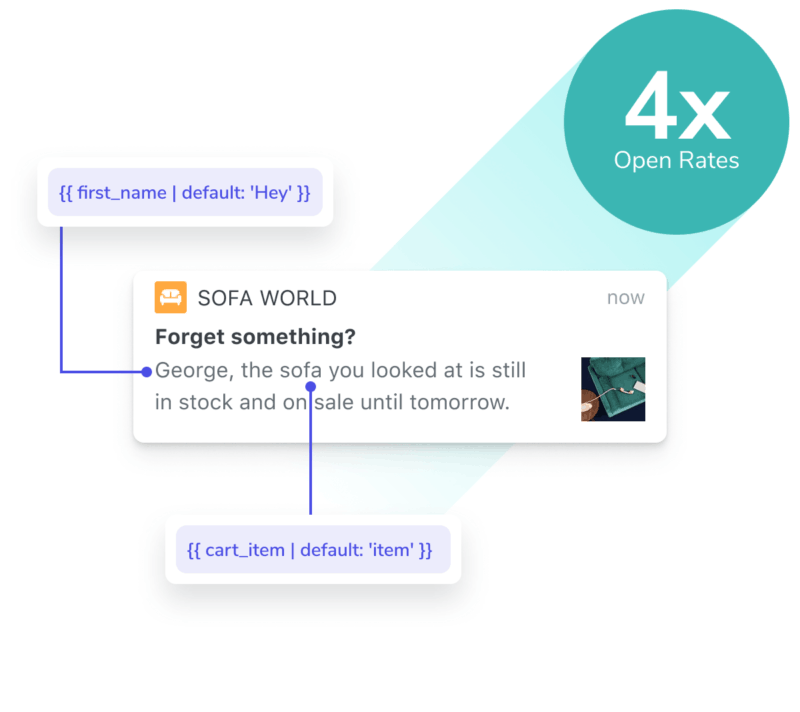 Final Remarks
Your push notifications must both be personalized and delivered at optimal times if you want to generate high open rates.
Our OneSignal platform does enable personalized messaging, with two examples being the inclusion of the person's name or abandoned cart item in the notification title or message.
Finally, our Intelligent Delivery software selects delivery time based on when each user most frequently accesses your app. Of course, you can also do blast campaigns or send by time zone if you want.
If you consider all the variables and continually test and tweak your strategy, you'll be well on your way to driving engagement with your push notifications.