With Valentine's Day just around the corner, people are surely looking to impress their loved ones. Now is the perfect opportunity to send your users some love with customized push notifications — here are a few tips on how to leverage your Valentine's Day campaign this week:
Last-Minute Gifts for Valentine's Day
Push notifications not only allow you to craft personalized messages to specific audiences but also serve as great reminders to customers in real-time. In fact, customers scrambling to find last-minute gifts for Valentine's Day would appreciate such reminders throughout the week, allowing them to plan for the perfect date ahead of time (i.e. save relationships this Valentine's Day, one push notification at a time…)  
Let's say a group of your customers purchased flowers last year on Valentine's Day — by using data tags, you can target this specific audience based on their previous behavior and suggest that they repurchase those same flowers for this weekend. Hence, using tags to segment groups provides an opportunity to engage with users at a highly-personalized level.  
Pro-Tip: OneSignal customers who use data tags in their push notifications have seen a 16% increase in their engagement rates.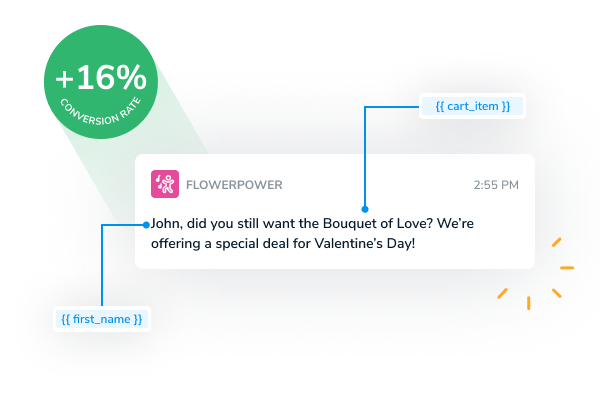 Restaurant Offers and Reservation Updates
We all know that the "perfect date" can be easily ruined by stressing over dinner reservations or waiting too long at a restaurant. To save users the trouble of planning Friday date-night themselves, you can use push notifications to send reservation updates or restaurant recommendations throughout the week. Doing so will 1) incentivize users to engage with your platform and 2) show your subscribers that you are catering to their specific needs in making this Valentine's day as special as possible.
Pro-Tip: Adding rich media within the push notification is a smart way to grab your user's attention and increase click-through rates. This can come in the form of include GIFs, video, images, emojis, but should be used sparingly.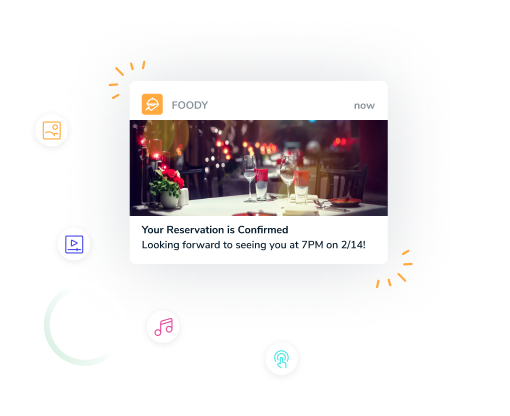 Travel Discounts
Building strong connections with your subscribers is crucial, and using push notifications to help them find great travel deals is the most simple, yet effective step along the way. By notifying your customers about special travel discounts and limited time offers for Valentine's Day, users are much more likely to take time to learn what your site has to offer and eventually become long-term subscribers.
Pro-Tip: OneSignal's location-triggered notifications are another way to send targeted messages to your users on Valentine's Day. This allows you to target a specific region and use location tracking via the Dashboard.  
Send Users Some Love
Specific campaign tactics vary based on each industry, but the overall outcome remains the same — push notifications are increasingly used to engage with users on a highly-personalized level and in real-time. With users across the world searching to fulfill their Valentine's Day wishes, it is now your turn to provide them with the right tools and messages to make this upcoming holiday special.