It's no secret that reducing abandoned carts is the easiest way to instantly boost your bottom line. The average abandoned cart rate for eCommerce stores is 70 percent for desktop shoppers and 86 percent for shoppers on mobile devices. With those huge margins in mind, studies indicate that e-commerce stores miss out on roughly $18 million in annual revenue.  By re-engaging and converting just 1.5 percent of that audience, brands could earn an additional $270,000 annually.
In order to be effective, abandoned cart notifications must be personalized and perfectly timed. By using different message automation techniques, you can set up these messages once and continue to reap the rewards as your business scales. Below, we've outlined the basic tools to use when creating an abandoned cart campaign.
When it comes to automating abandoned cart reminders, you have a lot of flexibility. There are several ways to set up timely and relevant push notifications to reel customers back in to complete their purchases.
1. Use Customer Tagging to personalize message content in real-time
Abandoned cart notifications are more successful if they show you what you left behind rather than just tell you.  In order to automatically identify what items a shopper has left in their cart and personalize the notification text and images accordingly, you need some form of customer tagging. Set up data tags for each customer so they get tagged based on what they add to their carts. If they forget to checkout, you can send them targeted reminders featuring the specific items they intended to buy. It's an incredibly easy way to personalize your push notifications. Used correctly, these will increase your sales immediately.
Instead of sending a generic boilerplate message such as "you have items in your cart," you could, for example, send "Those sunglasses will look great on you - snap them up before they sell out." If the initial reminder doesn't bring them back, you can also use tags to offer discounts on the second and third follow-up notifications to further entice them to buy.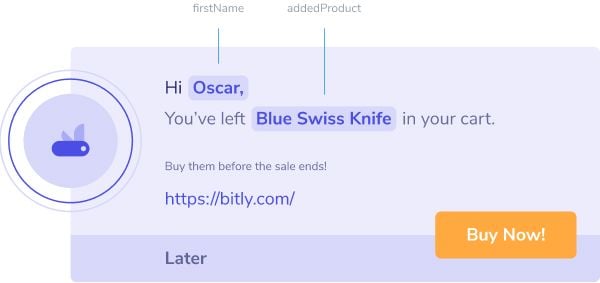 Tagging allows you to create a new segment of website visitors who have items in their cart and have not used your website for a set period of time (1.5 hours, for instance). Send push notifications to that specific segment, not to your entire customer base.
Read more: Customer Tagging Documentation
2. Set up Time Triggers to optimize notification send based on user preferences
Cart abandonment most often occurs between 6 pm and 9 pm. You want to remind users of the items in their cart, but you also don't want to send notifications during dinner, or worse — when your user is asleep. Use time triggers and delays to send notifications when they want to receive them.
Princeton Review sends abandoned cart notifications when users are most active online. Read more about how Princeton Review was able to 4x their conversion using push: Case Study.

Time-triggered notifications give you the ability to customize delivery by time zone, or time since they last used your app. This can be done manually, or through a REST API, which gives customers the ability to decide when they receive your notifications.
Read more: Time-Triggers Documentation and API Delivery Parameters
3. Use Time Elapsed Operators to re-engage shoppers 24-48 hours after their last visit
Use the Time Elapsed Operator Tool to bring customers back 24-28 hours since they last visited your website.
Create customer segments based on how much time has elapsed since they visited your website or added items in their cart, and send different notifications to each segment.
Time Elapsed Operators are particularly useful for testing the ideal amount of elapsed time to send out notifications in order to bring back the most customers.
Learn more: Time Operators Documentation and Video Demo1