Thanks to your helpful feedback, we've delivered a lot of improvements for SMS, and we're thrilled to officially launch SMS out of beta. It's been exciting to see SMS adoption continue to grow. From e-commerce companies announcing new products and sales to technology companies sending account alerts, the OneSignal community is implementing SMS in many successful ways.
For those of you who have tried SMS previously, we've made many improvements to the SMS experience. For those of you who haven't tried SMS yet, now's the time to get started. Learn more about the benefits of adding SMS to your messaging channels as well as why it should be part of your marketing strategy.
Improved Deliverability
Companies with a large audience list and those who send long messages may have previously experienced issues related to SMS, including account specific API limits or even partial delivery failures.
This was due to Twilio's SMS message rate and queue limits. Twilio calculates everything by message segment (rather than message), and the number of message segments in your message is determined by how the message content is encoded. The encoding mechanism used is based on factors such as the message language and whether you use emojis or special characters and determines how many segments your message will be divided into. It's important to note that Twilio can only queue up to 4 hours of message segments. Previously, you may have had to send large blasts in separate batches to avoid hitting Twilio limits.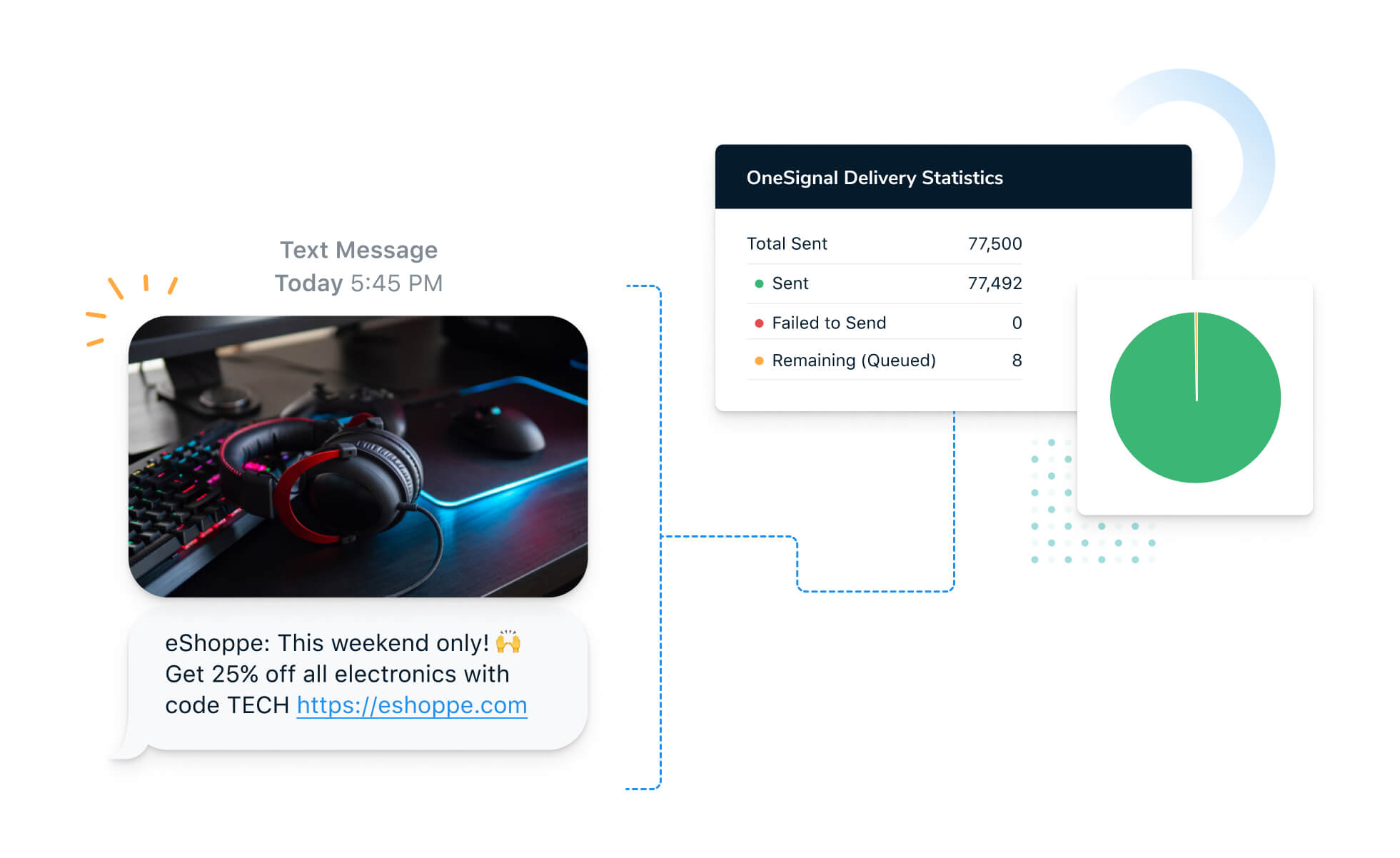 OneSignal has now built out functionality to automatically handle message and account limits to make sure your message delivery aligns with Twilio's limitations. We will send messages to Twilio at a rate that will automatically avoid Twilio queue errors, where the rate will be based on your message content and phone numbers for the message. This greatly improves the ease of use, as you won't need to manually calculate message segments or split large messages into separate batches.
Compare this to other messaging and engagement platforms, who do not provide any rate limit protections and instead advise their users to manually adjust the delivery speed rate limiting. We invested in building this into our product for a superior SMS experience.
Support for Short Codes and Toll-Free Numbers
We also now support short codes and toll-free numbers. Depending on your messaging needs, these number types may be a better fit for your SMS strategy. For example, short codes are great for companies that want faster sends and to avoid carrier filtering. Read this post to understand whether short codes or toll-free numbers might be a fit for your business.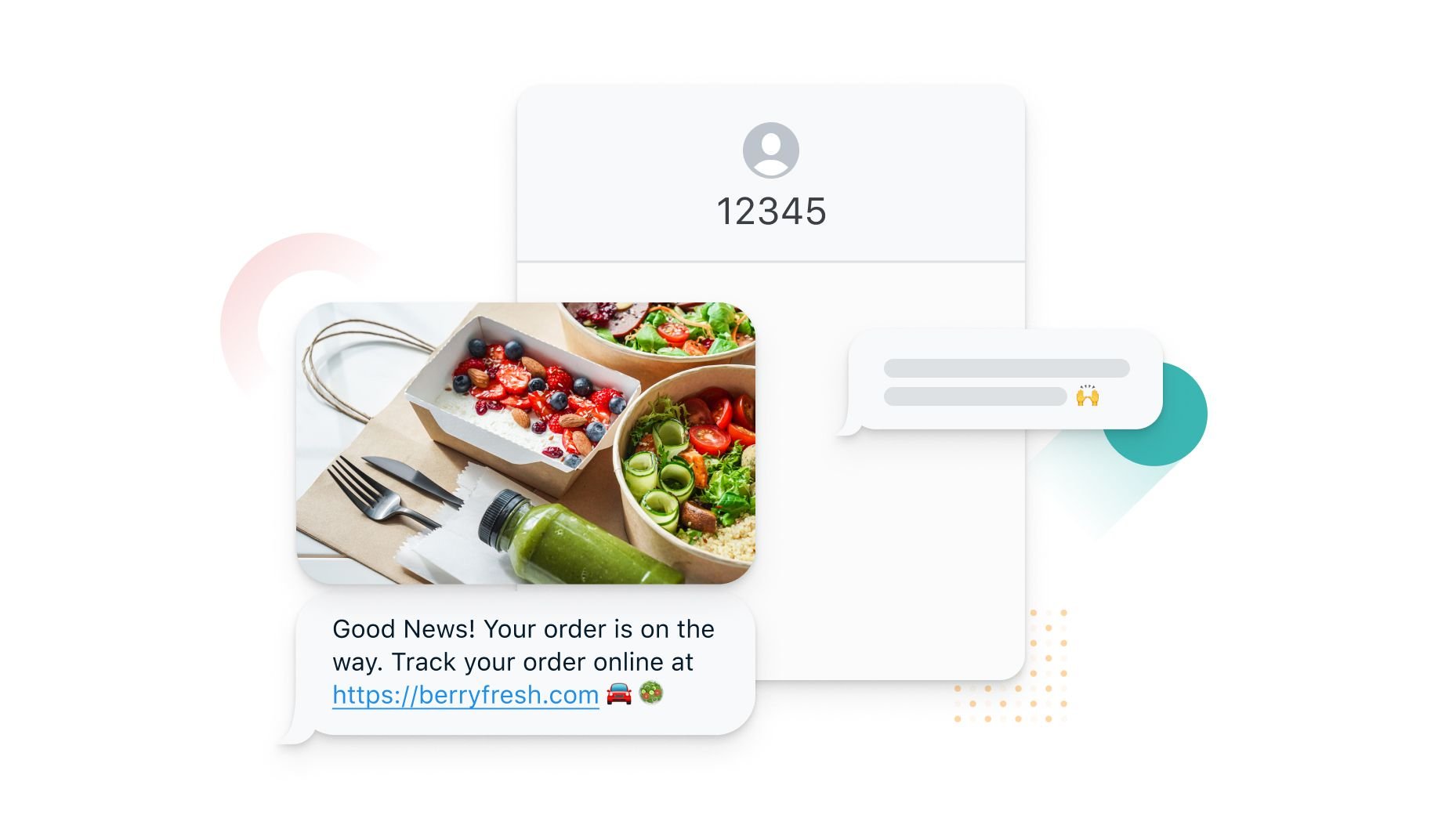 Additional Ways to Add Users
As before, there are multiple ways to import phone numbers to your OneSignal dashboard, such as through CSV, API, or SDK. For those who haven't added SMS subscribers yet, we'll help guide you in the product on how to do so.
Grow Your Customer Lists With Web Prompts
Add a customizable web prompt to your website to ask for a user's phone number, email, or both. Now, you can easily capture your users' information directly on your website without relying on third-party integrations or manually importing audience lists across systems. Web prompts are one of the most effective ways to easily grow your audience, identify your best customers, and build lasting relationships.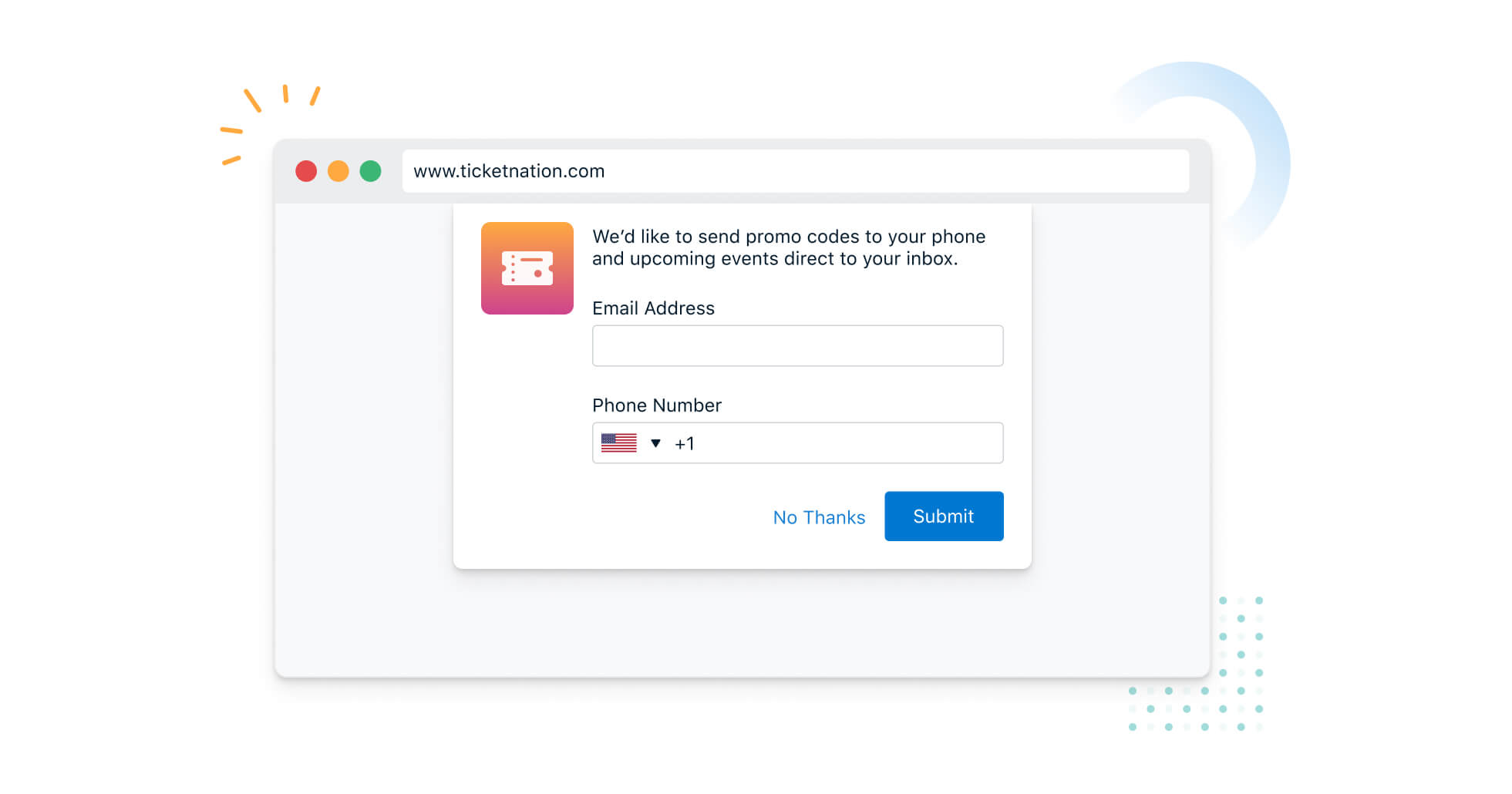 Add Users in Bulk With Improved List Uploads
We've improved the user upload experience so you can manage your audience without needing to rely on developer resources. As before, you can easily upload CSVs to add phone numbers and for easy personalization and segmentation. New features include an improved flow, downloadable CSV templates, better error handling, and a new place to upload users in the Segments tab.
Manually Add Individual Phone Numbers
You can now also manually add a phone number directly from your dashboard. This is really useful for situations when you have only one or a few phone numbers to add. Your user will instantly be saved as a subscriber and ready to message.
Easier SMS Management
We've built additional functionality to help you manage your audiences and your messages.
Reach the Right Audience With SMS Segments
We've created a new Segment, All SMS Subscribers, so you can easily send texts to all your SMS subscribers. This helps ensure you're reaching the right audience in the right channel. We've also created the All Email Subscribers for your email audiences.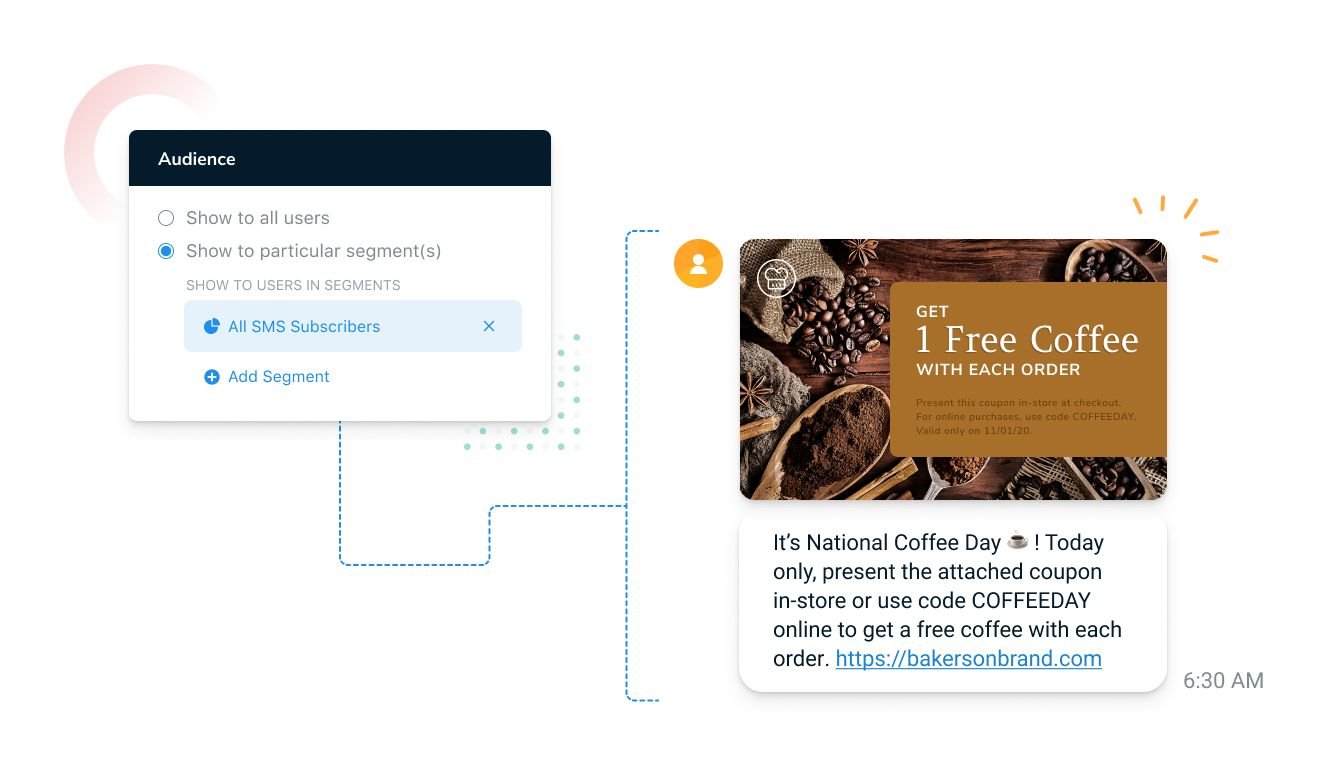 Organize Your SMS By Name
By popular request from the OneSignal community, you can now name your SMS messages. This helps you easily find the message you're looking for. For example, if you send similar message content, you can now differentiate between your messages by the name.
Understand Your SMS Send with Message Segment Calculations
Your SMS message now includes message segment and delivery estimates directly in your dashboard. This helps you determine how long it will take to deliver the message and how much it costs. You can also manually test your messages in Twilio's Messaging Segment Calculator.
More Accurate Validation and Error Handling
We've built additional validation on content and clearer error messaging so you can easily identify and address issues.
Quickly Access Your Twilio Logs
Your delivery report now includes tool tips that link directly to your Twilio console logs so you can quickly land on the relevant reporting. Click on the link to view your logs for that message send, which is based on the From number and message status. You can also add additional filters such as add date range for more targeted analyses.
Other Improvements
When you are creating a message without valid text or phone number selection, you'll get clearer in-product warnings.
If you want to change your default number, you can easily do so while creating your SMS, without having to go back to the setup settings.
For those on a trial Twilio account, we've improved the dashboard experience to better surface these trial account limitations as you're using OneSignal, including when you send a test SMS, create a new SMS, and when you manually add phone numbers.
If you're ready to get started, simply login to your OneSignal dashboard to check out the improved SMS experience, or check out our SMS Quickstart Guide for step-by-step instructions to get started.
We want to better understand how you use SMS to help prioritize future development. Take this quick survey so your voice is heard!
Learn More about SMS Marketing Strategy
Want to start using SMS but not sure where to begin? Check out our SMS eBook to learn fundamental text messaging strategies, use cases, best practices, and tips for leveraging SMS across industries.
Get the Comprehensive Guide to SMS Marketing