New Ready-to-use Push Templates
With over 1 million developers and marketers sending 8 billion messages daily, we get a lot of data to draw insights from. We've analyzed how companies successfully use OneSignal for push and now offer professionally-designed templates to help you get up and running. These templates cover common use cases and will save you time and resources, so you can engage with your users and drive results faster.

OneSignal's pre-designed web and mobile push templates are now live and available for use. For best results, we recommend customizing the template with your own branding and personalizing the messaging to be relevant for your business in order to achieve higher engagement with your audience.
Marketing Templates
Reminders
This template includes a sense of urgency. Use it to send a reminder about an upcoming deadline or other time-sensitive event. Get better results by modifying the content with more details about your specific event.
Promotions / Discounts
This template provides a tangible offer to your customer. Use it to communicate your promotion or discount. Get better results by modifying the details to fit your sale and including a sense of urgency if relevant.
Ratings
This template primes the user with 5 emoji stars. Use it to ask your users to rate your app and add your deeplink to the app store. Get better results by sending this notification after a moment of delight, such as completing a level in a gaming app, or winning a bid on an auction website.
Product/Feature Announcements
This template communicates something new to the user. Use it to announce new products and features and drive users back to your app or website to engage. Get better results by modifying the details to mention what you're announcing.
Transactional Templates
Price Drop Alerts
This template alerts the user about something they've engaged with and has a strong CTA. Use it to let your customers know when their interested item is on sale. Get better results by personalizing the content with information about the specific item.
Action notifications
This template communicates engagement that is directly relevant to the user. Use it to let your user know when there is an interaction or development that's relevant to their account. Get better results by personalizing the content with information about the specific action.
These templates are available for all plans. Since they are meant to help our new OneSignal users onboard, we've only added the templates for new accounts as well as for any existing apps that haven't sent many push notifications yet. If you don't see templates in your dashboard and would like to have them added to your account, please fill out this form.
Improved Uploads to Add and Manage Your Users
Our OneSignal community values being empowered to upload and update users without needing developer resources – and now we've streamlined the experience to be even more user-friendly and powerful.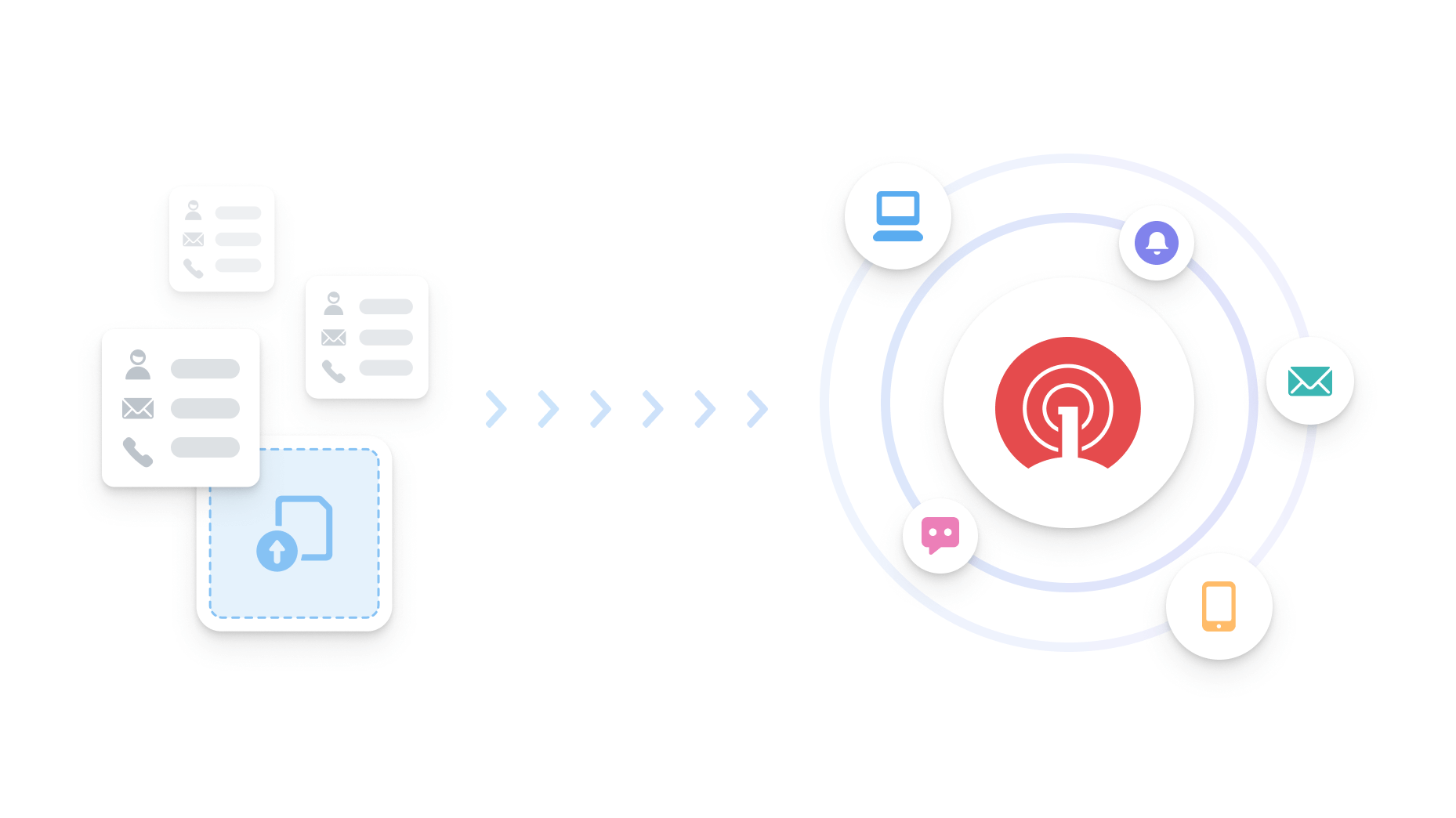 As before, you can easily accomplish the below.
Add Emails and Phone Numbers
Import emails and phone numbers for SMS to help with onboarding or moving data between tools and systems.
Easy Personalization
Add data tags to your users for message personalization based on your users' activities or attributes on your platform and send hyper-relevant messages at scale.
Segment Your Audiences
Add data tags to create Segments for improved audience targeting and higher engagement. Uploading a CSV also gives you the option to quickly create a Segment from your import for easier audience management.
New Updates
See how we've improved the upload experience to make it easier for you to add and manage your users.
Improved Flow
We've outlined the import steps to improve clarity and inform you of your progress. After uploading your file, the import flow will alert you if there are any errors and show the appropriate warnings. As before, we'll send you an email when your upload is complete.
Downloadable Templates
We've created downloadable CSV templates to set you up for success. These templates are pre-populated with the required fields and the proper formatting to help save you time and minimize errors.
Clearer Buttons
We've modified the buttons in the All Users tab under Audience, so you know exactly where to go to import and update users. We've also added new upload capabilities directly to the Segments tab as well.
Add your users today to start building a relationship with your audience. Want additional ways to add users? You can also add users via API or migrate users.
Ready to get started? Login and try out these great features.
Login to Your Account