Our users have been actively leveraging our push retargeting feature to improve their messaging campaigns and build out relevant sequences based on how their users engage. Companies are reinforcing their messaging with audiences who engaged — and they're trying new tactics with audiences who didn't. We're excited to announce powerful improvements to our retargeting capabilities, including expanding retargeting to the SMS channel.
Increase Engagement with Cross-Channel Push and SMS Retargeting
Knowing how your customers engage with your messaging is key to optimizing your follow-up strategy. Now, you can easily send users a follow-up text after they've engaged with a push notification, or send subscribers a push to reinforce an SMS. You can retarget push notifications with another push, SMS messages with another text, or retarget users across your push and SMS audiences. With a single click, you can create a follow-up message audience based on user actions. And as before, you don't need to enable Retargeting ahead of time - we're already automatically creating the relevant audiences for you.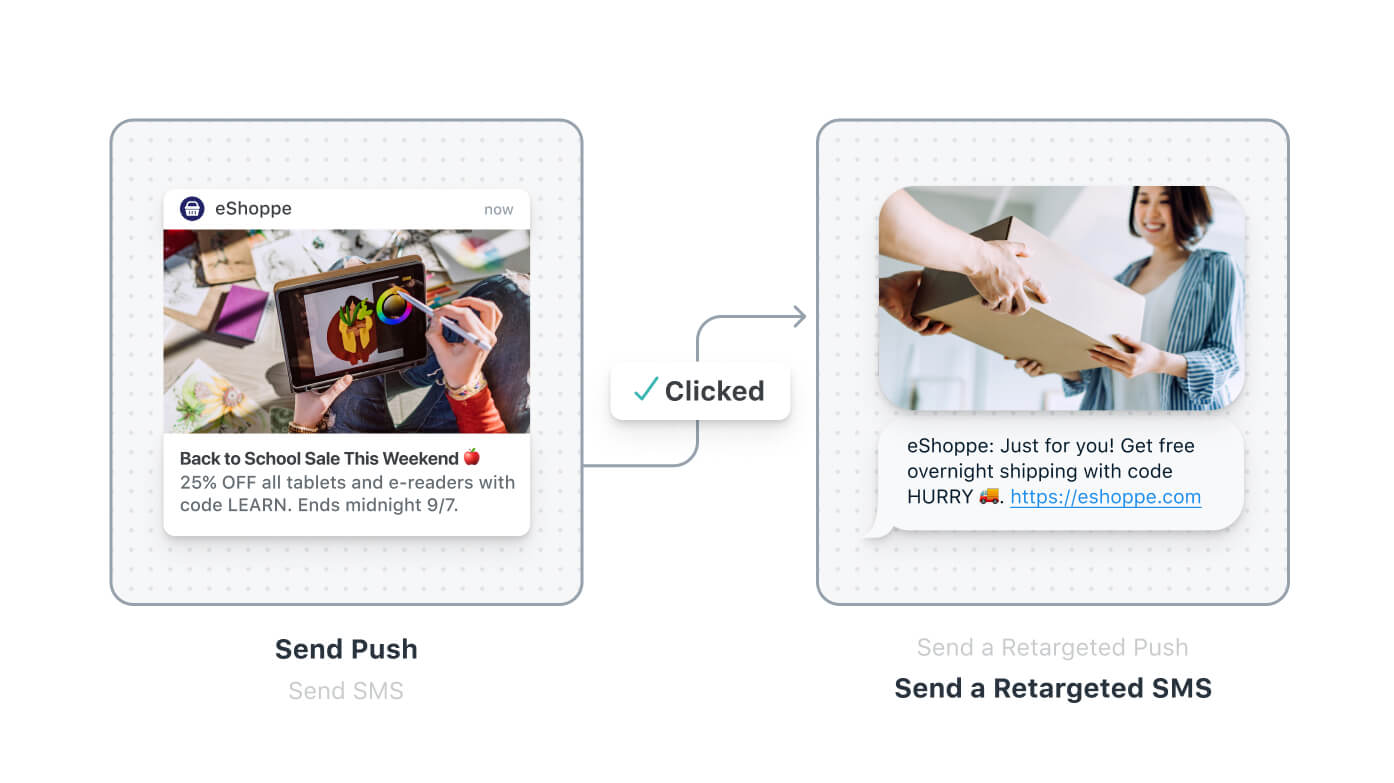 Example Retargeting Use Cases
Use Retargeting across each step of your customer journey. Turn browsers into buyers — send a follow-up promo or offer to customers who clicked on your holiday sale push notification. Turn customers into advocates — send a customer satisfaction survey after sending a successful order delivery notification. Optimizing your follow-up approach can increase engagement, satisfaction, and revenue.
Many companies have expressed an interest in using SMS as a complementary channel to push notifications. Combining push and SMS is a powerful way to reach your audience in a mobile-first way while lowering your costs compared to using SMS as a primary messaging channel. Cross-channel retargeting is a smarter, more cost-effective way to leverage SMS within your messaging strategy. For example, a retail company can send an initial promotional sale message via push and then retarget users who didn't click with a follow-up SMS.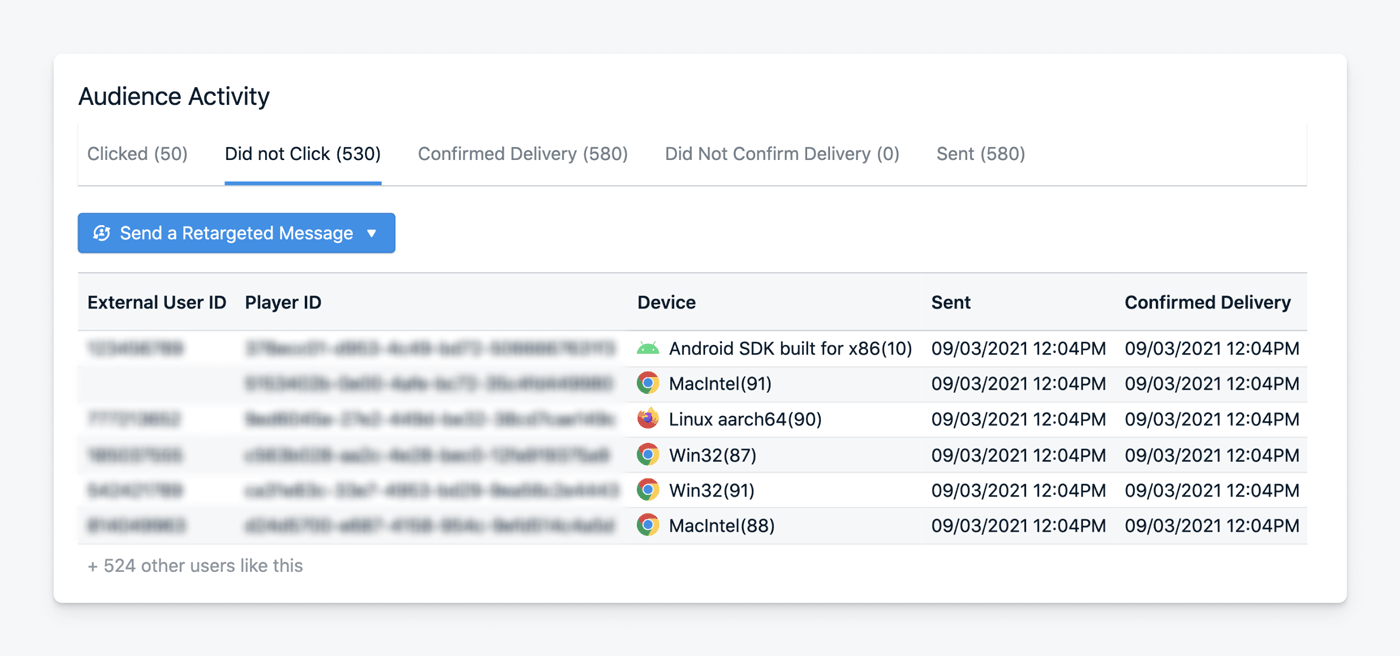 SMS Retargeting Options
Make the most of each campaign by following up intelligently. When your initial message is a push, you'll choose among the push retargeting filters. When your initial message is an SMS, you'll use the following SMS retargeting filters. Choose the appropriate filter for your messaging objectives.
Delivered Filter
Delivered (received carrier confirmation): This audience received your SMS. You can build out your sequence and send a follow-up to communicate additional information or offer a promo to encourage engagement.
Not delivered (did not receive carrier confirmation): Occasionally, message delivery may go unconfirmed. You can consider resending your message via push to make sure your audience has received your message.
Sent Filter
Send a follow-up message targeted to your original message audience. You can only retarget devices you sent the first message to, rather than the current subscribers who meet your Segment criteria.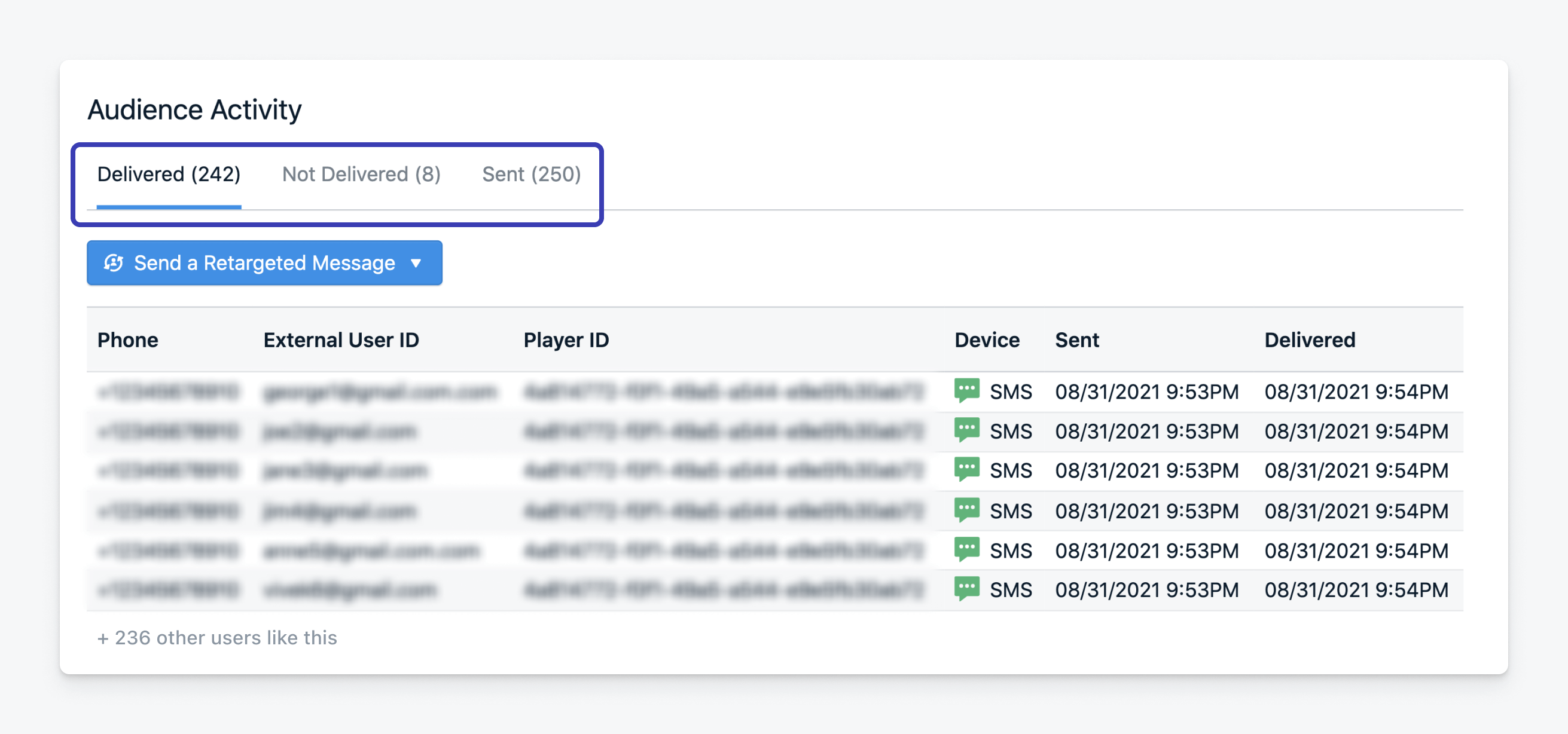 New Audience Activity Panel for Fast Previews
In your message delivery report, we've added a new Audience Activity section to make Retargeting a more seamless experience. For each retargeting filter, you can quickly preview the list of devices in that sub-audience alongside information around their engagement. Easily toggle between each filter for an overview of the sub-audiences. You can also create your retargeting message directly from this panel.
New Retargeting from Messages List for Quicker Access
You can now create a retargeting message directly from the list of notifications in your Messages dashboard, in addition to the delivery report of your original message. Click on the dropdown of the original message you would like to retarget, and then choose "Retarget". This will automatically create a new message with the chosen retargeting audience already pre-populated.
Ready to start optimizing your messaging campaigns? Visit our documentation to learn how to set up a retargeting message in minutes. In order to use cross-channel Retargeting, you will need to make sure your user's push devices and SMS phone numbers are connected through an external user ID.
Retargeting is available to all users on Paid Plans. Upgrade today to access your audience activity and optimize messaging follow-ups across channels with Retargeting.
Learn More about SMS Messaging Strategy
In addition to retargeting, SMS is well-suited to a variety of other transactional and marketing messages and can provide unique benefits when used alongside other messaging channels. As you build out your SMS campaigns, understanding what messaging strategies work well in different contexts and industries can help you outpace your competition. Download our free SMS eBook to learn fundamental SMS messaging strategies, use cases, best practices, and insider tips for leveraging SMS across industries.
Get the Comprehensive Guide to SMS Marketing