OneSignal is excited to announce we've launched push retargeting! Now, you can easily send follow-up notifications based on how users responded to a previous push notification.
What is Retargeting?
Companies use terms such as retargeting, remarketing, and reengagement in different ways. Fundamentally, these are all ways to follow up with users to get them back in the journey, whether that's through messaging or ads.
Message retargeting is sending a follow-up message to an audience based on an original message. This type of outreach is organic and reaches your own audience through messaging channels they have opted in to. OneSignal enables you to retarget your audience with push notifications.
This is not to be confused with ad retargeting, which shows paid ads across the web to your visitors after they've left your website. This type of outreach is paid and involves using cookies and tracking visitors as they visit other websites to serve them ads. OneSignal does not provide ad retargeting.
Why use Retargeting?
Companies usually send messages with a desired result in mind, whether it's to get the audience to return to their app, make a purchase, or something else. By learning how users engaged with your original message, you can optimize a better follow-up strategy.
For the audience segment that already engaged with your original push, you can reinforce your messaging or communicate next steps. For the customers that did not engage, you can try a different approach, perhaps with a more powerful CTA or by sending a special discount.
Retargeting Options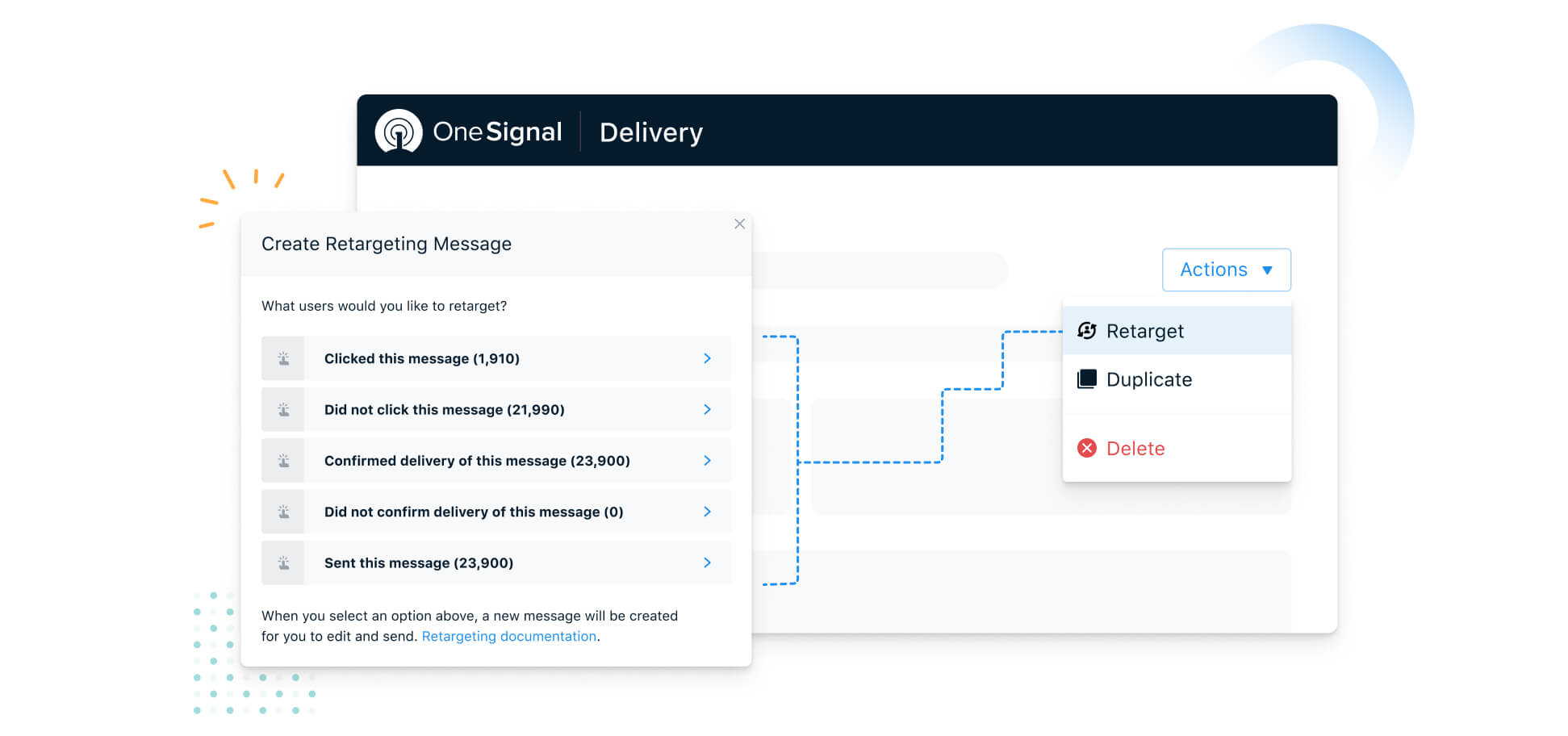 Clicked Filter
People who clicked: This audience was interested in seeing what you had to communicate. You can build a sequence and send a follow-up about next steps or use this to send a reminder in the future.
People who did not click: Maybe this audience didn't see your notification or it didn't resonate with them. Try to reframe your messaging or communicate a different value prop, or send a follow-up discount offer to users who didn't engage with your product launch announcement.
Confirmed Delivery Filter
People who have Confirmed Delivery: Confirmed Delivery verifies that your end user's device received the message. You can build a sequence and send a follow-up to communicate additional information.
People who do not have Confirmed Delivery: Occasionally messages may not be able to be confirmed. You may want to send again to make sure the audience receives your message.
Sent Filter
Send a follow-up message to your original message audience. You can retarget only devices you sent the first message to rather than the current subscribers that meet your Segment criteria.
Creating a Retargeting Message
You can easily create your retargeting message from the delivery report of your original message. This will automatically create a new message with the chosen audience already pre-populated. There is no need to enable retargeting ahead of time.
You can also generate another retargeting audience from your follow-up message and keep honing in on your desired audience segment.
Retargeting is available on our Growth, Professional, and Enterprise Plans. View our pricing page to figure out the best option for your company.
View OneSignal Plans & Pricing