When it comes to user engagement, OneSignal and Braze continue to find themselves at the top of the market for best push notification services. However, while both OneSignal and Braze provide advanced tools to deeply engage with users, each product is curated towards entirely different customer experiences.
While Braze provides a one-stop platform exclusive to advanced marketing teams, OneSignal is built for scale, readily available for anyone from anywhere.
Braze offers a robust, personalized customer journey that is unique to each user, focused intently on CRM specifically designed for marketers seeking a full suite of tools. Learning to maneuver through Braze's complex UI platform can therefore require a bigger investment of time, money, and manpower. While larger companies often can shoulder this burden, many small-medium businesses can't afford to dedicate the resources needed to use Braze to its fullest potential.
OneSignal encompasses the best of breed for push notifications, in-app messaging and advanced features that are easy to use, providing a user-friendly and simple solution for developers to maneuver the platform. OneSignal is built for scale & reliability, supporting 900,000 companies that together send over 8 billion push notifications per day around the globe.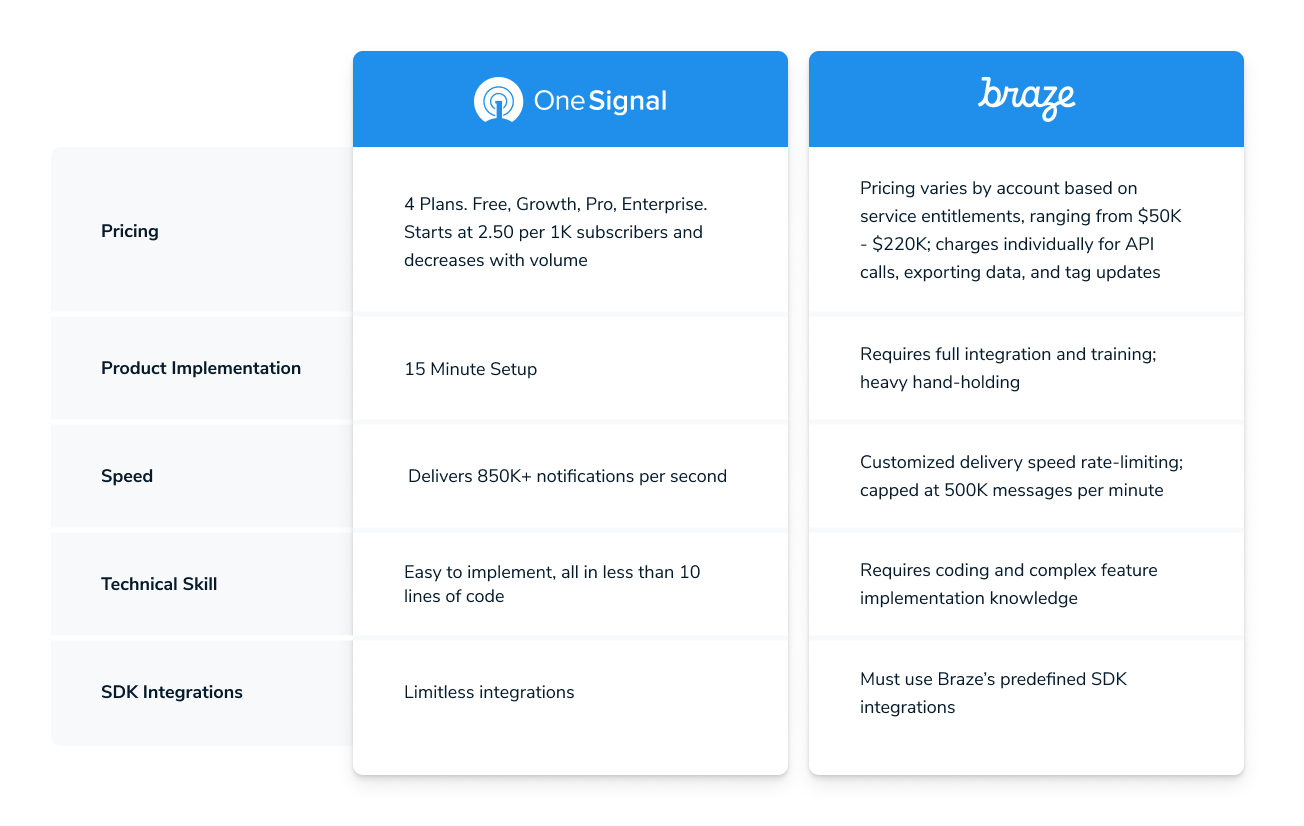 OneSignal is an excellent marketing automation platform for developers & business owners looking for a highly-reliable, open solution (API's, Plugin's to common tools) at great value, whereas Braze is best for marketers seeking a full-suite, advanced marketing automation tool at a premium cost.
Pricing
Braze's pricing model is based on four subscription plans — growth, advanced, pro, and enterprise, with the price ranging from $50K - $220K depending on service entitlements and product inclusions. This means that Braze charges for individual features such as API calls, updating tags, and exporting data from their system. With no free trial offers, Braze customers must therefore allocate for a steep budget in order to leverage the platform effectively.  
OneSignal's base product is completely free to use with no cap on the number of mobile users and allows for up to 10K Web subscribers. OneSignal provides three paid plans between Growth, Pro, and Enterprise which grants access to robust features such as enhanced segmentation, in-app messages, and advanced analytics. Our aim is provide a great free product, then offer more advanced features and higher volume usage on affordable, fair paid plans.
Scale & Reliability
Braze sends "tens of billions" of messages per month to 2.1 billion unique devices. As you can see below, OneSignal has delivered more than 6.4 billion messages in a single day. With this unbeatable delivery pipeline, it becomes easy for over 870K developers to trust the validity and effectiveness of OneSignal's product.
Implementation
Without needing a team of engineers to do the backend work for you, you can implement OneSignal's entire platform in less than 15 minutes with a few lines of code. Our advanced data tags, segmentation, rich media, and automation features is straightforward and provided without constraints, allowing developers to achieve 85% of what they would with a Braze solution.
Not only is OneSignal easy to implement, but it is built for users of all technical backgrounds to quickly install our service onto any major mobile programming languages and web publishing platforms such as WordPress and Shopify.
As a less developer-centric solution, Braze is much slower to introduce support for newer platform features, such as iOS 14 beta support, App Clips support, and more.

Customer Usage
Braze offers a great multi-channel messaging platform for high-level users, but this primarily limits how one can engage with users outside of the full Braze-driven customer journey.
In terms of customer experience, Braze users find that Braze's Advanced Customer Engagement (CEM) platform is advantageous for sending a large range of campaigns. Braze provides highly-advanced cross-channel personalization, but its product complexity can over-burden users with intense training and support. In addition, Braze does not provide SDKs for many popular development platforms, including Ionic and Expo, making it much harder for developers to integrate the product. OneSignal customers, on the other hand, are positioned to maneuver the platform more freely and export data with ease.
OneSignal offers a proof of concept that outlines key considerations and provides recommendations on how to make the best use of our product.
Advanced Analytics & Conversion Tracking
Both OneSignal and Braze provide an analytics suite that includes conversion tracking. However, Braze uses personalized success metrics whereas OneSignal integrates seamlessly with leading analytics solutions (such as Google Analytics) to track and aggregate customer engagement. In addition, many user-level analytic features are not available with Braze unless a client is already using additional tools such as Amplitude.
OneSignal's Advanced Analytics is a turn-key solution for measuring, reporting, and uncovering actions users take on your website or app. This industry-leading event tracking system helps our customers drive goal-based results, and includes Confirmed Deliveries so users know precisely when a device receives a notification.
While Braze customers must pay separately for each individual feature, OneSignal's API capability is all-included under one platform. Our Notification History API is a powerful way to send personalized messages at scale and build effective user engagement strategies.
Marketshare Leader
OneSignal is used by significantly more companies for mobile push, web push and in-app.  Braze is well adopted by some large brands, however, their volume of messages sent and scale are significantly lower, as you can see from the below graph and view at various 3rd party tracking of SDK usage on Mobile & Web.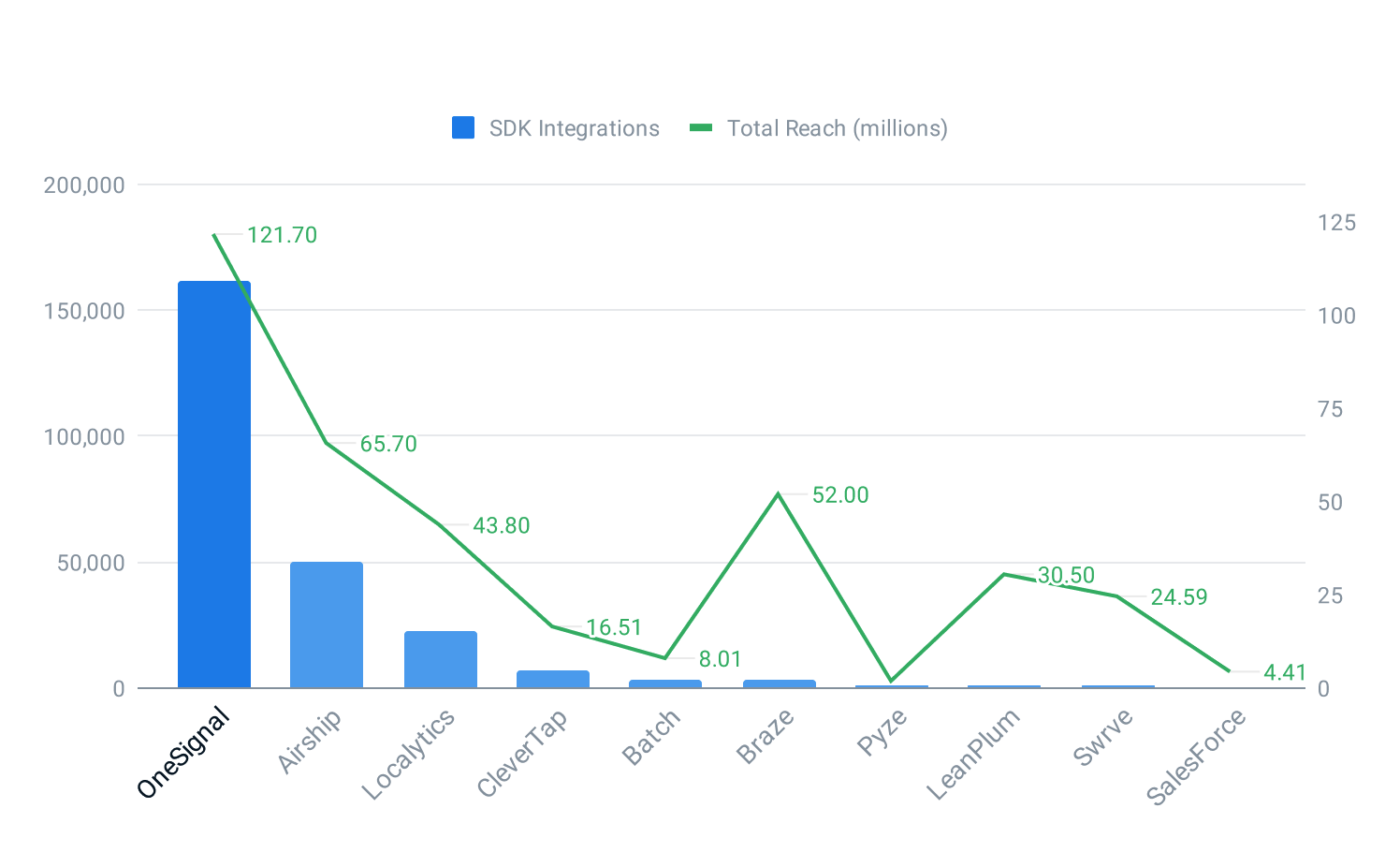 Messaging Channels Supported
Braze & OneSignal both support Mobile Push, Web Push, In-App, Email, and SMS (through Twilio).
For Braze, transactional messaging analytics are only stored for a short duration. In fact, their transactional messaging capabilities are not designed to scale and often provide very limited analytics. For customers that do try to use Braze in this way, the price often scales to unaffordable levels.
Speed
Delivering messages on time and fast is important. Whether its news, delivery, activity, promotion message, timeliness is crucial. OneSignal can deliver up to 800K notifications per second — more than two times Braze. In terms of speed, Braze's product allows you to specify a per-minute rate limit for sending messages, but such increments only go from as low as 50 to as high as 500K messages per minute. As such, Braze is highly beneficial to customers who want to control marketing pressure; however, this may be limiting to other developers pushing to send notifications at a greater volume.
Conclusion
Braze has been designed to replace tools like Marketo and Salesforce marketing cloud, and as a result, Braze's capabilities tend to be focused on an enterprise marketer, rather than building a developer-friendly solution.
Braze is extremely sophisticated in offering a detailed customer journey curated towards larger marketing teams, but in terms of cost, simplicity, reliability, and speed, OneSignal takes the lead for the best marketing automation solution in the market. Try OneSignal for free today.