As two of the most popular push notification providers on the market, OneSignal and Braze are often the subject of comparison. While we both provide an advanced suite of tools to engage with end users, our solutions differ with regard to the user experience and functionality we offer. Below, we've detailed some key ways that our platforms and plans are unique.
Article Overview:
Pricing
Braze's pricing model isn't public, but typically ranges from $50K - $220K depending on service entitlements and product inclusions. This means that Braze charges for individual features such as API calls, updating tags, and exporting data from their system. That means that leveraging the platform to the greatest effect may demand a large budget.
We offer a free account that includes unlimited API sends, unlimited mobile push subscribers, and up to 10,000 web push subscribers. Our aim is provide a great free product, then offer more advanced features and higher volume usage on affordable, fair, value-rich plans.
Unlike Braze, we've chosen to make our pricing model and plan details public so that you won't encounter any surprises down the road. In an effort to respect your time and trust, we also offer self-serve purchasing options, so it's easy to get started or upgrade your account without jumping through hoops.
While Braze customers must pay separately for each individual feature, OneSignal's API capabilities are included with our free platform. Our Notification History API offers a powerful way to send personalized messages at scale and build effective user engagement strategies.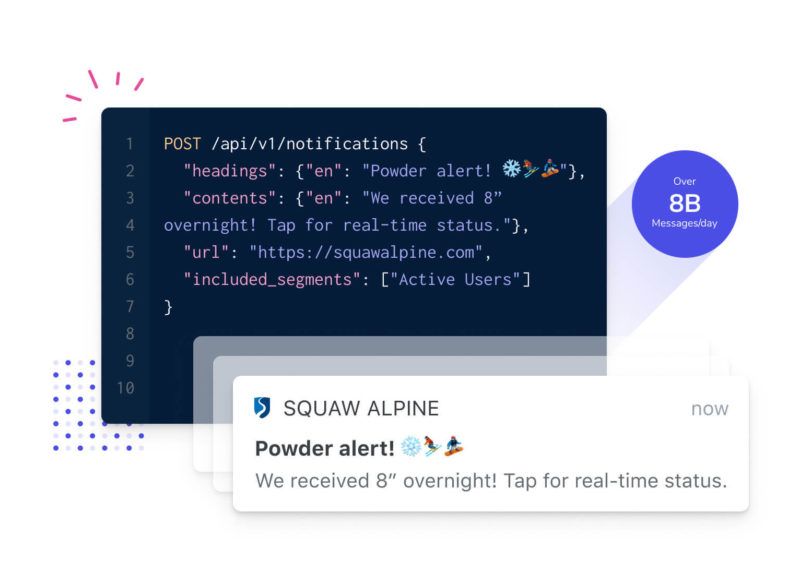 Scale and Reliability
Braze sends tens of billions of messages per month to 2.1 billion unique devices. In contrast, OneSignal has delivered more than 8 billion messages in a single day. With this unbeatable delivery pipeline, it's easy to trust in our reliability and scalability.

Customer Satisfaction
Braze provides advanced cross-channel personalization, but the complexity of the product can require intense training and support. In addition, Braze does not provide SDKs for many popular development platforms, including Ionic and Expo, making it much harder for developers to integrate with the product.
We offer more built-in customization options than Braze, so it's easy to execute and optimize your messaging strategy without relying on technical support at every juncture. Our flexible, straightforward UI is a key reason why we outscore Braze in overall customer satisfaction, ease of use, key feature satisfaction, messaging automation and personalization capabilities, and analytical insight.
Advanced Analytics and Conversion Tracking
Both OneSignal and Braze provide an analytics suite that includes conversion tracking. However, Braze uses personalized success metrics whereas we integrate seamlessly with leading analytics solutions such as Google Analytics to track and aggregate customer engagement data. In addition, many user-level analytic features are not available to Braze users unless they're already using a third-party tools such as Amplitude. OneSignal's Advanced Analytics is a turn-key solution for measuring, reporting, and uncovering actions users take on your website or app.
Push Notification Delivery Statistics
In addition to tracking sent messages, our Confirmed Delivery feature also tracks when a device successfully receives a notification or turns off notification permissions to ensure that you're understanding the full picture. In contrast, Braze only shows when a notification bounces, but not when a device chooses not to display it due to user preferences. This subtle but significant difference in their analytics can make it more difficult to get an accurate understanding of your notification delivery — and can make it more challenging to troubleshoot and optimize your messaging strategy.
Direct Opens & Influenced Opens
OneSignal supports tracking influenced opens on different intervals, including 15-minute, one-hour, and 24-hour time windows. These time windows can help you understand how effective your notifications are based on how quickly users takes action.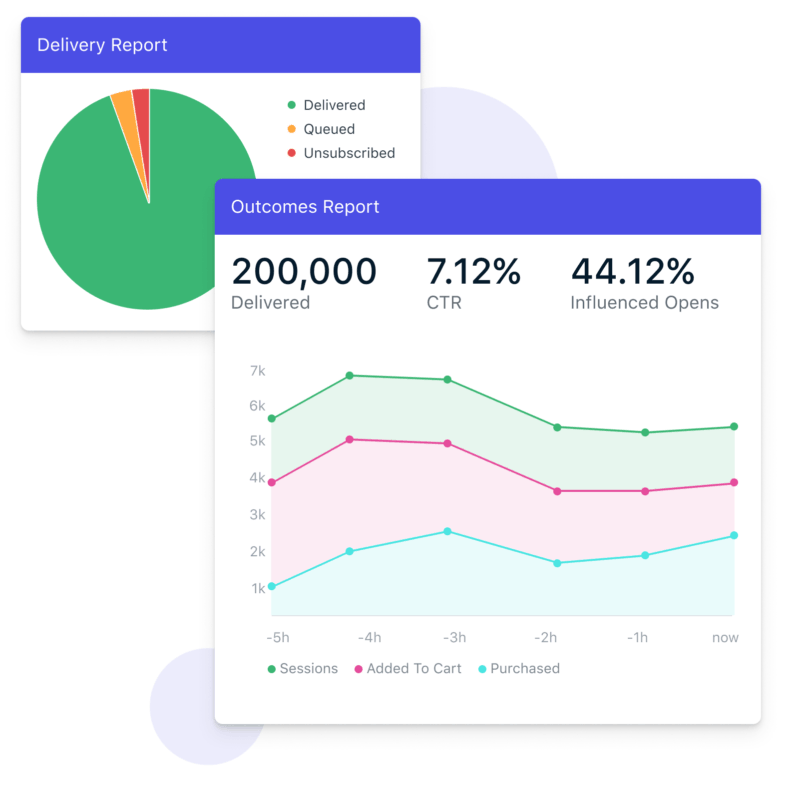 Braze tracks when a user is influenced to open an app from a notification, but the time window is inconsistent and can be extremely long. This can make it more difficult to accurately gauge if a notification genuinely led a user to open the app, or if the user would have opened the app anyway.
Robust Free API
Unlike Braze, we provide free unlimited API access, so you have the technical flexibility to execute custom use cases and event tracking, without breaking your budget.
Sending Messages
Despite having similar message targeting capabilities to OneSignal, Braze offers limited API message analytics. Unlike OneSignal, Braze limits retrievable analytics for API messages by  preventing access to individual API notification statistics and deleting API message statistics 14 days after they're sent.
Creating Segments
While Braze supports adding users to "subscription groups," they lack a method of creating or modifying user segments via an API. We let you view, modify, and create new dynamic segments via API and allow you to target users through both our dashboard and our API.
Exporting Data
With our API, you can easily retrieve information about an individual notification and export more extensive data lists on a variety of notifications. Braze's API makes it difficult, if not impossible, to export a list of sent notifications and their analytics.
Updating Data
Unlike OneSignal, Braze charges clients by the number of events tracked via their API, which can result in unexpectedly high costs for companies with lots of subscribers and custom use cases. Braze's default event updating framework is limited to updating 800 users per second, which can also lead to data accuracy issues and system errors. In contrast, OneSignal doesn't charge by event and we believe that it's bad practice to have low per-second event limits when popular apps can have thousands of active users.
Supported Messaging Channels
Braze and OneSignal both support mobile push, web push, in-app messaging, email, and SMS (through Twilio). In addition, Braze also offers in-browser messaging.
Mobile Push Notifications
We're proud to be the market leader in mobile push, with over 250,000 active apps using the service across 1.3 million developers. Braze has roughly 4,000 active apps.
We provide a streamlined UI which allows you to build and edit notifications all on one page. In comparison, Braze requires users to navigate across multiple pages in order to manage or edit notifications, which can increase the amount of time it takes to send messages.
Rich media is critical to ensure that your notifications attract attention and compel engagement. We make it easy to add rich media and customize design elements to fit your brand identity.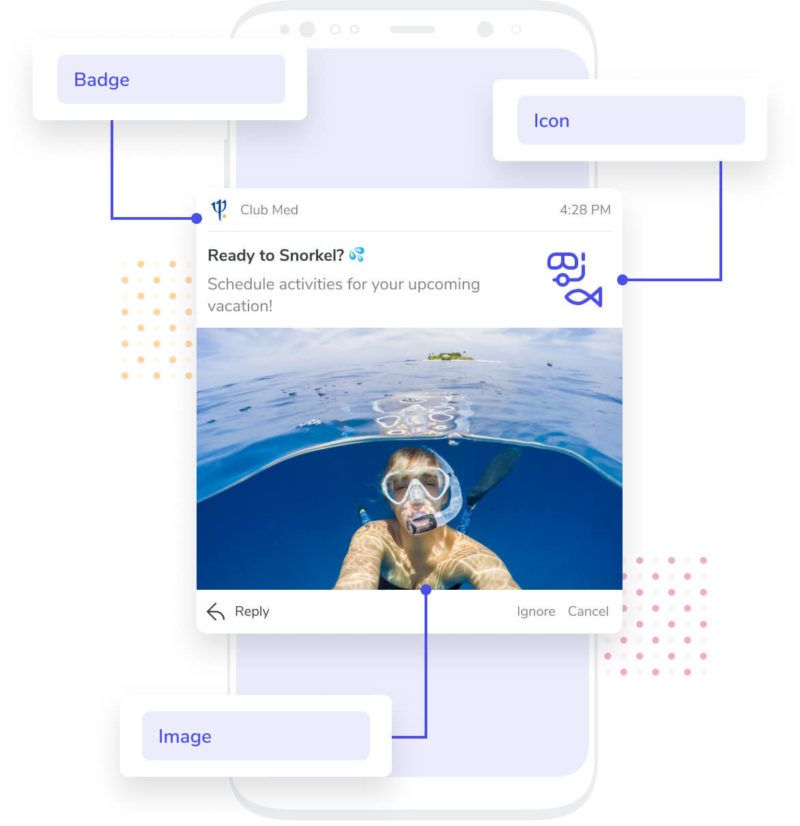 In Braze's dashboard, certain message elements such as iOS button text or message priority settings require manually updating your app code. We automate these processes to ensure that you can send rich notifications and customize content in an efficient and reliable way.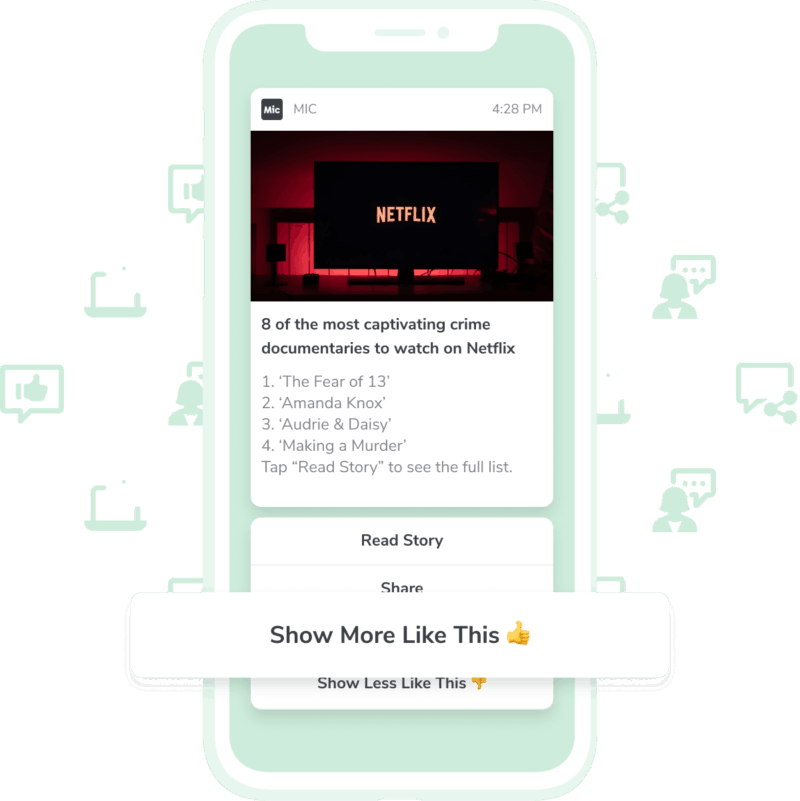 Earning Push Permission
We make earning push permission easy with a simple, code-free in-app message setting that you can toggle on or off when building your message. Braze requires users to manually make changes to their app code in order to implement a two-step opt-in permission process.
Web Push Notifications
We are also the market leader in web push — over 300,000 websites that have implemented OneSignal, compared to 1,500 websites that use Braze.
In our message builder tool, we include accurate previews of web push notifications before they are sent, across macOS, Windows, and Android devices. Braze's documentation and previews are more limited, so it can be difficult to understand how a message will look on different browsers before sending.
Earning Push Permission
We offer multiple web push permission prompting options, including a floating "bell" icon, an in-line button, as well as various types of prompts on the page. Braze requires websites to manually implement their prompting logic from scratch, which can take more time to develop and be subject to reliability issues.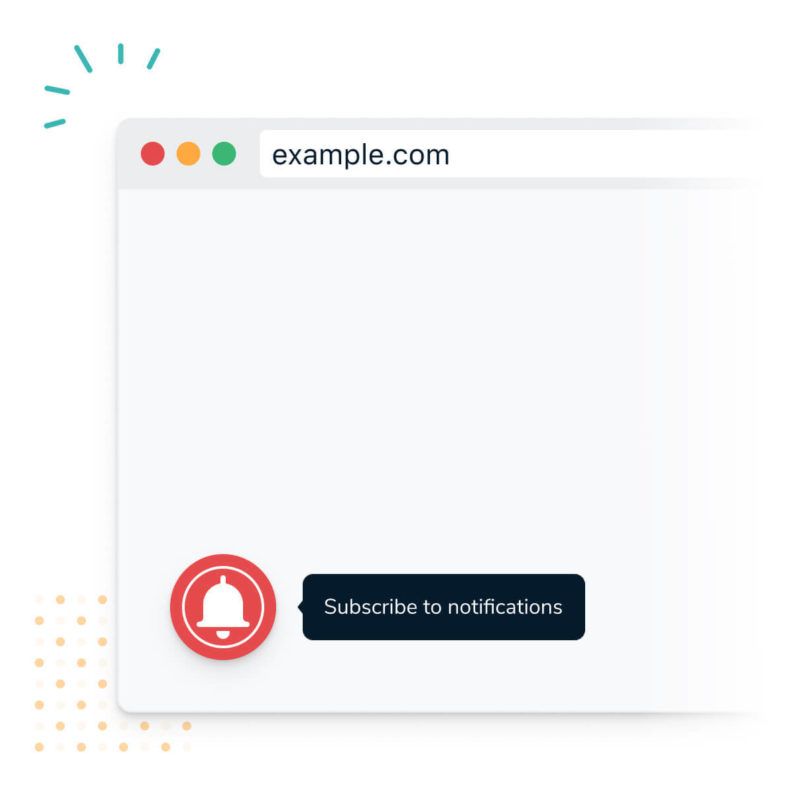 Email
Our simple but powerful drag-and-drop email editor offers a variety of built-in customization options to design the perfect message for every use case. Braze's native email editor provides less flexibility, but they offer the option of integrating with third-party tools such as Stripo to provide drag-and-drop email building capabilities.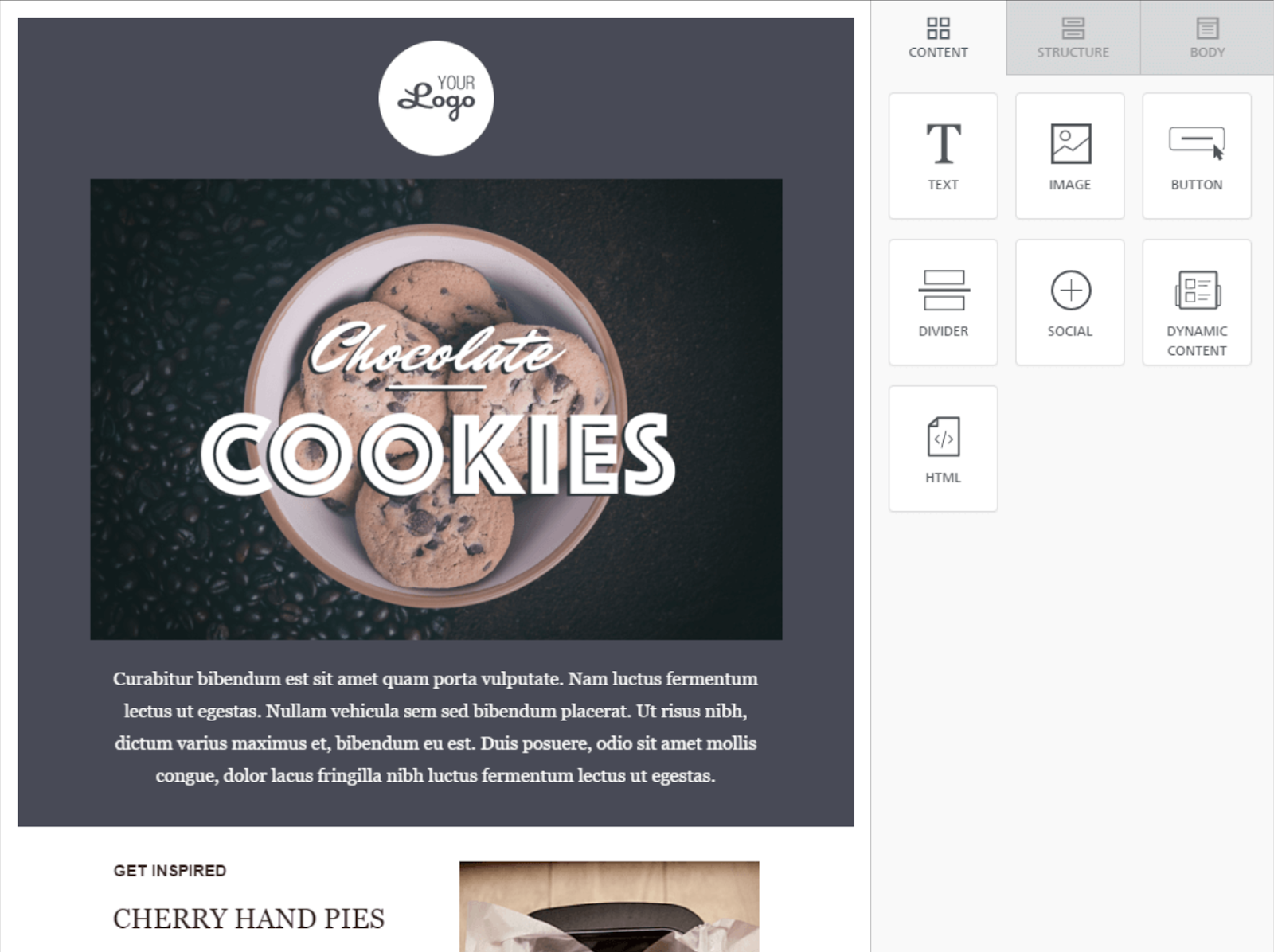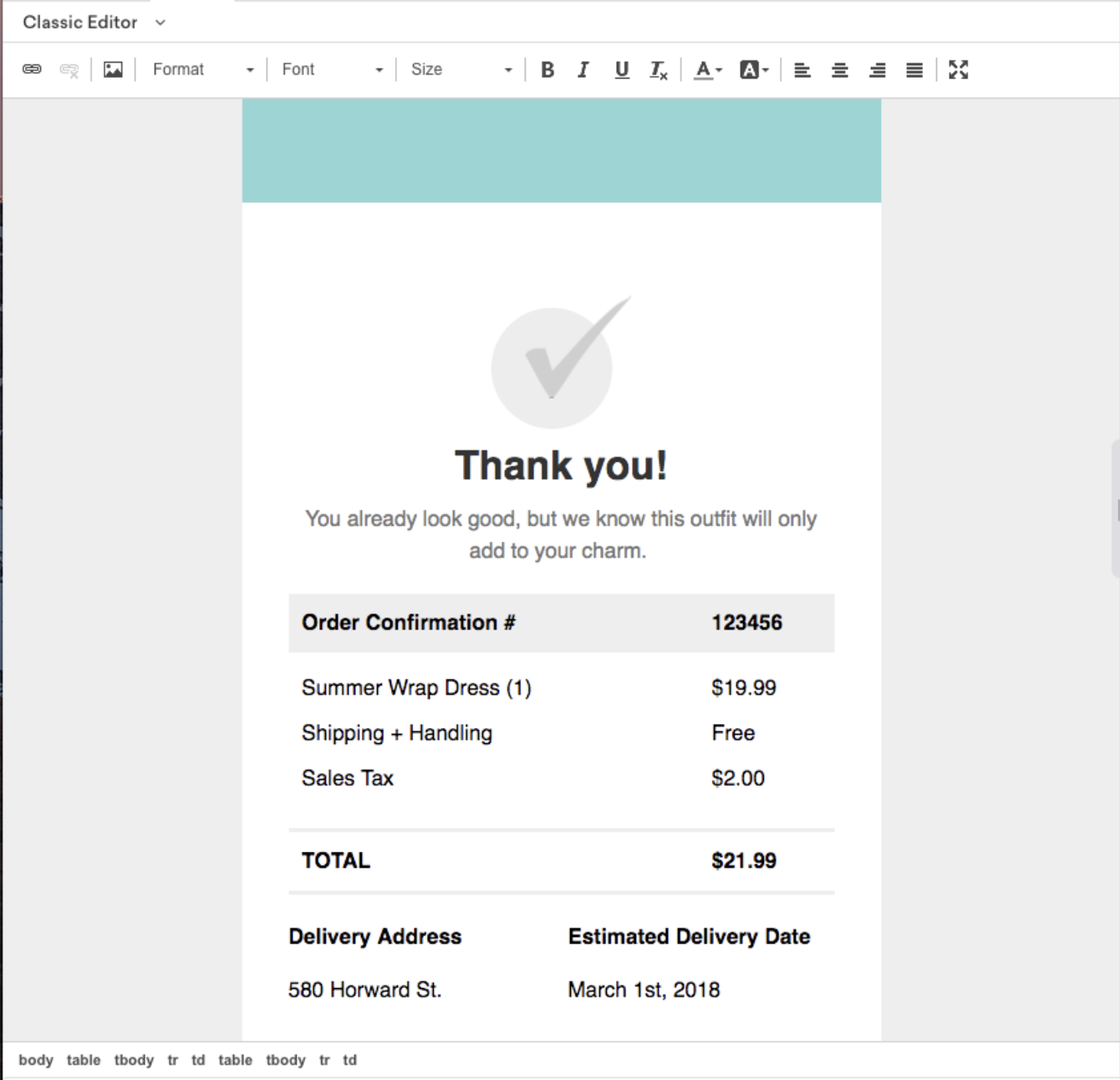 IP Options
We offer both pre-warmed shared IPs (multiple domains), as well as dedicated IPs (only your domain) to give you more setup options. In contrast, Braze requires a dedicated IP and requires a manual email warmup process which can extend the time it takes to get up and running. We streamline this dedicated IP warmup process by automatically delivering messages more slowly.
What's the difference between a dedicated IP and a shared IP?
Dedicated IPs are beneficial for companies that are sending a large volume of emails (around 100,000 emails a year) and want a higher degree of control over their domain reputation. However, dedicated IPs aren't typically pre-warmed — in other words, they don't have an established reputation, so emails are more likely to be marked as spam. Warming up a dedicated IP can be time consuming and, although it gives the domain owner more control over their reputation, it also comes with greater responsibility. In contrast, shared IPs are often a more cost effective and efficient alternative for smaller companies. They are well established and can provide more reliable message delivery from day-one.
ESP Options
OneSignal partners with multiple best-in-class ESPs — SendGrid, Mailgun, and Mandril. Customers can choose to either use their own ESP account, or have OneSignal manage it for them. These partnerships ensure that we can deliver flexible and efficient setup options as well as best-in-class email performance. Braze requires the use of their white-label product, which can be a tradeoff for companies that already have an existing ESP account or would prefer to use a more established provider.
Email Address Collection
We provide an intuitive and customizable web prompt template to collect user email addresses. Our web prompts can be triggered based on user interactions and deliver a seamless user experience with simple setup. These pre-built prompts can also be used to collect user phone numbers for SMS.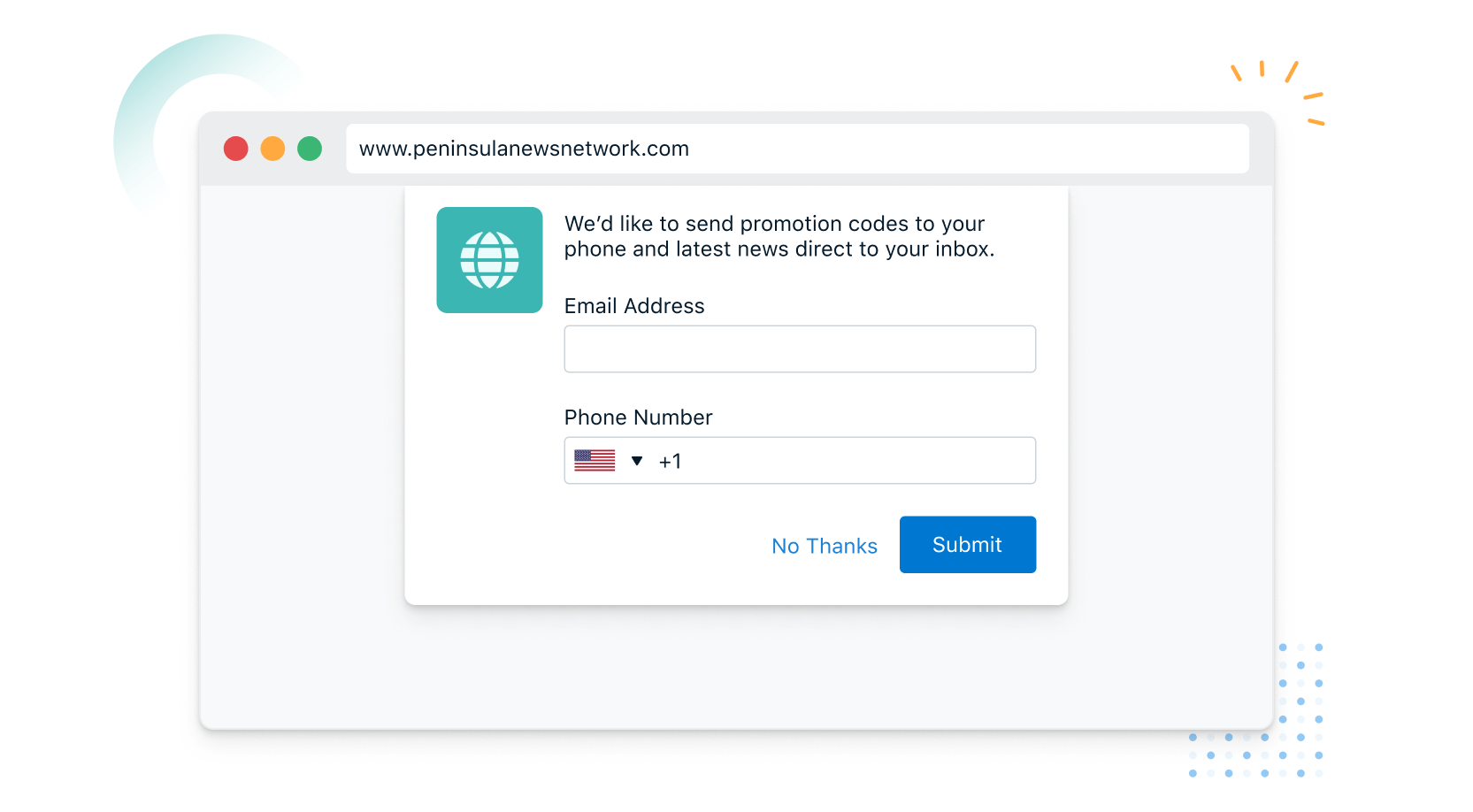 In addition to providing pre-built templates, we also give you the option to build your own forms and quickly sync emails via our web or mobile API. In contrast, Braze's email prompt form is more complex to set up and is more limited in its customization and form field options.
SMS
We allow customers to bring their own Twilio accounts and any existing phone numbers, or choose to use a OneSignal-managed Twilio account. Braze requires users to use a Braze-managed Twilio account to access their SMS product. You can get up and running with OneSignal in one day, as the process is fully automatic, and support is there for help if needed. Braze requires working with an onboarding manager to set up phone numbers and subscription groups, which can extend the onboarding timeline.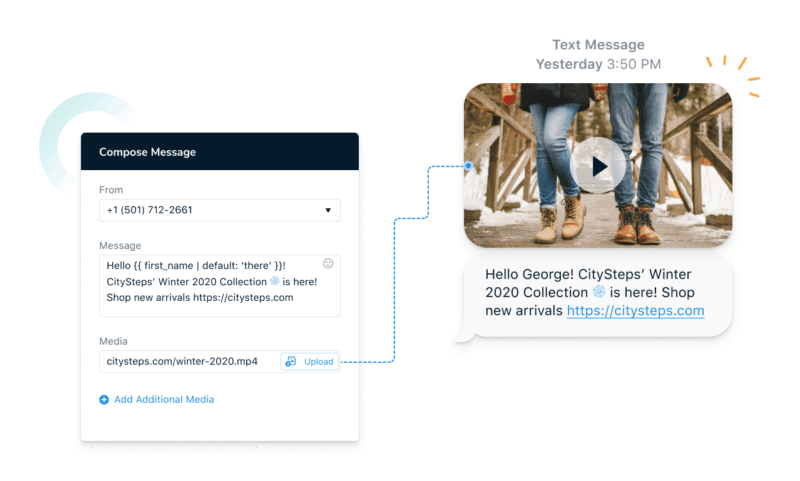 Message Deliverability
OneSignal will automatically send text messages at the exact speed supported by each mobile number and will gracefully handle errors by re-trying when it is appropriate to do so. Braze does not provide any rate limit protections and advises users to manually "adjust the delivery speed rate limiting for your campaign/canvases as needed…[to ensure that] Braze sends the messages at the rate that the phone numbers you provisioned can handle." This means that users must manually manage message rate limitations, which can result in message deliverability issues without vigilant oversight.
In-App Messaging
Our intuitive in-app message builder gives you greater control over message layout, content, and design.
We also offer five versatile, pre-built in-app message templates for push notification permission prompts, welcome messages, new feature announcements, promotions, and app store rating requests. Braze provides templates for a permission prompt and app store review prompt, but these require technical setup which can limiting for non-technical users.

We also offer an in-app carousel feature, which allows you to build up to 10 screens of customizable content in a scrollable, "carousel" format. Multiple slide cards empowers you to tell a cohesive story, introduce users to new features, or create engaging promotions without relying on developer support. Braze offers stand-alone in-app content cards, but these cards cannot be linked together to create a longer sequence.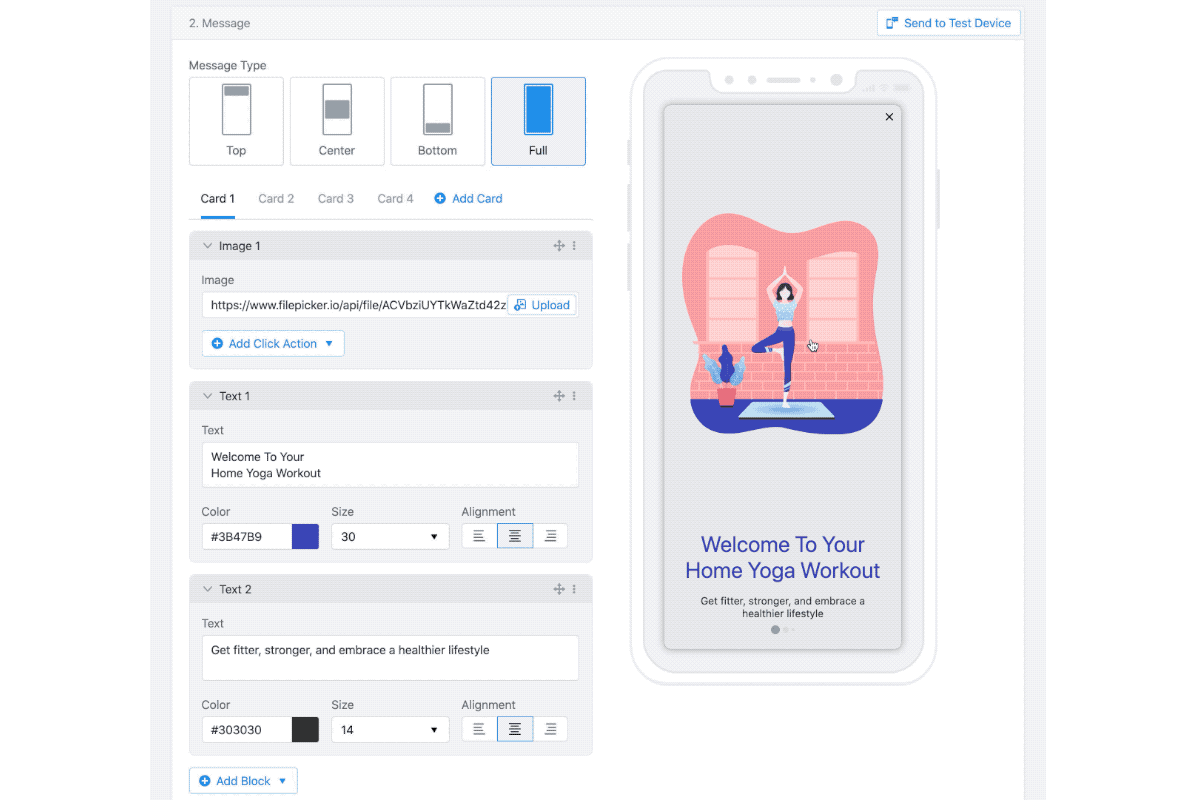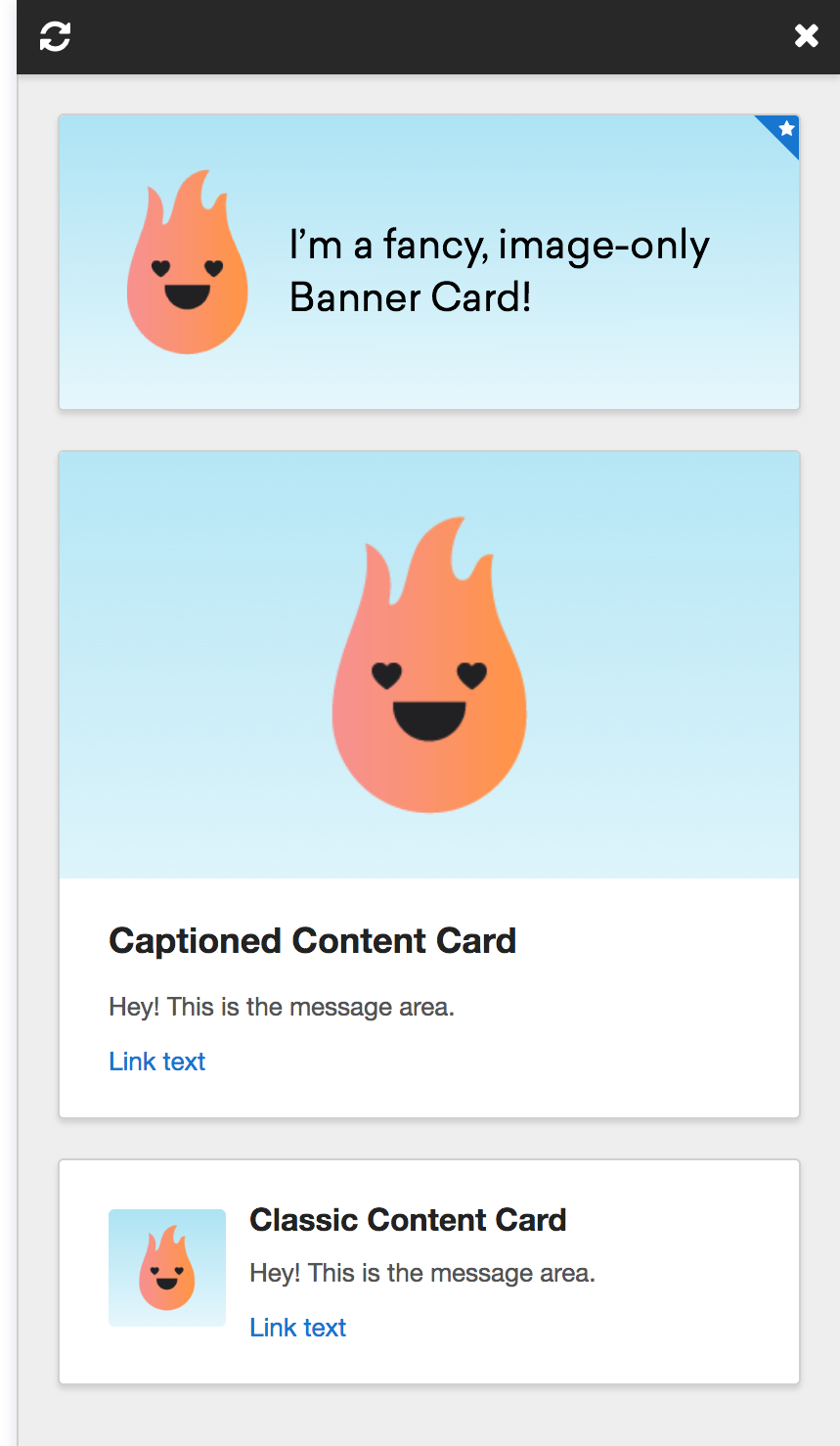 Our flexible UI also allows you to build in-app surveys, so that you can collect valuable feedback from users while they're actively engaged in your app. Braze requires integrating with a third-party solution in order to create in-app surveys.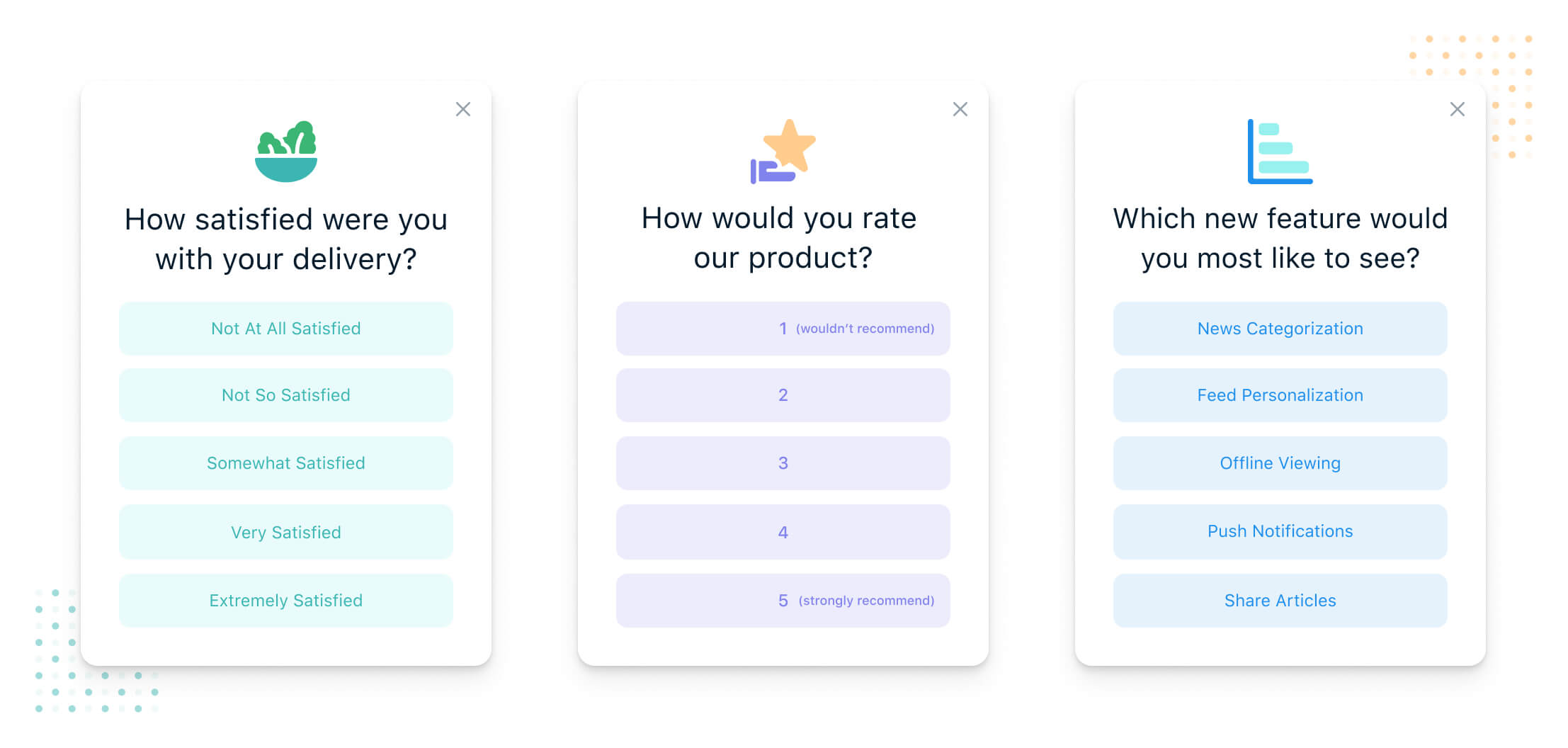 Learn Why Other Companies Chose OneSignal
It's no accident that we're the world's leading messaging provider. Learn why we've earned the respect and trust of companies across different industries and countries — and why they chose to make the switch to OneSignal.