We are thrilled to announce that OneSignal has been recognized as the top push notification provider in the G2 Fall 2020 Reports, based on reviews from real OneSignal users.
OneSignal has also been rated the easiest mobile marketing tool to use and the proactive notification service with the fastest implementation time. These awards are a clear testament to the user obsession that has driven the team at OneSignal since its inception in 2012.
Our customer-first approach and passion for delivering products that empower businesses of any size to connect with their audiences, has not only allowed us to gain a significant presence in the market, but also receive the highest customer satisfaction score on G2. We are humbled by the validation from our customers and will continue working to create a developer-friendly product that offers enterprise-grade features, unparalleled reliability, and industry-leading delivery speeds.
Our Ratings in the G2 Fall 2020 Reports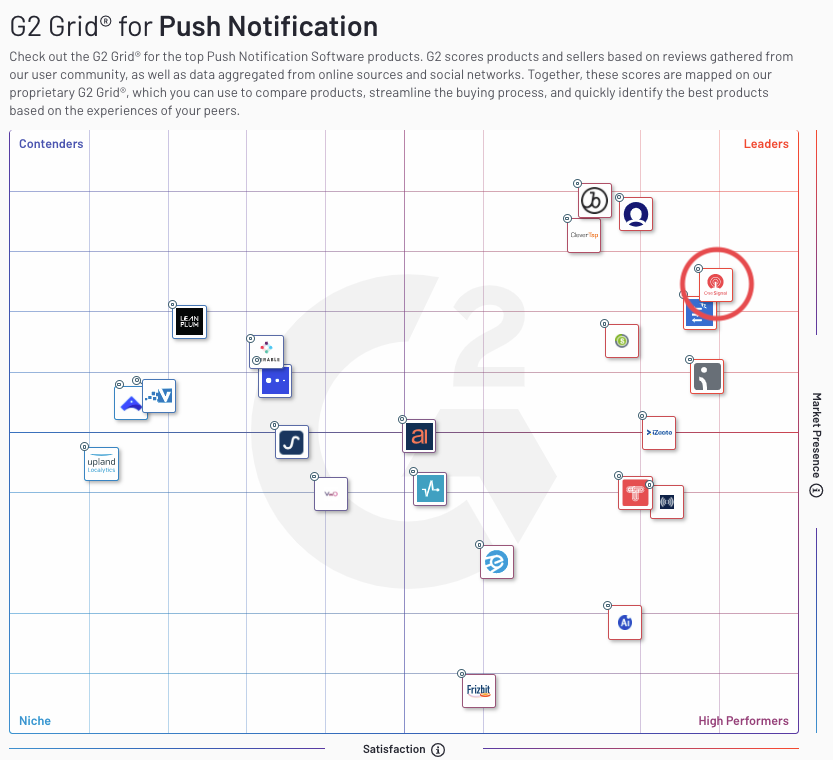 Highest Satisfaction Score
Products in the Leader quadrant in the Grid® Report are rated highly by G2 users and have substantial Satisfaction and Market Presence scores. OneSignal attained the highest user satisfaction score of 89.
Fastest Product to Implement
OneSignal was named the fastest product to implement in the G2 Implementation Index for Proactive Notifications. Our platform was reported to have the shortest go-live time in the category, earning the top score of 2.85.
OneSignal users benefit from our robust documentation that provides clear, detailed instructions on how to get started with our platform, utilize our features, and optimize your campaigns for success. Additionally, our support team is available around the clock via chat to answer any questions you might have. All Pro Plan customers receive a one-on-one onboarding session with our Customer Success Managers and each session is customized to your business's needs.
Easiest Solution to Use
OneSignal was also named the easiest solution to use in the G2 Usability Index for Mobile Marketing, earning the highest Ease of Use rating of 2.9 of in this category.
The OneSignal platform was designed with developers and marketers in mind. Regardless of your technical experience, the OneSignal web dashboard makes it simple to create, manage, and deliver your messages. Take a look at what one company had to say about OneSignal's ease of use.
What Our Customers Say
We've always been obsessed with listening to customer feedback and translating your requests into product innovation. Some of our latest features, such as Automated Email and In-App Carousel, were highly requested by OneSignal users. Take a look at what real users had to say on OneSignal's G2 review page:
"First of all, the support they provide is awesome, they're always eager to help and to make any integration with their plugin easy. Also, the plugin works very well and has a lot of options to cover almost any integration with a variety of technologies.
This allows us (customers) to use OneSignal as a service for all of our web products that need push notifications, from web push to android and ios support. Moreover, they have it all, Wordpress Plugin, Rest API, and a great documentation. We're very happy with this plugin."
---
"Timely notifications to readers. We used OneSignal to alert subscribers every time we had a new blog post. We also used it frequently during the beginning stages of the COVID-19 pandemic. This was extremely useful to share important information regarding event cancellations, event updates, COVID-19 updates.
Once most live events had been canceled, we started using OneSignal as a way to broadcast our content about online/virtual events. This was incredibly important as well given the events industry was hit hard."
Molly S., Producer and Co-host, Mid-Market Company
---
"What I love most about OneSignal is the fact that they make a technically challenging process [sending push notifications] accessible with their service. And with the help of their plugins for Wordpress, Magento, Shopify, …you have your integration done in no-time and you're ready to start pushing notifications to your subscribers."
Jasja T., Founder, Small Business
---
If you're new to push and want to see why over one million marketers and developers love OneSignal, create an account for free, or if you'd rather talk to our team live, feel free to book a demo here.
Already a OneSignal user? We would love to hear about your experience with OneSignal on G2. When you leave us a review, G2 will provide you with a $25 Amazon gift card!