The new year is off to a strong start at OneSignal! We're excited to announce new features that empower you to analyze and optimize your messaging strategy. Read on to learn more about the latest improvements and what benefits they provide.
Confirmed Delivery for All Push Notifications
Confirmed Delivery is now available for web push in addition to mobile push, so you can gain a more accurate understanding of user engagement across channels.

Why Confirmed Delivery Matters
Over time, your subscribed users count can diverge from your actual audience count. As people change sessions, browsers, and devices, their old sessions may turn into "phantom subscribers." When these users go on to subscribe with their new devices (and are then counted as a different subscriber), their old sessions still remain subscribed even though they are no longer active. This can lead to an inaccurate understanding of your click-through rate.
Most messaging providers only report on successful delivery to Apple and Firebase push servers, but don't give insight into whether or not your message reached the intended audience. OneSignal's Confirmed Delivery feature reports on delivery to the end user, so you can have peace of mind that your notifications have been successfully delivered. You can calculate your true click-through rate based on the volume of notifications actually delivered, without phantom subscribers skewing your analysis. Confirmed Delivery data is available to all Growth, Professional, and Enterprise users and can be found in the Delivery Statistics reporting module.
Read more about how Confirmed Deliveries work and why they're important here.
Improved In-App Carousel Analytics
Our In-App Carousel feature is designed to help you tell a story in a scrollable format and create a cohesive messaging flow. We've been thrilled to see OneSignal users leverage In-App Carousels to build onboarding sequences, share announcements, and more.
Our latest carousel card updates provide more granular insight into the ways that users  are engaging with each slide. In addition to viewing click data, you can now see impression data per card, so you know how many times a card is viewed and how deep users scroll through your Carousel.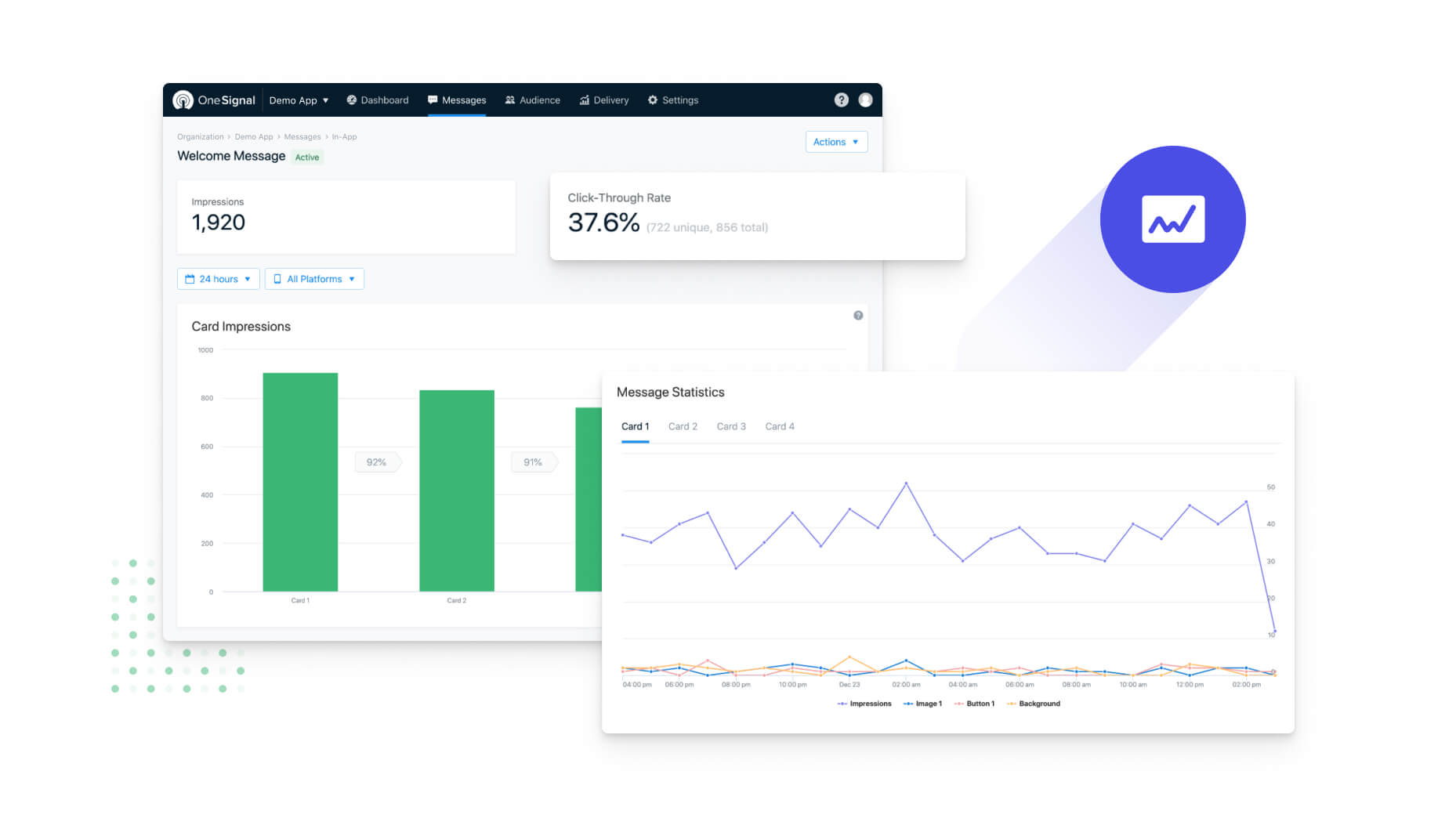 Use this new feature to analyze how users progress through your sequence and identify areas of churn in your messaging. For example, if you notice a significant drop in engagement after the fourth card, you may want to adjust your messaging strategy.
Carousel Analytics are available to all Growth, Professional, and Enterprise users in the in-app dashboard tab.
Additional Language Support for Push Localization
Communicating with users in their preferred language creates a more intuitive and personalized experience. OneSignal automatically detects the language settings on a user's device or browser so you can localize your messaging and tailor the content to resonate with a global audience.
We've now added support for Azerbaijani, Bosnian, and Punjabi to our list of more than 40 languages. To add these languages to your push notification, simply select them from the "Add Languages" menu and add your custom translation for each audience. You can also use these languages as a filter when segmenting your user database. Language localization is available to all OneSignal users.
Learn more about implementing different languages and localization settings here.
Want more ways to improve your messaging strategy and drive results with your OneSignal account?
Watch the video below to find out how to use In-App Messaging to boost opt-in permission rates during onboarding and collect user feedback.
Watch: In-App Messaging Carousels & Surveys Tutorial