What is Store Listing in the Google Play Store?
An app store listing in the Google Play Store helps Android users find, download and use popular apps.  Similar to optimizing your website for web searches, App Store Optimization in the Google Play store makes your app and offerings more visible, which drives more traffic and downloads.
The process of app store optimization is different in the Google Play store than it is in the Apple App Store, because Google and Apple's algorithms differ in the ways they index your app.
Improving your App Store Optimization efforts on Google Play Store heightens the chances that your app gets installed on Android devices. The anatomy of your listing includes a title, description, promotional text, and graphic and image assets. We'll further examine these elements below.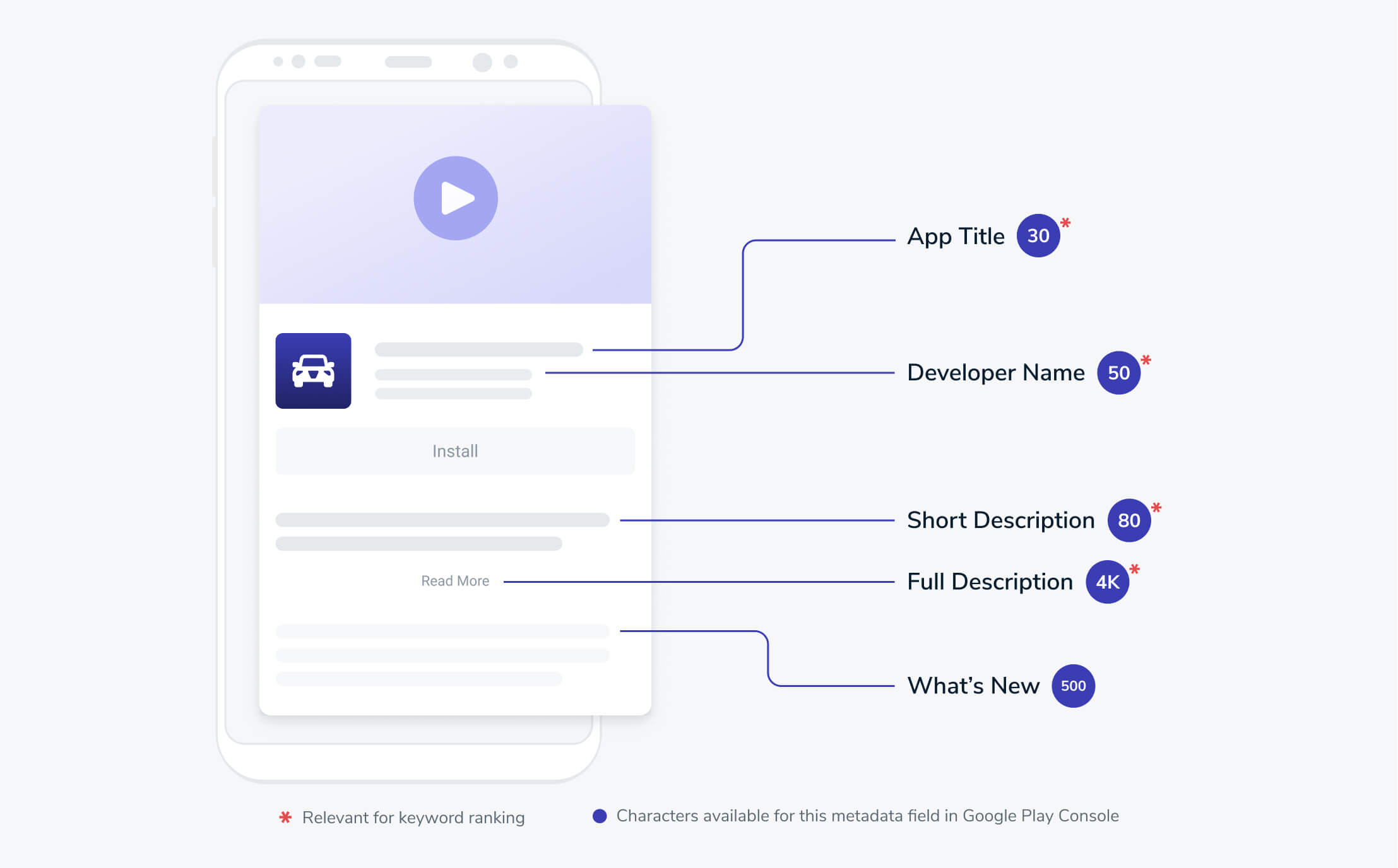 A Note on Localization
It's important to note that by default, Google creates automated translations of your store listings for different regions. That said, it's worth formally translating your listing for better comprehension in different languages.
How to List an App on Google Play
​​To get your app listed on the Google Play store, you'll need to first open an account on the Google Play console. This console provides a way for you to submit apps for publication to then be seen by Android users.
After you've opened an account, you'll then need to create and manage a merchant account if your app enables in-app purchases. To get started creating your merchant account, go to the console's "Financial Reports" section in order to monitor your app sales.
You'll then need to "Create Application" under the "All Applications" tab in your developer account, enter your app's title, and hit "Create."
After this, you'll be free to fill in the key details of your app store listing.
Once you've completed your listing details, you'll need to upload your Apple bundle or APK files alongside a signed app release under "Create Release."
You'll then need to navigate to the "Content Rating" option under the left-hand and fill out some basic information including a questionnaire and your email address. After this, click "Calculate Rating" and "Apply."
The last two steps before you can publish your app include assigning your app's price and selecting the regions in which you'd like your app to be published. These two decisions will depend on your overall monetization strategy and the markets you choose to target. Keep in mind that if you initially make your app free, you can't go back and change this option.
How much does it cost?
In order to open a a Google Play Store console account, you'll need to pay a one-time 25-dollar fee. After this single installment, you can continue submitting apps to the Google Play store free of charge.
App Listing Categories
Your app store categories can be managed from your Google Play console. Your app's category and tags elements help your app get discovered when users search around for a platform that meets their needs.  The Google Play Store offers a variety of creative categories you can choose from, so make sure you look at the comprehensive list they offer in order to understand what category best matches your offering.
What is a custom store listing?
First introduced in 2019, the app store offers developers ability to create a custom store listing in order for publishers to be more Strategic in reaching their target audiences.
This feature allows you to customize your listing based on a user's country or app install state rather than their device's languages or regions.
For a given app, you can create up to five custom store listings. The option to create custom listings is different from the option to localize your app, because it allows you to be more granular in your targeting. With custom store listings, you can target more specific segments of your user base in order to expertly communicate to prospects around the world.
For instance, you can target users who may speak the same language, but who have distinct preferences or tastes, across regions.
For instance, you may have Spanish-speaking users in both United States and Colombia. Within a custom listing, your entertainment app can target US-based Spanish-speaking users with screenshots of American shows and movies (captions translated into Spanish) while targeting your Colombian Spanish-Speaking users with South American shows featured in your listing's screenshot.
Why is Android App Store Optimization Important?
Consistently ranking high in app store search is a constant battle you must wage against competitors with a similar end goal, so it helps to have a tight ASO strategy to steer your Google Play App Store optimization efforts over time.
Optimizing your listing also works to increase your discoverability, lower your acquisition costs by saving you the money you'd otherwise spend on paid advertising, and ultimately helps you drive installs as your app store listing receives more traffic.
As of late, there are now also 3.3 million apps in Google Play Store, and Searches in the app store drive 67 percent of new downloads.
8 Google Play Store Optimization Tips
As part of your Google Play Store ASO strategy, you'll need to pinpoint and optimize a variety of factors that contribute to your app's rankings. Here, we'll go over several of the components that enhance your listing and increase your chances of being found in search.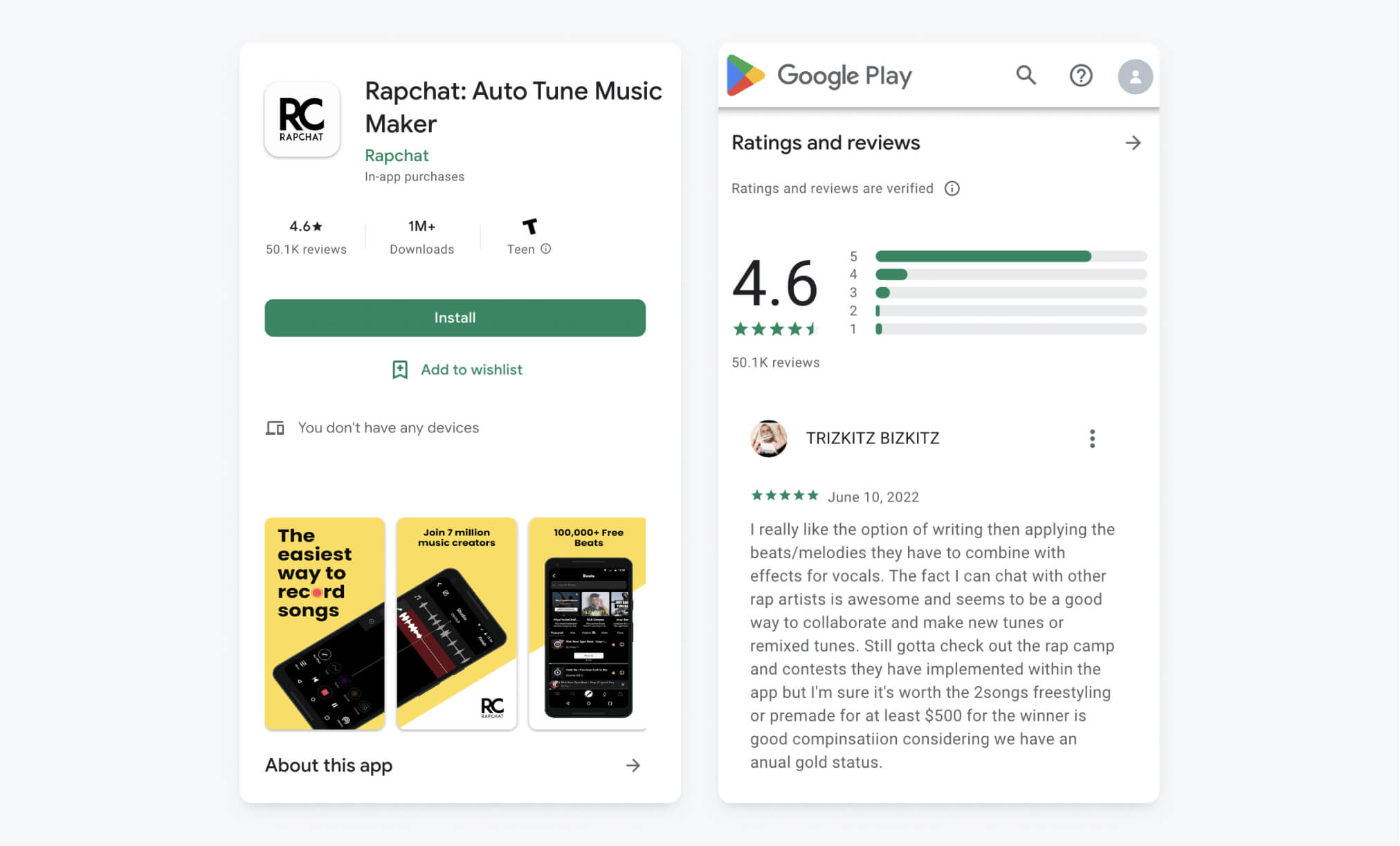 Optimize Title and Description Fields
The first elements you should be putting thought into when it comes to creating an effective Google Play Store listing include your app's name and title. Your app title contains 50 characters and dramatically affects both your search results and installs.
Your title field should be succinct, easy to understand for users who do and don't yet know your brand, and contain vital keywords. Some brands even include emojis in their titles to visually appeal to users.
The Google Play Store offers two descriptions, a long and a short description. The short description offers you up to 80 characters of space to communicate the value of your offering. The long description, which users can click on and expand, is capped at 4,000 characters.
When it comes to your description, prioritize layering the keywords most relevant to your space, given that they will help you claim traffic within your niche.
For example, as an entertainment app, you may layer the words "show" and "episode" into your listing to compete against other streaming platforms. Including keywords one or more times is a best practice for your description fields. In addition, ensure that you're using a variety of short and long-tail keywords. To make your description more reader-friendly, write short paragraphs or bullets and consider using emojis.
2. Consider How Keywords are Handled
As we've discussed, the Apple App Store and Google Play Stores handle keywords differently. Google Play doesn't offer an explicit keyword field unlike the Apple App Store. The Google Play store will, however, evaluate your app based on all the text elements of your listing, which is why it's important to stack keywords within all the text elements of your listing—as we've just described. Aside from placing keywords in your title and description, you can also add them to your app URL/Package and developer name.
3) Choose a Compelling Icon
As the first visual representation of your brand users see when they search or otherwise come upon your app in the Google Play store, you'll want to make it a design priority.
Your icon is displayed in search, charts, featured sections, and listing pages within the Google Play Store. As with any type of visual branding, make sure your icon is a clear visual representation of your app and that it measures up to your design standards. Humans are naturally visual creatures, and your app icon is your the visual impression you have on your audience.  That said, when it comes to design tips for your icon, make sure to maintain brand consistency with your design standards, aim to avoid using text, use simple forms, and differentiate your icon from your competitors'.
4. Increase Downloads
Maximizing app downloads should be a high priority within ASO strategy, as the Google Play Store use downloads as a signal to place your app higher in the rankings.
The easiest way to increase downloads is to improve your app itself by listening to user feedback, releasing regular updates, and fixing bugs. You can also promote your app through various channels, such as email and web notifications, to drive installs.
5. Include a Promo Video
Your Google Play Store listing can include a promotional video that showcases your product. You can add a video to your listing by entering a YouTube URL into the "Preview Video" field." This exciting visual addition to your listing can help convey your app's key features, flows, and experiences.
An app's preview video can be displayed on the home and search pages of the Google Play store and depending on your category, can even be displayed in roundups of recommended apps in certain sections of the store.
To leverage this element of your listing, make sure that your video clearly and accurately showcases the in-app experience and paints a positive picture of your core functionality and UI.
6. Leverage Localization
If you cater to international or multilingual audiences in your target regions, consider localizing your app store listing. Although the Google Play store provides an automated translation of your listing by default, you'll be better off translating your listing's text elements for any significant language segments you cater to. Doing so will properly communicate your app offering to these key target markets.
Users specify their language preference when they begin using the store, and the translations you provide will appear based on their initial selection. If you want to localize other elements of your listing, consider adding subtitles to your screenshots and preview videos too. You can easily purchase translations for your app using third-party services that translate your app strings, store listing, and in-app products.
7. A/B Test
Experimentation is an industry-wide best practice that helps you validate the effectiveness of your ASO strategy. Use A/B testing to understand what elements of your listing are appealing to consumers, and what elements aren't. A/B test key pieces of your Google Play store listing such as your title, app icon, and description components.
Instead of guessing based on outdated or incorrect assumptions, you should be using data-driven learnings to understand which ASO tactics are working, and how changes to the algorithm may be changing your app's performance in the Google Play Store over time.
You can run A/B tests for free on your store listing text and graphics within the Google Play console. Simply follow best practices to ensure your data is valid.
8. Improve Your App Store Ratings
Unlike the Apple App Store, the Google Play Store doesn't let you reset your average app rating. This means that you'll want to prioritize your app store ratings, as they provide a key basis for your users' decision-making.
Whereas the Apple App Store features six random reviews, the Google Play Store features your app's best and worst reviews. Ratings and reviews are displayed directly in a user's search results and featured app charts.
You can ask users to rate your app in a variety of ways, such as through in-app messages or cross-channel marketing campaigns.
Our platform is quick to set up and makes it easy to send in-app rating requests and user surveys, push notifications, SMS, and much more. If you don't have a OneSignal account, you can create one for free and start sending push notifications to your users today. Don't take our word for it — simply sign up and see for yourself!
Get Started for Free