The hunt for the right software solution can often be a long and arduous process. How do you sort through the sales and marketing hype? How can you tell which vendor will deliver on their promises after the sale?
With so many companies claiming to drive growth through digital customer engagement, we've collected information on key attributes to consider when choosing between OneSignal and other comparable offerings.
In this blog post, we focus on the differences and similarities between OneSignal and Airship.
OneSignal & Airship
Formerly known as Urban Airship, Airship was founded in 2009 and has grown into one of the largest, omni-channel customer engagement solutions. Since its inception over a decade ago, Airship has delivered over 3 trillion messages across its channels.
However for Airship, the considerable cost of their enterprise-grade features and services are often beyond the reach of small and medium-sized businesses, and many of these features go underutilized. Furthermore, enterprise customers looking to quickly integrate a re-engagement solution may find Airship's complexity requires a long integration or onboarding process before they're able to use the platform. Airship customers have reported that "it felt a bit clunky to set up" and that they "had some negative comments internally" about the product.
Since 2014, OneSignal has garnered the trust of over 1.8M marketers and developers. OneSignal sends approximately 10 billion messages daily, and is used by a mix of small/medium businesses and enterprise customers—major sports leagues, global media and news outlets, and telecom companies to name a few. OneSignal serves organizations of any size and offers 4 different plans—Free, Growth, Pro, and Enterprise — that cater to various organizational objectives and budgets. The OneSignal SDK integration is seamless and, on average, it only takes about 15 minutes to implement OneSignal to start sending notifications.
Pricing
Airship's various plans—or "editions"—vary in cost based on the required features. However, Airship is not transparent with their pricing, and all paid plans require a sales conversation. From what we've gathered from customer conversations and online reviews, Airship's pricing for 250,000 Monthly Active Contacts starts at approximately $35,000 and includes an onboarding fee. Pricing likely increases based on the number of contacts recorded in Airship. Due to this, Airship is widely considered as one of the most expensive options when it comes to push notification providers.
In contrast, OneSignal's base product is free, with no limit on mobile users. OneSignal's three paid plans grant access to robust features such as enhanced segmentation, in-app messages, data exports, and advanced analytics. Setup is easy and OneSignal regularly hosts onboarding webinars to provide best practices and help teams maximize results from the platform. OneSignal's aim is to provide a great free product while offering additional enterprise-grade features and higher delivery volumes through affordable paid plans.
Scale, Speed, & Reliability
Airship was one of the first companies to provide a platform for the delivery of mobile push notifications, and has grown to support many more channels. However, they've sometimes been late on adoption of newer technology trends. For example, Airship expanded to Web Push in March 2017. OneSignal supported web push two years earlier in April 2015.
OneSignal stands out as the best solution for sending timely and relevant messages at scale. OneSignal currently delivers more than 10 billion notifications per day. In addition to this, OneSignal tracks the delivery to end-users through "Confirmed Delivery," not just successful API calls to Apple and Googles' notification services. No other push service on the market currently offers OneSignal's deliverability measurement.  
Implementation
OneSignal and Airship both support most major mobile and web platforms, however, OneSignal offers more integrations for web push with easy-to-use website builders like Bubble.io, Wix, SquareSpace, Weebly, and more. OneSignal also boasts the highest rated plugin for WordPress users and has been named a WordPress VIP partner. Meanwhile, Airship's web push notification setup only formally caters to WordPress and Drupal Content Management Systems.
Getting started with OneSignal or Airship is relatively similar and straightforward. Both require registering your app with notification service providers such as Apple, Google, or Amazon. Next, invoke the SDK from your mobile or web app, and proceed to send your first notification via the respective web consoles. However, unlike Airship, OneSignal provides mobile developers with tools for generating iOS push certificates. This saves time and reduces complexity.
OneSignal and Airship both allow tags to be added dynamically using their respective SDKs with minimal code. The OneSignal and Airship SDKs also collect some data automatically, such as device type, device version, country, push subscription status, and language. Braze was the first vendor in the push notification space to collect these attributes. Airship followed their lead in 2015/2016 with "Device Properties".
To test Airship, the company offers its "1st Flight" mobile and web app that gives you a preview of its message composer. This allows you to take a "test flight" and walks you through the process of sending a test notification to your app without having to write any code.
OneSignal provides the industry's best free offering, and a push notification preview tool that lets you craft a notification without sending anything.
Ease of Use
OneSignal and Airship both offer convenient web dashboards for users to manage and monitor message delivery.
One of the biggest challenges facing Airship users is the complexity of navigating its dashboard. Users looking to configure messages across multiple channels will be met with a different UI for each channel. For example, a user might adopt one approach to set up an in-app message, but would have to use a completely different approach to create the same message as a push notification. Trying to keep all these subtle nuances straight can be a challenge.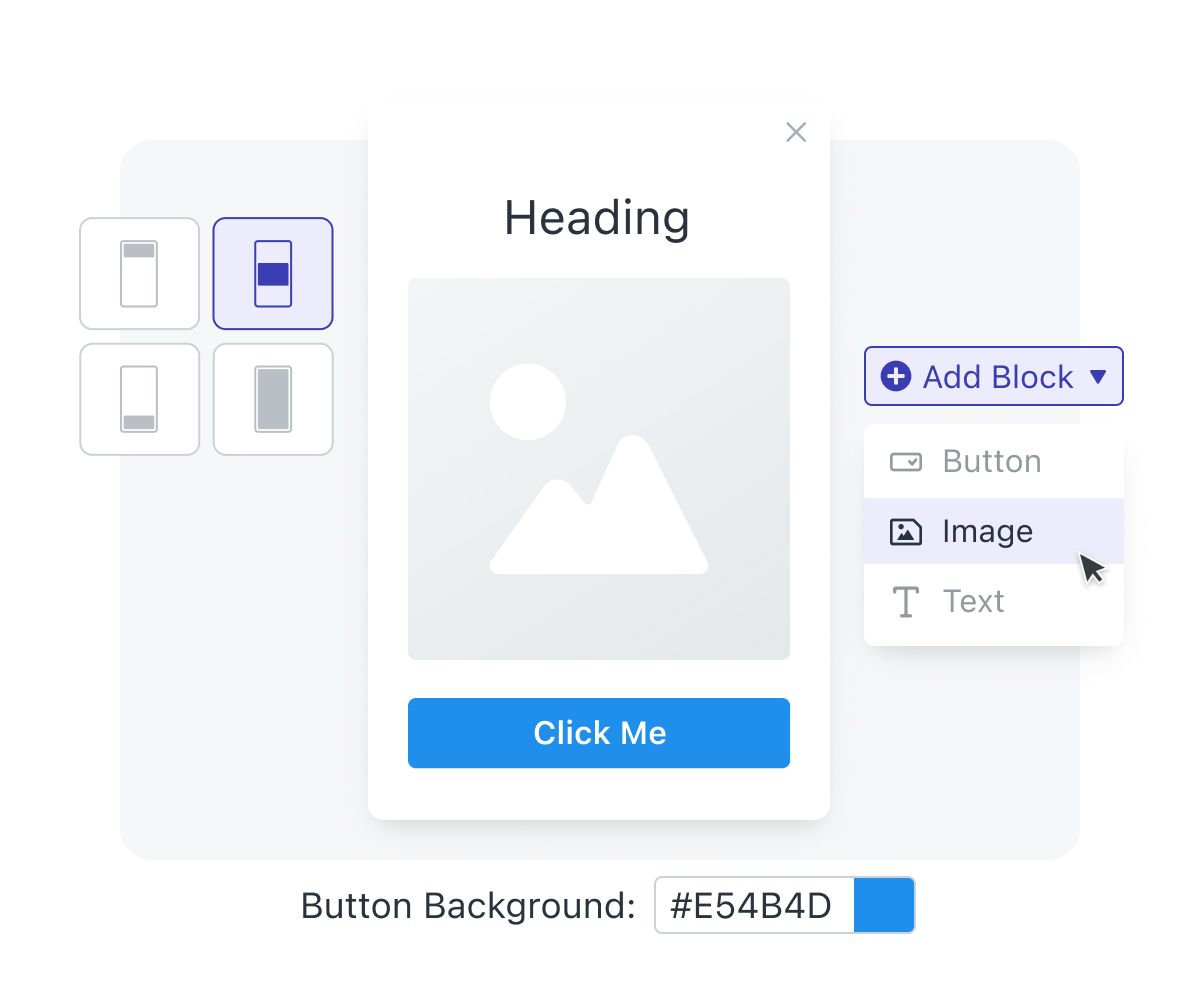 With OneSignal, users can create stunning messages in a matter of minutes through our easy-to-use message composer. The message composer is consistent across channels, making the message creation process familiar and straightforward. OneSignal also makes it easy to customize your badge, icon, and image - you can even use a gif or video as the image for greater engagement.
Data & Analytics Solutions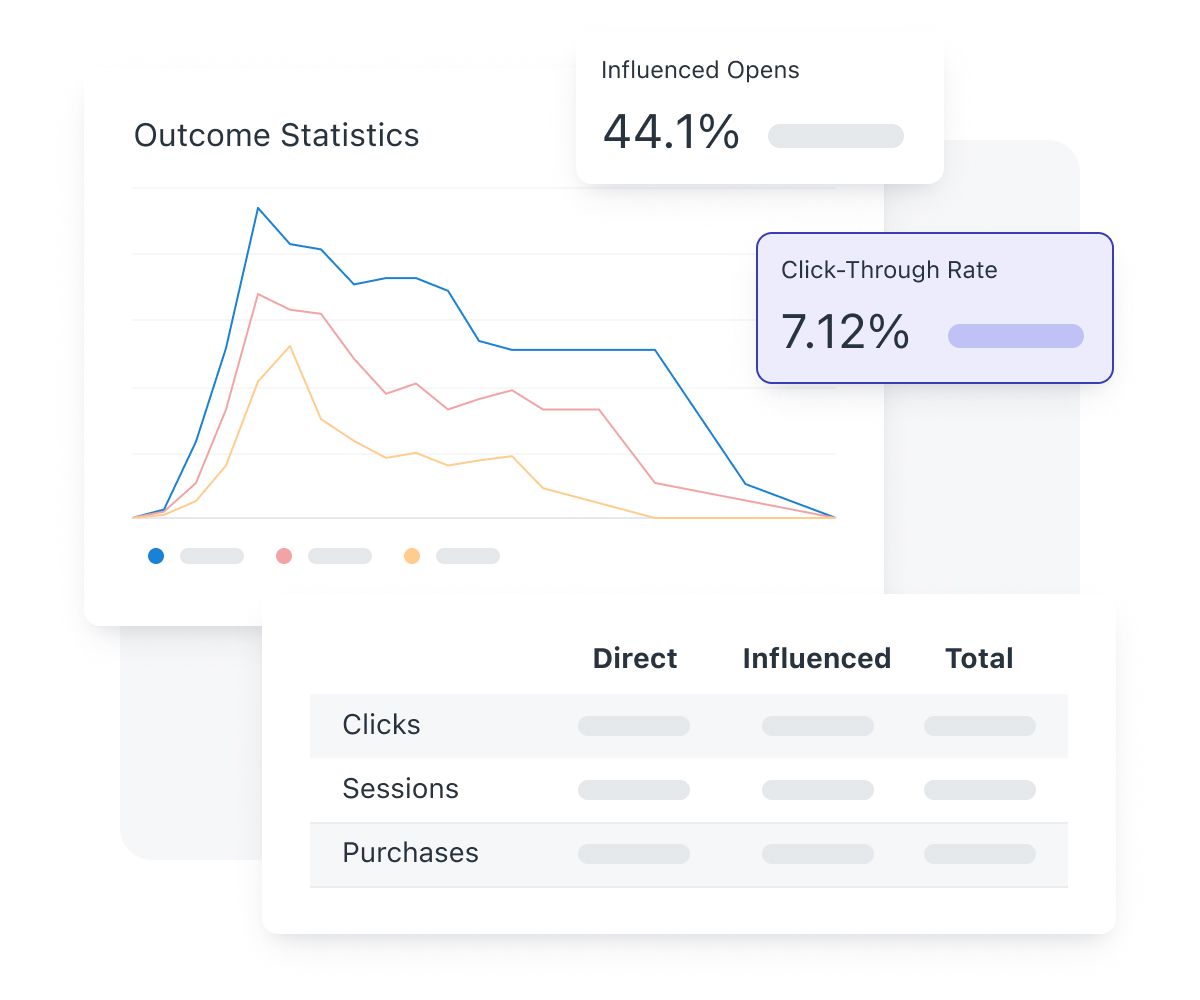 OneSignal and Airship both offer analytics and reporting on message delivery, user behavior, and cross-channel outcomes.
Airship leverages machine learning in its Predictive AI solution. This allows Airship to determine optimal send time and identify customers at varying risks of churn. Airship's Performance Analytics feature also allows users to develop a comprehensive overview of how, when, and why their customers are connecting with their brand. Users can create custom dashboards and query filters for more in-depth analysis of their push KPIs for each stage of the customer journey.
OneSignal allows users to understand how notifications drive direct, indirect, and unattributed user actions with no code involved through Outcomes. The robust analytics API lets you build out powerful engagement strategies around which of your users are interacting with different messages by leveraging user-level data for sends, receives, and clicks. Perform in-depth analysis, build user-level relevance models, and create segments based on people who have clicked a notification and more. You can also export detailed reports as a CSV for further analysis to improve messaging strategies. This is powerful when coupled with OneSignal's ability to integrate with tools such as third-party CRMs and analytics platforms to personalize notifications with user data and measure engagement.
Journeys
With our Journeys builder tool, you can orchestrate and automate push notifications, email, in-app, and SMS messages from a single workflow based on user behavior. In comparison, Braze offers a Canvas builder that offers similar functionality. The key difference is that Braze's tool requires 4 pages of set up and takes much more time to orchestrate your messaging.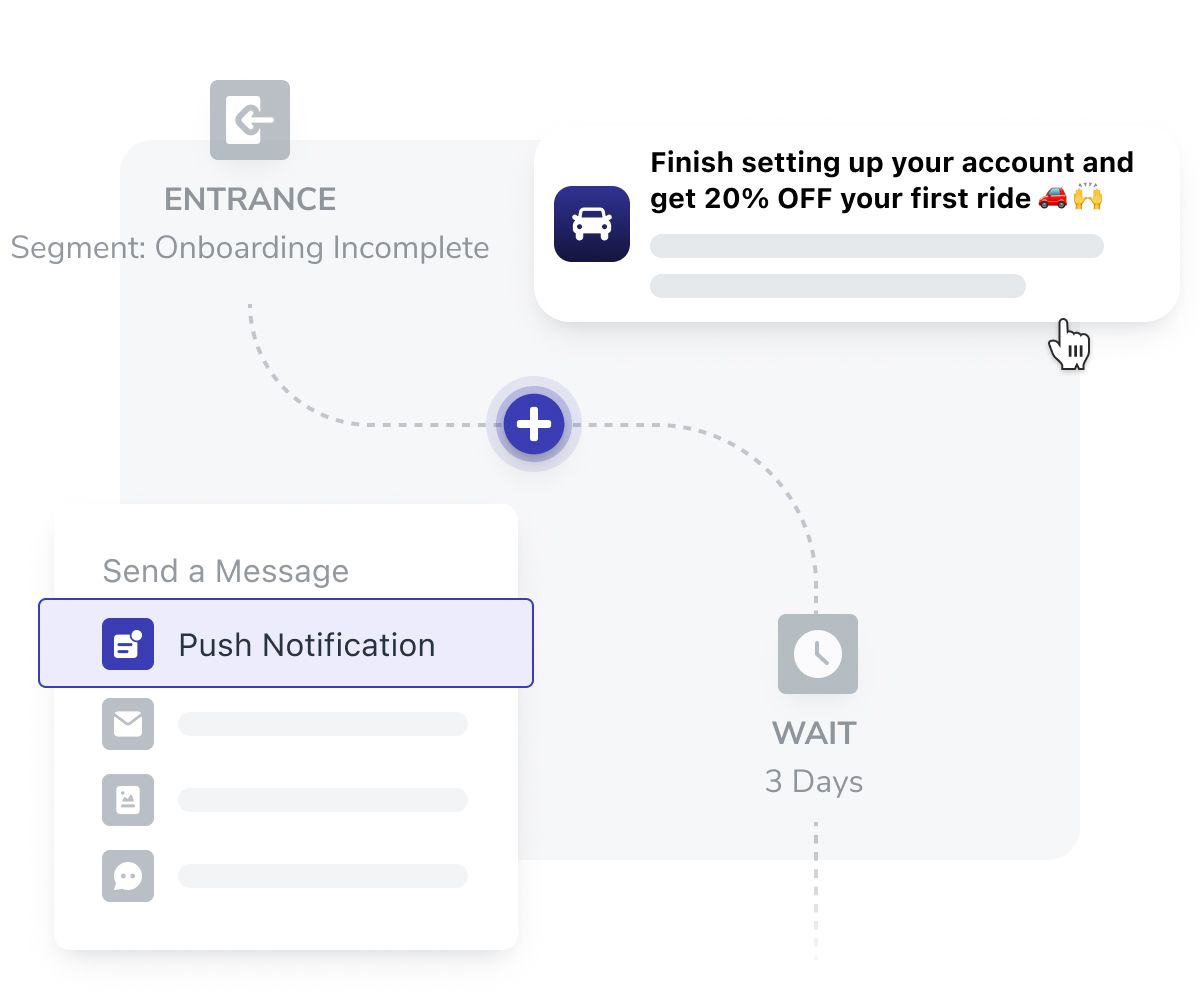 Conclusion
Airship is a good fit for highly-resourced teams with large budgets and with dedicated engineering resources for a long setup and ongoing management.
However, most companies need their messaging to do more or are strapped for dev resources. That's how we're different. OneSignal aims to streamline your messaging workflow across teams and departments. We combine powerful no-code tools (from segmentation to automation and testing), a fast and unlimited API, and top-notch support. And those are just a few of the reasons OneSignal is a G2 Leader for best usability, easiest setup, and enterprise.
For over 1.8M apps, OneSignal is a better choice.