In shifting economic and privacy landscapes, customer engagement has become even more important. Today, the process of driving retention and revenue depends on the ways you engage with your existing customers.
Even so, we know how easy it is to simply keep doing what you're doing. You may continue sending the same welcome emails, deprioritizing a post-action sequence, or using only a single channel to reach your users. However, we've heard from our customers that they can no longer afford to stick with the status quo. Increasingly, marketers are looking for new, more effective ways to drive ROI.
That's why we're excited to announce that we've released new tools in Journeys to help you achieve just that. With a Split Branch, you can now easily identify the best methods for engaging your customers by comparing channels, CTAs, and more. With our refined entrance and auto-exit rules, you can also precisely target your users to ensure that you continually push them forward in their lifecycle.
With that in mind, we want to share some best practices for how you can use Journeys, and incorporate these new improvements to accelerate your customer engagement.
1. Target users based on their real-time behavior
Consumers expect personalized interactions, and 76% of them are frustrated when products don't deliver a customized experience. Targeting your outreach efforts based on user behavior improves their experience, reduces your costs, and drives results.
For example, let's say you're an eCommerce app that offers a peer-to-peer marketplace where users can thrift and sell clothing. Your current goal is to support user acquisition by improving your app store rating. Remember, for mobile apps, ratings highly influence your number of new installs. Not only do reviews affect your app store ranking, but they also influence a user's decision to install once they land on your listing.
To encourage more installs, create a post-purchase Journey. Start by setting your entrance criteria to include future additions to your Made Purchase Segment. Then, add a wait node for 2 weeks in order to give users time to receive their purchase. Then, send these users an in-app message that asks them to review their experience. Add a Yes/No node based on whether a user rates their experience as "Great."
2. Test your engagement strategies with a Split Branch
Experimenting with channels, tactics, and flows is crucial for optimizing your engagement strategy. Use a Split Branch to split your Journey into randomized groups and corresponding paths. Vary each group's experience with different channels, messaging cadences, and engagement tactics. Observe which messages perform best and incorporate these insights into your subsequent campaigns. To keep moving the needle, incorporate your insights into your active Journey by editing it as you go.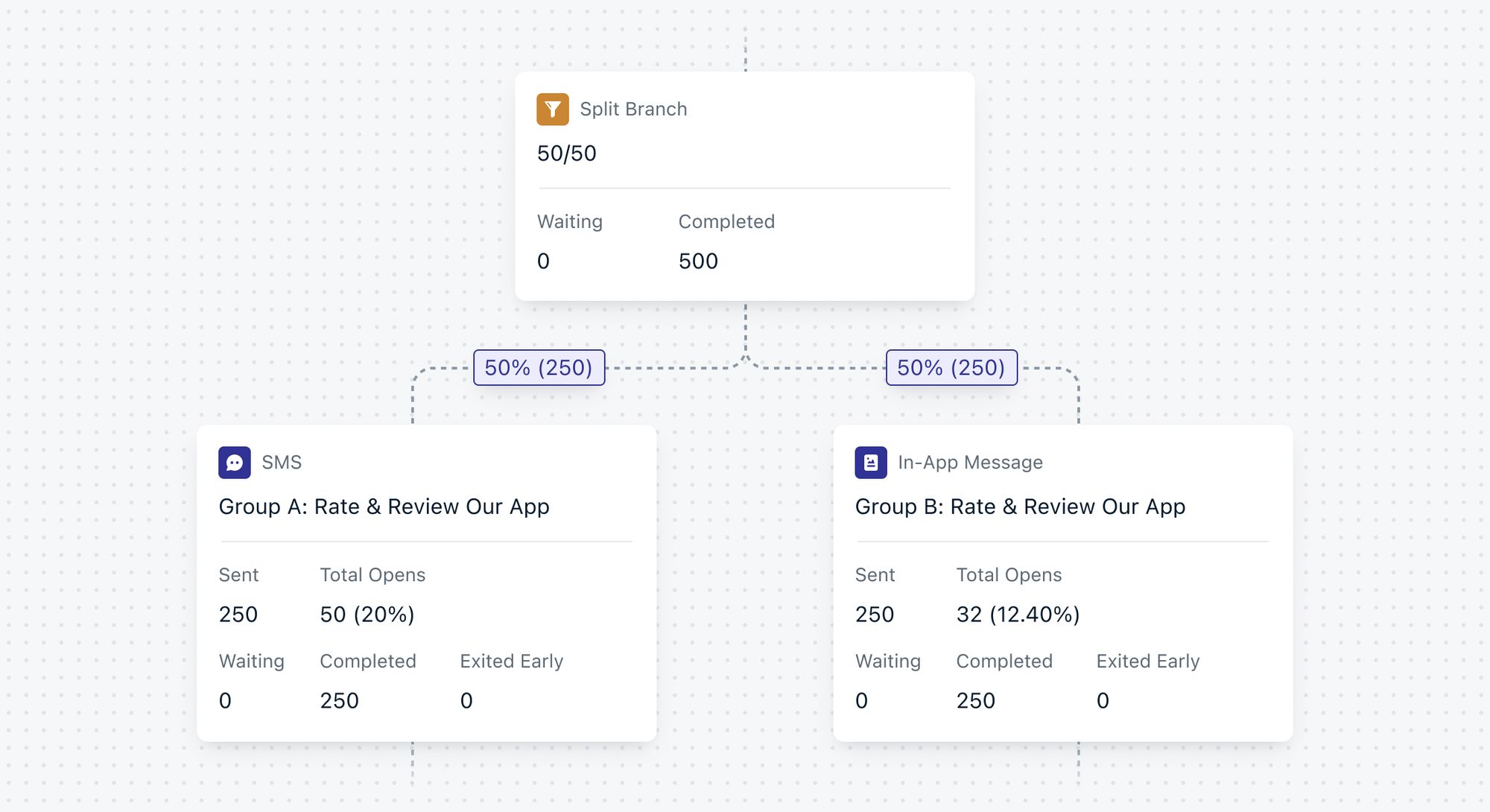 For the clothing app, this could look like testing whether an in-app or SMS message drives more click-throughs to the app store. To do this, add a Split Branch that separates users who rated their experience highly into a 50/50 split. Send Group A a personalized SMS with a link that asks them to rate your app. And send Group B an in-app with the same message that invites them to review your app. See which channel leads to more click-throughs and watch the reviews pour in.
3. Refine your outreach with an auto-exit rule
Make sure your messaging is always relevant by moving customers out of a Journey when they no longer fit your target criteria. For the clothing app, achieve this by removing users who make a return. You can configure this by choosing an auto-exit Segment to ensure that once someone returns a purchase, they will automatically exit the Journey.
Ready to Accelerate Customer Engagement?
To drive results, try using Journeys to target users based on their behavior, experiment with various tactics, and refine your exit criteria. By combining automation, real-time customization, and testing, you'll surely move the needle forward on your engagement goals.

Journeys is currently available on our Professional and Enterprise plans. To unlock access and automate your customer engagement, log in into your account and upgrade today.