We're thrilled to launch Journeys, our messaging workflow builder! This has been one of our top product requests, and we've worked with our users to make sure we're building an amazing product that solves your needs.
We understand your messaging challenges. We heard how complicated it can be to manage multiple campaigns across different messaging channels. We empathized when you described how hard it was to set up even simple workflows with other platforms. That's why we prioritized creating an easy-to-use builder that seamlessly integrates with the rest of the OneSignal platform.
Journeys will simplify managing your messaging campaigns and save you time and resources. Our intuitive visual builder automates your messaging workflows to provide customized experiences for your audiences. With Journeys, you'll be able to craft contextual message sequences to deliver the right message at the right time, all with no code or engineering resources required.
Consumers have come to expect a personal and consistent customer experience across multiple channels. Now you can easily coordinate multiple ways to interact with your users with Journeys' cross-channel orchestration. It's easy to amplify your messaging with Journeys and incorporate other channels to either reinforce your messaging or test other value props.
Benefits of Journeys

Guide Your Users to Success
Map out customized workflows across every touchpoint to send relevant messaging based on how users interact with your product. Your audience is more likely to engage when messaging is seamlessly integrated into the overall user experience.
Manage Cross-Channel Orchestration
Engage with your audience and deliver personalized and relevant experiences across channels. Different people want to receive different information in different ways, so it's up to you to meet consumers where they are.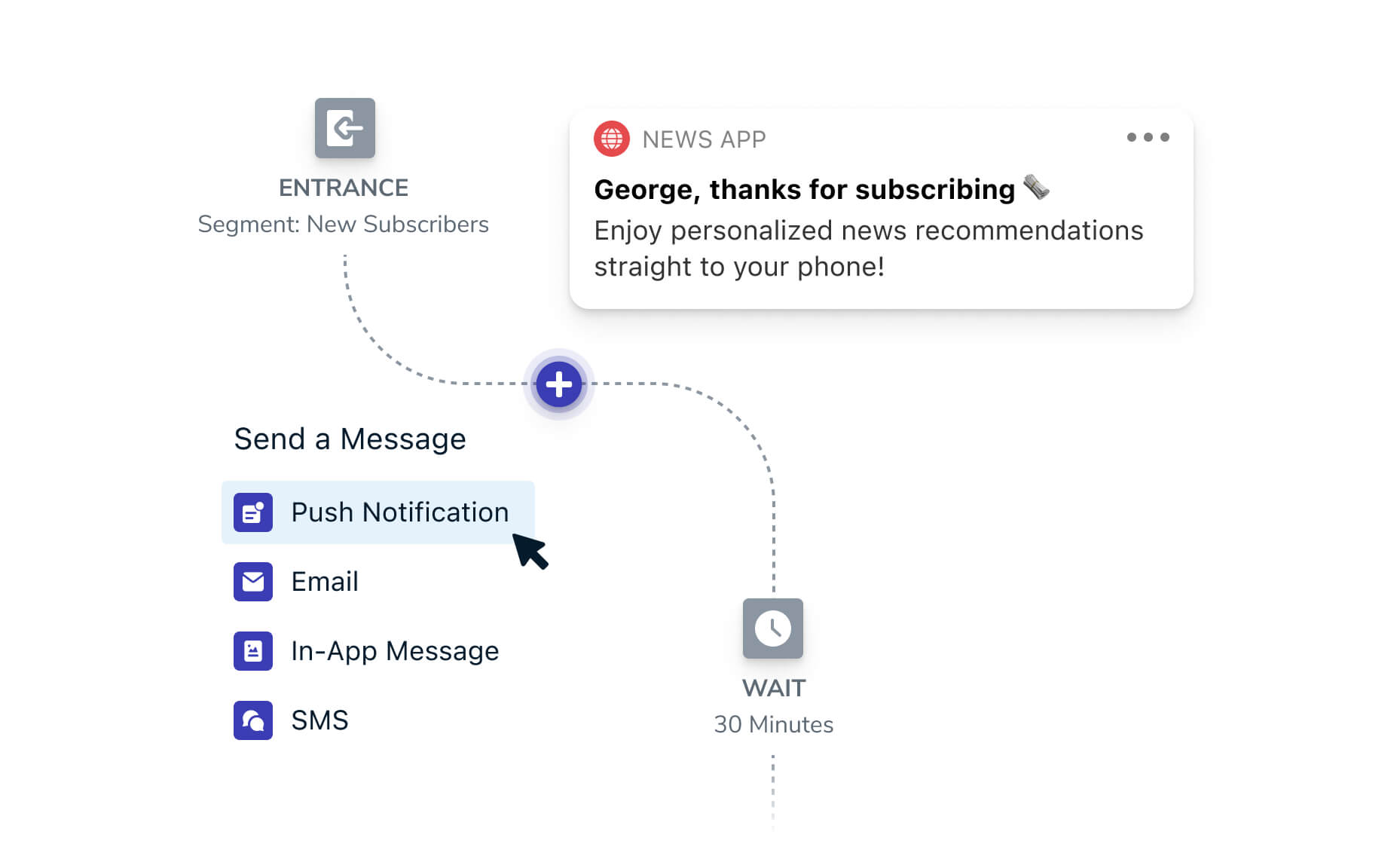 Save Time and Resources with Automation
Automate your messaging to trigger campaigns in real-time rather than manually running them over and over. You can also create a more cohesive experience by sequencing related campaigns into a single Journey workflow.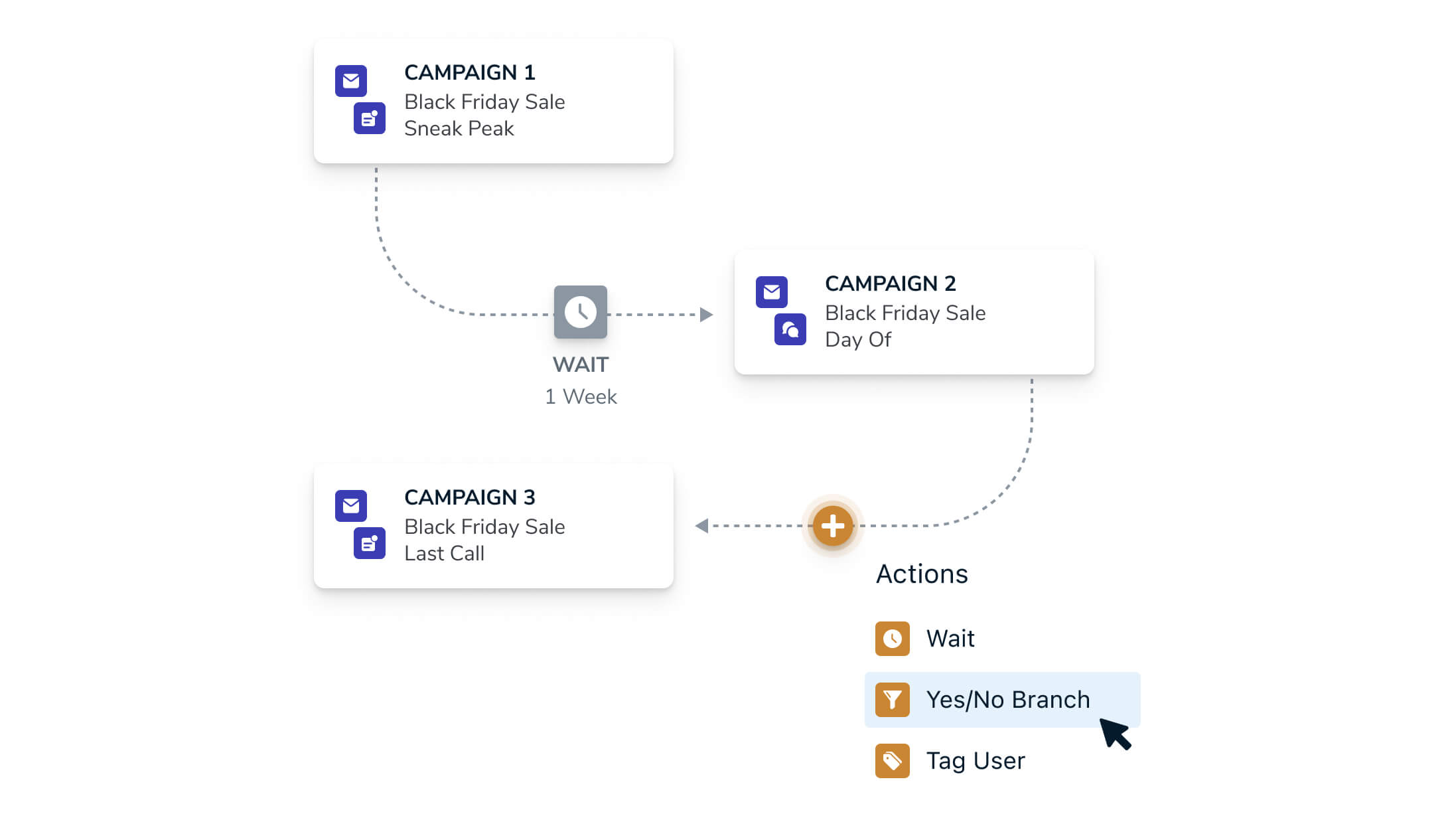 Grow Engagement
Putting in the effort to create a cohesive Journey will delight your users. Your audience is more likely to interact when they receive timely, personalized, and relevant messaging. Make it easy for your users to engage with you by crafting targeted messaging campaigns based on their attributes or behavior.
Leverage Our Easy-to-use and Intuitive Builder
Our user-friendly builder is accessible to everyone to create Journeys directly in the dashboard, no code required. There's no need to wait on engineering resources to set up complex logic and infrastructure. We took care of all of that for you.
Deliver Relevant Content at the Right Time
Create personalized messages that are directly relevant to users and how they've interacted with your product. With Journeys, you can send a series of messages to users who take a given action and a different set of content to users who take a different action.
Set Up Data Tags Without Code
Easily set up and access Data Tags without code to capture data and enrich your OneSignal platform. Use Data Tags to keep track of where your users are or seamlessly coordinate with other messaging channels.
How to Set Up Journeys
It's easy to build effective Journeys. Users automatically enter the Journey workflow based on their attributes or behavior, such as when they meet certain conditions or encounter certain triggers. Create a Journey in minutes in 3 steps.
Define your audience. The Journey begins when you set up a Segment, a dynamic group of users based on attributes like activity, location, and interests. Alternatively, you can use the inactive trigger to create a re-engagement Journey.
NOTE: Currently, setting up external user IDs is a prerequisite for your users to enter a Journey.
Build your path. Choose among different time delay options, including minutes, hours, days, and more to control the timing of your messages. Branch your Journey and send your users down different paths based on which Segments they are in.
Add your messages. Create and attach a template to the message node.
After setting your Journey live, you can quickly see how each message node is performing. Engagement analytics are available right in the node, displaying the number of sends, the number of opens, and the clickthrough rate (CTR).
An Example Re-engagement Journey
Imagine you have a mobile gaming app and you want to create a re-engagement Journey. You want to target players who've run out of lives, so you create an "Out of Lives" Segment. Since you know some players will return on their own to buy more lives at full price without any promotions, you create a second "Full-price Purchasers" Segment to exclude those players. You'll want the target player to exit the Journey once they've returned and refilled their lives, so you create a third "Recently Refilled Lives" Segment to exit the user early.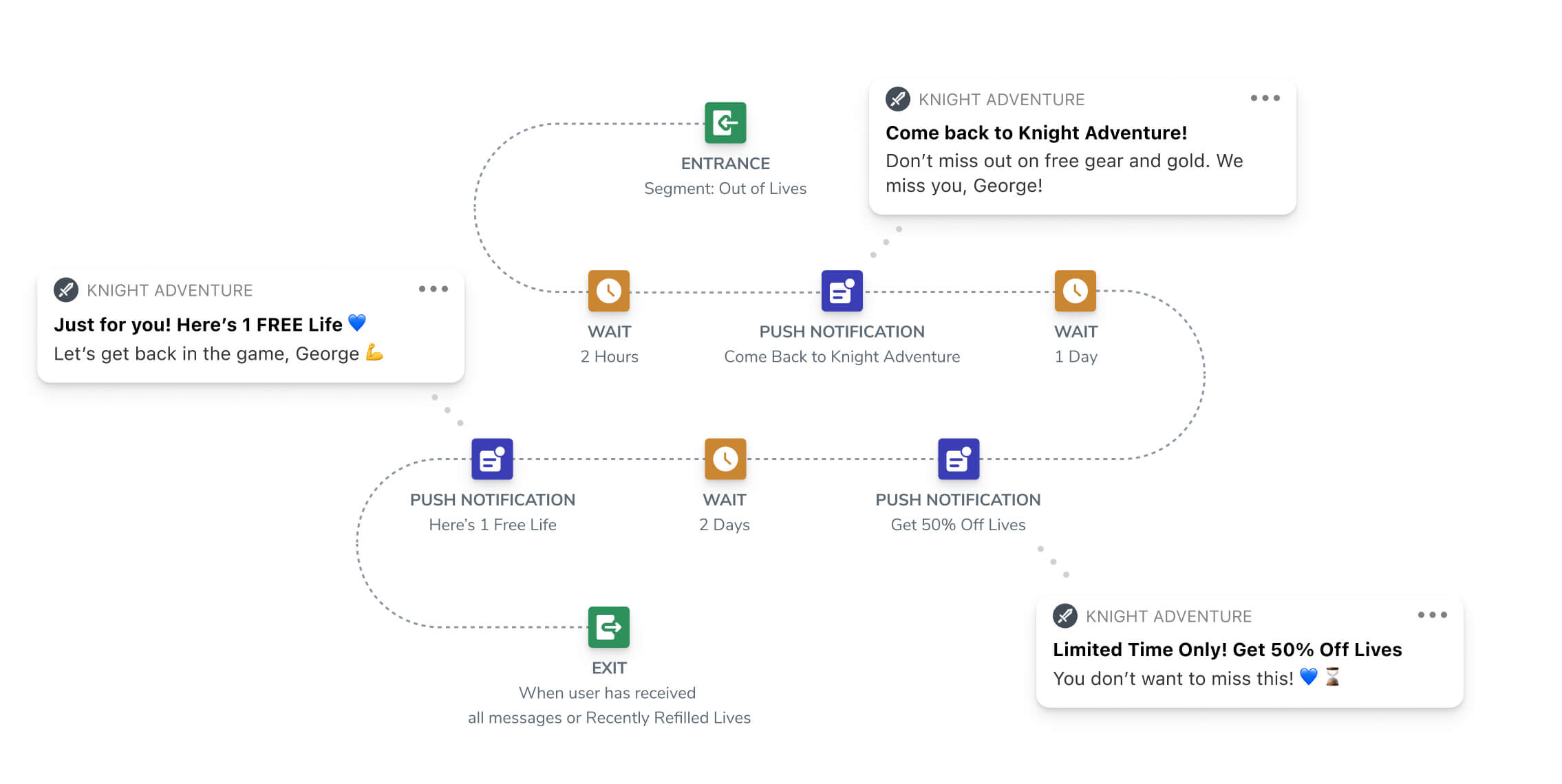 After analyzing your player behavior and setting your objectives, you determine the appropriate timing and messaging to be:
Day 1: A player enters the "Out of Lives" Segment
After 2 hours: You send a message reminding the player of everything they are missing out on, such as points or prizes.
Day 2: You send a promo offer for 50% off lives to drive revenue.
Day 4: You send the player one free life to entice them back.
Journeys for Every Situation
Onboarding / welcome
Educate your users on how to get started. Break down your onboarding into bite-size chunks that are more manageable. Walk your users through how to maximize their value from your product.
Re-engagement
Just because a user is inactive doesn't mean they're no longer interested. Take the opportunity to communicate different value props to see what resonates with your audience, or offer various incentives to get your users back to your app or website.
Abandoned cart
Convert lost revenue and drive sales. Make the path to purchase as easy as possible by automating abandoned cart messages. Stay top-of-mind even after shoppers have left your site and remind them of products they're interested in.
Post-action
Follow up with relevant information after a user takes an action. For example, after your user books an appointment, send them instructions on how to prepare and what they need to do next.
Sales campaigns
Announce and send follow-up reminders for sales, such as Black Friday / Cyber Monday. You're putting a lot of work into running these campaigns, so make sure to leverage messaging to promote sales and increase revenue.
Trials and upgrades
Set up a sequence of different value propositions to convince your users to start paying or pay more for your services. Depending on your business model, it may make sense to send this to all new users quickly, or alternatively, you can trigger the Journey after a certain usage or engagement threshold.
Events
Introduce and send relevant information for events, including important details and critical dates. Drum up excitement with announcements and reasons to attend. You can also follow up with a thank you and next steps after the event occurs.
Challenges
Reveal exciting new challenges or competitions for your community and set up reminders to encourage participation. For example, an exercise app hosting a new year fitness challenge can sequence the entire flow in Journeys, from announcement to daily nudges to the celebration of achievements.
Post-purchase
The customer relationship should not end after a single purchase. Build longer-term connections by sending users a promotion off their next order, cross-selling complementary products, asking them to leave reviews, or promoting your referral program to introduce your product to new audiences.
Create Your Journeys Today
Visit our documentation to get started. Journeys are now available for Professional and Enterprise Plans. Login to your dashboard and upgrade your plan to create Journeys or unlock access to create more sophisticated Journeys. We're also working on making a version of Journeys available to Free and Growth Plans that is coming soon.
Login to Your Account