Ease of use is a driving force in our product development process at OneSignal. We build with the end-user experience in mind, so we're constantly thinking about how our products can be more user-friendly.
From our interactions with the OneSignal community, we heard your need to better analyze your users and their messaging experience. We listened as you requested a way to see user information all in one place to help with business decisions. That's why we're excited to announce the launch of the new user profile page.
The user profile page provides a more complete overview of your user and organizes important user information in a digestible way. You can quickly see all associated Data Tags as well as which Segments your users are in to better understand how the user has engaged with your company. The new Activity Timeline helpfully displays recent messaging activity for the user, including sends, deliveries, and clicks.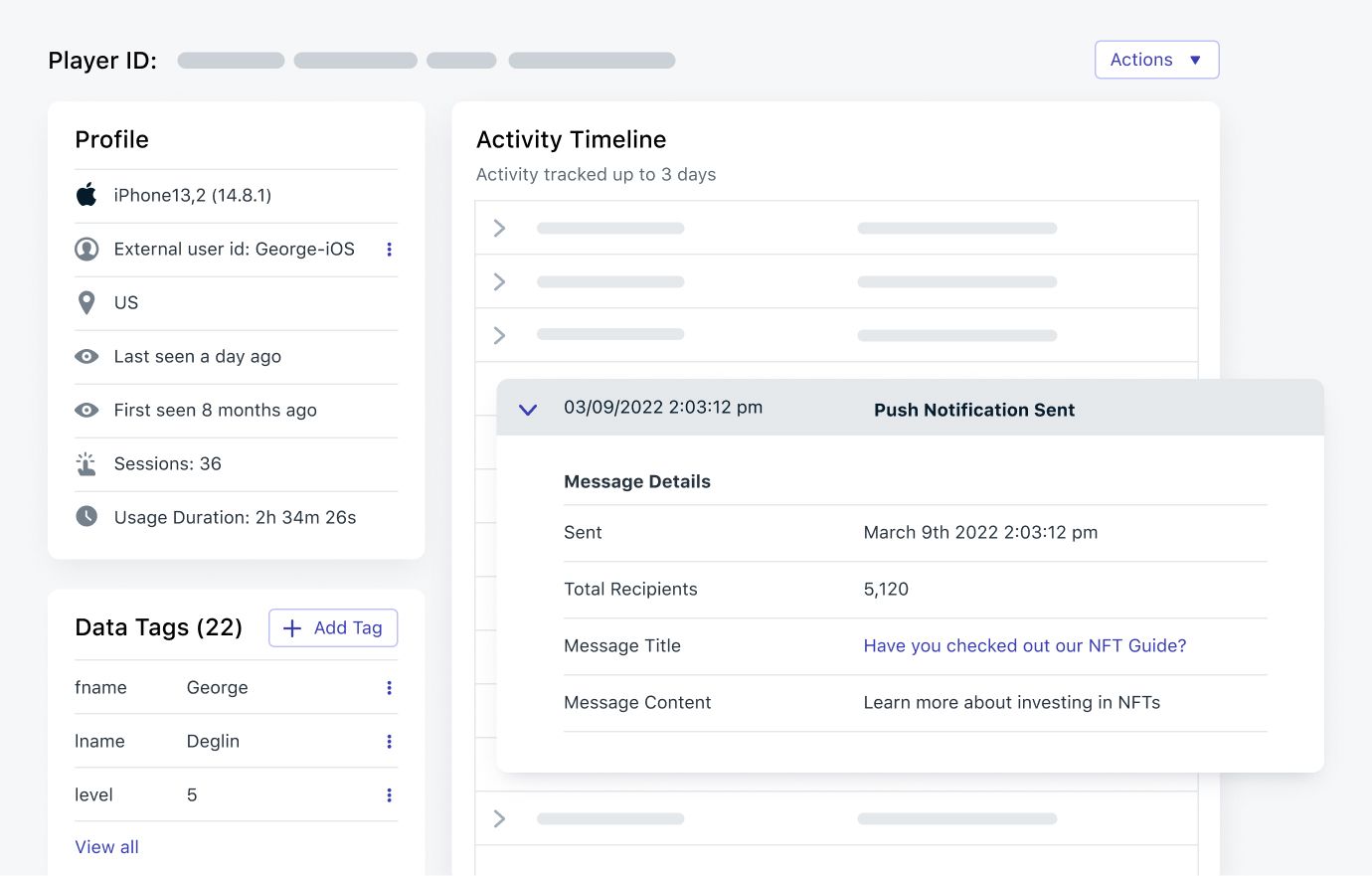 Achieve the Following Use Cases
Understand Your Users
Access your key user data at a glance, including when the user was first and last seen, device information, and where they're located. This will help you understand how user properties, events, and tags all relate to the user and their behavior. For example, you can quickly see how many lives a user has left and then check the Activity Timeline to make sure they're getting the right messaging experience. Perhaps you notice that they're out of lives and identify an opportunity to create a re-engagement Journey sequence to encourage them to refill their lives.
Easily Update User Data
Now it's even easier to manage your user information. Quickly view and edit a user's Data Tag values directly without having to rely on any developer resources. Leverage this to create internal test groups or update message-critical user information. For instance, you could use this to create an internal group to make sure your new message Journey works perfectly before launching it to your audience. Marketing, Product, Growth, Support, Success teams can verify, manage, and act on customer data easily from one place.
Investigate Customer Requests
When users write in about a message they've received, your Support team now has a centralized place to easily access that message and see what was communicated. Rather than having to dig through different message sends, all that information is collected in the Activity Timeline for easy access. You can also quickly see Data Tags, Segments, and other important user information to help resolve that request. This saves time and streamlines your Support process.
Improve Your Messaging Strategy
Easily compare the messaging experience for different types of users, which will help you craft a more personalized messaging strategy for your audiences. For example, you can quickly tell if your user is tagged as a VIP and see how their messaging is different from that of a regular user. Perhaps you notice that the VIP is not leveraging special VIP benefits and needs education on how to take advantage of those benefits. In addition, seeing message sends on a per-user basis helps you understand your frequency of sends and identify over-messaging.
Help Set up or Test the Platform
In order to effectively leverage personalization and segmentation to improve your messaging results, it's important to correctly set up the platform and send the right data. Developers and marketers can leverage the profile page to easily verify that user properties, Data Tags, and Segments are behaving as expected.
Ready to Get Started?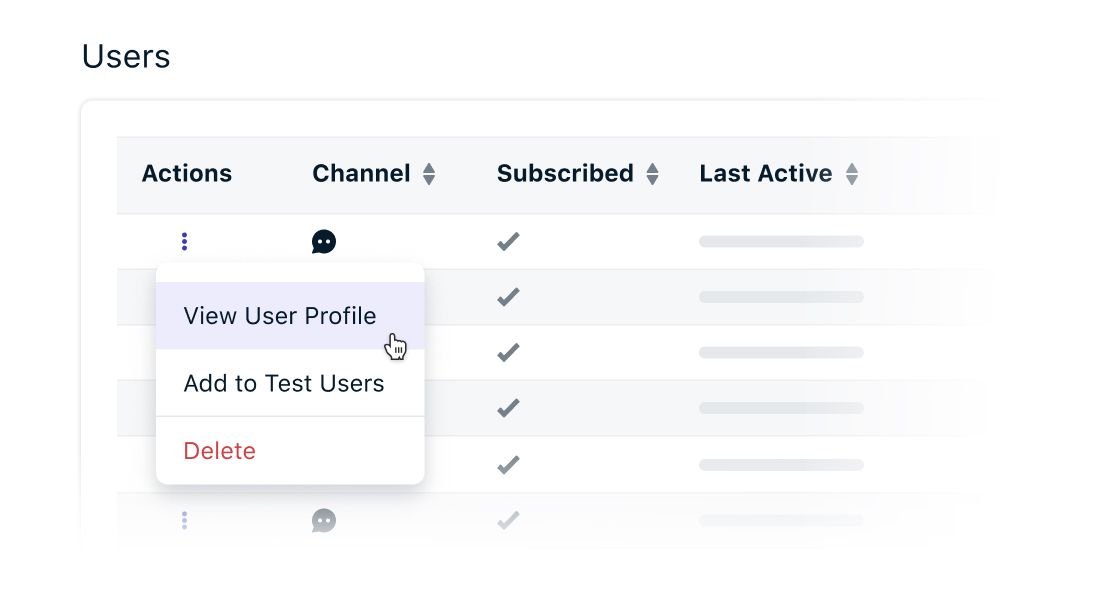 The user profile page is now available for everyone and can be accessed from the Options dropdown in the All Users section of your dashboard. The Activity Timeline is only available to customers on Professional and Enterprise Plans—log in to your account and upgrade your plan today to improve your understanding of your users.
Login to Your Account