In politics, a major factor in the success of a political campaign resides in the mobilization of a politician's supporters.
Politicians and their campaigns have traditionally grown their base through channels like television and print ads, but new advances in digital media and technology have created other opportunities for politicians to spread their message nationwide.  
Campaigns nowadays take advantage of social media platforms like Twitter and Facebook to engage with their supporters. Yet, as we move into a new decade, push notifications can actually be one of the best ways for a politician to communicate with their base and motivate them to vote. News outlets and individual politicians can now control the narrative of their campaigns by personalizing the information that reaches their subscribers.
Influence Voter Turnout With Push
Think about the last time you received news about a specific political candidate. Chances are it came from a push notification. Whether the notification came from a news outlet or the candidate, with push notifications, information about political campaigns can reach millions of people in a matter of seconds. When used correctly, push notifications are actually one of the best ways for politicians to drive voter turnout leading up to an election.
Digital media channels can have a huge impact on the outcome of an election because of the reach that they have with their subscribers. With devices like smartphones and personal computers taking over as a voter's main source of reading material, a candidate's reach has stretched past the traditional television and print ads.

Subscribers can now be notified when a debate is starting, and even watch highlights or read analysis of the debate within seconds after the event. Voters can even be notified through push notifications of where their polling stations are located, and what times these polling stations will close. This guarantees that a voter has all the information that they may need to go out and support their candidate of choice.
Political Campaigns and Push Notifications
While news outlets can still shape the political landscape, politicians now have many different ways to reach their supporters and inform them of their policies and agenda. Campaigns can even create their own apps and rally their base to attend events within their area or tell them to tune in for live stream Q&A's that further inform supporters about a candidate.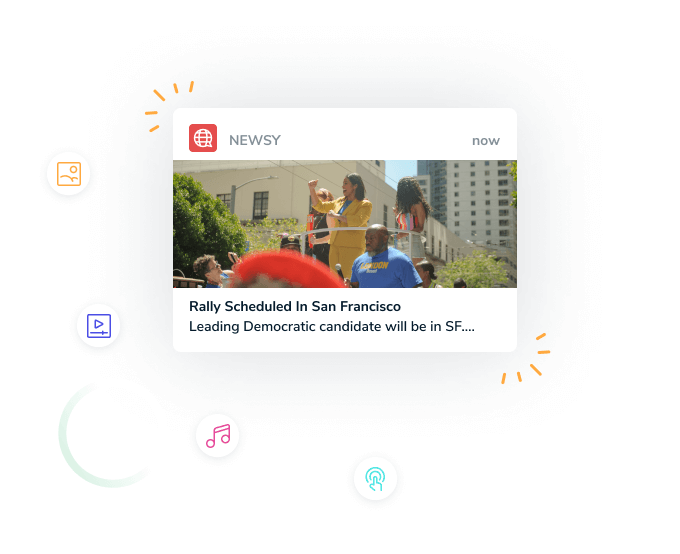 Below are some examples of how a political campaign can utilize push notifications:

Further detail a candidate's political agenda
Drive donations to a candidate's campaign
Raise awareness for events like debates and local rallies
Inform voters of polling station locations and hours
Highlight a candidate's recent media appearances
Social media channels like Twitter provide politicians an unrivaled reach through push notifications. President Donald Trump utilizes Twitter to directly communicate with his 60+ million followers on the platform who get a notification every time he tweets. The same goes for President Barack Obama, who has over 100 million followers and can instantly engage with them as well.
The Future of Political Outreach
As people continue to adapt to the digital age, the influence of devices like smartphones and personal computers will continue to grow. Political campaigns need to keep up with new and growing digital channels of communication to reach their supporters. Push notifications have a wide reach and can deliver information within seconds, making it one of the most effective messaging tools that a political campaign can leverage today.