We are excited to announce that we have raised funding from HubSpot, a leading customer relationship management (CRM) platform that helps companies build remarkable customer experiences.gc
The funding will allow us to aggressively grow our partnership with HubSpot and continue to extend our easy-to-use customer communication platform that powers web and mobile push, in-app messaging, SMS, and email. The funding comes in the form of a convertible note that converts to equity in the next round of funding. HubSpot joins our seasoned group of investors including SignalFire, Rakuten Ventures, and YCombinator.
Why We Raised from HubSpot
HubSpot and OneSignal share a lot of cultural similarities as product-led, high-growth businesses and we continue to learn from our new friends and investors at HubSpot. Raising and partnering with HubSpot has allowed us to extend our reach to further democratize customer messaging. We are excited at the joint offerings we will build and have built for developers and marketers.
As Andrew Lindsay, Senior Vice President of Corporate and Business Development at HubSpot shares:
"The firms share the goal of building products for a community of customer-oriented developers."
Investing for the Future
With this recent funding, our goal is to extend the breadth and reach of our product integration with HubSpot, scale our joint go-to-market functions, and expand our collective capabilities — particularly with regard to mobile engagement. Our CEO and Co-founder George Deglin notes:
"This funding marks a very strong vote of confidence from HubSpot, the partnership and integration helps hundreds of thousands of businesses grow their customer base."
Why HubSpot Invested in OneSignal
If you would like to learn why HubSpot chose to invest in OneSignal, check out HubSpot's investment announcement. You can also find out more on Crunchbase.
Use the OneSignal + HubSpot Integration
Our new integration allows joint OneSignal and HubSpot users to automate mobile and web push notifications from their HubSpot dashboard, personalize notifications using HubSpot CRM data, and enhance their campaign workflows using OneSignal's advanced analytics and messaging templates. Check out our recent integration announcement!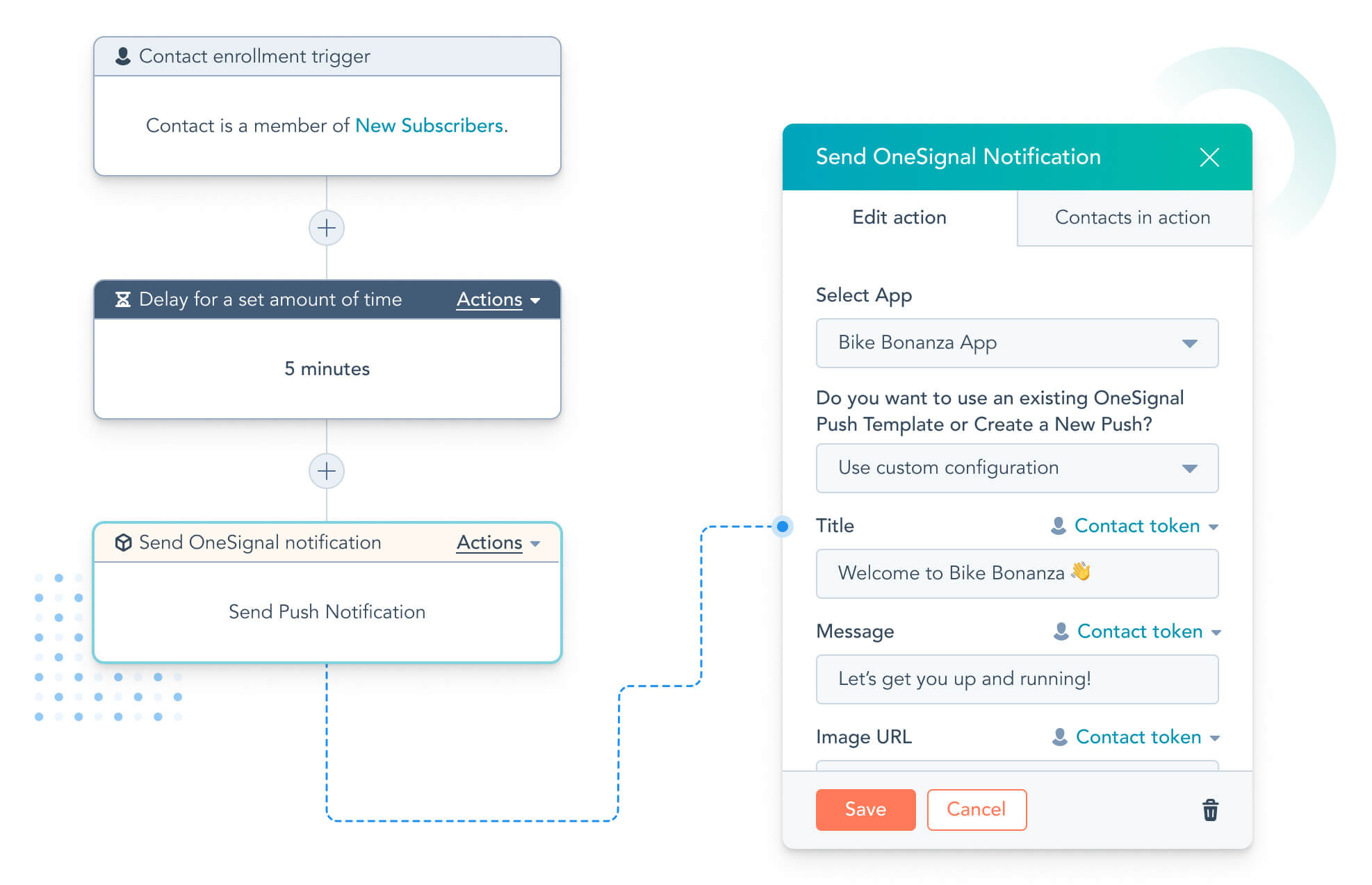 OneSignal is designed to help you send notifications and seamlessly manage your user communication across every channel, including mobile push notifications, web push notifications, bulk SMS, in-app messaging, and email. To start leveraging this integration in your HubSpot campaigns, simply create a OneSignal account and add the OneSignal app to your HubSpot dashboard. For additional support getting started, follow these step-by-step instructions.
Create a Free OneSignal Account