Since its initial release, we've been inspired to see how our community has used Journeys to strategically improve their messaging. Now more than ever, marketers are looking for an easy way to reach their customers across devices, at scale, and with automation. That's why we're excited to announce email for Journeys—the easiest way to seamlessly combine email and push notifications to keep your customers engaged across devices, automatically.
Orchestrating Email in Journeys
The benefits and use cases you get from push Journeys also apply to email Journeys, including the ability to guide your users to success, grow engagement, save time and resources with automation, and more.
Setting up your Journey also follows the same simple three-step process tying together your audience, your messaging roadmap, and your messaging content.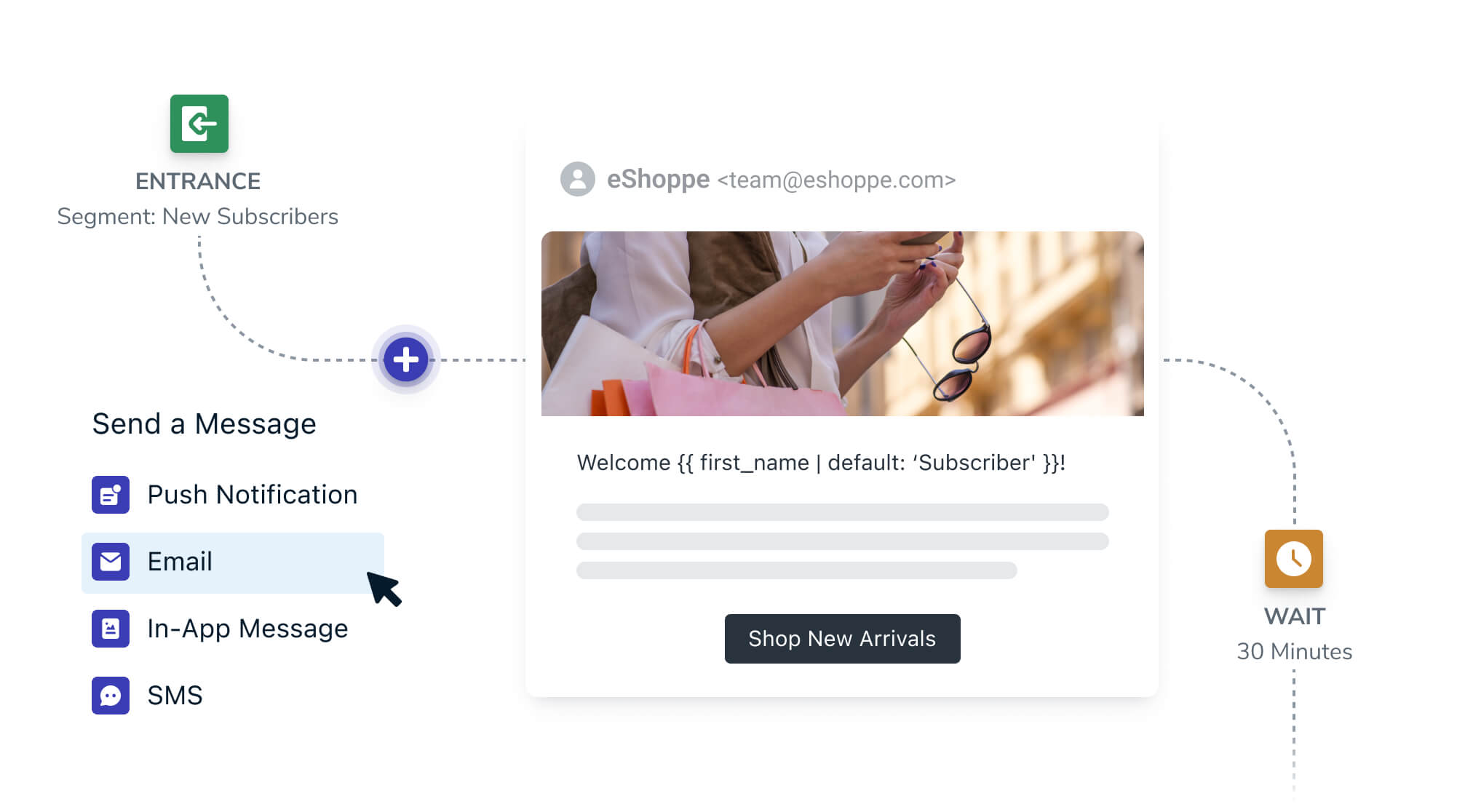 Push and Email: Better Together
Now, it's time to level up your messaging. When it comes to messaging, there's no substitute for a cross-channel approach. Leveling up from one to two or more channels is proven to increase engagement, purchases, and retention by over 50 percent.
Strategically leverage both push and email to reach your customers in different ways and avoid messaging fatigue. Boost engagement with messaging Journeys for every occasion, including:
Onboarding
Win-back / re-engagement
Abandoned cart
Post-action
Sales campaigns
Trials and upgrades
Repeat purchase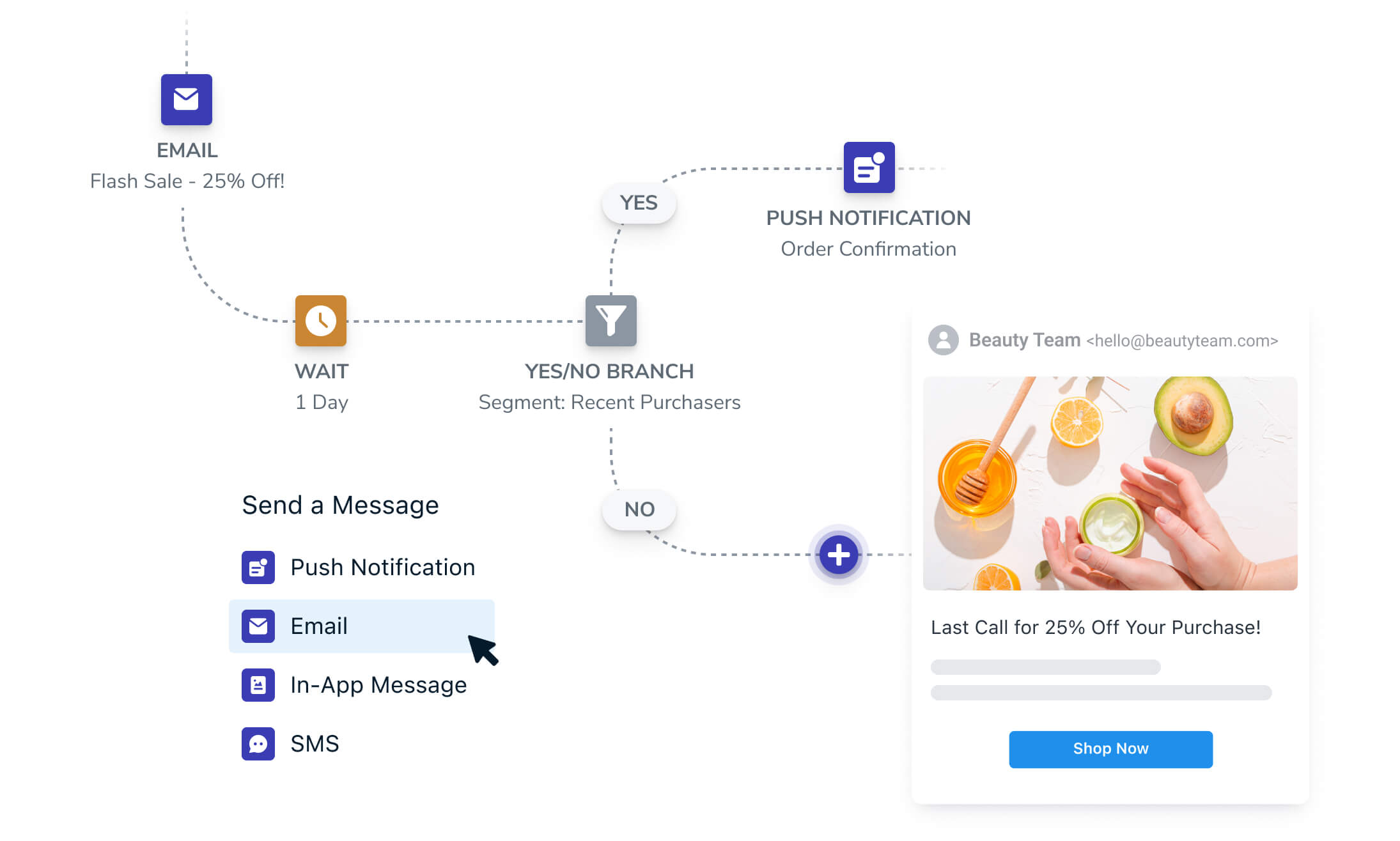 An Example Cross-Channel Journey
Imagine you have an eCommerce website and app selling widgets. Your goal is to successfully onboard your visitors and turn them into loyal buyers. Leverage a cross-channel Journey to communicate your unique value propositions and keep your users engaged.
You should build your messaging journey based on important milestones along your buyer's path to purchase. For example, if you've found that customers who download your app are more likely to engage and spend more, you may want to incentivize app downloads as part of the onboarding process.
After analyzing your user behavior and setting your objectives, you create the following Journey to optimize your timing and messaging.
Day 1
Send a welcome email that encourages your users to download your app.
Set a Wait node for two hours and then add a branch to send users down different paths based on whether they've downloaded your app.
If the user has downloaded your app, send a welcome push notification that lands them in the shopping experience.
If the user has not downloaded your app, send a follow-up email sharing one or more of your app's value props such as providing an easy way to check whether an item is in stock, quickly favorite items, track prices, leverage a faster and smoother user navigation experience, and more.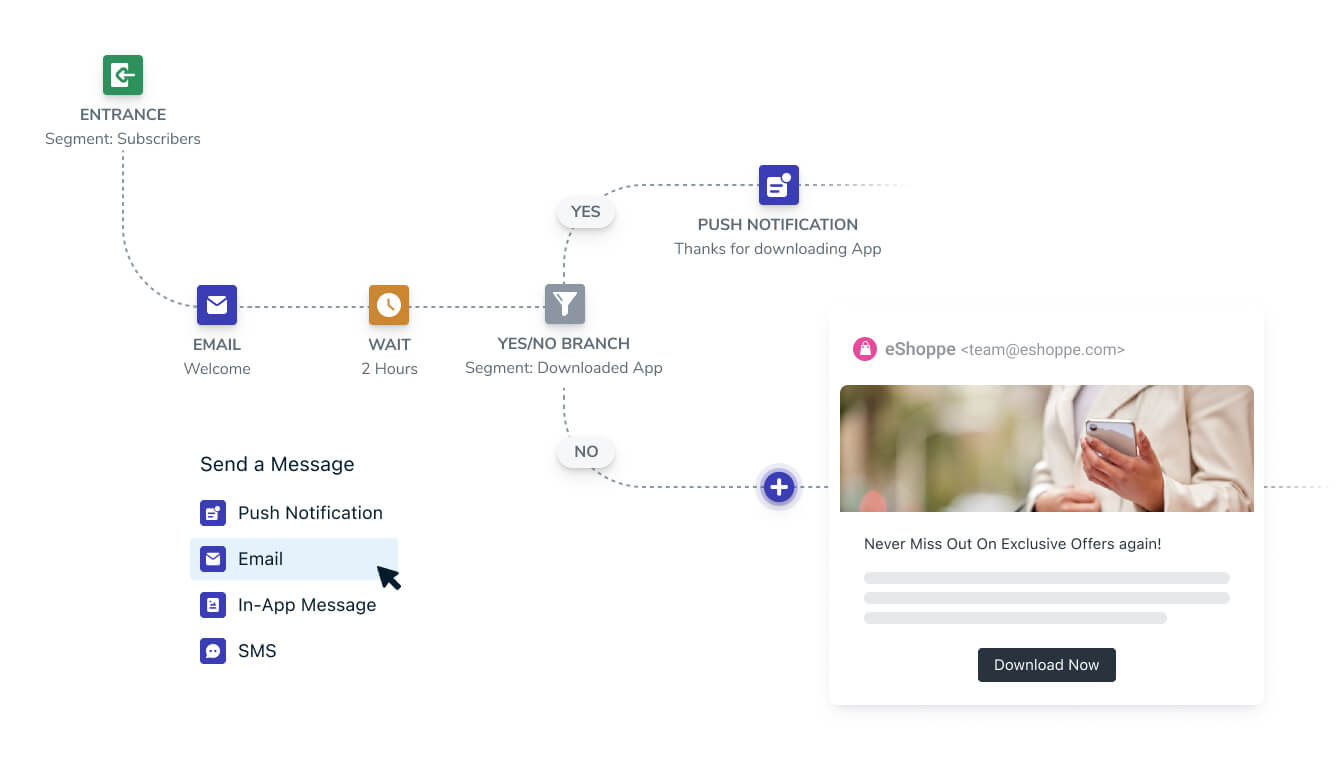 Day 2
Use a branch to check if your user has downloaded your app.
If so, send a push notification with a value prop to entice them back to your app and build a habit of engagement. For example, you could alert them to new items added, or remind them of an item they were previously browsing.
If not, try sending an email with another value prop to download your app. Or send a special offer to incentivize downloading the app, such as 15 percent off a user's first app purchase.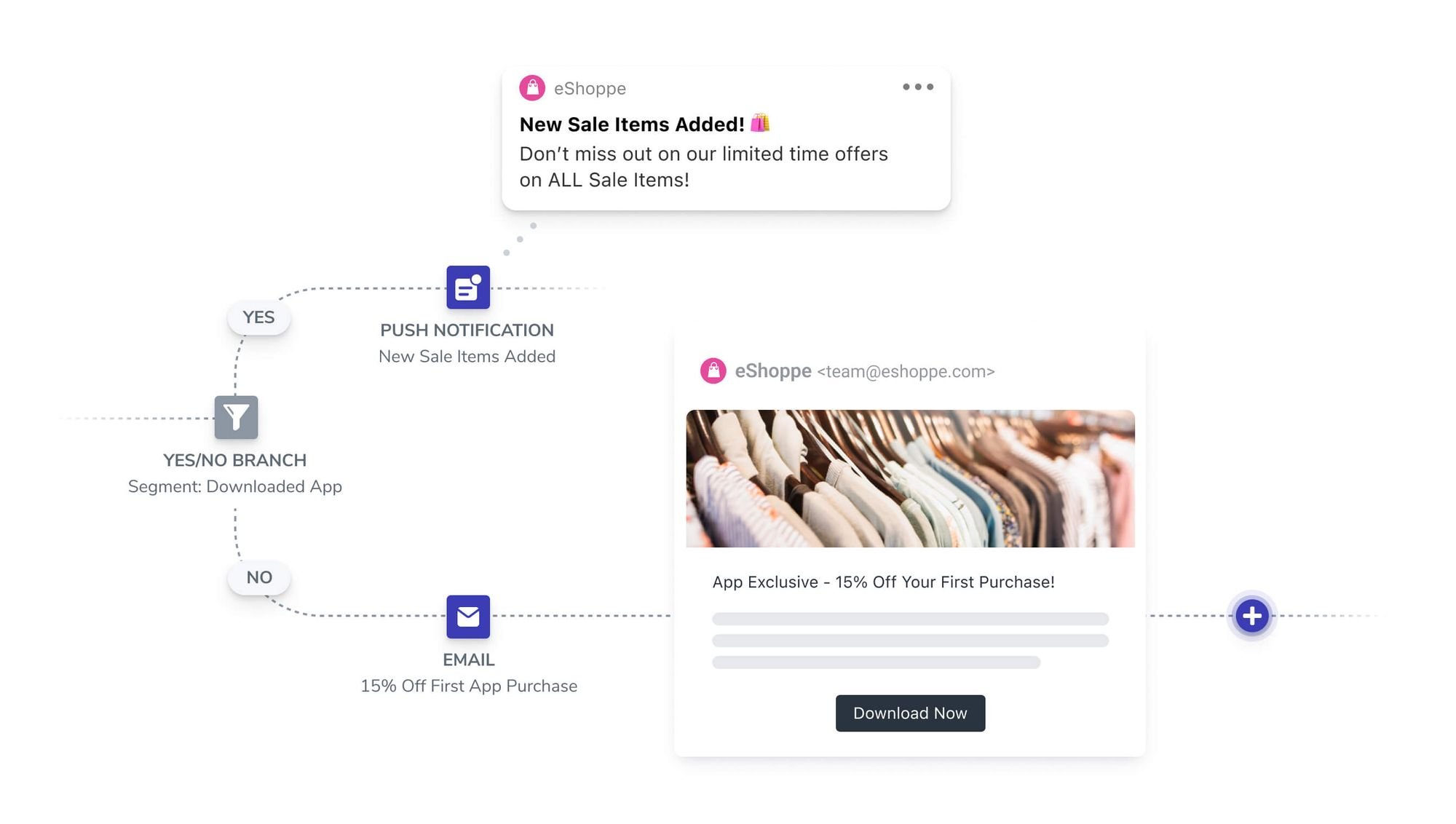 Day 4
Add a branch to send different email content based on how engaged your user has been.
If they've been engaged and browsing, but haven't purchased yet, you can try to incentivize a purchase by offering an exclusive welcome gift.
If they haven't returned to your app since downloading it, you can showcase items that are bestsellers, customer favorites, or from new collections to get them in the habit of browsing.
Day 7
Check again to see whether your user has downloaded your app.
If so, send a push notification announcing a special app-only sale or promotion.
If not, send an email about the app-only sale or promotion to drive more app downloads.
Depending on your business and your objectives, you can make Journey more targeted and detailed. For example, you might want to create different branches based on whether the customer lives close to a brick-and-mortar store in order to drive in-store traffic. Alternately, if you capture data identifying your high-value customers, you can create targeted messaging tracks accordingly, focusing on your rewards program or credit card. You may want to separately target your deal-hunting customers with pricing-driven sales and promotions communications.
You can also establish different Journey criteria based on user behavior. For example, you may decide to keep users in your onboarding Journey while you send other types of communications. Or, you may also decide users exit your onboarding Journey early after their first purchase, after which they enter a post-purchase Journey to turn them into repeat customers.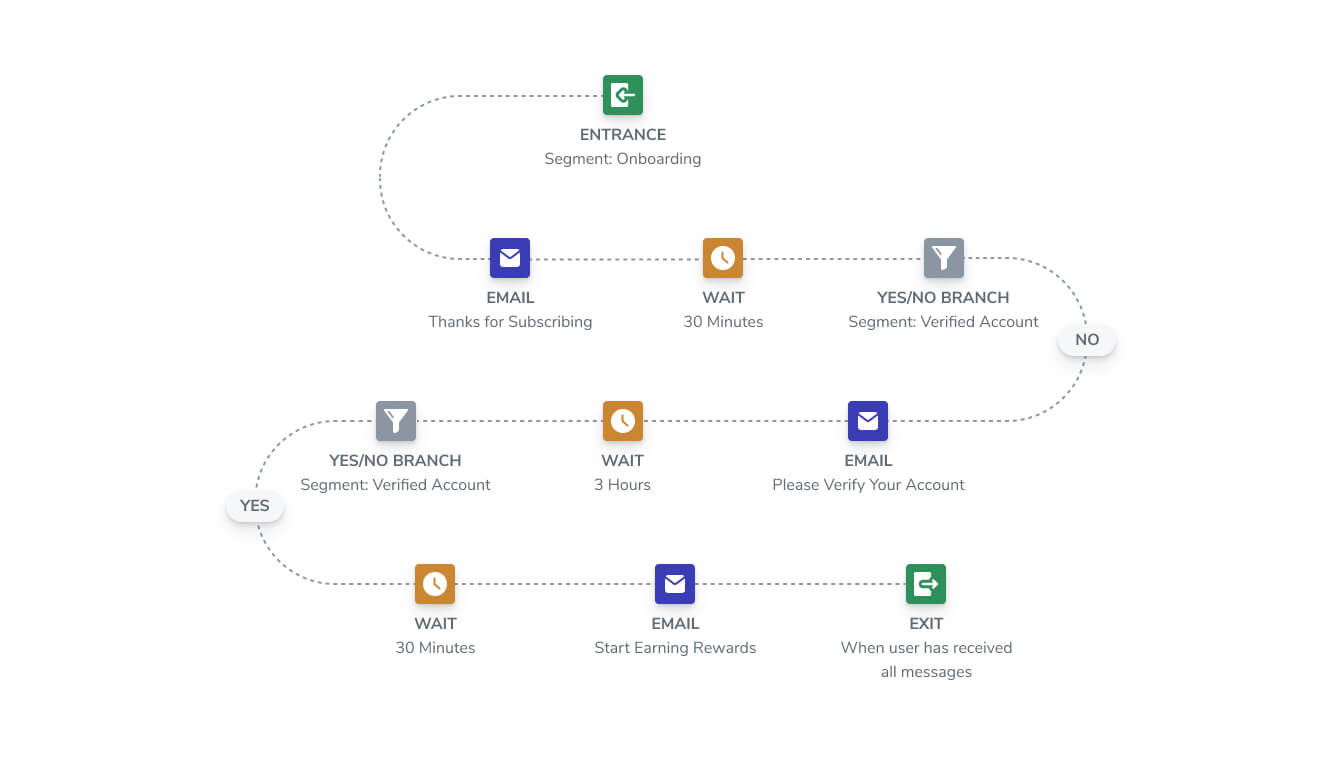 Create Cross-Channel Journeys in Minutes
The Journeys feature is currently available on our Professional and Enterprise Plans. We're also working on making a version of Journeys available to Free and Growth Plans that is coming soon. To unlock access in minutes, simply upgrade your account in your OneSignal dashboard.
Log in to Your Account