Given that 90% of consumers want a seamless, omnichannel experience, it's no surprise that companies are moving away from broad messaging campaigns. Creating personalized, customer-centric journeys across different messaging channels has been proven to increase user sessions, drive purchases, and boost retention.
But how do you get there? Most marketers today are busier than ever and looking for ways to simplify their workflows. Stringing together multiple touchpoints into a seamless experience can feel like trying to turn a handful of musical notes into a symphony — in other words, it can be overwhelming, time-consuming, and difficult to get right.
Getting customer-centric journeys right requires an intuitive, all-in-one orchestration tool. That's why we're excited to announce that our Journeys builder tool now supports in-app messaging and SMS in addition to push notifications and email. Now, you can use Journeys to easily orchestrate mobile-first messaging that keeps your users captivated inside and out of your app.
Retain More of Your Users with Mobile-First Messaging
User retention is more important now than ever before. It can be up to seven times more expensive to acquire a new customer than to retain an existing one.
SMS and in-app messaging work together to drive users back to your product and keep them engaged. In fact, 97 percent of SMS messages are read within 15 minutes of receipt. Using this mobile-first channel can help you reengage users outside of your app and keep them captivated with customizable in-app messages.
One Tool to Rule Them All
With Journeys, it's easy to turn your chosen messaging toolkit into a seamless customer experience in a matter of minutes. To ensure your message reaches your target audience, optimize performance with a diversified channel strategy that includes SMS, in-app messaging, push notifications, and email.
Consistently Deliver Relevant Content to the Right Users
By centralizing your customer and channel data into one platform, you'll gain a more comprehensive understanding of your user's behavior. With Journeys, you can act on this data with targeted mobile messaging. Journeys allows you to customize your user workflows with sophisticated branching logic and combine user paths based on customer preferences.
Save Time and Resources with No-Code Tools
Automate your messaging and control your customer data, all from our intuitive workflow builder. By consolidating individual campaigns into a single Journey and easily managing your customer data without code, you'll be able to spend less time creating and managing your messaging flow.
How to Use Journeys to Improve Retention
Combining all of your messaging channels has been shown to improve retention by upwards of 90 percent. Try using Journeys to synchronize out-of-product messaging channels that get users back to your app with in-app messaging that keeps them active.
Let's say you're a freemium exercise app that offers exercise content, fitness tracking, and personalized training, and you are currently working on improving retention. The primary goal here is to get your users who are at risk of churning to start using your app again.
Step One: Re-Engage Your At-Risk Users
Start by identifying your target users by creating a user Segment that targets users who were regularly opening your app and have a high session count, but who haven't engaged in the last week.
Set this Segment as your entrance criteria for your Journey. Set your exit conditions to have users exit the Journey once they become engaged again. This will be helpful for multiple reasons: (1) it will prevent over-messaging users and (2) each step of your Journey will further qualify how at-risk a user is of churning, and you can adjust your messaging based on their engagement.
Day 1
The first strategy you can use is a friendly reminder to get users back into your app.
Send the whole user Segment an SMS message that reminds them of the value of your app and reinforces their progress. For a fitness app, that might mean emphasizing their fitness goals and demonstrating their progress in the app thus far. Make it extra eye-catching with a well-placed emoji or two.
And then add a wait node of two days.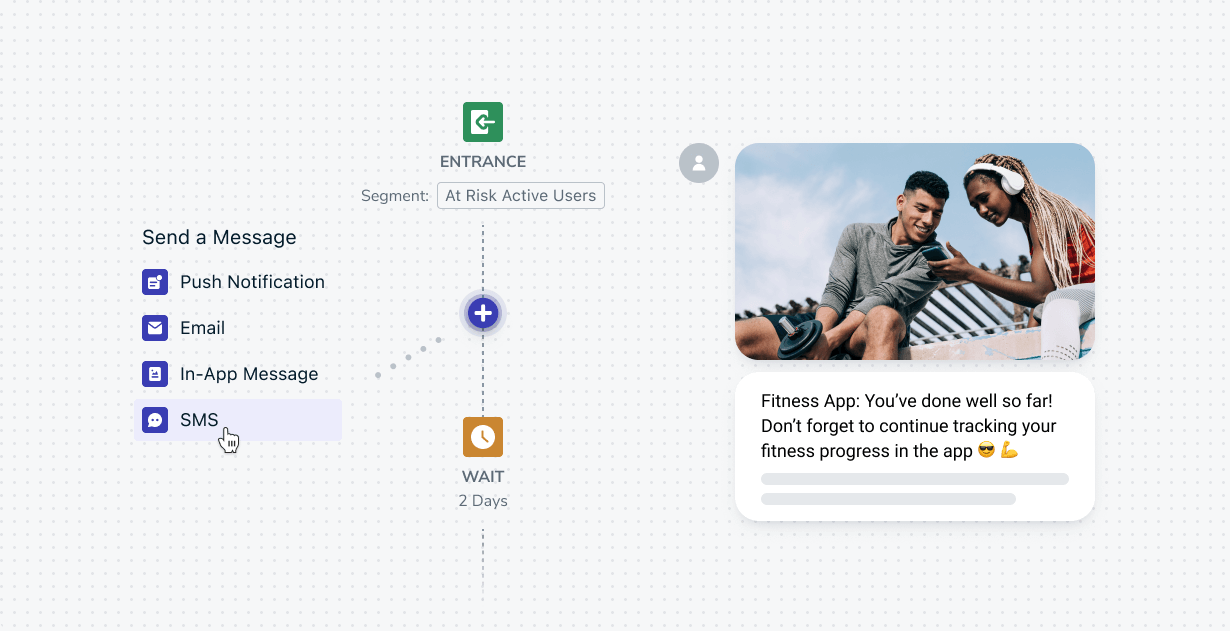 Day 3
Users who enter this step seem to be more at risk of churn, so create a message that strongly emphasizes the benefits of your product. Most people check their email daily, so try using an email to capture their attention.
Add a yes/no branch based on whether a user is on a free or paid subscription.
Send your free users an email that showcases your top three workout classes and invites them to give one a try.
Send your paid users an email that emphasizes a list of top, premium-only workout classes and invites them to give one a try.
And then add a wait node of four days.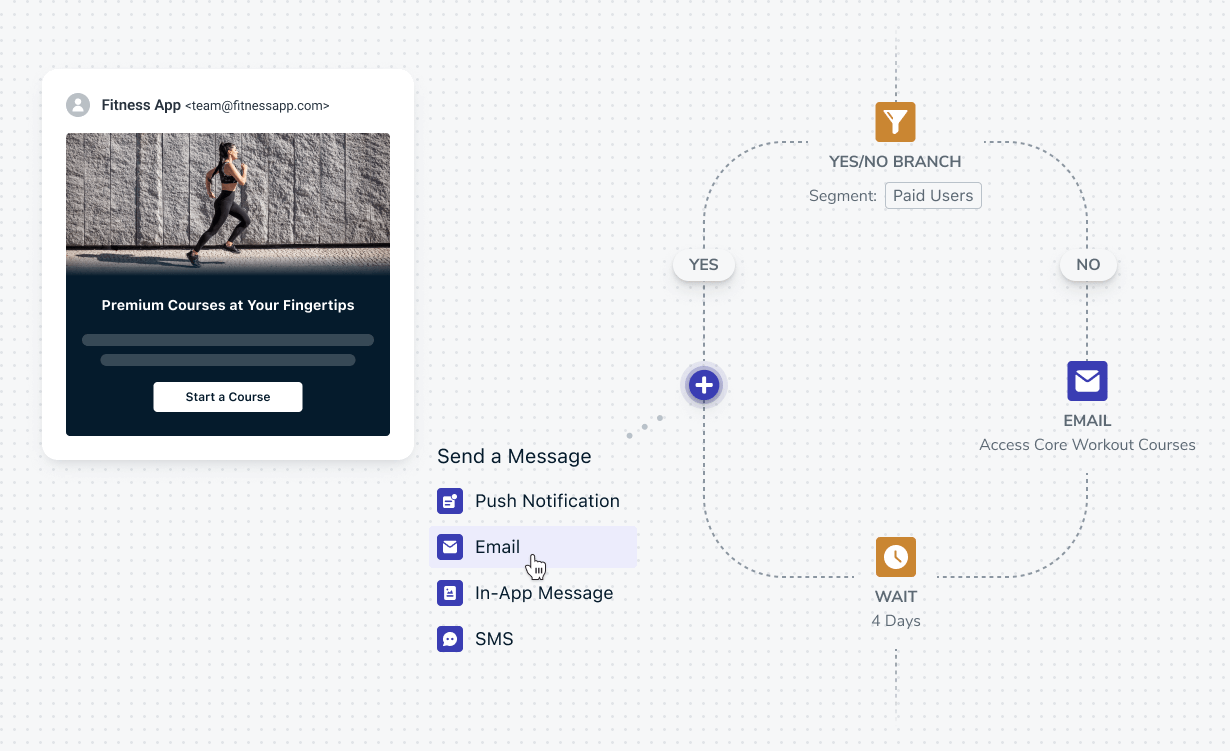 Day 7
Users who have made it this far in the Journey are at higher risk for churn. They may no longer need the app or might be unsatisfied with their app experience. Push notifications have been shown to increase app engagement by up to 88 percent, so try sending users a push that educates them on a popular way to use the app.
Add a yes/no branch based on if users have engaged with your popular feature, daily step counting.
If they have engaged, then send them a push notification that encourages them to get back to tracking their step count.
If they haven't engaged with this feature, then send them a push notification that highlights how they can now count their daily steps and encourage them to get tracking!
Add a wait node of one week.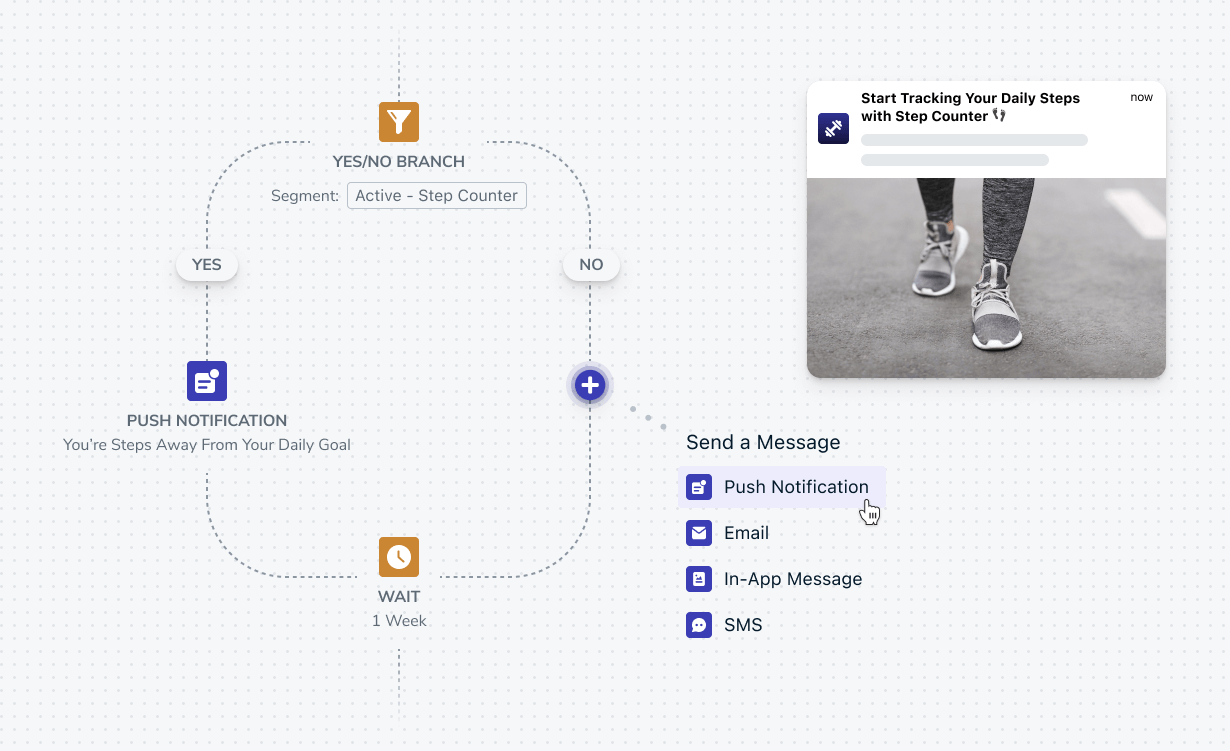 Day 14
For users who have made it this far in the flow, try asking them for a favor to both leverage the Franklin effect and collect valuable feedback.
To do that, send all users in the Segment an email asking them to spare a few minutes and give feedback via a survey link. Ensure the email is authentic and personable, ideally coming from a real person in your organization. Emphasize that any and all feedback is helpful to your team.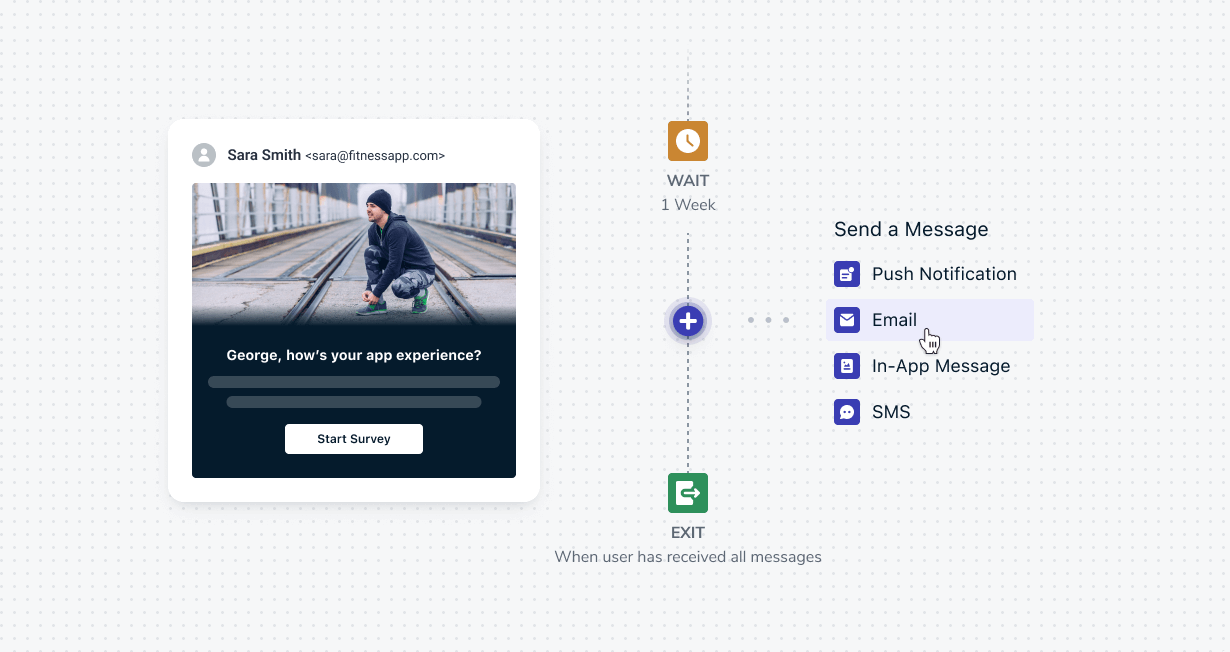 Step Two: Retain Your Successfully Re-Engaged Users with an In-App Journey
The customer journey doesn't end once a user clicks on a message. To ensure you keep re-engaged users active, set up a brief Journey that uses in-app messaging to deepen their use of your app.
You can do this by:
Targeting the same Segment of users (since in-app messages only show to engaged users, these customers will only see these messages once they've re-engaged).
Adding a delay node of one minute.
Adding a yes/no branch based on whether a user is on a free or paid plan.
Sending your free users an in-app message with a free trial to encourage them to more deeply explore and engage with the app.
Sending your paid users an in-app message with a discount code to redeem on their purchase of a personal training session.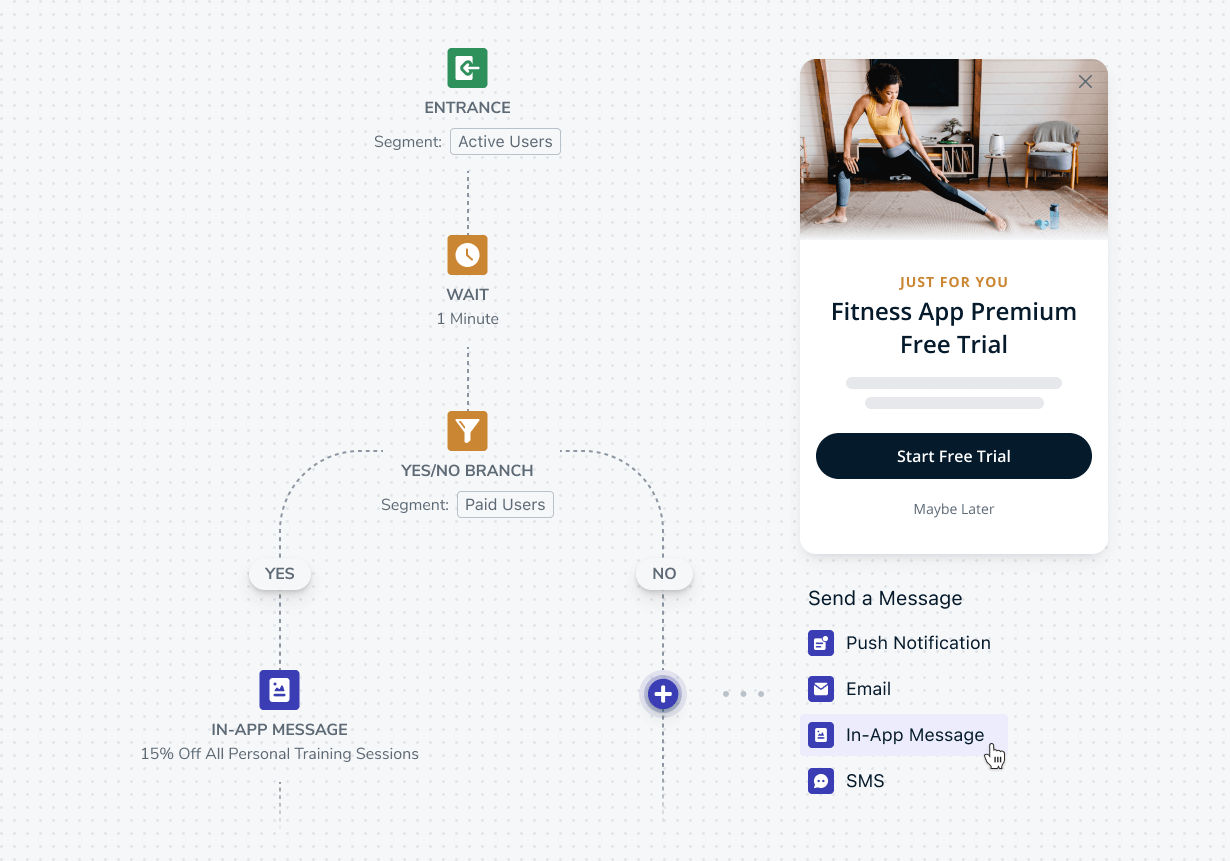 By combining your re-engagement and re-activation Journeys, you'll be able to automate these activities and improve your app's overall engagement and retention.
Get Started with OneSignal
To learn more about how you can use Journeys, check out our other blog post and webinars. If you'd like to learn more about our Journeys features and ongoing updates, explore our documentation.
Journeys is currently available on our Professional and Enterprise plans. To unlock access and automate your messaging, login to your account and upgrade today.
Login and Get Started