Did you know that 99% of consumers check their inboxes at least once a day? As consumers increasingly switch between devices throughout the day, email has emerged as a crucial line of communication for apps and brands—because email is the only channel that is accessible on any device and at any time. The data backs this up— every $1 spent on email leads to an average return of $42.
Whether it's reducing customer churn, driving more repeat purchases, building customer loyalty, or generating website traffic, it's important to consider what role email can play in getting you there. That's why OneSignal makes it easy to reach, convert, and engage your users directly from their inboxes. Our intuitive email design, segmentation, and automation tools help you create and send the emails you want, without relying on extra developer, design, or data resources.
How to Reach Your Goals with Email
You might be wondering, "How can I send emails that drive results?" Start by identifying a current business or departmental priority. Then, break that into a much smaller, bite-sized goal. For example, maybe your priority is to decrease customer churn. A smaller goal could be to reduce churn during onboarding (as the highest number of mobile app users churn in their first few days). With this strategy in place, identify the relevant people you need to reach– in this case, new sign-ups. Finally, put all of this together by sending an email that aims to preempt  churn– a welcome email that showcases the value of your product to new sign-ups.
In short...
Choose a priority
Break it down into a much smaller, specific goal
Identify the relevant users you need to target
Send your target audience an email with content that encourages them to engage in a relevant high-value activity, such as a new session, purchase, and more.
Email Use Cases
Activate new sign-ups with a welcome email
Make sure that every new user knows how to get the most out of your product (and drive higher first-purchase conversion rates). Use a welcome email to showcase the top benefits of your product with CTAs that invite them to explore various features.
Drive revenue from abandoned cart conversions
Did you know that retailers lose out on $18 billion in revenue each year from abandoned shopping carts? Drive revenue by encouraging your users to complete their purchases. Try sending a push notification shortly after they abandon their cart to nudge them back to complete their purchase. If they still don't convert after a day, follow up with an email that reminds users that they have great items left in their cart.
Build loyalty with a cohesive transactional experience
Keep users up to date with effective transactional emails. Foster trust by confirming orders or appointments, notifying them of login attempts or low balances, and informing them of their waitlist status or social mentions. For fraud alerts or other urgent communications, try following up with an SMS to ensure they get the message.
Improve event engagement by promoting it across channels
Boost engagement with an event, challenge, or promotion by integrating email with in-app messaging. Try using an in-app to announce the event and then follow up after a few days with an email that leverages more visuals, details, and CTAs to educate users on how they can engage.
Drive mobile and web traffic with newsletters
Drive people to your app and website by announcing new content, features, or products with an email newsletter. Try scheduling regular content digests (at weekly or monthly cadences) to encourage repeat visitors.
Collect and leverage customer feedback
Collect valuable user feedback by sending an email that asks users to rate their experience or respond to a quick survey. Then use their feedback to precisely target them with relevant information: ask happy users to review your app on the app store and reach out to unhappy users to learn more about how you can improve their experience.
Looking to apply these use cases with the right strategies? Our guide to email campaign optimization includes the highest impact places where your email campaigns can be improved.
Rely on OneSignal to Level Up Your Email
Empower Marketers to Own Email with No-Code Tools
Our intuitive dashboard enables marketers to segment users on their own, create a variety of email campaigns without design resources, and craft ongoing, triggered Journeys without engineering. Plus, our flexible Data Tag system gives marketers the power to update and manage customer data directly from the OneSignal dashboard.
Quickly Activate Your Customer Data
To trigger targeted email messaging, you need easy access to your customer data. With OneSignal, you can collect, consolidate, and use all of your customer data in one place, everything from existing analytics sources to first-party, channel, and product usage information. With our flexible personalization and segmentation tools, you'll then be able to use this data to send relevant messages based on customer interests, preferences, and behaviors.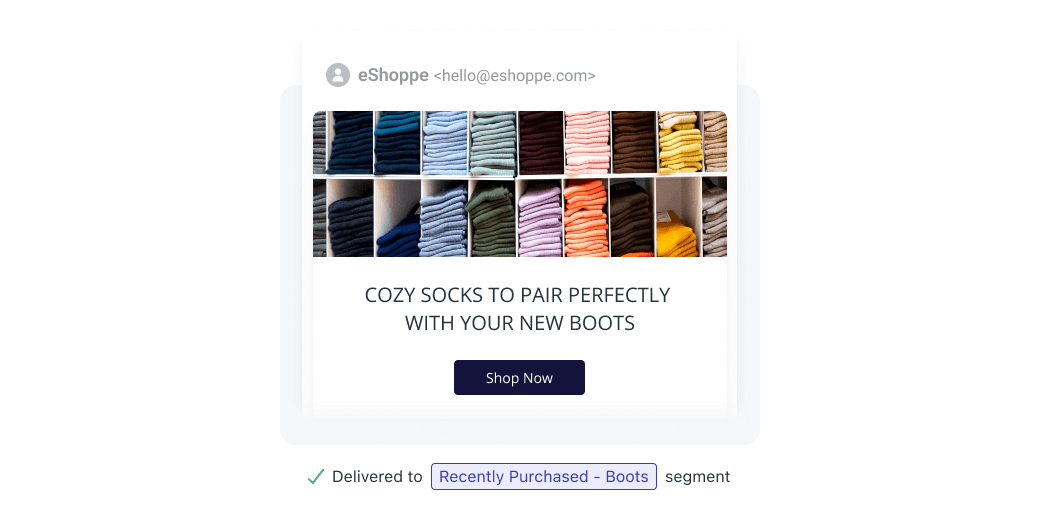 Easily Combine Email with Other Mobile Channels
Omnichannel messaging has been shown to engage customers more effectively than any single channel alone. Just by combining email with your other mobile channels, you could generate more conversions, boost customer lifetime value (LTV), and improve customer retention. With our visual workflow builder and all-in-one dashboard, you can easily combine channels to create powerful customer Journeys that consistently drive value.
Streamline Your Workflow with Our Intuitive Builder
Segment your users, design an email, and schedule it all from our single-page, marketer-friendly builder. With our drag-and-drop email editor, you can be sure to leverage all that email has to offer: customizable design, color, and layout; space for multiple calls-to-action, without character count limits (which means more opportunities for personalization).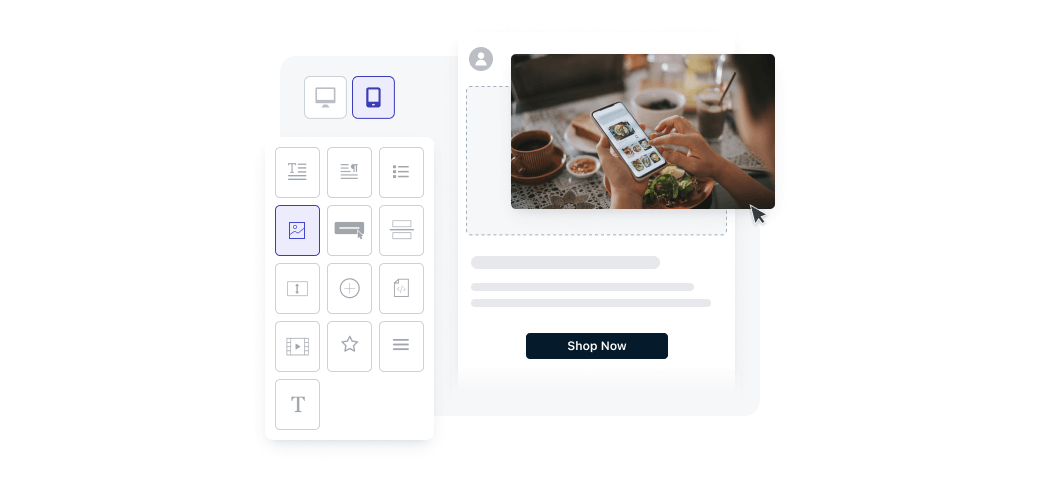 Ready to Get Started?
Email is available for Growth, Professional, and Enterprise customers. To unlock access, upgrade your plan today. If you'd like to learn more about our email features and ongoing updates, be sure to check out our documentation.
Get Started for Free