As the year comes to a close, we're delighted to announce OneSignal has been named the leading push provider in the G2 Winter Grid® Reports.
Our customers speak; we listen. As the creators of an omnichannel communications tool, it's our philosophy to champion the voices and spread the messages of our customers, no matter the size of the enterprise.
As a global technology provider, we understand our customers' varying needs and have designed our solution with the ease of use, ease of implementation, unparalleled performance, scalability, and reliability that all businesses crave, and that our customers clearly rely on and appreciate.
Our Ratings in the G2 Winter 2022 Reports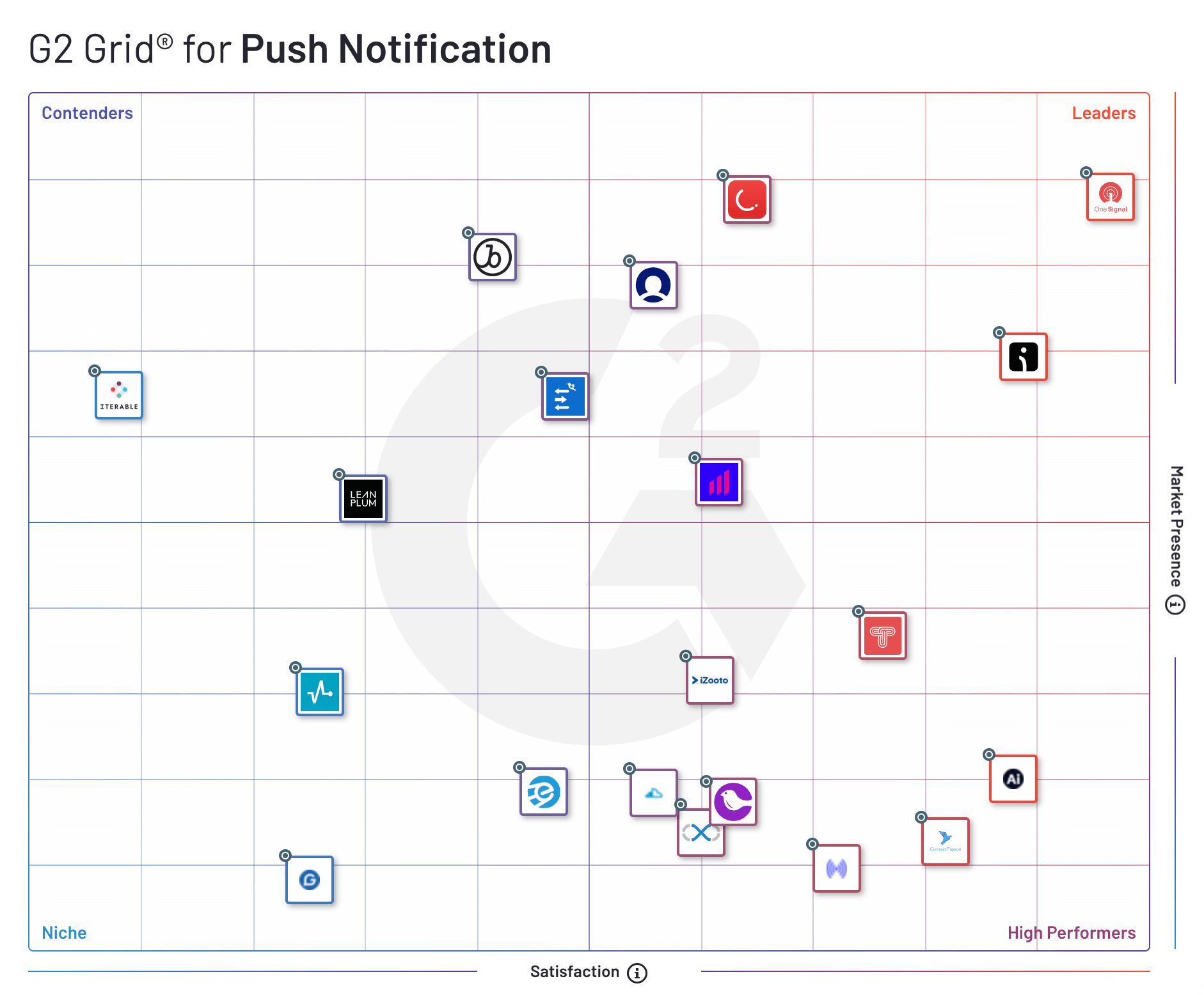 A Champion for Startups
Highest Satisfaction and Market Presence Scores
As you'll see in the grid, OneSignal is placed highest among the sellers in the Small Business Category based on both customer satisfaction and market presence. We've earned the highest customer satisfaction score (97) through our customers' glowing reviews of both end-user-focused and administration-focused product attributes. Our winning market presence score (95) is derived from a combination of 15 metrics that rank us among the other software sellers and their individual products on several criteria.
Our Top Awards — Leading the Industry
We're honored to say we've been acknowledged as a leader across market segments and product categories. We serve clients from the small business to mid-market sectors and beyond, providing value in push notifications, mobile marketing, and proactive notifications.
OneSignal has been named a Small Business, Mid-Market, and Enterprise Leader for select product strengths including our push notification, mobile marketing, and proactive notification capabilities.

OneSignal has also been named a Momentum Leader, ranking in the top 25 percent of products in the push notification and mobile marketing categories in G2's Momentum Grid.

In addition, we've been named a High Performer in the Mid-Market segment for proactive notifications and mobile marketing, as well as in the Enterprise segment for push notifications.

Ease of Use and Implementation
We're proud to be acknowledged with the following badges that highlight our ease of use and implementation. We designed our dashboard with both marketers and developers in mind and have ensured that technical experience is no barrier to creating, managing, and delivering your messaging campaigns.
These badges underscore our efforts towards usability and efficiency, as we offer a setup time of less than 15 minutes and require less than ten lines of code to get started..
Ease of Use
OneSignal has been named the easiest to use product in the push notification and proactive notification categories.
We've been acknowledged as the product with the easiest setup, with the highest setup rating in the Mid-Market proactive notification category.
Best Overall Usability
We've also been named the product with the best usability based on our usability rating in the push notification category.
Fastest Implementation Time
OneSignal's been named the product with the shortest go-live time in the small business push notification and proactive notification categories.
Thank You OneSignal Customers!
We want to thank you— our valued customers— for continuing to trust in our product and support our growth as your messaging provider.
Words of Wisdom from our Reviewers
"Push notifications help retain users. Not only do they help increase interaction on the topic of the message, but they can help increase the returns you see from your app. Notifications can also be geographically-based to alert users to discounts or specials when they're in a particular location." - Jasper P, Web Developer/Design/Small Business
"It gives you complete control of your environment. It allows you to push to specific user/group & to all. You can track your subscribers browser wise. You can also schedule push messaging & email, and OneSignal will make sure to send it at stipulated time." -Manjeet K, Sr. Team Lead/ Computer Software
Your Feedback Strengthens Our Product!
Inspired to leave a review of your own? Tell us about your experience with OneSignal on G2.
Leave a G2 Review