Over 11 billion messages are sent through OneSignal every single day. We build products used by millions and support a wide variety of people, use cases, and countries around the world. That being said, we strive to build a company as diverse as our customer base. Inclusion and equity are core to what we do here.
Building an amazing platform that powers messaging at scale requires our teams to truly understand and empathize with the marketers and developers who rely on our products every day. In order to do our jobs well, we aim to build a workplace that is representative of the diverse groups we support.
Here, we'll share the progress we've made in hiring a diverse team with an emphasis on our engineering teams.
---
Our Diversity Statistics and Breakdown
Below, you'll see a breakdown of our team demographics as of April 2022. Please note that this post is meant to be a snapshot in time, and is not updated with any details or statistics after its date of publication.
Gender Representation in Engineering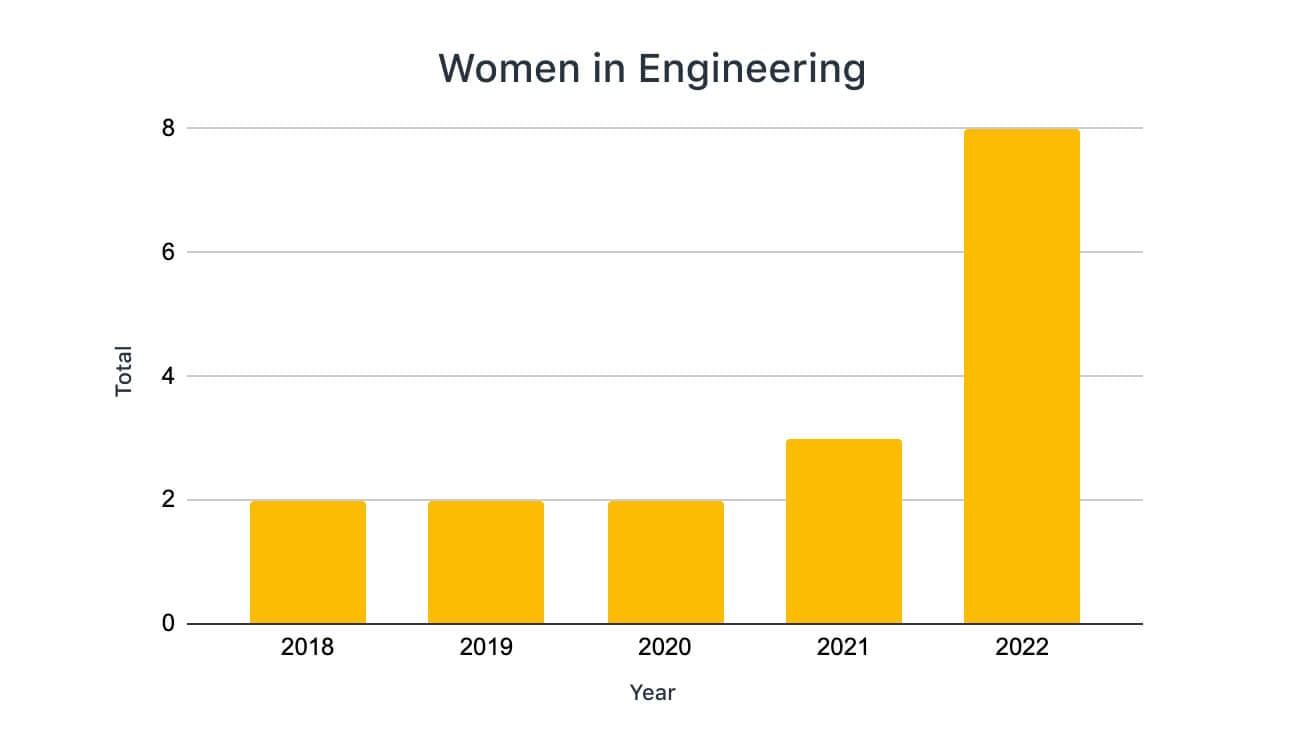 Note: Our engineering team is currently 46 individuals, including management.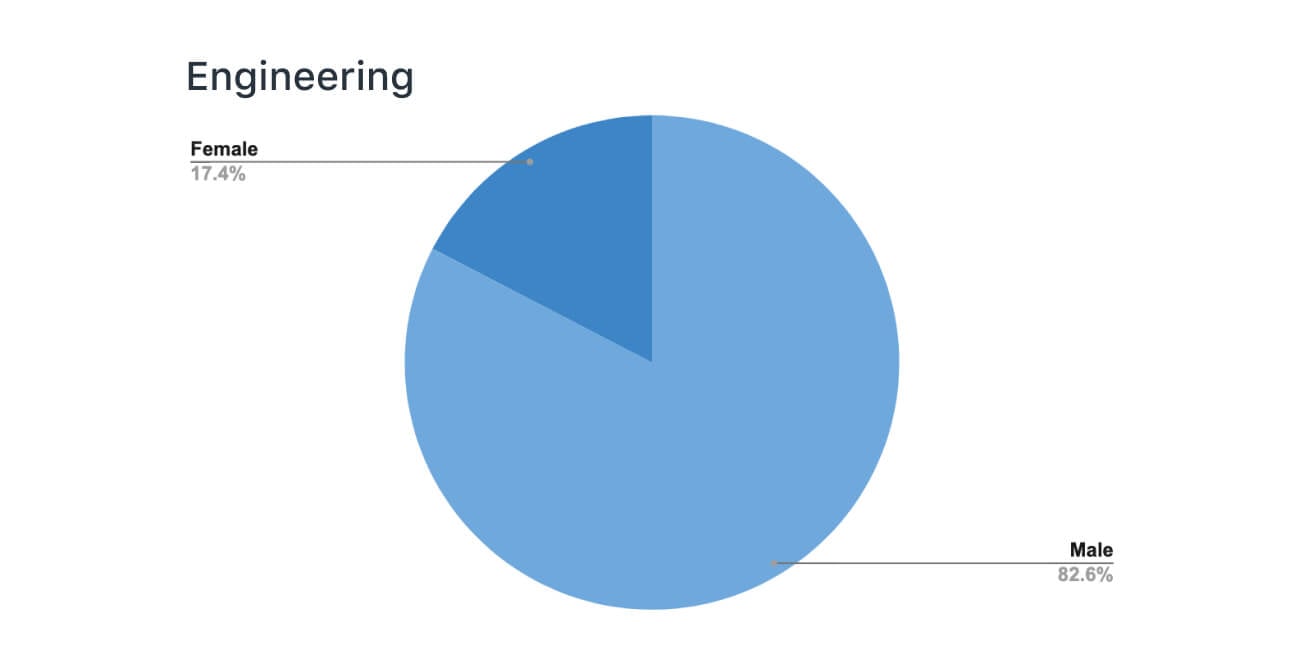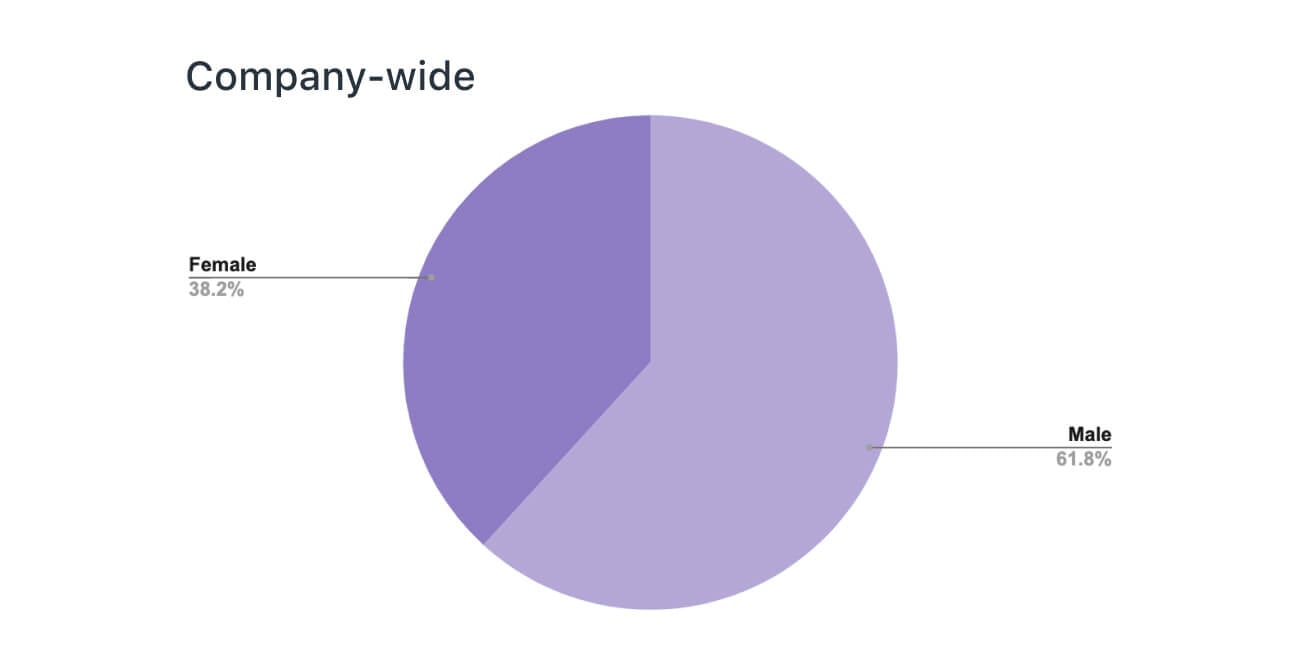 Women are still highly underrepresented in software engineering, making up only 14 percent of the total workforce. As you can see above, OneSignal has made significant progress this past year to ensure that our gender ratio (17.4 percent)  is higher than the industry average. Although this number is still far from our end goal, we do want to recognize this progress and continue to work towards our aspirations as a diverse and inclusive organization.
Defining Underrepresented Groups
We define URGs, or Under-Represented Groups, as Black, LGBTQ, Women, Latinx, American Indian, or Alaska Native individuals. Belonging to one or more of these groups is currently self-reported, and therefore our data is incomplete and untracked in some instances. Even if the data were at our disposal, we recognize that it would not reflect the intersectionality of our experiences and backgrounds.
The Value of Ethnic Diversity
According to a McKinsey Analysis, companies are 35 percent more profitable with ethnically diverse teams. Although our data is still self-reported with an "Unspecified" option in our employee tracking system, here is a breakdown of ethnicity stats across the company and within our Engineering teams.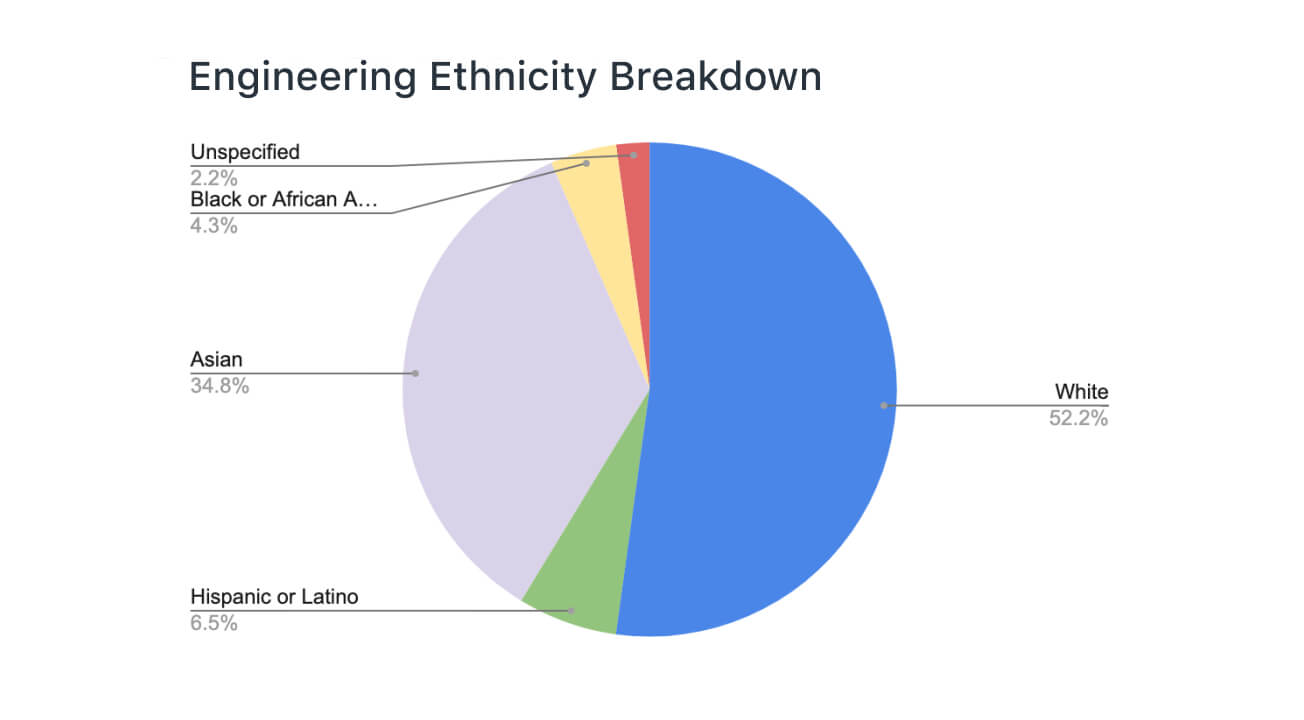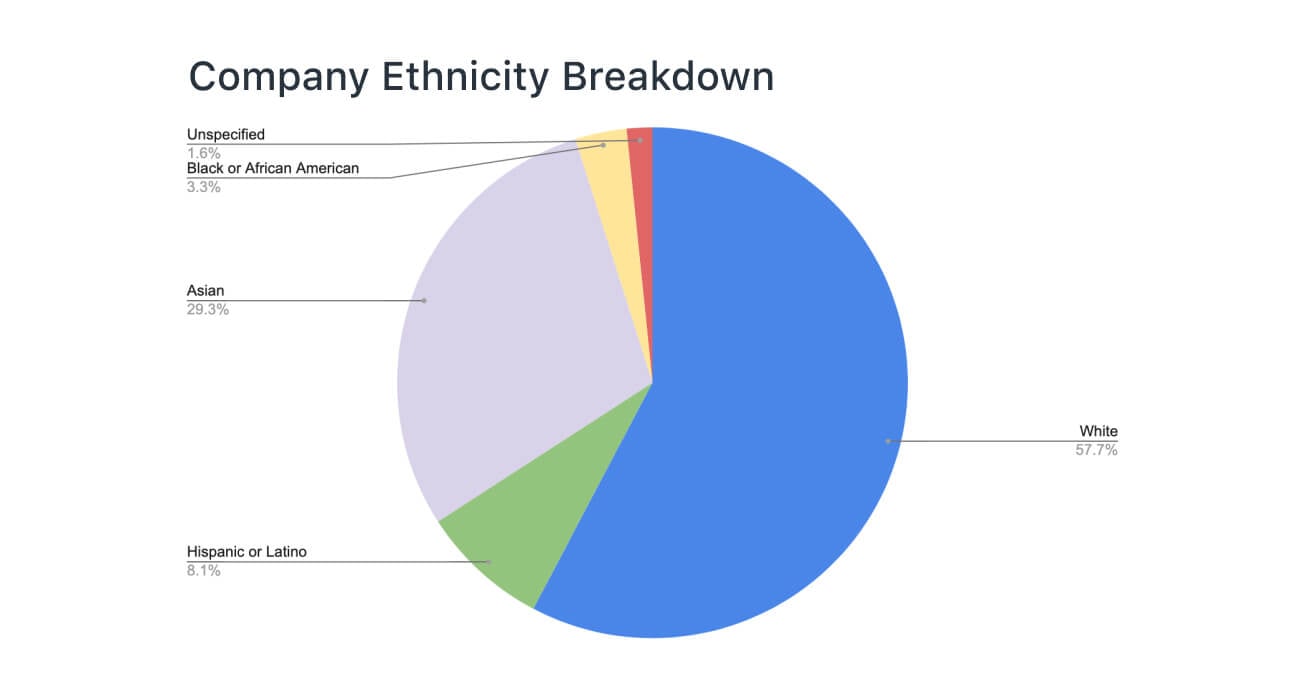 ---
Now that you have the numbers to reference, here are some of the recent initiatives that have been important to furthering the diversity of our teams and that continue to be an area of focus for us.
Growing Women in Leadership & Engineering
Most people rely on role models to inspire and motivate their personal growth. We often need to see others like us succeeding in our field. We need these role models for inspiration, for leadership, and sometimes simply to know that a path to that success exists.
In June 2021, we announced that Lorrie Norrington joined OneSignal's as a Board Advisor. Lorrie has an impressive resume and background in product-led SaaS businesses. Beyond that, Lorrie sets an example as a strong leader, providing representation for women at the highest levels of business.
Over the past year, we've also introduced more women to leadership positions on our Engineering Management team. As of today, 28 percent of our EM team are women (myself included). Our teams are growing very rapidly and we hope to continue making progress here.
I started at OneSignal in January 2022 and I've witnessed my own Product Engineering team's progress in this regard. At the beginning of my time at OneSignal, there were no women on my team. However, from January to April of this year, I am proud to say that 4 out of 7 recent new hires in Product Engineering have been women. We increased our numbers through a combination of the Apprenticeship program (more below), referrals, and increased sourcing efforts.
Branching out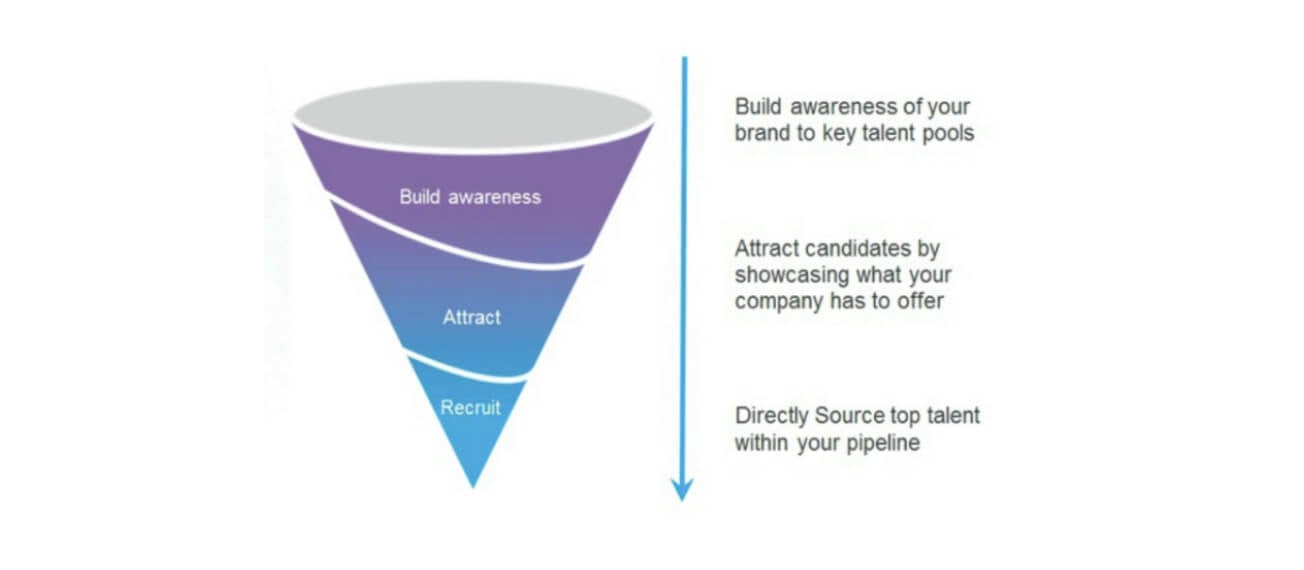 Without top-of-recruiting-funnel diversity, it's nearly impossible to build a diverse engineering team. One of our Engineering directors, Brett Thomas, kicked off an apprenticeship program that partners engineers at OneSignal with Hackbright graduates as we employ them full-time in software engineer positions. We currently have three Hackbright apprentices, one in each of our engineering groups—Developer Engineering, Product Engineering, and Infrastructure Engineering — and we hope to continue our partnership in the future. We've also had two individuals who have been promoted out of the apprenticeship program. We've since explored several other boot camps as well, such as HackReactor and App Academy for future opportunities.
I actively serve as a mentor for current Hackbright students, and have done so in the past as well. I have seen first hand the level of commitment each of their students bring to improving their technical skills, while coming from non-traditional backgrounds. They already know how to be great employees, and simply need the encouragement and support to become great engineers as well.
The second way we've been able to branch out and increase top-of-funnel diversity is through our remote efforts. Earlier this year, we announced that OneSignal is now a remote-first company. Although the pandemic necessitated new ways of working and collaborating, our remote efforts and hiring had been in progress long before the blog post was released.
Hiring outside of just two places where we currently have engineering offices —The Bay Area and New York City— helped us tap into an expanded talent pool with diverse perspectives and backgrounds. We've already seen some impressive successes in this effort as many of our recent hires are working remotely from California, Texas, and New York.
Tracking the Numbers
Data can shed light on whether our team is reaching out to a diverse talent pool to build a diverse pipeline and whether there are systemic biases that show up in parts of our interviewing process. To measure our recruiting diversity efforts, we exported all the data from our applicant tracking system, Lever, into Gem for easy tracking and visualization.
This enables our recruiting and management teams to evaluate our recruiting pipeline diversity stats at every step of the process, and proactively flag and address any potential issues that might arise. As a hiring manager, I actively track my own pipeline stats to ensure I am flagging any issues and to keep tabs on pipeline diversity for my roles.
---
Although this post highlights significant progress we've made as an organization, our work is not complete. We realize that an emphasis on creating a diverse workplace consistently requires care and attention. Through many of the ongoing initiatives highlighted above, we hope to continue making incremental progress toward building a diverse workplace.  
Join Our Team
If you're interested, join us in our aspirations for a more inclusive company.