A year ago, I shared my thoughts on diversity at OneSignal as well as a transparent look at our company's demographic breakdown and metrics. I talked about our commitment to building a workforce as diverse as our global customer base and holding ourselves accountable to high standards of diversity, equity, and inclusion.
A year later, in an effort to uphold that accountability, I want to share an update on where we are today in that journey and our plans moving forward.
Here's a look at the diversity breakdown of our engineering team and OneSignal as a whole as of April 15, 2023.
Gender Breakdown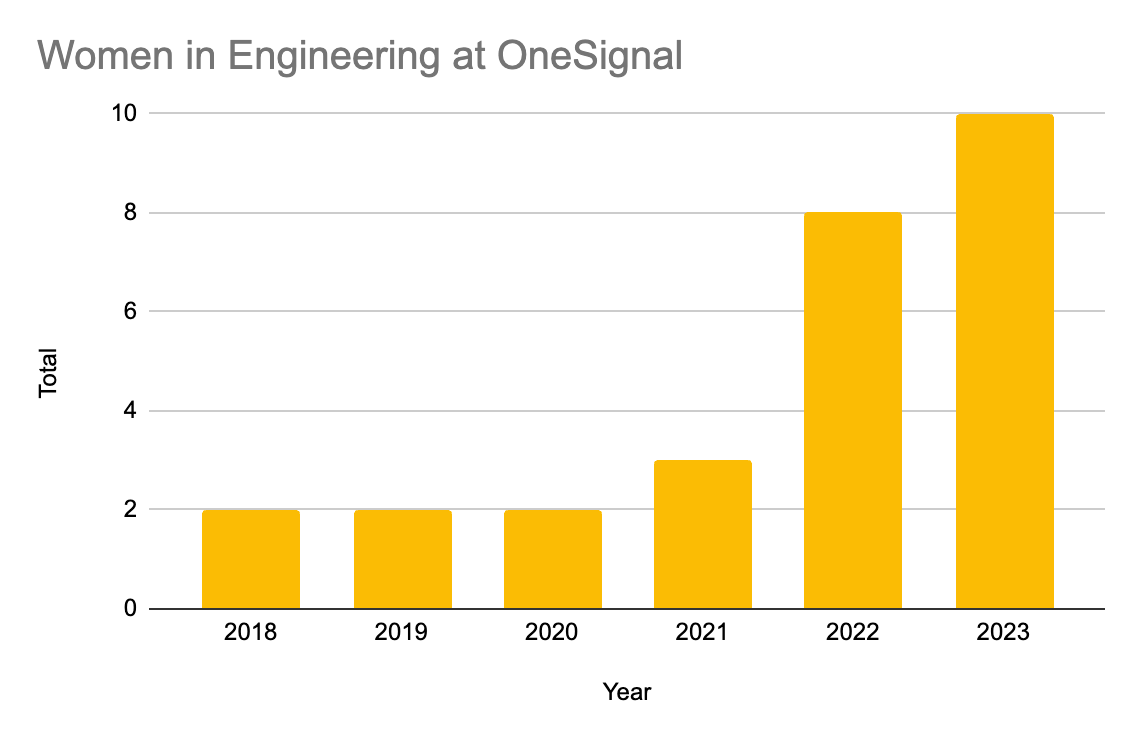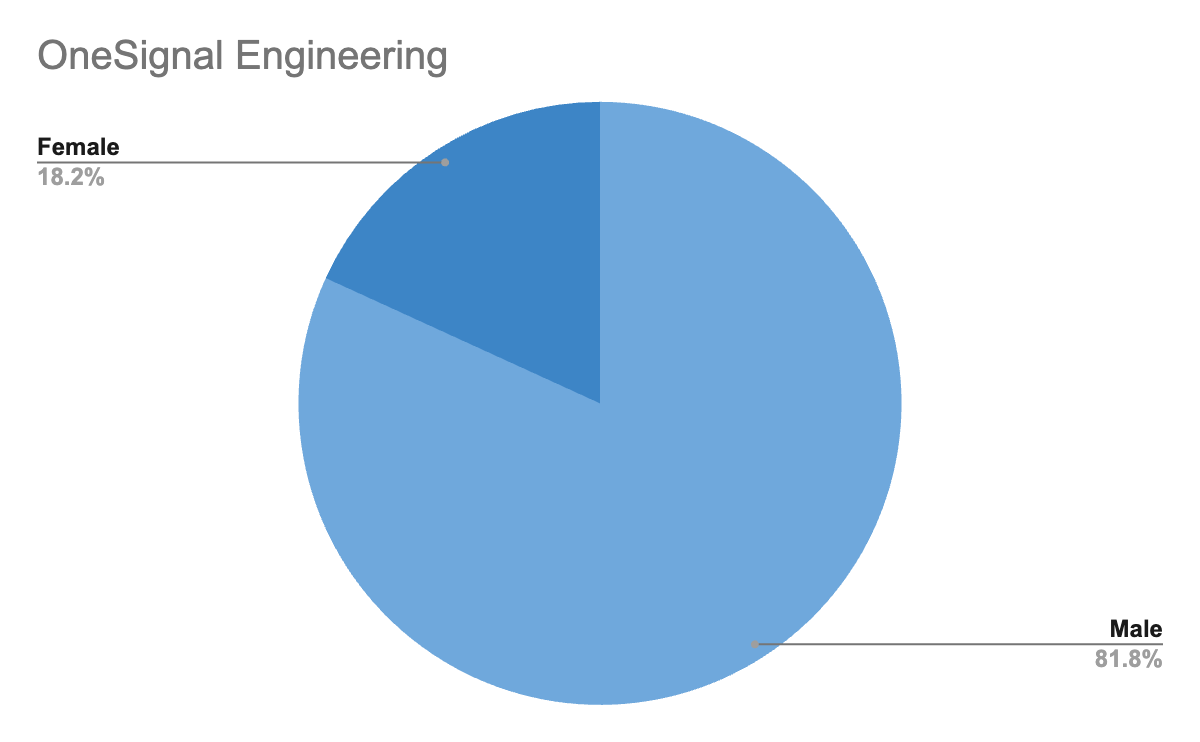 In the last year, we've grown our team by 11 individuals, including two women, shifting the team from 17.4% women to 18.2% women. Although this is not a huge change, it's progress that resulted from a concerted effort. It would have been easy to slip in the other direction because the majority of our applicants and referrals for technical roles are disproportionately men.
According to Celential, an AI sourcing company that we work with, in 2023, 23% of software engineers in the U.S. are women. Our goal is to at least meet, if not surpass, that industry standard.
When Celential examined manager-level roles, the representation of women dropped to 17%, and it decreased further to just 15% for women holding Director or VP titles. Encouragingly, women account for 25% of our engineering leadership at OneSignal (two out of eight).
As a woman who is also an engineering leader, I am disheartened by the rarity of such occurrences. Frequently, interview candidates inquire about my journey to this position, expressing genuine interest, appreciation, and, quite frankly, surprise, as it is not something they often come across. I aspire to contribute to changing this dynamic, where encountering a woman in a leadership role in engineering should not elicit shock and awe.
According to TechFunnel, small companies have an average of 30.2% women employees. As a company, OneSignal is above that average at 36.6%. Our goal is to bring this number as close to a 50:50 ratio as possible, with a particular focus on increasing the representation of women in traditionally male-dominated roles such as engineering and sales.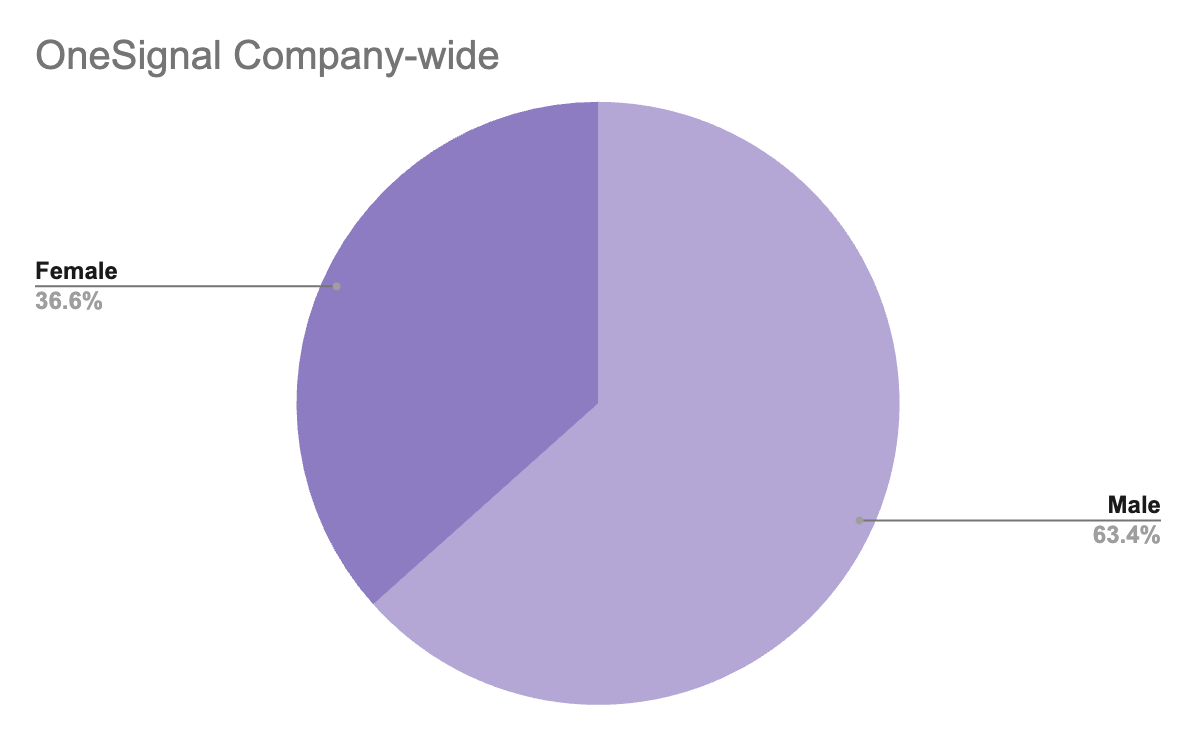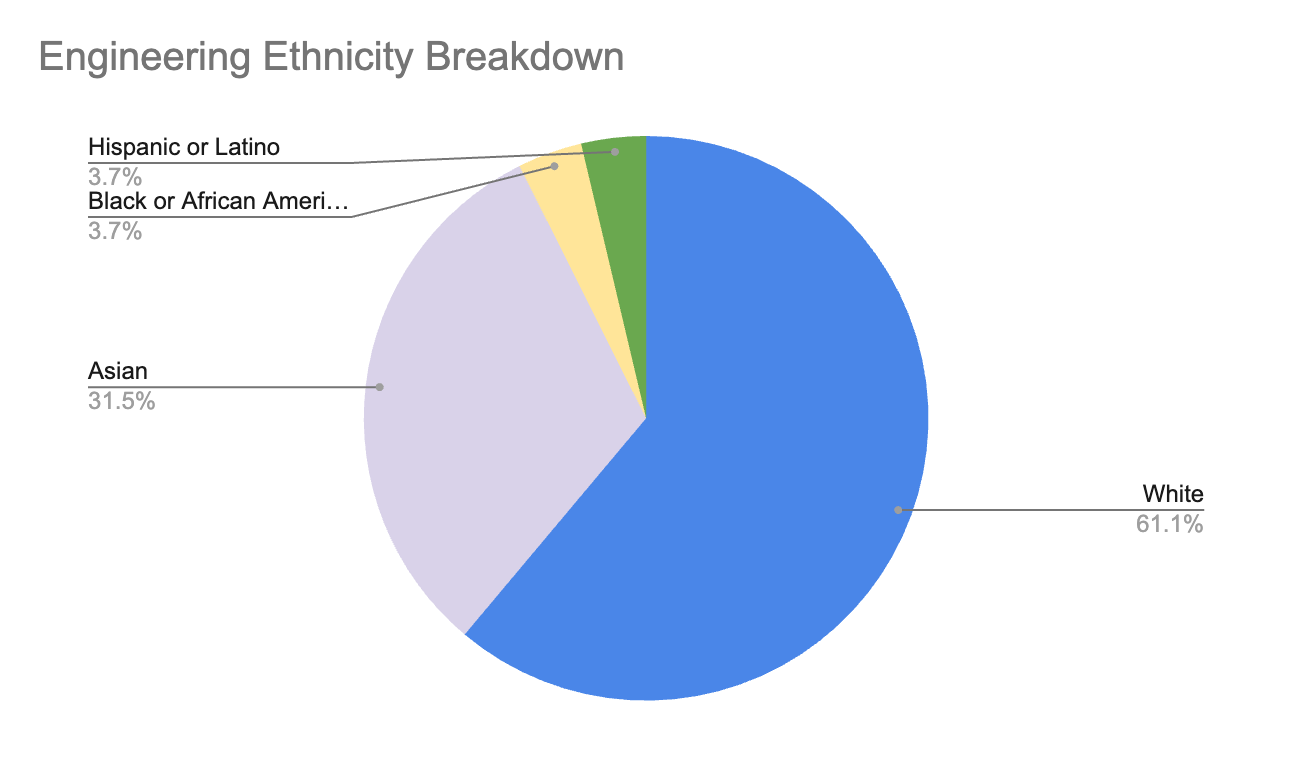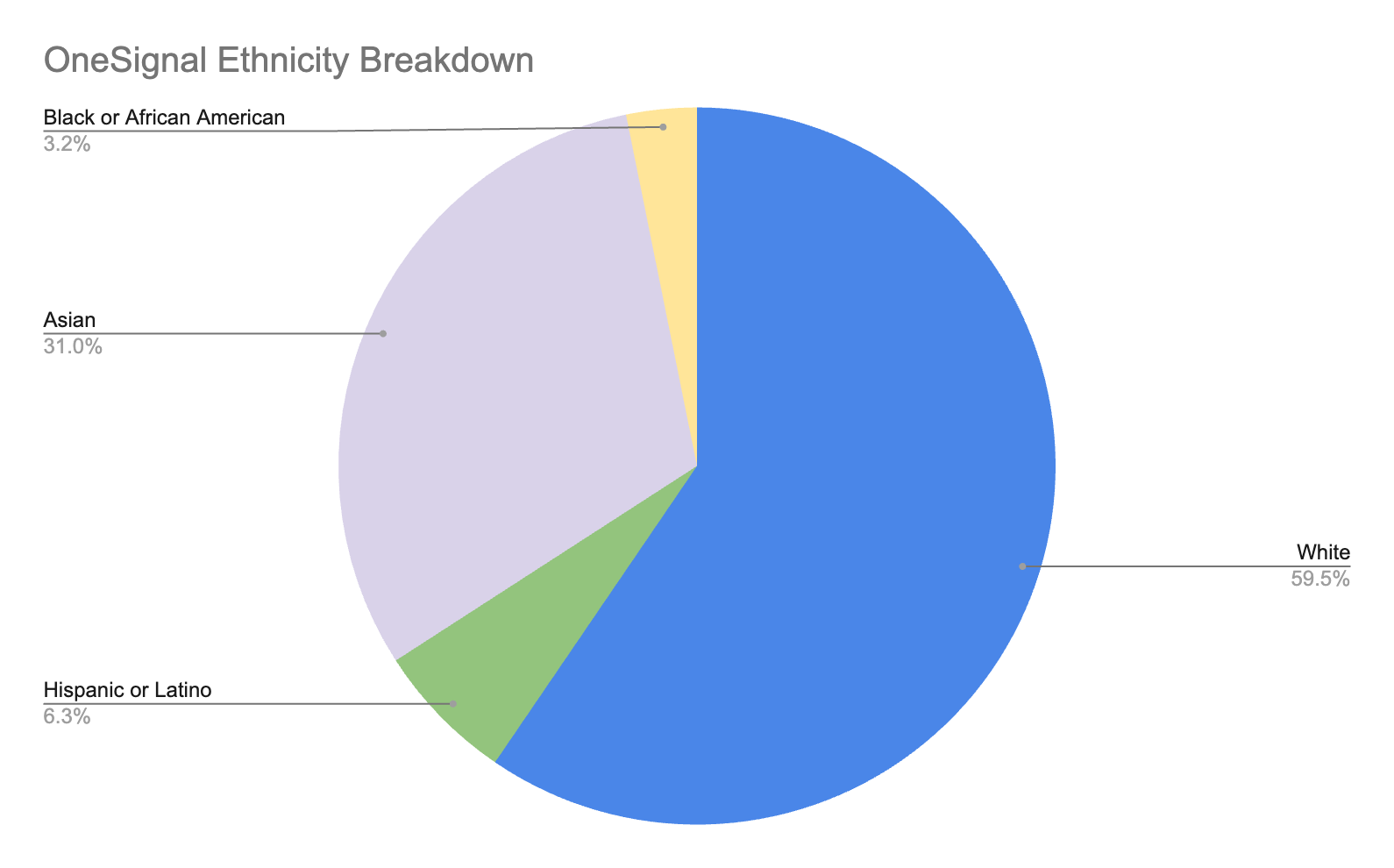 Diversity, Equity & Inclusion
Certainly, there is more to our efforts than simply increasing the number of individuals from underrepresented backgrounds that we hire. It's not enough to rely solely on recruitment strategies. To truly make progress, we must establish inclusive practices that foster the retention of our current and future employees from underrepresented backgrounds while also providing education and support to all individuals, regardless of their background.
This is why we witnessed the quick progression from the branding of "D & I (Diversity and Inclusion) to "I & D" (Inclusion and Diversity) to "DEI"  (Diversity, Equity, and Inclusion). Merely bringing in individuals from underrepresented backgrounds is insufficient if we are not dedicated to creating an inclusive environment that supports their growth and success. Without a strong focus on equity and inclusion, efforts to enhance diversity are unlikely to be effective in the long term.
Building an Inclusive Workspace
Creating an inclusive workplace requires a deliberate and conscious effort to recognize and overcome biases at the individual and organizational levels. At OneSignal, we have implemented several initiatives to foster diversity and inclusion:
1. Building Diverse Pipelines
We actively seek out and recruit candidates from underrepresented backgrounds. Using recruiting tools like Gem, we track our outreach statistics and funnel metrics to ensure we are building diverse pipelines. This approach allows us to identify and address any potential issues, such as candidates from certain backgrounds dropping out at specific stages. Additionally, we review our job posts to ensure they are inclusive and free from biased language that may discourage applicants.
2. Continuing our Engineering Apprentice Program
We have established a dedicated apprenticeship program aimed at encouraging individuals from underrepresented and non-traditional technical backgrounds to pursue careers in tech. We work closely with engineering bootcamps, such as Hackbright, which focuses on increasing the number of women in technical roles.
3. Volunteering to Increase Diversity in Tech
In addition to our apprenticeship program, several of our engineering leaders, including myself, volunteer our time to mentor Hackbright students. We also participate in panels, such as YC's Women in Tech panel, to share insights and experiences.
4. Promoting Internal Mobility Opportunities
We prioritize providing internal mobility opportunities for our employees, especially for underrepresented groups. In recent instances, we have successfully facilitated the transition of women employees from customer support to engineering and from recruiting to sales.
5. Implementing Structured Hiring to Reduce Bias
We are developing clear interview loops for each role. These include specific focus areas, questions, and rubrics, enabling us to conduct fair and skills-based assessments aligned with the requirements of each position.
6. Assembling Diverse Hiring Panels
We make a conscious effort to include diverse panel members during the interview process to ensure candidates feel represented and welcome.
7. Transparent Compensation
We believe in transparency and now post compensation details in our job descriptions. This ensures that candidates and employees are aware that they will be compensated fairly relative to their peers.
8. Remote Hiring
By embracing remote work, we have expanded our hiring reach across five states in the US, as well as in the UK and Singapore (through a PEO). This allows us to tap into a more diverse pool of candidates.
Through these initiatives, we are dedicated to cultivating a diverse and inclusive workforce at OneSignal. We believe that by fostering an environment that values and embraces diversity, we can drive innovation, collaboration, and success.
Our Plans for Continued Growth
As we continue with our ongoing efforts, we are thrilled to share some exciting plans for the upcoming year:
Diversity Training
We have planned to provide continuous training to our employees on various topics, including unconscious bias, cultural competency, and allyship. In particular, we will focus on training related to mitigating bias in the interview process.
Monitoring Diversity Metrics
In an effort to hold our team accountable to these ambitious targets, our CEO George Deglin has committed to monitoring these metrics quarterly and sharing them externally annually to ensure transparency and clear accountability in our diversity initiatives.
Celebrating Diversity
We aim to celebrate diversity through a range of events and initiatives. These activities will serve as opportunities to showcase and educate about different cultures, holidays, and traditions.
By implementing these plans, we are dedicated to fostering an inclusive environment that values and embraces diversity. We look forward to the positive impact these initiatives will have on our organization and its members.
Diversity, equity, and inclusion is not merely a goal to be achieved; it is an ongoing journey. At OneSignal, we wholeheartedly embrace the mission of fostering a workplace where every individual feels valued, respected, and included. Diversity is not only beneficial for our business but also an integral part of our company's identity. Our commitment to creating a more diverse and inclusive workplace remains unwavering. We understand that this is a continuous effort requiring ongoing dedication and collaboration.
As we move forward, I am excited about the opportunities ahead and the positive transformation we can bring about. By embracing diversity and fostering an inclusive environment, I am confident that we can achieve great things together.
Join Us!